How Bullpens Took Over Baseball's Postseason
Teams are calling on relief pitchers earlier and earlier, and October looks drastically different because of it.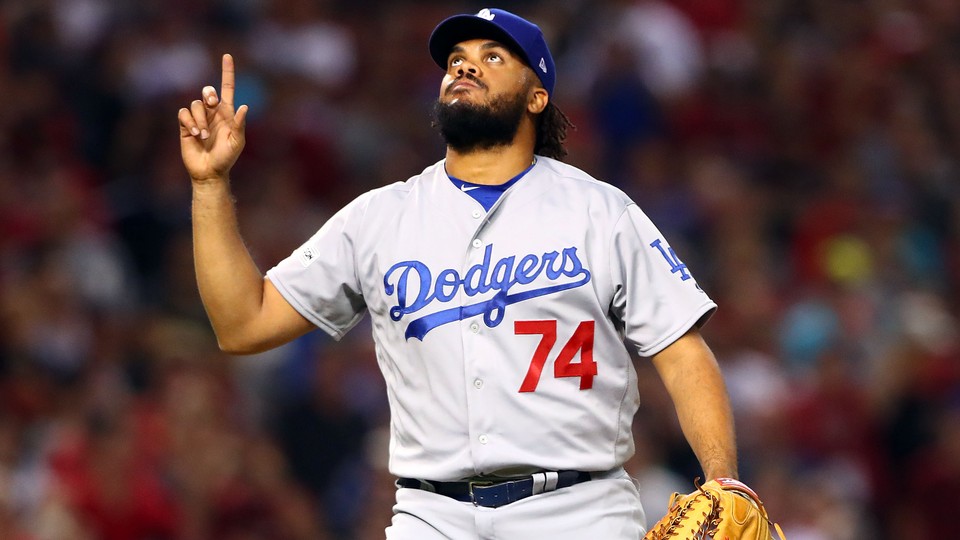 The most striking trend of the 2017 Major League Baseball postseason was established minutes into the very first game. With three runs in and only one out recorded in the first inning of the American League Wild Card game, the Yankees manager Joe Girardi pulled ace starting pitcher Luis Severino from the mound, commencing a parade of relief pitchers. In the bottom of the third inning, the Twins manager Paul Molitor followed suit, lifting his best starter, Ervin Santana, in favor of a cadre of bullpen arms.
New York wound up prevailing 8-4, largely because its relievers combined for 8 2/3 innings, 13 strikeouts, and only one run allowed, while their Twins counterparts ceded four runs on six hits. The game, like many that have followed this month, was won by the team with the superior bullpen.
The postseason bullpen revolution, in which managers call on relievers earlier and more often than has ever been typical, did not come out of nowhere. The 2011 Cardinals won the World Series by relying on their bullpen, and the 2014-15 Royals and 2016 Indians thrived with similar approaches. But this fall, the trend has crossed a new threshold. No longer is ultra-aggressive reliever usage a niche strategy employed by a few teams with optimal personnel. It is now the norm across the entire league, from Boston (where Red Sox starters pitched just 11 1/3 innings, combined, over four games) to Los Angeles (where the Dodgers manager Dave Roberts pulled All-Star Yu Darvish after only 74 pitches on Monday). Through Wednesday, starting pitchers across the league have gotten 475 outs this postseason; relief pitchers have gotten 482. Not a single starting pitcher has recorded an out in the eighth inning.
The chief reason for this trend is fairly simple: Relievers are better than they have ever been. Whereas bullpens were once filled with soft-tossers who had failed to stick in the rotation, they're now populated largely by flame-throwing strikeout machines specifically trained for their roles. When Girardi pulled Severino from the wild card game, he called on four pitchers with fastballs that make hitters quake. For the final three outs, the manager summoned Aroldis Chapman, the hardest thrower in baseball history and a pitcher who would have almost certainly been a starter and not a reliever had he arrived in the Majors in 1950 or even 1990, instead of 2010.
Meanwhile, as relief pitchers have gotten fiercer, managers have opened their minds to new ways of thinking—with less reliance on gut and more trust in data. For years, sabermetric analysts have warned of how dramatically pitchers' results drop off when they're asked to face opposing lineups for a third or fourth time. Now, managers have begun to heed those numbers and pull their pitchers before they reach that point.
Regular-season reliever usage has certainly increased in recent years, but the effect is exaggerated during the postseason, when teams have every incentive to have their best, freshest arms on the mound at all times. In May, removing a starter too early risks tiring out the bullpen amid a marathon of a season. In October, when every game feels essential, aggression wins out over patience.  And as the Hall of Fame pitcher–turned Fox television analyst John Smoltz pointed out during Wednesday's Indians-Yankees game, extra off days in the playoffs don't hurt. "You would never do this in the regular season," Smoltz said, after Cleveland manager Terry Francona turned to set-up man Andrew Miller in the fourth inning. "You would never be able to pitch your greatest weapon this many times in a three- or four-day span. But with the days off, you can do this and piecemeal a game or two."
So what does all this mean? Most immediately, it means fewer dominant performances by big-name starting pitchers and more one-inning outings from middle relievers who casual fans have never heard of. It also means we'll see more mid-inning pitching changes, the bane of every TV viewer's postseason experience. Further down the road, it will mean larger contracts for relief pitchers and greater demand for them at baseball's annual trade deadline. It may mean teams are more likely to move promising young pitchers to the bullpen at a younger age. The best hurlers will still start, but playoff-contending teams may increasingly decide that prospects who project as back-of-the-rotation starters hold more value in relief.
But most of all, the trend toward hyper-aggressive bullpen use means postseason baseball is now fundamentally different from regular-season baseball. Historically, October has more or less rewarded the same attributes that are important from April through September. The playoffs called for no special formula beyond having a good baseball team. But more and more, bullpen strength is taking on disproportionate importance in the postseason. During the regular season, a weak bullpen can be camouflaged. In October, anything short of a lockdown relief corps will likely prove fatal. The idea that the postseason might now look starkly different from the regular season is not inherently good or bad. But it does feel strange that after six months of pitchers throwing six or seven innings before ceding to the bullpen, the most important games of the year are played with an entirely different set of strategies.
Bullpen-heavy postseason series will not soon go away. With relievers throwing harder and managers growing more comfortable calling on them, crucial games will feature even quicker hooks and more proactive bullpen usage. Some analysts, most notably MLB Network's Brian Kenny, have advocated that teams call on their bullpens for entire nine-inning contests, and though that currently remains more of a thought exercise than a practical tactic, a team with a deep bullpen might soon give it a try, say, once a series.
For years, starting pitchers have been the heroes of October, from Christy Mathewson throwing 27 scoreless frames in the 1905 World Series to Madison Bumgarner tossing a complete-game shutout in Game 5 of the 2014 World Series, only to come back for more three days later. But that might be changing. Given the current trajectory, it's plausible that decades in the future, the sport's October mythology won't center on starters hurling complete-game gems but rather on relievers pitching two scoreless innings in three straight games or escaping bases-loaded jams twice in one series. For more than a century, starting pitchers have dominated baseball's postseason. Now it's the relievers' turn.