Down the Rabbit Hole: The Surprising Tale of the Bunny Suit
Like Hugh Hefner himself, Playboy's iconic costume was a blend of provocative and old-fashioned.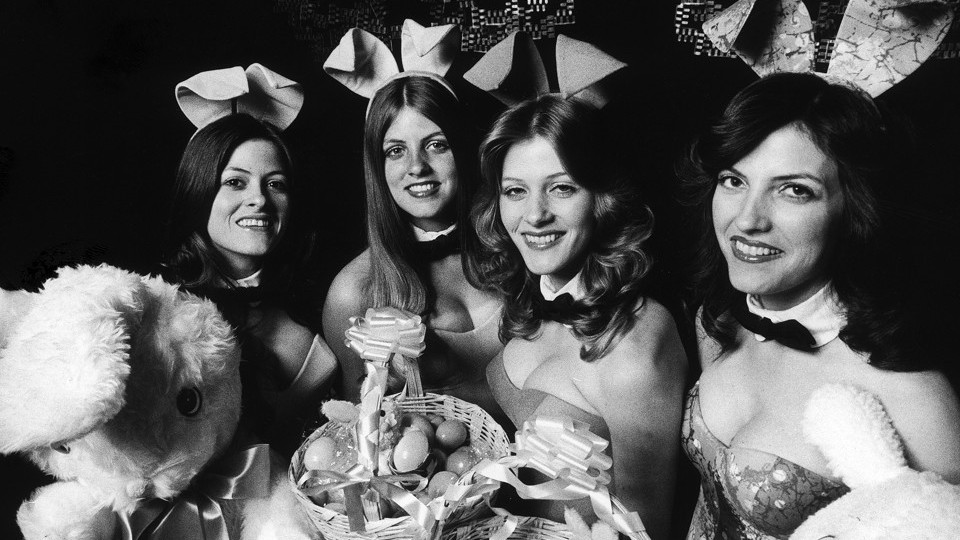 From its first issue in 1953, Playboy's publisher Hugh Hefner sought to distinguish it from the sleazy sex magazines stored under the newsstand counter and sold in brown paper bags. He once explained that he chose a rabbit as the magazine's mascot "because of the humorous sexual connotation," but dressed him in a tuxedo "to add the idea of sophistication." The models may have been nude, but the articles were written by acclaimed authors like Norman Mailer, Kurt Vonnegut, Jack Kerouac, and Vladimir Nabokov and covered highbrow topics including "Picasso, Nietzsche, [and] jazz," to quote Hefner's introductory editorial. Even JFK read it.
Similarly, when he opened his first Playboy Club in Chicago in 1960, Hefner emphasized respectability above raunchiness—a preference widely noted by writers reflecting on his legacy following his death at age 91 last week. The Playboy Club was a supper club, not a sex club; jackets and ties were required. Though only men could be members—or "keyholders," in Playboy parlance—they could bring female guests. The buffet offered crab legs and filet mignon, and entertainment was provided by the likes of Nat King Cole, Steve Martin, Aretha Franklin, Billy Crystal, and Sammy Davis, Jr.
One of the most iconic symbols of the Playboy Club was its waitstaff: a throng of women known, and dressed, as Bunnies. Much like the clubs themselves, the magazine whose name they shared, and the man who created all of it, the outfits worn by the Playboy Bunnies were a blend of provocative and old-fashioned. Since its debut, the Bunny suit—a strapless bodysuit paired with rabbit ears and a fluffy tail—has become a cartoonish cliché of female sexuality, serving as a visual punchline in Bridget Jones's Diary, Legally Blonde, Mean Girls, The House Bunny, and a host of other rom-coms. But the Bunny's erotic allure was as much of a tease as the stuffing that so often filled out the D-cups of her costume. Her skimpy suit promised further revelations that never came; her cuddly demeanor concealed the Bunnies' intensive training, strict disciplinary policies, and astronomical paychecks. And if feminists are still arguing over whether the Bunny suit was constricting or liberating, it's because it was designed to be both.
According to Kevin Jones, the curator of the Fashion Institute of Design and Merchandising (FIDM) Museum, Hefner originally wanted the club's waitresses to wear short, frilly nighties inspired by the Ziegfeld Follies girls—the sex symbols of his youth. But, as recounted in Kathryn Leigh Scott's memoir The Bunny Years, Playmate Ilse Taurins—who was dating the company's promotions director, Victor Lownes—pointed out that all those flimsy layers would be impractical for serving drinks and lighting cigarettes. It was her idea to dress the waitresses as distaff versions of the magazine's masculine logo. The rabbit became a Bunny, and an icon was born (and quickly patented—a first for a service uniform).
The first prototype—a satin one-piece worn over a prefab Merry Widow corset and paired with rabbit ears and a fluffy tail—looked too much like a bathing suit. A few snips of the scissors raised the leg opening, elongating the legs, accentuating the crotch, and removing any resemblance to swimwear. Hefner himself insisted on adding the criss-cross lacing at the top of the leg, said Jones, who has a Bunny suit in his museum's collection. Though the laces were purely decorative—they couldn't be untied or loosened—they revealed that much more skin, and suggested the tantalizing possibility of a wardrobe malfunction. A rosette name tag at the right hipbone and dyed-to-match satin pumps completed the outfit. But it was the addition of a man's tuxedo collar, bow tie, and cuffs in 1961 that pushed the Bunny suit into pop-culture legend.
"Everybody has this idea that [the club] was very sexually liberated," Jones told me. In reality, it was pretty tame—a place for flirting at most. So were the Bunnies. The wife of one keyholder declared the average Bunny to be "so darn nice and respectable, you'd even let your brother marry her." Nevertheless, the blend of overpriced cocktails and underdressed waitresses proved to be a winning formula. Clubs multiplied like rabbits; eventually, there would be more than 30 Playboy-branded clubs worldwide, in addition to casinos and resorts.
In his 1963 book The Presidential Papers, Norman Mailer described the Bunny suit thusly:
a Gay-Nineties rig which exaggerated their hips, bound their waist ... and lifted them into a phallic brassiere—each breast looked like the big bullet on the front bumper of a Cadillac. Long black stockings, long long stockings, up almost to the waist on each side, and to the back, on the curve of the can, as if ejected tenderly from the body, was the puff of chastity, a little white ball of a bunny's tail which bobbed as they walked.
It was a flattering if constricting design; Lownes observed that "the costumes took girls with even average figures and made them look like they had amazing figures." His comment is telling; not all Bunnies were bombshells. The suit made the Bunny, not the other way around.
From day one, "the suit was a throwback," Jones told me—to the 1950s if not the Gay Nineties. The fashionable silhouette of the 1960s was boyish, not curvy. Shapeless shifts and ballet flats may have been all the rage on the runway, but inside the club, it was perpetually 1953: hourglass figures, bullet bras, and three-inch heels. The only concessions to fashion were the Bunnies' bouffant hairstyles, topped with artfully angled ears.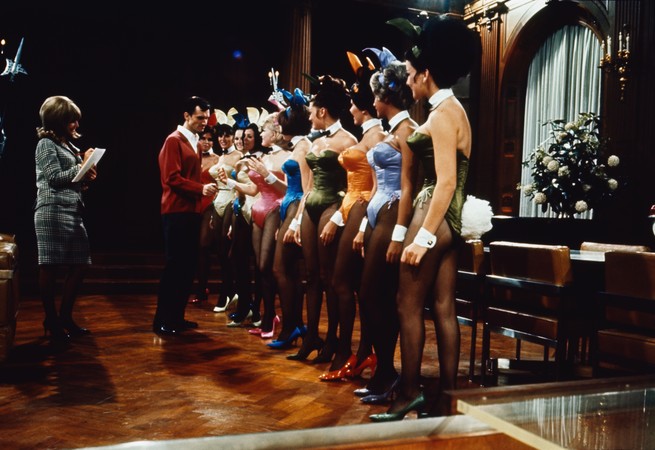 Early visitors to the Playboy Club picked up on its heady dynamic of naughty and nice. Newsweek called it "a Disneyland for adults." Appropriately, the dress code for female employees was just as strict and detailed as the amusement park's famously rigid sartorial standards. Everything was spelled out in meticulous detail in a Bunny Manual and enforced by a Bunny Mother, who inspected each Bunny from head to toe before her shift. Makeup and weight were closely monitored. Nail polish, jewelry, and eyeglasses were strictly forbidden, though hairpieces were encouraged. Cuffs and collars had to be starched and spotless; the rabbit logo cufflinks had to "kiss," or face each other. Bunnies were responsible for buying their own (tax-deductible) satin pumps and having them dyed to match their suits and ears, which came in 12 different colors. "Our pair is really telling because it's completely spattered with spilled drinks," Jones said of the costume in the FIDM Museum. "They must have been replaced a lot." Dirty shoes, laddered stockings, and other infractions incurred demerits, which could lead to a Bunny being fined or even fired.
Far from being exploited, the Bunnies "were really well protected young women," Jones told me. They may have been eye candy, but they were meant to be (literally) untouchable. Bouncers kept tipsy keyholders from groping or grabbing tails. (The original yarn tails were replaced by fire-retardant fake fur by 1969 because "customers were always trying to light them," Bunny Alice Nichols recalled in The Bunny Years.) Touching a Bunny was grounds for expulsion. And Bunnies were strictly prohibited from dating customers, entertainers, or any C-suite level Playboy employees. They didn't need sugar daddies, anyway—they made more in tips in one night than a salesgirl at Bloomingdale's could make in two weeks, according to Scott.
Indeed, the Bunnies' bare, buxom image was always an illusion. The suit only came in two cup sizes: 34D and 36D. But those cups were equipped with pockets to facilitate stuffing. (In "A Bunny's Tale," her 1963 exposé for Show magazine, undercover Bunny Gloria Steinem recalled the club's in-house wardrobe mistress telling her that "just about everybody stuffs" while shoving an entire plastic dry cleaning bag down the front of her suit.) Bunnies were not allowed to bend forward, lest their assets (or stuffing) spill out in a tawdry display; in any case, the suit's tight, boned bodice would have made it uncomfortable. Instead, they were trained to perform a series of elegant, unnatural moves such as the "Bunny Dip" and the "Bunny Crouch" that allowed them to take orders and serve drinks without ever bending at the waist. Though their cleavage was served up on a satin platter, Bunnies were cinched in and covered up from the chest down, wearing sheer black Danskin pantyhose over flesh-toned Danskin tights, according to Jones.
History has conflated the Playboy Bunnies with the Playmates featured in the magazine's centerfolds. Though Bunnies were not prohibited from posing for the magazine, few did; they were a different kind of animal. Bunnies were rarely seen in the wild, emerging from the clubs only for promotional events—at which they wore skirts and sweaters—and parties at the Playboy Mansion. ("Wherever Hugh was, it was a club," Jones said.) The Bunny suit was meant to be appreciated in the exclusive environs of the members-only club.
The fact that a few suits have made their way into museum collections is surprising; they were considered property of the club and handed in after every shift for cleaning. Taking a suit home was punishable by a $500 fine. According to The Bunny Years, "only a few larcenous Bunnies out of the more than 15,000 women who wore the costume managed to leave Playboy with one as a keepsake. ... One Bunny wore her costume for her induction into the U.S. Air Force. Another walked down the aisle at her wedding in a white satin Bunny costume." The FIDM Museum's suit was donated by a former Bunny in the Dallas club, who managed to smuggle it out when she quit. "Technically, it's stolen property," Jones said with a laugh. The Met and the Museum at FIT obtained their suits directly from Playboy Enterprises.
Just when did the Bunny become a dinosaur? The club scene began to fade in the early '80s, with the last of the original clubs closing in 1988. After that, Bunnies occasionally appeared at Playboy events, but "they were Playmates with Bunny ears on," Jones said. The original Bunnies moved on to bigger and better things; the former wearer of the FIDM Museum's suit parlayed her service industry experience into a career as a flight attendant. Former Bunnies Lauren Hutton, Debbie Harry, and Steinem found new jobs, too.