What Harvey Weinstein's Apology Reveals
In response to a report detailing decades of sexual harassment allegations, the mogul released a statement—one that perfectly captures this chaotic moment in American culture.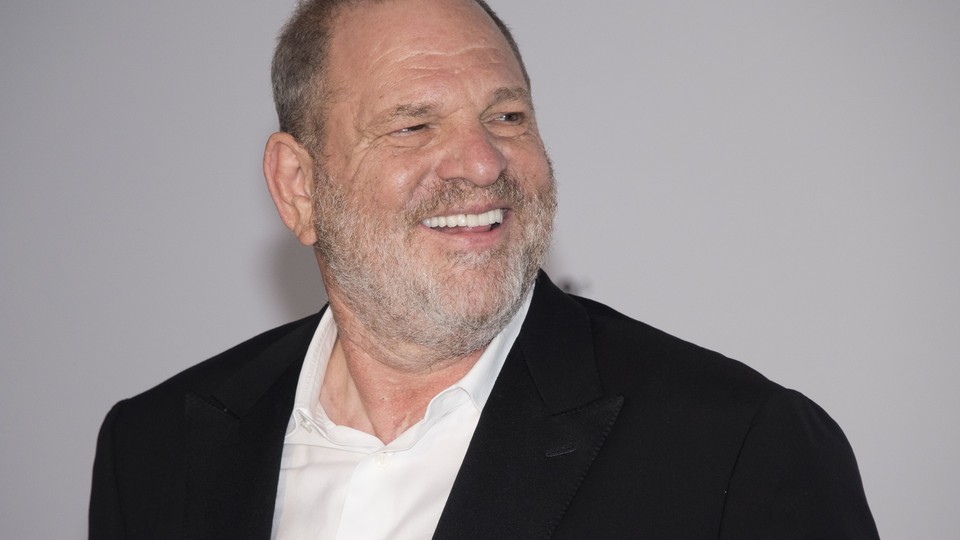 The apologies, taken together, read like poetry—or, perhaps, an excruciatingly bad game of Mad Libs. This was a wake-up call. I'm so sorry. It's not okay. I have more work to do. I'll do better. Please help me do better. I'm sorry. I'm very sorry. I'm so very sorry. I really do respect women.
The accusations will vary, greatly, and yet the statements of contrition will tend to be, in message and in tone, remarkably similar. My behavior was inexcusable and wrong. These women are teaching with their courage. I've generally considered myself one of the "good guys."
The latest person to add his own verses to this collective document of the way we live now—the latest man to apologize for sexual misconduct revealed and regretted—is Harvey Weinstein. Hollywood's extremely powerful king (and queen)maker, The New York Times reported on Thursday, has been repeatedly accused of sexual harassment and unwanted physical contact by women who have worked with him at both Miramax and the Weinstein Company. "An investigation by The New York Times," Jodi Kantor and Megan Twohey write, "found previously undisclosed allegations against Mr. Weinstein stretching over nearly three decades, documented through interviews with current and former employees and film industry workers, as well as legal records, emails, and internal documents from the businesses he has run."
In response to the Times report, Weinstein released a statement, part apology and part apologia, part explanation and part contrition. The statement—complicated in part by the fact that, in the Times article, Weinstein's lawyer denies many of the accusations as "patently false"—is written in the first person: I, I, I, I. In it, Weinstein talks about getting therapy, and about his upcoming journey "to learn about myself and conquer my demons." He makes no mention of his wife or family. He makes no mention of the many legal settlements that, the Times reports, Weinstein made with women who had alleged misconduct against him over a period of decades. He does, however, quote Jay-Z. He does end with a joke—a particularly thudding one, given the massacre in Las Vegas earlier this week—about the National Rifle Association.
The statement is, in other words, a remarkable document—one worth reading in full, not only because it illuminates the thinking of a powerful person, but also because, like a piece of golden amber that happens to be displayed in DocumentCloud, it crystalizes something extremely precise about this chaotic moment in American culture.
"I came of age in the 60's and 70's," Weinstein begins, "when all the rules about behavior and workplaces were different." The statement goes on from there, vaguely self-contradictory, varied in tone, reading at once like it's been heavily workshopped and, at the same time, like it was dashed off in a haze of self-flagellation by Weinstein himself. (The Jay-Z "quote" Weinstein mentions, for example, is, at best, a liberal paraphrase.) Weinstein returns, again and again, to the structures that can mold individual behavior: one's generation. One's gender. Mad Men, Hugh Hefner, "the culture then." And he concludes with a revealingly self-deprecating chuckle: "I am going to need a place to channel that anger so I've decided that I'm going to give the NRA my full attention. I hope Wayne LaPierre will enjoy his retirement party. I'm going to do it at the same place I had my Bar Mitzvah."
Weinstein, The Hollywood Reporter is reporting, is preparing to sue The New York Times for publishing what his lawyer is calling "a story that is saturated with false and defamatory statements" about the mogul. That may well explain at least some of the cagey language in Weinstein's statement—words that admit to some kind of wrongdoing without admitting to any particular kind. That may explain why he ends his statement with a reminder about the foundation he recently established "to give scholarships to women directors at USC"—and with the cheery yet defiant line, "It will be named after my mom and I won't disappoint her."
But Weinstein has, on the whole, offered an apology, and he has admitted to wrongdoing—which is, on its own, worth celebrating. Weinstein, after all, unlike many other men who have been accused of misconduct and who, in the face of much evidence, have simply denied it, is actually expressing remorse. He is not digging in his heels, or suggesting, as Bill O'Reilly did, that the women accusing him are lying to get a payout; he is admitting to at least some kind of misbehavior. He is coming out and saying, in a statement given to the nation's newspaper of record, "I appreciate the way I've behaved with colleagues in the past has caused a lot of pain, and I sincerely apologize for it." That is its own kind of progress.
But the apology is also a sad—and supremely strange—reminder of how distant true "progress" really is, at this moment in American cultural life, as (some) women advance and as (some) men grapple with that shift.  There is a cyclical quality to these statements of remorse, whether they come from Hollywood moguls or Silicon Valley CEOs or the executives of cable news networks: buzzwords repeated, promises reiterated, a sense of true contrition colliding with a softer sense of "sorry you're upset." Weinstein's own version tellingly vacillates in tone from the penitent to the petulant. It is suggestive of a man-child who is awaiting a punishment he will stoically accept but, perhaps, thinks he does not fully deserve.
Weinstein's suit against the Times, if it does indeed come, will likely offer more insight into what he is, today, apologizing for—what really took place in the offices of the companies that shape American entertainment and, with it, the American psyche. In the meantime, though, the mogul has provided yet one more entry into a burgeoning American literary genre that is, in every sense, sorry. He has contributed his own mournful lines to Apology: An Anthology.
Though I'm trying to do better, I know I have a long way to go.
That is my commitment.
This isn't an overnight process.
Trust me.
I've been trying to do this for 10 years and this is a wake-up call.
I so respect all women and regret what happened.
I hope that my actions will speak louder than words.