Harvey Weinstein and the Economics of Consent
The blunt power of the gatekeeper is the ability to enforce not just artistic, but also financial, exile.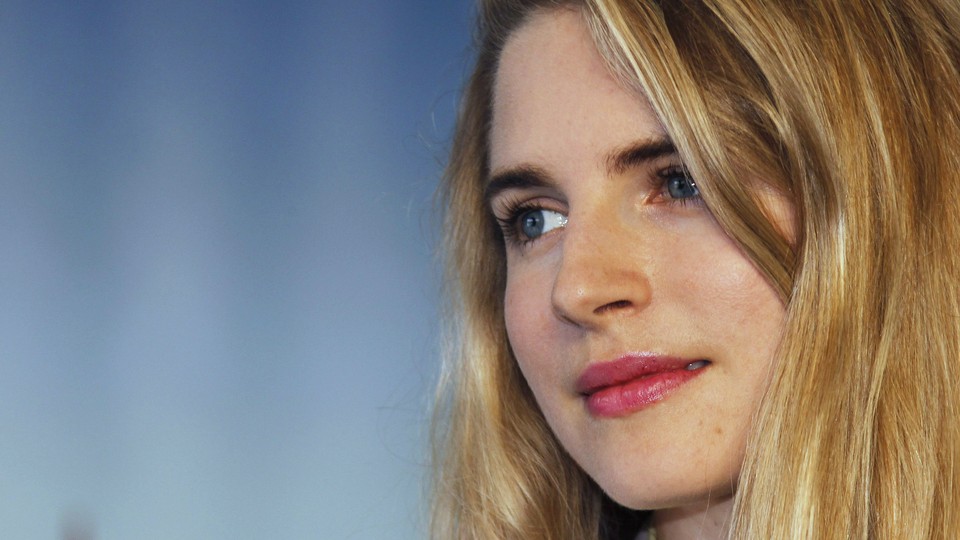 When the Harvey Weinstein story broke, I thought of something my mother told me when I was a little girl. She said: To be a free woman, you have to be a financially independent woman. She wasn't wrong. I studied economics in college and went to New York to become an investment banker. To be blunt, I wanted the freedom money can buy.
I had a sudden change of heart while working at Goldman Sachs as a summer analyst. I decided that if the world required me to sell the hours of my life in exchange for access to what had long ago been free—food, water, shelter—I wanted to at least be doing something that stirred my soul. This is, granted, a privileged position. But as a young woman that was the conclusion I came to.
I had discovered acting and filmmaking in college, and the more time I spent immersed in it, the more I liked the person I became. I listened more acutely. I was more empathic and imaginative. These are qualities that seemed to me to be culturally on the decline; our culture likes forward-thinking talkers who can turn a profit without feeling too much about who may suffer the consequences—usually poor people, people of color, and women. Acting felt like a noble pursuit and maybe even a small act of resistance.
Hollywood was, of course, a rude awakening to that kind of idealism. I quickly realized that a large portion of the town functioned inside a soft and sometimes literal trafficking or prostitution of young women (a commodity with an endless supply and an endless demand). The storytellers—the people with economic and artistic power—are, by and large, straight, white men. As of 2017, women make up only 23 percent of the Directors Guild of America and only 11 percent are people of color.
Straight, white men tend to tell stories from their perspective, as one naturally does, which means the women are generally underwritten. They don't necessarily even need names; "Bikini Babe 2" and "Blonde 4" are parts I auditioned for. If the female characters are lucky enough to have names, they are usually designed only to ask the questions that prompt the lead male monologue, or they are quickly killed in service to advancing the plot.
Once, when I was standing in line for some open-call audition for a horror film, I remember catching my reflection in the mirror and realizing that I was dressed like a sex object. Every woman in line to audition for "Nurse" was, it seemed. We had all internalized on some level the idea that if we were going to be cast we'd better sell what was desired—not our artistry, not our imaginations—but our bodies.
It was around this time that I remember sitting in a casual gathering where a straight, white male activist said, "Our gender and race has all the power. So when you want to have sex with a woman you have to ask and get her verbal consent." He continued, "If that woman is a person of color, she is oppressed by both her gender and her race and then you should really ask twice." The literalism of his ratio was ridiculously reductive, and his declarative tone off-putting, but I appreciated that he was trying to articulate how complicated it is to negotiate the invisible forces of privilege and power inside sexual encounters. He was trying to help other young men understand why it can sometimes be hard for any woman to find and voice "no" within a culture that has taught her to mistrust herself, or to value herself through male approval.
I emerged from this period thinking about the power dynamics inside Hollywood. If auditioning for parts was largely about seeking male approval, and the stories themselves were narratives I didn't always politically or morally agree with, then the only way for me to navigate Hollywood with more agency was to become a storyteller myself. That is an easy thing to say and a very hard thing to do. I stopped auditioning. I worked a day job and spent nights and weekends at the public library downtown reading screenwriting books. I did this for years. Eventually, I co-wrote and starred in two films and was very fortunate when they were programmed at Sundance in 2011.
I'm taking you through this brief history because I think it's important to understanding that when Harvey Weinstein requested a meeting with me in 2014—when the industry had deemed I was legitimate fresh meat—I was, in some ways, in a slightly different position from many who had walked this gauntlet before me.
I, too, went to the meeting thinking that perhaps my entire life was about to change for the better. I, too, was asked to meet him in a hotel bar. I, too, met a young, female assistant there who said the meeting had been moved upstairs to his suite because he was a very busy man.  I, too, felt my guard go up but was calmed by the presence of another woman my age beside me. I, too, felt terror in the pit of my stomach when that young woman left the room and I was suddenly alone with him. I, too, was asked if I wanted a massage, champagne, strawberries. I, too, sat in that chair paralyzed by mounting fear when he suggested we shower together. What could I do? How not to offend this man, this gatekeeper, who could anoint or destroy me?
It was clear that there was only one direction he wanted this encounter to go in, and that was sex or some version of an erotic exchange. I was able to gather myself together—a bundle of firing nerves, hands trembling, voice lost in my throat—and leave the room.
I later sat in my hotel room alone and wept. I wept because I had gone up the elevator when I knew better. I wept because I had let him touch my shoulders. I wept because at other times in my life, under other circumstances, I had not been able to leave.
At this point many women have come forward to tell their stories about being harassed or abused by Weinstein. All of them are courageous, including the women who could not find a way out. I think for me, I was able to leave Weinstein's hotel room that day because I had entered as an actor but also as a writer/creator. Of those dual personas in me—actor and writer—it was the writer who stood up and walked out. Because the writer knew that even if this very powerful man never gave her a job in any of his films, even if he blacklisted her from other films, she could make her own work on her own terms and thus keep a roof over her head.
I'm telling this story because in the heat surrounding these brave admissions, it's important to think about the economics of consent. Weinstein was a gatekeeper who could give actresses a career that would sustain their lives and the livelihood of their families. He could also give them fame, which is one of few ways for women to gain some semblance of power and voice inside a patriarchal world. They knew it. He knew it. Weinstein could also ensure that these women would never work again if they humiliated him. That's not just artistic or emotional exile—that's also economic exile.
It's important, too, to keep in mind where this power imbalance comes from. In the U.S., women were only allowed to have credit cards in their own names as of 43 years ago. Men had a two-decade head start (the credit card was invented in 1950). In the 1960s a woman needed to bring a man along to cosign any credit application. It's stunning how recently women were afforded no financial autonomy. This is, of course, connected to the fact that women didn't have bodily autonomy either. A woman's husband could beat her or have sex with her without her consent in this country with no real legal recourse until the 1970s.
For me, this all distills down to the following: The things that happen in hotel rooms and board rooms all over the world (and in every industry) between women seeking employment or trying to keep employment and men holding the power to grant it or take it away exist in a gray zone where words like "consent" cannot fully capture the complexity of the encounter. Because consent is a function of power. You have to have a modicum of power to give it. In many cases women do not have that power because their livelihood is in jeopardy and because they are the gender that is oppressed by a daily, invisible war waged against all that is feminine—women and humans who behave or dress or think or feel or look feminine.
It's a powerful moment when courageous people begin speaking about how they have been harmed, which is a deeply difficult thing to do because it means wading through a swamp of shame you've been made to feel. I am inspired by them all. We should let their strength guide our way forward, which means beginning a much larger conversation about the role economic inequality often plays in rape culture.
Men hold most of the world's wealth. In fact, just eight men own the same wealth as 3.6 billion people who make up the poorer half of humanity, the majority of whom, according to Oxfam, are women. As a gender whole, women are poor. This means that, in part, stopping sexual harassment and abuse will involve fighting for wage parity. This also means women and men in power need to turn around and hire more women, especially women of color, especially women who have not grown up with economic privilege.
Another important step forward would be for all of us to start telling and consuming different stories. If you don't want to be a part of a culture in which sexual abuse and harassment are rampant, don't buy a ticket to a film that promotes it. I am as guilty of this as anybody else; sometimes it's nice to zone out to a film that's a distraction of epic spectacle. But maybe it's time to imagine more films that don't use exploitation of female bodies or violence against female bodies as their selling points. Films with a gender balance and racial balance that better reflect the world we all actually live in. These are challenges I myself am trying to meet, as a series creator, and I have by no means closed the gap between what I aspire to and what I have achieved.
Part of what keeps you sitting in that chair in that room enduring harassment or abuse from a man in power is that, as a woman, you have rarely seen another end for yourself. In the novels you've read, in the films you've seen, in the stories you've been told since birth, the women so frequently meet disastrous ends. The real danger inside the present moment, then, would be for us all to separate the alleged deeds of Cosby, Ailes, O'Reilly, or Weinstein from a culture that continues to allow for dramatic imbalances of power. It's not these bad men. Or that dirty industry. It's this inhumane economic system of which we are all a part. As producers and as consumers. As storytellers and as listeners. As human beings. That's a very uncomfortable truth to sit inside. But perhaps discomfort is what's required to move in the direction of a humane world to which we would all freely give our consent.