George Michael, Through George Michael's Eyes
The late singer's autobiographical documentary conveys a man in charge of his own narrative—and reticent to reveal all.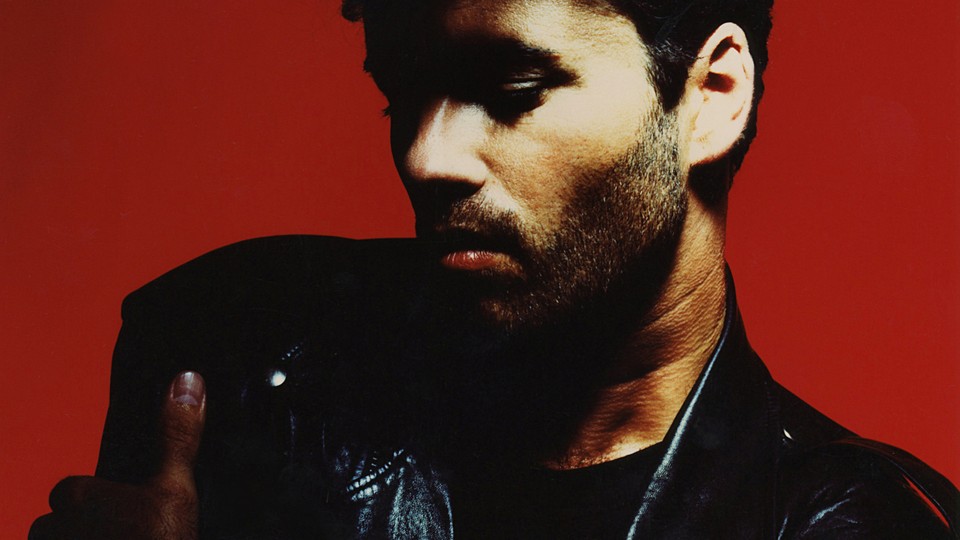 The most mysterious period of George Michael's life was the final one, the years he spent in his mansion in Goring-on-Thames, largely unseen by the outside public, following him falling out of a car in 2013. He'd mostly disappeared from headlines until the news of his death of natural causes at age 53 on Christmas Day 2016.
George Michael: Freedom, the Channel 4 documentary airing Saturday on Showtime, transports the viewer directly inside his seclusion—but in an odd way. Throughout the documentary, we see the back head of a man presumed to be Michael, in a well-kept brick manse presumed to be his, typing thoughts on a typewriter. The words are spoken by a narrator, also presumed to be him.
When the credits roll to the sound of Chris Martin covering "A Different Corner," at the end of the list of the film's celebrity contributors—including Stevie Wonder, Tony Bennett, Mary J. Blige, Ricky Gervais, Cindy Crawford, and the other four supermodels of his "Freedom! '90" video—there's a surprising entry: "Simon Rutter as George Michael." An actor, it turns out, plays the elder Michael throughout this slick and tantalizingly unrevealing biography of a pop great. (Showtime's rep says the voiceover, at least, is from Michael himself.)
At the start of the film, Kate Moss sits in the stereo-pocked chair from the "Fastlove" video and announces that Freedom (the documentary) is Michael's final work. He'd been putting the finishing touches on it in the days before his death. This, too, heightens the mystery surrounding the project: Michael apparently wanted fans to tour his life, but also wanted to keep his latter-day self at a distance. Such coyness is a complication—but not contradiction—of the portrait that emerges of Michael as the architect of his destiny and the controller of his narrative.
The early years of Michael's career, including his rise to fame in Wham! and his solo smash "Faith," are covered hastily, perfunctorily. Michael's initial ambition, we learn in voiceover and interview clips, was simply to be famous. Where that desire came from isn't clear, and his upbringing is mostly unaddressed. Viewers are informed that Michael's family was strict and self-effacing, and that his quest for recognition was somehow a rebellion against them. Rather than meet any of those family members, or Wham!'s Andrew Ridgeley, a grab-bag of celebrities like Oasis's Liam Gallagher riff on what Michael's feathered hair and skimpy shorts represented in the economically depressed 1980s U.K.
It's when controversy emerges in Michael's career that the documentary begins to dig deeper. A surprising amount of time is spent detailing the racial backlash to Michael's conquest of black radio and winning of R&B/Soul categories at the 1989 American Music Awards. He speaks with sensitivity on the issue— "I see their point, and I totally saw their point at the time"—and the ongoing testimonies of Mary J. Blige, Nile Rodgers, and Stevie Wonder throughout the doc feels meant as a bit of a rebuke to Michael's critics. The real upshot of the brouhaha, though, was that it set up the concept of his album Listen Without Prejudice Vol. 1 and Michael's fateful decision to step off the promotional circuit.
Heard by today's listeners and in the arc of Michael's life, Listen Without Prejudice's defining single, "Freedom! '90," may read as a coming-out song. But the documentary conveys how much the tune was tied up in Michael's other struggles: with the spotlight itself, with his teenybopper '80s persona, and with the U.S. division of Sony Music, with whom he entered into a lengthy and futile court battle to allow artists to walk away from overly lengthy record contracts. Freedom also asserts that Michael so heartily threw himself into that court case as a response to the AIDS-related death of Anselmo Feleppa, Michael's first boyfriend.
With all of this context, "Freedom! '90" and its indelible video—also given lengthy treatment in the doc—become a yet-richer document: the kind of clever melding of music and public narrative that today's hyper-meta pop stars, from Beyoncé to Taylor Swift, still strain to pull off.
Michael's love and loss of Feleppa was a pivotal, and heart-wrenching, saga on a number of levels. The political dimensions of Michael growing into a queer icon get less emphasis than the personal fact of Feleppa's death, for the most part. At one point, Michael talks about crying upon learning of Freddie Mercury's death—both out of grief over losing a childhood hero, and over the specter of HIV in his own life. One of the signature performances of his career resulted: Michael fronting Queen for "Somebody to Love" at the 1992 Mercury tribute concert, with Feleppa in the audience. The footage is still scorching.
The memory of Feleppa also fed into Michael's aching 1996 single "Jesus to a Child," whose creation ended a frightening bout of writer's block for the artist. In the documentary, Michael calls the resulting album, Older, his greatest achievement, and elaborates on the queer themes of songs like "Fastlove" and "Spinning the Wheel." "For anyone who had a clue about any kind of symbolism, I was coming out," he says. The triumph of that album, though, was quickly darkened by the death of his mother, extending the period of depression he'd experienced since Feleppa's diagnosis. "I felt like a sportsman who'd had a terrible injury in the middle of an incredibly successful career," he says of the trauma.
The post-Older decades return the doc to yadda-yadda mode. Over a glorified video montage, Michael's famous admirers quickly tick through such topics as the delightfully gay "Outside" video and the pop star's abiding desire for privacy. The scandals resulting from his public cruising attempts are mostly relegated to a clip of Michael making a joke about them on Gervais's Extras. Otherwise, when Elton John says "we've all made mistakes," the uninitiated viewer will have little idea what he's talking about in reference to Michael. The singer's much-publicized drug issues go unmentioned.
It's impossible to know how much this semi-sanitized tale of Michael's life was rooted in the star's preferences versus the decisions of David Austin, Michael's co-director and Michael's close confidante. But the documentary's heavy emphasis on the early-to-mid '90s as Michael's artistic peak—and emotional valley—has the marked feel of someone taking stock of their memories and curating their desired legacy. Which, of course, is the prerogative of an authorized, posthumous, hour-and-a-half documentary.
But at one point, Gervais nails the facet of Michael's charm that so vividly comes through over the course of the film: "He's fearless. He disarms the press because they say, 'Ohh, he did this,' and he says, 'Yep, and?'" The thought that he transcended shame is a beautiful one in the context of the story told here. But it's clear that some reticence, whether it was shame or something else, led Michael to still withhold a lot, especially leading up to his untimely end. The consolation is that such withholding was, in a way, another expression of his freedom.