Fever Ray's Eerie Halloween Synthpop
Karin Dreijer of The Knife's first solo album in eight years offers bustling, bizarre dance music about sex dreams and nightmares.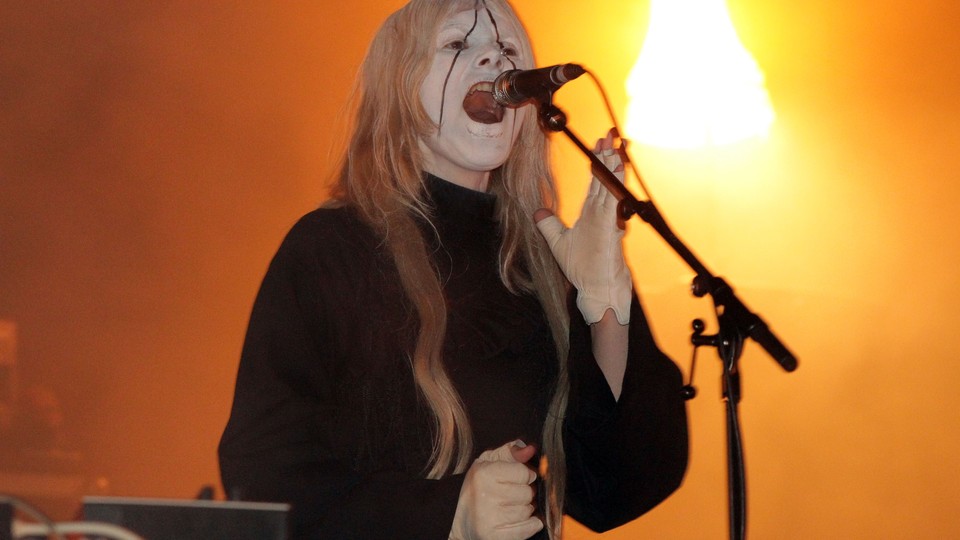 As it is with costumes and movie-night picks and the gruesomeness of skeletons you tack up in your front yard, there are two kinds of Halloween music: the spooky, and the scary. The spooky is "Monster Mash" or "Thriller" or anything keyword-related but otherwise in good fun ("psycho killer,  qu'est-ce que c'est!"). Then ... there are the songs to actually cause nightmares.
When I've made playlists of the latter, Fever Ray's 2008 single "If I Had a Heart" has been at the top. It's built off a low grinding sound possibly pitched to the frequency of decaying flesh; the vocals sound like Linda Blair in a reflective moment. Entire genres—death metal, horrorcore rap—exist to unsettle by transgressing the boundaries of taste and tunefulness. But the power of this song is its calmness and its success as pop. Hum it in hell.
So it seems like a Halloween miracle that Fever Ray, the recording name of Karin Dreijer, has finally released a second album as a surprise this late October. Dreijer is half of the Swedish avant-dance duo The Knife, whose catalogue too contains plenty of material with which to enliven a seance. Her shtick both in The Knife and solo has been to use strange vocal effects and swarms of keyboards while wearing creepy beaked masks or makeup. Her accoutrement for Fever Ray's latest, Plunge: rivers of blood.
The music is skewed, turbulent synthpop—often brighter than "If I Had a Heart," but still engineered to tap into the listener's fight-or-flight reflex. You might be okay letting much of Plunge command the dancefloor of your costume party, provided the crowd can handle the chalkboard-nails appeal of Dreijer's vocals. She sings with a filter that makes her seem both robotic and fetid, like Siri in swamp goop. It's the sound of some creature—homo sapiens?—programmed for hunger: gimme more, gimme more.
The lead single "To the Moon and Back" is a particularly cheery-queasy introduction. The rattlesnaking sounds that open the track recall "Head Like a Hole" by Nine Inch Nails, a band that's also a generator of Halloween-playlist essentials and a big influence of Fever Ray's. In an excited, climbing melody, Dreijer sings about lust while the synths and rhythms quiver. She climaxes with a fabulously explicit come-on, and the video is high-camp horror kink: body suits, bared gums, fluids.
The raunchiness continues across the album, and a few other songs follow in the ravey, first-touch rush of the single. "IDK About You" is a heavy-breathing rhythmic workout featuring the Kuduro producer Nídia, with Dreijer's lyrics nailing the way that desire can be a kind of curiosity. The opener, "Wanna Sip," starts with ominous drone sounds but quickly livens up rhythmically. Falling-missile effects erupt after each time Dreijer reveals, "I wanna peek / I wanna sip."
Elsewhere, and more seasonally appropriately, Dreijer's soundscapes and sex dreams trend darker. There's showstopping beauty in the violins-streaked odyssey of "Red Trails," which opens, "Blood was our favorite paint / You were my favorite pain." "Falling" is the most obvious haunted-house tune here, with clanging noises slowly cohering as Dreijer riffs on the complexities of reclaiming the pervert tag: "She makes me feel dirty again / That old feeling of shame." Fully decoding her meaning when it comes to sex and gore is no simple thing, and it's not helped by the surreal essay she crafted for Plunge, though one line is nicely lucid: "Baby, I hope one of us will hypnotise the other. Then the one less hypnotised will kill the other."
There's a moment of political horror here, too. On "This Country," halting bangs and whirs build into an industrial rhythm as Dreijer shouts, "Free abortions and clean water! Destroy nuclear! Destroy boring!" The glorious catharsis of the song comes when she repeats, "This country makes it hard to fuck." Which suggests two explanations for the entire Fever Ray project: She either makes music to embody something sinister about the world, or to scare the sickness out of it. Something similar could be said of the human fascination with horror, on October 31 and always.