Fats Domino: Remembering a Rock and Roll Pioneer
The pianist and singer, who died at 89, was one of the few remaining links to the era when jazz, blues, boogie, and R&B were melding to form a new genre.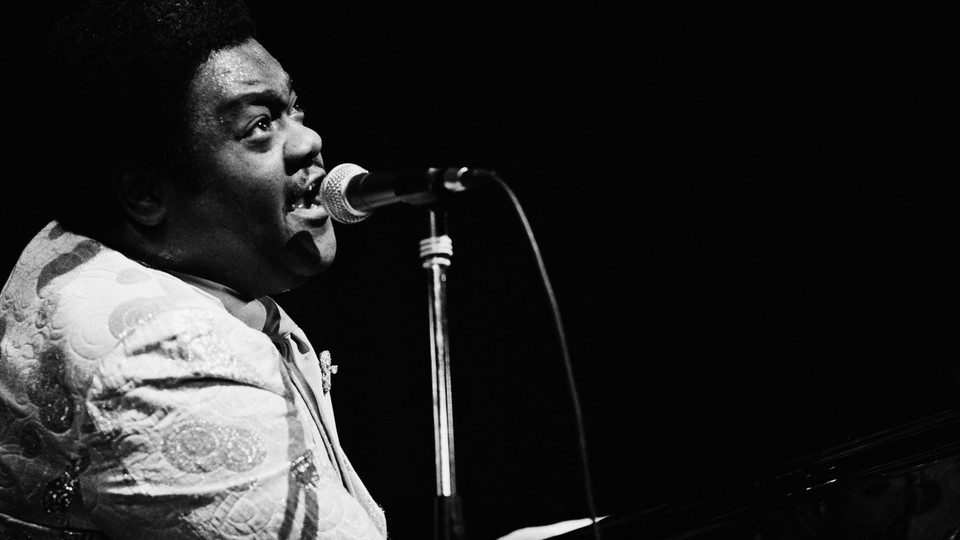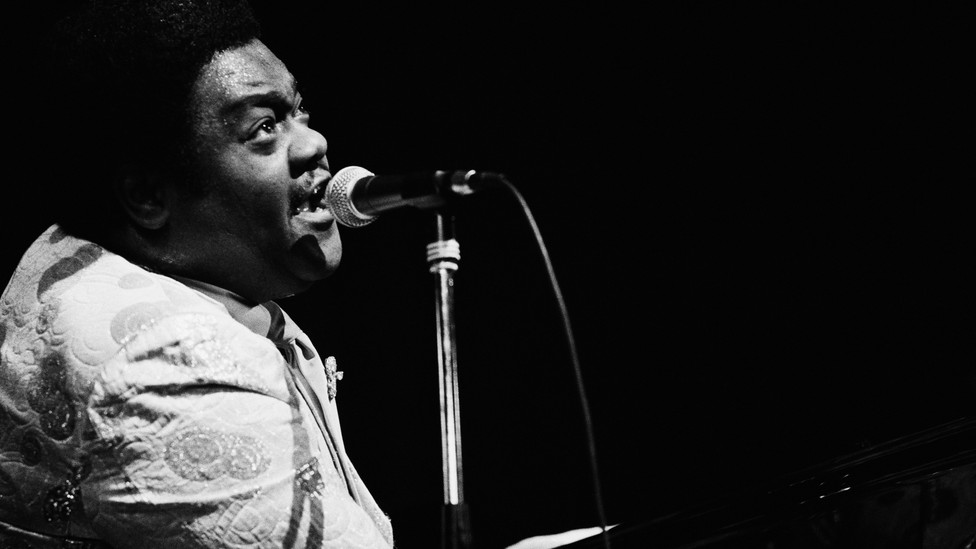 Fats Domino lands near the top of the list in any debate about who invented rock and roll, but in reality, the great pianist and singer's work demonstrates the futility of searching for a single creator or moment of genesis. Domino, who died Tuesday at 89, was one of the musicians who came from the jazz and blues tradition, added a slightly harder beat and feel to their music, and produced the sound that conquered the world.
Take Domino's first record, the 1949 cut "The Fat Man." The 21-year-old Domino took the classic piano blues "Junker's Blues" and turned the rolling surge of Champion Jack Dupree's 1940 version into a full-fledged boogie-woogie gale, adding his own new words. (As his nickname and the song's lyrics imply, Domino had no hesitations about poking fun at his notable girth, also joking that he was as wide as he was tall.) Domino didn't write the tune, a standard in his hometown of New Orleans. Nor was he the only one to adapt it: Professor Longhair's "Tipitina" and Lloyd Price's "Lawdy Miss Clawdy" are siblings, but he beat them to it, and recognized how hard he could make the track rock. Then he added in a touch that remains strikingly weird even today—a vocalized "wah-wah" solo that mimicked the harmonica solos of Delta and Chicago blues.
Or take Domino's most enduring hit, "Blueberry Hill." The song itself dates to 1940 and had been recorded by a broad range of musicians—the drum-basher Gene Krupa, the smooth bandleader Glenn Miller, the cowboy Gene Autry, and Domino's fellow Crescent City native Louis Armstrong—by the time he got to it in 1956. The track relies on the same rhythm-guitar riff as "Ain't That a Shame," Domino's breakthrough hit of the year before. Listening to Autry's original version shows just how thin and bland the original material was. Somehow, Domino managed to make a cheesy, throwaway love song into a cornerstone of rock and roll.
That's the genius of the genre: A musician with Domino's chops and inventiveness could take the well-traveled 12-bar blues of New Orleans, the rustic blues of the Delta, Texas boogie-woogie—vernacular African American musical forms both rural and urban—marry them to a maudlin pop standard, and somehow turn them into something new that would appeal to young people across racial lines. (Like many great black musicians of his era, Domino suffered the indignity of Pat Boone recording his work in a play for white audiences; in a stroke of justice, Domino's "Ain't That a Shame" handily eclipsed Boone's insipid, Bobby Darin-with-juke-joint-saxophones rendition.)
Domino has, perhaps, a less central claim on launching rock than some of his competitors. His music sounds a little more old-fashioned. Unlike the guitar pathbreaker Chuck Berry, Domino was a piano man. (Inducting him into the Rock and Roll Hall of Fame in 1986, Billy Joel praised Domino for establishing the piano as a rock instrument, but with a few notable exceptions, like Joel, Domino was actually one of the last piano players to dominate popular music.) The rhythm sections on his early work resemble old blues and R&B combos more than new rock groups; the guitar lines are less hard-edged and distorted, and the saxophone features, borrowed from jump and swing, would fade as Berry's fame grew. Moreover, Domino's honeyed voice didn't have the modern, rocked-up edge of Berry's or Little Richard's.
But Domino also got to his version of the fusion before Berry or Ike Turner or Little Richard. It's not a coincidence that he was from New Orleans, which is not only a city of great piano players, but more importantly a city where the mixing of races and genres and eras of music was unusually loose, presaging the ways rock would bring them together nationally.
"Well, what they call rock 'n' roll now is rhythm and blues," he said in 1957. "I've been playing it for 15 years in New Orleans."
Domino, given name Antoine, was of Creole descent. While the Crescent City has continued to produce musical greats since him, Domino's influence is matched by only a few, including Jelly Roll Morton and Louis Armstrong, and since rock hit nationwide, Domino's impact on American music as a whole has been unmatched by any other New Orleanian save Lil Wayne.
Domino's popularity at his peak was enormous: During the 1950s and early 1960s, he was the best-selling black musician in America, edging out Nat King Cole, Ray Charles, and Berry. The only artist who sold more records than him over that period was Elvis Presley, who expressed his feelings about Domino eloquently in 1969, when, mentioned by his frequent sobriquet, he pointed at the pianist and said, "No, that's the real king of rock and roll." "Blueberry Hill" hit No. 2 on Billboard's singles chart and topped the R&B charts for weeks. He had 39 songs in the R&B top 10 and 11 in the pop top 10 in his classic recordings for the Imperial label alone.
But as with so many black rock-and-roll musicians, Domino's career struggled from the mid-1960s on. It was no accident that Presley outsold Domino, and after him rock became an increasingly white music—a process that was driven by conscious marketing choices as well as by audiences—such that by the end of the decade, Jimi Hendrix's race made him an outlier in a music invented by black musicians. Domino's greatest influence from then on was a degree removed, through his enormous impact on British bands, especially the Beatles. The Fab Four did not record any of his songs, as they did Berry's, but he heavily influenced their early sound and writing style. "Lady Madonna" was reportedly written to emulate him, a gesture he repaid by recording a version himself, and both John Lennon and Paul McCartney recorded Domino songs as solo artists. McCartney and Elton John, as piano-driven rock artists, owed their path to him. (His piano style also had a lesser-recognized influence on the birth of reggae and ska.)
Meanwhile, Domino's records for other labels didn't reach the success his earlier Imperial albums had; styles had moved on, and even the Beatles were recording with sitars rather than boogie-woogie piano lines. By the 1980s, Domino had retired from touring, realizing that royalties from his hits afforded him the luxury of staying home and avoiding a road life he didn't much enjoy. He lived in a mansion in the Lower Ninth Ward, the predominantly black, lower-income neighborhood in which he'd grown up. He even turned down a trip to the White House to receive a National Medal of the Arts in 1999, sending his daughter in his stead.
Hurricane Katrina briefly put Domino back in the national spotlight. Domino was incorrectly rumored to have died, but his home was devastated by the storm waters, as so many in his neighborhood were. President George W. Bush replaced his lost National Medal, and his gleaming white piano was, as Mary Niall Mitchell wrote in The Atlantic in 2015, restored to visual—though not aural—appearance to commemorate the storm's danger.
Given Domino's relative silence in recent years, and his advanced age, one could be forgiven for believing he had already died. Unlike Berry, who kept playing well into old age and had just finished a new album when he died, Domino had less interest in performing and better management of his financial affairs, allowing him to live a quiet life at home. While others debated whether he deserved more credit, Domino viewed the matter with equanimity.
"Well, that's the way people feel. It don't make no difference to me," he told Goldmine in 2009. "I like Elvis and Chuck Berry and all of them." He added, "Nobody lives forever."
True as that may be, losing Domino and Berry within a span of eight months is a crushing loss for American music. Their deaths, and Scotty Moore's in 2016, leave Little Richard as the only major link to the establishment of rock and roll, and Little Richard as the only avatar of the time when rock was black. But Domino's passing closes off a bridge to the even more remote, and magical, primordial era before rock, when New Orleans was the nation's musical motor and jazz, blues, boogie, and R&B mingled. As the maestro said through his tears half a century ago, ain't that a shame?