Agnes Varda's Faces Places Is a Work of Art About Art
The legendary French filmmaker collaborated with the photographer JR to create a wonderful documentary about communities, memory, and her own history.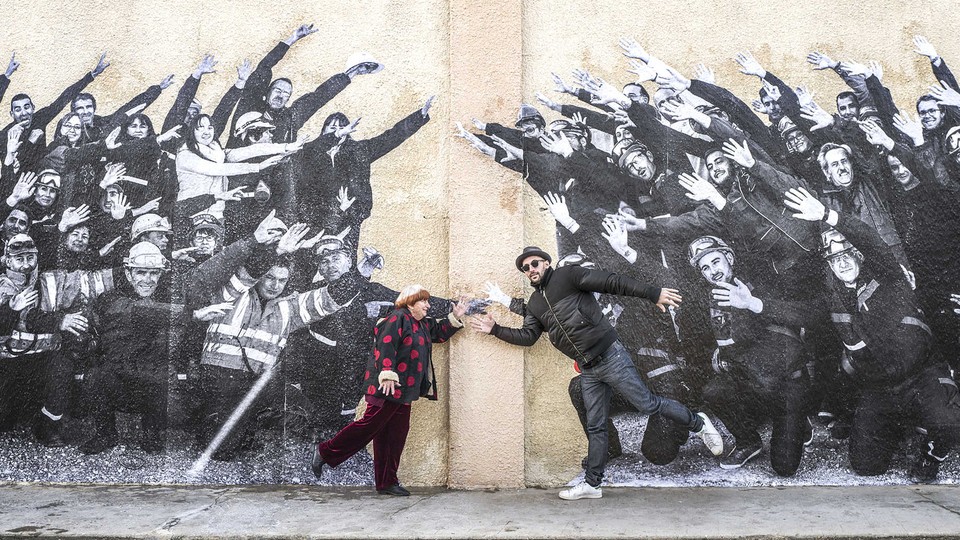 Agnes Varda knows the value of a camera. The 89-year-old director was a pioneer of French New Wave filmmaking and has strived to find inventive forms of storytelling throughout her career. In her new documentary Faces Places, Varda teams up with the enigmatic photographer and visual artist JR to follow and participate in his Inside Out project, in which he takes portraits of regular people and pastes the pictures, in gigantic-poster format, onto walls and buildings. The film (in limited release Friday) celebrates community, but for Varda, it's also personal.
"It's like a game," Varda says early on in the documentary, as she helps JR take pictures of French villagers, whose individual portraits are glued in a row to create the illusion of them all holding one long baguette. "JR is fulfilling my greatest desire," Varda explains. "To meet new faces, and photograph them, so they don't fall down the holes in my memory." Faces Places (its original title is the even more whimsical-sounding Visages Villages) is a magnificent work that reckons with art as a global force, a local curiosity, and an individual act of expression. It also sees Varda coming to terms with her own mortality while confronting the deaths, and evolutions, of many French ways of life.
Faces Places is a one-in-a-million crowd-pleaser that deserves to be seen by the widest audience possible. A self-reflective documentary about the artistic process directed by Varda (the grande dame of the politically conscious "Left Bank" of French filmmaking in the 1960s and beyond) may not sound like a movie with broad appeal. But Faces Places is exactly that: an arthouse triumph that speaks to so many universal concerns in wonderfully iconoclastic fashion, while telling its subjects' stories with compassion.
Just the sight of Varda and JR together in Faces Places is delightful. Varda, with her trademark two-tone hairstyle, stands a good foot shorter than her spindly companion, an inscrutable artiste who's always (to Varda's amusement) hiding behind his sunglasses. Nearing 90, Varda is sifting through her memories of the towns they visit, whether her connections to them are deeply meaningful or essentially random. JR is presenting himself more as a conduit, driving a large truck that doubles as a poster-maker: Simply step inside, pose for a picture, and the truck will print you a six-foot photo to stick wherever you'd like.
JR has traveled all over the world for the Inside Out project, seeking to counter regional stereotypes and advertising shorthand by presenting a locale's inhabitants as they really are. But for Faces Places, Varda is pointing JR's attentions toward the people of France and to the small towns that often get branded with outsiders' touristy notions of quaintness. The documentary shows how many ancient French villages are struggling to keep pace with modern life. Some of these towns were centered on declining industries, like farming or mining, while others have been abandoned, like the half-built Pirou-Plage, which has been reclaimed by local artists. Still, Faces Places is no gray-hued elegy to the death of France's working class, but rather a celebration of life. The documentary visits more thriving places like the docks of Le Havre, or a factory in Château-Arnoux-Saint-Auban, before turning to Varda herself, and her recollections of her earlier days as a photographer and avant-garde filmmaker.
Early on in Faces Places, Varda and JR visit a former mining town that has been largely deserted; the housing that was built for local miners is now occupied by their elderly children. Varda not only wants to preserve these residents' memories of their home, but she also hopes to enshrine their spirit. One vacant row of brick houses, slated for demolition, is being kept alive by a woman named Jeanine, who describes herself as the "sole survivor." "They won't throw me out," Jeanine tells Varda in one scene. "I have too many memories here ... no one can understand what we lived through."
Transfixed by this woman's indomitability, JR and Varda paste building-sized pictures of both miners and Jeanine on the row houses, a sort of monument to history (and one that local teens are thrilled to take selfies beneath). When Jeanine sees it, she's thunderstruck, choking back tears. "What can I say? Nothing," she cries. "We wanted to pay homage to you," Varda replies. "On a large scale." It's a moment of pure emotion, one of many that make Faces Places both a testament to Varda's own talent and a truly special piece of filmmaking.