King Lear Is a Media Mogul in Dunbar
In the latest book in the Hogarth Shakespeare series, Edward St. Aubyn considers the nature of power and ambition.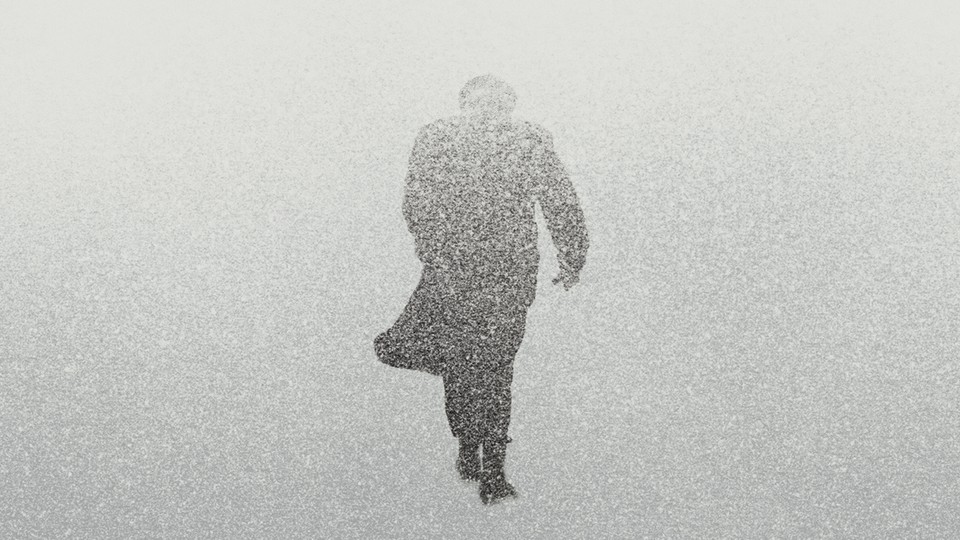 In the opening chapter of Edward St. Aubyn's Dunbar, King Lear has been reimagined as a once-formidable Canadian media mogul, Henry Dunbar. Having been deposed from his position of power and exiled to a care home named Meadowmeade in rural England, Dunbar's now being forcibly medicated and patronized by a fleet of grimly infantilizing nurses. "They stole my empire, and now they send me stinking lilies," Dunbar growls, appalled as much by his own enfeebled state as by the apparent treachery of his two eldest daughters.
Dunbar is the latest installment in the Hogarth Shakespeare series, a collection of modern prose retellings of Shakespeare's plays that includes Margaret Atwood's take on The Tempest, Hag-Seed, and Howard Jacobson's interpretation of The Merchant of Venice, titled Shylock Is My Name. (Forthcoming books include Jo Nesbo on Macbeth and Gillian Flynn on Hamlet.) It's an intriguing matchmaking exercise, but the pairing of St. Aubyn with Lear seems predestined—who better to reckon with a play about frustrated power and familial resentment than the author of the Patrick Melrose novels, a five-book exorcism of ancestral demons?
Dunbar begins in the middle of things, with most of the first two acts of Shakespeare's play dispensed with. Henry Dunbar, now in his 80s, recalls to his Fool—a dissolute comedian named Peter Walker, sent to Meadowmeade to dry out—how he lost his kingdom, a News Corporation–style monolith called the Dunbar Trust. His folly, Dunbar explains, was in ceding control to Abigail and Megan, his two oldest daughters, who, he realizes, "had spared no effort to please him by imitating his ruthlessness and his will to power." Florence, the youngest child, and his favorite, has disavowed the family business altogether, choosing to raise her family quietly on a ranch in Wyoming. Her implied rejection of everything Dunbar's life stood for has prompted an estrangement between the two that her father is only now coming to regret.
The immediate pleasure of Dunbar is in St. Aubyn's mimicry of Shakespeare's gift for banter. Dunbar and Peter spar back and forth, Peter adopting various guises as a career impersonator, Dunbar struggling to collect his fragmented thoughts. Peter's patter is the classic nonsense-wisdom of the tragic clown, updated for modern vaudeville: "When I get anti-depressed," he explains, "I have more heads on my head than bees in my bonnet." A hopeless alcoholic, he engineers his and Dunbar's escape from Meadowmeade solely so he can get blitzed at the local pub. But Dunbar's mission is more profound. Having spat out rather than ingested his pills for the last few days, he's determined to get to London and regain control of his company.
In making Dunbar a businessman rather than a monarch, or even a plutocrat, St. Aubyn gets to dissect the innate urges of Great Men—the drive to amass wealth and power that defines the 0.01 percent, often at enormous cost. Dunbar is peculiarly driven, with a singleminded focus that propels him ever forward. "He had always lived in the future," St. Aubyn writes, "rushing ahead so fast he didn't have time to even sketch  what was happening along the way ... The goals were always clear, but the experience around them hazy." If Lear, as Harold Bloom wrote, is "almost apocalyptically needy" in his desire to accumulate, particularly when it comes to love, Dunbar is his modern avatar, the tycoon cursed to realize that his empire has left him with nothing.
St. Aubyn writes like a fencer fences—so elegantly that it disguises the sharpness of his strike. There's no novelist alive who combines his gift for irony and his Wodehousian satire of the upper classes with his acute comprehension of the bleakness of existence. King Lear is a tragedy that defies meaning, peculiarly nihilist and secular in its resistance to justice. Evil simply is in the play; Lear's emotional maturity is one of its few consolations, but even that can't save him. St. Aubyn turns this journey toward self-recognition into a physical grappling with nature, as Dunbar embarks on an expedition through the English countryside that compels him to understand his own vulnerability. His career has been based on conquering nature, converting land into concrete and human frailty into flashy headlines. But as he's forced to reckon with its power on a freezing winter's night, he finds some sanctuary in being restored to a more primal relationship with the earth.
There are deficiencies in the play that St. Aubyn can't repair. Regan and Goneril, reimagined as a pair of sadistic and sexually depraved psychopaths named Megan and Abigail, are so awful as to be unconvincing, even in a comic way. A younger Abigail supposedly cut the props on Florence's rocking horse to try and break her half-sister's neck, while an adult Megan bites the nipple off the lover she shares with Abigail, a drug-addicted private doctor named Bob (he's the Edmund of the play, although more pedestrian in his motivations, and less enticing). St. Aubyn's own women characters are much more nuanced, and it's hard not to long for a more thorough engagement with female ambition. But St. Aubyn rivals Shakespeare in his magnificently scathing language, as Dunbar rants about these "treacherous, lecherous bitches, perverting his personal physician … into their all too personal gynecologist, their pimp, their copulator, their serpent dildo!"
The Patrick Melrose novels follow the arc of a man whose experience of vicious childhood sexual and emotional abuse cleaved his world in two, and whose identity has been formed on this duality of heritage. In the second novel, Bad News, Patrick—a semi-autobiographical representation of the author—sees how aging has reduced his once-biblically terrifying father to a pitiable wreck. Dunbar is more sympathetic to the state of old age, and the way it reverses roles. Henry Dunbar, St. Aubyn writes, "had imagined that his life's work was to build one of the most powerful organizations in the world, but now he felt that it had really all been leading to the rehabilitation of his innocence." In losing his tremendous authority, he sees the peace to be found in accepting vulnerability. His relationship with Florence is revived as she takes on a more maternal role as his caretaker, the balance of power between them having shifted.
Dunbar frequently feels personal, never more so than in the ending, where St. Aubyn can't quite bring himself to wield the same definitive cruelty as his model. It's a paradox: What is Dunbar's journey of self-realization for, if it all ends in nothing? How, after writing such a profound transformation in a character, can St. Aubyn condemn him to tragedy? His conclusion is ambiguous, in a way that feels deliberately truncated, as if the author couldn't quite go through with it. "No mercy," Dunbar decides, "in this world or any other." And yet, given that the Patrick Melrose novels are redeemed by a tentative acknowledgement of exactly this quality of mercy, it's easy to forgive St. Aubyn for wanting more.