Doris Burke's Expertise Is Finally Paying Off
After a quarter-century working on the sidelines, ESPN's newest full-time NBA announcer has broken through in a big way.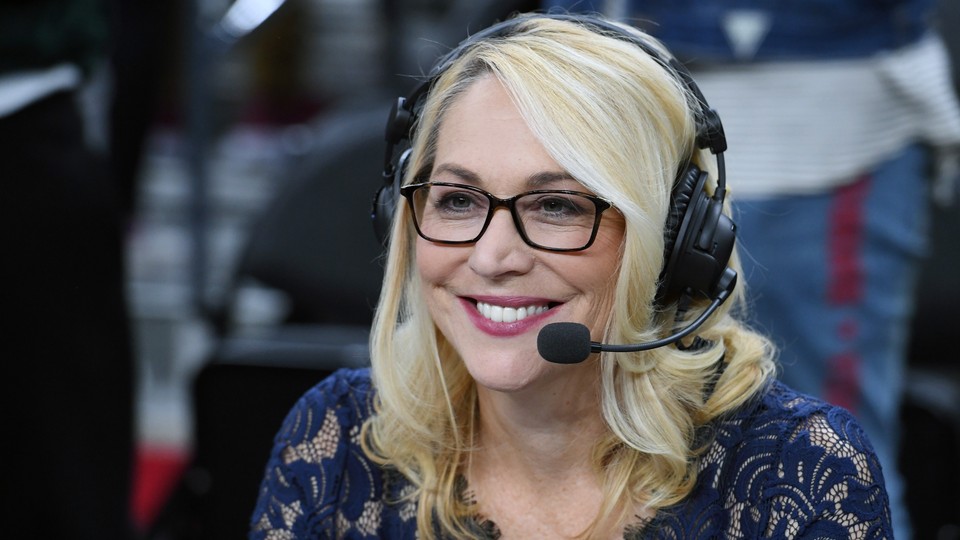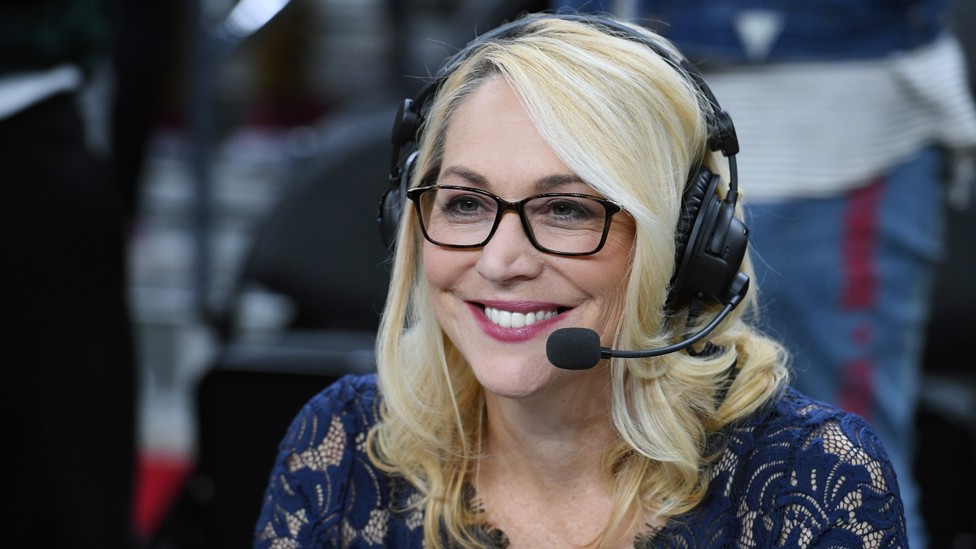 Doris Burke announces basketball the way the best players play the sport, with an unhurried confidence built upon habits so practiced they seem innate. During a recent showdown between the Golden State Warriors and New Orleans Pelicans on ESPN, she summed up one tightly packed second-quarter moment thusly: "Draymond Green, moving his feet, chest to chest, he'll get a little assistance from [Zaza] Pachulia." And after the shot fell: "That's just how good Anthony Davis is." It was a characteristic Burke call, layered and concise, simultaneously scanning team tactics and celebrating the individual brilliance that can overshadow them.
Burke, a former point guard at Providence College, has worked for ESPN since 1991, covering the WNBA and college basketball, serving as a sideline reporter during NBA games, and filling in as an NBA announcer only occasionally. This season, though, the network made her the first woman to work as a full-time game analyst on a national NBA broadcast, another step in a continuing cultural shift. Jessica Mendoza began announcing ESPN's marquee Sunday Night Baseball telecasts in 2015, and the opening Monday night of this football season featured Beth Mowins handling play-by-play duties in a game between the Denver Broncos and the Los Angeles Chargers. The barriers that have historically prevented women from doing this work—including boys' club networks, presumptions of ignorance, and Twitter trolls—seem less insurmountable with every success story. "I do feel as though we are in a seminal moment for women in sports broadcasting," Burke told me in early October. "We're going to look back on this time and know that that was an era where things really started to change."
The obstacles faced by female broadcasters follow the recognizable pattern of American exclusion; even as the unspoken accord that men's sports require male announcers weakens, it spawns offshoots. One of these is blatant social-media harassment. When Mendoza, an Olympic gold and silver medalist in softball, called a 2015 postseason game, the Atlanta sports-radio personality Mike Bell echoed the sentiments of hundreds of online anonyms, tweeting, "yes tell us Tits McGhee when you're up there hitting the softball you see a lot of 95 mile an hour cutters?" Another strain of displeasure takes a less profane tone but repeats the sentiment, that people who haven't played a sport (or the men's version of a sport) are incapable of analyzing it.
Burke is familiar with all brands of internet vitriol. "I'm not going to tell you I'm not aware of it," she said of online reactions to her past work as a game analyst. "I've seen it. It has historically been ugly." She noted, though, that the NBA itself has been a source of support. Before a playoff game last spring, when Burke was working in her then-usual role as a sideline reporter, J.J. Redick—at the time a guard for the Los Angeles Clippers—interrupted his warmup to approach her. "I've really enjoyed listening to you over there," Burke remembers Redick saying, indicating the announcer's table. "Just so you know, it was a point of discussion in our locker room, and that's a broadly held sentiment." Similar encounters featuring a range of league principals—players, coaches, executives—have buoyed her outlook over the years. "I have confidence in my abilities," she said, "but the reality is when the particular constituents of the job you're doing have faith in your abilities, that goes a long way."
It is no surprise, listening to Burke call a game, that aficionados admire her. Where ex-NBA players and coaches might be content to trumpet their own style-of-play preferences and fill airtime with stories from yesteryear, Burke holds fast to the action, ready to deploy advanced statistics or an old-school hoops idiom, whatever the moment requires. (Sometimes it requires only an emotion, as when the Warriors' Stephen Curry snuffed the Pelicans' comeback hopes with a late three-pointer: "Heartbreaking.") When she praises a player's shooting form or points out a crucial defensive miscommunication, the fact that she herself has never played in an NBA game is meaningless: Her knowledge and language give her all the authority she needs.
Burke's promotion to the analyst's chair comes at a time when many athletes (and, to a fuzzier degree, the leagues they play in) have aligned themselves with the fight for equality and social justice. Despite the fingers-in-ears protestations of the "stick to sports" chorus, it is a natural union. Even at their most corporate—played in near-billion-dollar stadiums in front of fans who have paid hundreds of dollars for tickets—sports have always tried to embrace the notion of something resembling truly equal opportunity, a fundamental privileging of ability over background. And while it's easy to counter that paradigm by, say, invoking Colin Kaepernick and his inexplicable inability to secure gainful employment in the NFL, Burke's elevation is at least a sign that hope for even incremental progress isn't pure folly. Though Burke works for ESPN, not the NBA, her rise speaks to the extension of that ethos beyond the sidelines.
Perhaps unsurprisingly, it is this quality—rewards earned, not given—that Burke most loves about professional basketball. "These are the greatest players in the world, who have paid a price for their greatness," she said. "You appreciate talent because you know—regardless of what field of endeavor it's been in—there's been a price paid to get there."
It's hard not to read that statement as self-referential, born of years of interviewing instead of opining, of honing skills while working at the periphery of the broadcast. Were she not a member of what she cheekily calls "the distaff side," Burke might have reached this status years ago. She's there now, though, making the game both truer and richer—in all ways, more fully itself.