For Women Seeking Pop Hits in 2017, It's a Climb
Miley Cyrus, Shania Twain, and Demi Lovato's new albums enter a newly indifferent charts landscape.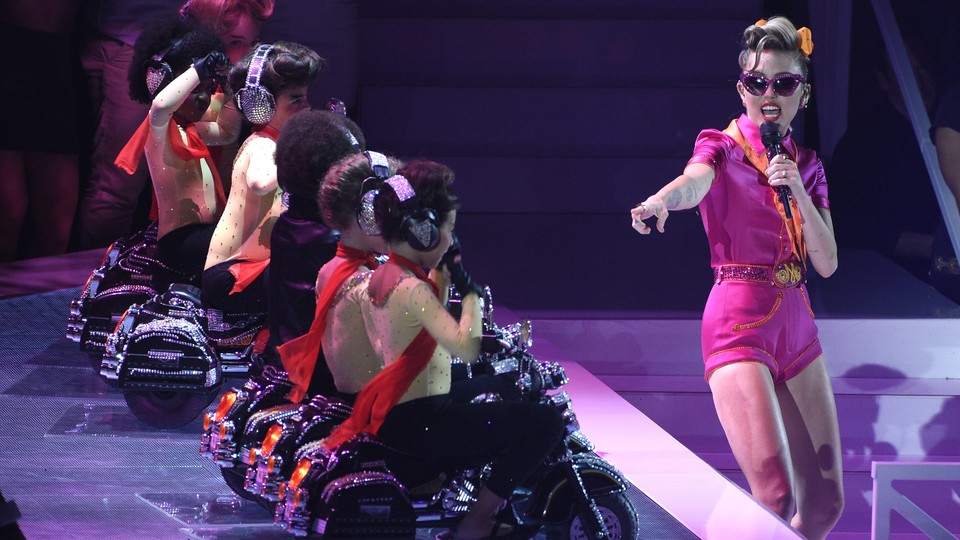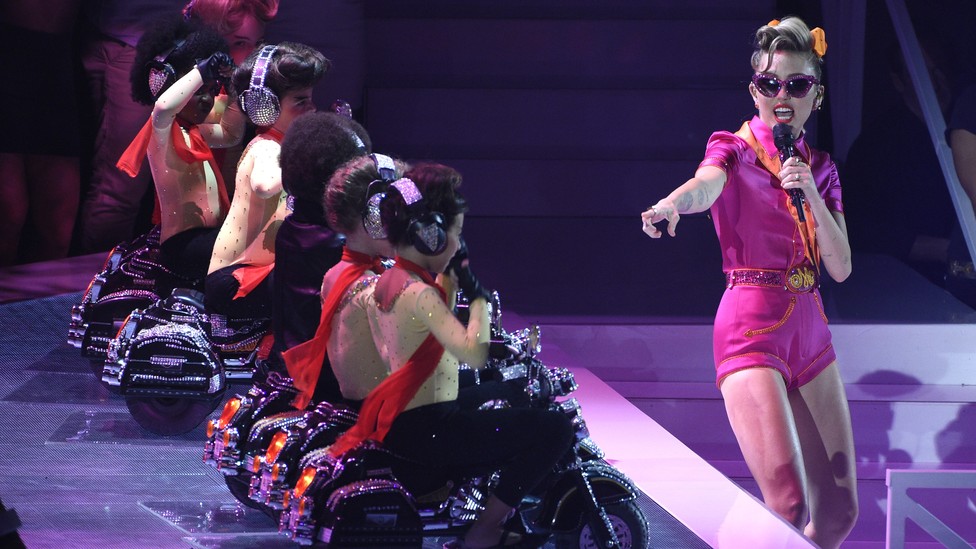 Until recently, a mystery loomed over the 2017 pop landscape: Where have all the female blockbusters gone? When Taylor Swift's "Look What You Made Me Do" took the No. 1 spot on the September 16 Billboard Hot 100, it marked the first song featuring a female singer to top the charts since November 19, 2016, the first song released by a female artist to do so since August 27, 2016, and the first No. 1 entirely unaccompanied by a male artist since January 16, 2016. To find comparable stretches of gender shutouts on the charts, you'd have to go back decades. Yes, it has been noted that this rough patch for women in pop eerily coincides with the Trump era.
By some signs, the boys' club would now appear broken up: Last week, Cardi B's delicious intimidation-by-footware effort "Bodak Yellow" succeeded Swift's single's three-week reign in the top spot, becoming the first No. 1 by a solo female rapper in nearly 20 years. Yet it's too soon to declare parity. Given the immense popularity of Swift's previous album, No. 1 status for her comeback single was virtually assured. The rise of the Bronx-raised exotic-dancer-turned-media-phenomenon Cardi B is a genuinely miraculous story—but is the kind of exception that proves the new rules of the pop landscape. In early September, Billboard tallied that only 14 percent of 2017's top singles had been by women.
To understand what's been going on, look to three newly released albums that might have seemed, from the outside, to have been locks for commercial domination. Miley Cyrus, Shania Twain, and Demi Lovato are household names, and their new full-lengths should sell respectably in their first weeks—but will face uphill battles when it comes to landing significant hits. Though each woman has been promoting her release for months, neither Cyrus nor Twain has any songs in the Hot 100 right now. Lovato has one single at No. 10, and can claim another current hit—a track by three dude DJs, on which she's a guest vocalist.
* * *
Prior to Swift's No. 1, the last chart-topper with a female vocalist was the Chainsmokers' "Closer." It, more than any song in recent memory, is the standard-bearer for this era of pop. The checklist: relatively slow tempo; electronic-dance textures; vocals manipulated into a wordless melody that works as an extra chorus; a sleepy-headed, wistful vibe; nothing particularly memorable; nothing particularly abrasive. In the narrative of the song, the guest vocalist, Halsey, is the replier to, and ex-girlfriend of, the Chainsmokers' Drew Taggart.
Musical trends never have one single cause, but the rise of streaming as a way of consuming music may have something to do with pop's nocturnal new sound, as Marc Hogan smartly explains at Pitchfork. Artists still hope for play on the radio and in nightclubs, but now they also angle to land on popular streaming playlists, which are often consumed on headphones or in the background. "People are listening smaller," songwriter Ross Golan says in Hogan's story. "If you look at the Top 50 songs on Spotify, most of them have these almost mumbly-type performances. Even Kendrick and Drake—the rappers now are not these aggressive rappers. What's popular is intimacy."
What's also popular on the streaming services, in part thanks to the younger-skewing demographics that patronize them, are two genres in particular: hip-hop and EDM. Neither is very friendly to female creators, though the rap world does sometimes allow exceptionally charismatic women—Missy Elliott, Nicki Minaj, and now, Cardi B—to bubble up. EDM is a producer-driven genre, and music production in general is famously unwelcoming to women. There are, as of now, no hitmaking female DJs to point to.
There are spots in EDM for featured vocalists like Halsey on "Closer" or Alessia Cara on Zedd's "Stay," but it's not exactly a forum for memorable performances or expression. The now-ubiquitous "indie pop voice"—creaky, coy, and vowel-breaking—is less a voice than an affect; a lot of people can do it. It seems plausible it's caught on, in this moment, due to the prerogatives of the streaming playlist: As the culture journalist Jessica Goldstein tweeted, "every singer has dropped that American Idol belt for a next-to-you-in-bed murmur." All of which leaves the preceding class of female pop superstars somewhat stranded, as belting and personality were exactly what made many of them famous.
* * *
Take Miley Cyrus. The Disney star entered music in teenagedom via the sterling schmaltz ballad "The Climb" and a goofy, babbling, salvia-smoking persona excellently sent up by Vanessa Bayer on SNL. From there, she executed her transition to adulthood impishly, with two titanic smashes—"Wrecking Ball" and "We Can't Stop"—equally memorable for their catchiness and eye-popping music videos. Around the time of her famous twerking incident at the 2013 VMAs, she fit well into a landscape ruled by a slew of newly iconic women: Lady Gaga, Katy Perry, Nicki Minaj, Beyoncé, Rihanna, and Kesha, many of whom also sold glossy, uptempo inspiration with fluorescent-fabulous visuals.
That era of pop is now over, though it's hard to separate out whether things changed because of market forces or the artists' own desires or some combination of the two. Many of the aforementioned hitmakers, empowered by their success and perhaps leery of pigeonholing, started to make less-than-obvious creative choices. Beyoncé's highly personal Lemonade and Rihanna's moody Anti zigged away from safe radio formulas yet still pulled off massive impact and sales, perhaps in part because they fit pop's emerging zest for electronic haze. Lady Gaga's Joanne, with its rootsy affectations and stripped-down visuals, didn't fare quite as well. All such transformations are built on the premise that it is the artist herself—rather than the style of sound or the collaborators around her—who matters: a rational bet in the era of personal branding and social media.
Cyrus has certainly written her own, surprising script. In 2015, she uploaded a full-length album of noisy, crass psychedelia to Soundcloud—without her label's involvement, and, in the end, mostly without the public's interest. Now she's reinvented herself again with Younger Now, a collection of pop-rock ditties that are small-scale and earnest, taking inspiration from her Nashville parentage. Cyrus wrote all of the lyrics, and co-wrote and produced all the songs with her collaborator Oren Yoel, which marks a departure from her smash-hit era of working with superproducers such as Dr. Luke and Mike Will Made-It. "My main concern isn't radio," Cyrus told Billboard in May. "I truly don't even listen to it."
To say that Younger Now represents a complete curveball would be wrong—Cyrus has long dabbled in country sounds, and, more importantly, the album is edgeless and oddly stiff. It's the third vaguely-country, vaguely-rocking overhaul from a onetime provocateur in a year, following Gaga's Joanne and Kesha's Rainbow (the latter, like Younger Now, features Cyrus's godmother Dolly Parton). Very little in pop music of late would indicate that ditching synthetic sounds is a path to profit—Mumford and Sons peaked in 2012, the same year Taylor Swift began moving on from guitars—but it's an obviously gratifying route to take for women tired of being accused of fakeness.
Cyrus's songs this time out are too anodyne to break through, though the lead single, "Malibu," a pleasant slice of acoustic pop with a sweetly bleated chorus, did hit No. 10 on the Hot 100. Some of the rawer heartbreak tunes, like "Miss You So Much," manage to get across some relatable emotion, and there's a charm to the tinny disco-rock of "Thinkin'." But the title track is the most memorable thing here. In her strange, mealy-mouthed twang, Cyrus spins a riddle-like narrative about maturing by rediscovering innocence. "I feel so much younger now," she insists. I cringed the first time I heard the song, but it grew on me—a sign of terrible streaming fodder, and it indeed quickly fell from the charts.
* * *
If anyone could pull off the country/rock/pop pose that Cyrus and some of her contemporaries have been aiming for lately, it'd logically be the woman who perfected such an approach in the first place: Shania Twain. The Canadian defined the word "crossover" in the '90s and early '00s, with her strong, supple voice turbocharged by cheeky attitude and the arrangements of the arena-rock stalwart Mutt Lange, her then-husband. Fifteen years after her previous album, the smash Up!, she has mounted a much-publicized comeback with Now. It's a solid collection that, somewhat surprisingly, chooses melancholy over the uncomplicated swagger of "Man! I Feel Like a Woman."
Twain's previous success was grounded in strong support from Nashville, with the artist scoring seven No. 1 hits on the country charts in addition to edging nine tracks into the Top 40 of the Hot 100. But the present-day country landscape, like the broader pop charts, isn't particularly welcoming to women. With five songs by female artists in the country Top 40 right now, the paradigm controversially described by a Nashville radio programmer a few years ago still seems to reign: Women, he said, were "just not the lettuce in our salad. The lettuce is Luke Bryan and Blake Shelton, Keith Urban and artists like that. The tomatoes of our salad are the females."
Thus far, Now's singles "Life's About to Get Good" and "Swingin' With My Eyes Closed"—both emotional pick-me-ups, one twee folk and the other tinged with reggae—have gotten almost no traction in the country or pop worlds. Perhaps "Home Now," the album's charming second track, built off a huge-sounding fiddle and banjo loop, might land better once it gets promoted as a single. But otherwise, Now seems far less concerned with hits than with conjuring a mood. Twain's time away from the spotlight has not been easy, involving an affair between Lange and Twain's good friend, divorce, remarriage, and a nasty bout with Lyme disease. She reflects that pain in a clutch of slithering tracks that temperamentally fit the current pop sensibility but musically feel out of time, oddly drawing from trip hop and cabaret. The downcast highlights "Light of My Life," "Poor Me," and "More Fun" all could be Garbage songs.
There is one cut, though, that stands as a striking sign of the times. Eight tracks in, a faint mariachi horn and an electronic dancehall beat dispel the gloom. Slowly it dawns on the listener: Twain's going "tropical house," the term for the trendy EDM-pop style heard in hits like Justin Bieber's "Sorry" and Kygo's "It Ain't Me." Here is the sound of an old-school female pop titan, one for whom personality and narrative and distinctive vocal shading has been key, trying to fit into the sound of 2017. Comically, there's a country guitar strum right before the chorus, adding a dose of twang between gauzy handclaps and pan flutes.
* * *
Demi Lovato has her own chillaxing triumph right now. The 25-year-old's guest turn on "No Promises," by the Los Angeles EDM trio Cheat Codes, is a by-the-numbers retread of the Chainsmokers' "Closer," right down to the male and female singers dialoguing about a one-night stand. It's been on the Hot 100 for 20 weeks and recently broke into the Top 40—a sign of the bubbling-up pattern that marks a streaming hit (it's at 41 as of this week's chart).
The irony is that Lovato isn't a star particularly known for chill. Another child actress turned singer, she boasts a big voice, a fervent fanbase, and a somewhat reckless sense of politics and public relations, as seen when she criticized a fan for drawing her as a skinny mermaid. Her catalogue includes a slew of solidly performing but not world-beating singles—mostly industrial-strength anthems with volcanic choruses. But she's versatile enough that she can make herself sound anonymous on "No Promises." The track is reminiscent of another 2017 attempt by a brassy vocalist to fit into the post-Chainsmokers landscape: Lady Gaga's somnolent non-album single "The Cure," whose shameless fad-hopping is excused by the fact that no one could sing the song's chorus the way she does.
"No Promises" doesn't mean Lovato is ditching her brand, though. Her sixth album, Tell Me You Love Me, is the kind of enjoyable, bombastic statement that stars like her are expected to make. "Sorry Not Sorry," the opener and lead single, smartly adds some trendy hip-hop inflections to her try-hard, wailing-diva package, and has been rewarded with the No. 10 spot on the Hot 100. The caffeinated electro-funk of "Sexy Dirty Love," would have made sense on Gaga's 2008 debut, but other tracks are more current—the woozy R&B of "Lonely," the shuddering synth catharsis of "Daddy Issues" (the latter a great guilty-pleasure song, embracing the icky conceit of the title: "You're the man of my dreams / 'Cause you know how to leave"). A surprising amount of soul informs the album, with the lovely closer "Hitchhiker" mining the same Stax Records territory as Beyoncé's "All Night."
It's not clear how an album this effortful, this loud, fits into the present moment, though. The spots on the Hot 100 that aren't occupied by rappers, DJs, or Imagine Dragons largely belong to interchangeable young men playing R&B for campfires: Ed Sheeran and Justin Bieber of course, but also Charlie Puth, Shawn Mendes, and the second wave of One Direction solo efforts—Liam Payne, Niall Horan, Louis Tomlinson. The pose they strike is of the nice-guy seducer, the suave but puppy-eyed everyboy. It's true that Cardi B and Taylor Swift have broken through lately with brash, campy cries of war. But it remains to be seen whether their success remains an outlier in an era when pop's women have often needed to quiet down in order to be heard at all.