Deciding to Skip the NFL Season
A football fan says goodbye to the league, a year after Colin Kaepernick's first kneeling protest.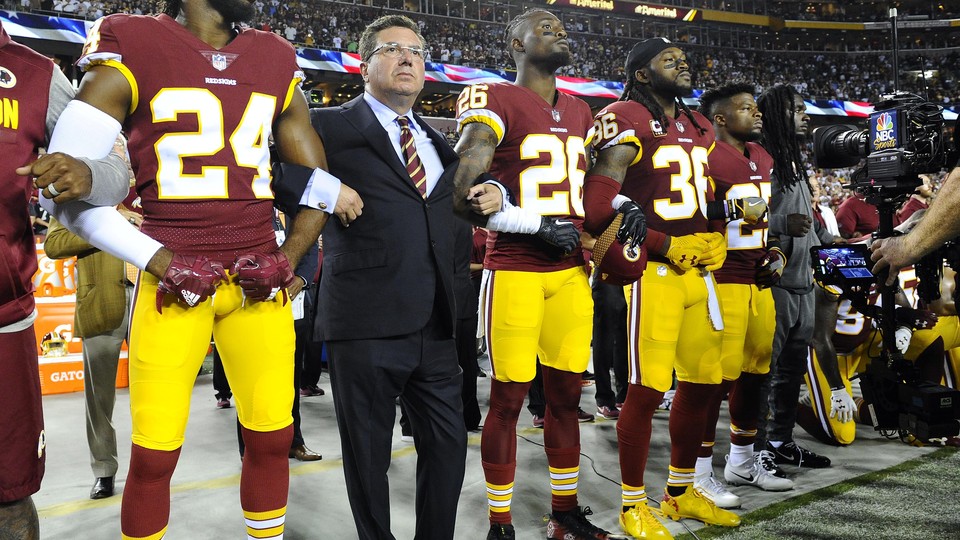 In 2015, for my son's third birthday, my family made the four-hour drive from Atlanta to Charlotte to take him to his first New Orleans Saints game—a rite of passage in my family since I was a young boy. That's how much we love the Saints. And that's how much we loved the NFL. Last week, the Saints played the Panthers again, reigniting their conference rivalry. I don't even know the game's final score.
In June, I decided I wouldn't watch any more NFL games until the former San Francisco 49ers quarterback Colin Kaepernick was signed to a new team. Three months earlier, Kaepernick had opted out of his contract with the 49ers, with an understanding that he'd be cut from the team anyway. By then he had become something of a pariah in the NFL for quietly refusing to stand for the national anthem during each game, an act meant to protest police brutality but widely condemned as unpatriotic. I had already felt conflicted for years about continuing to support an organization that grossly mishandles domestic-violence issues, downplays the life-threatening effects of brain trauma on its athletes, and cares less and less about the quality of the product on the field. But the Kaepernick situation was the last straw. It was clear to me that he's qualified to play in the NFL, and even start for some teams—but his peaceful protest was seemingly the only factor keeping him out.
Recently, of course, some unlikely company has joined me in boycotting football. President Donald Trump suggested at a rally that NFL players who protest during the national anthem should lose their jobs, telling owners to say, "Get that son of a bitch off the field right now, out, he's fired. He's fired." On Twitter, he urged angry fans to boycott the league: "If NFL fans refuse to go to games until players stop disrespecting our Flag & Country, you will see change take place fast. Fire or suspend!" Those remarks galvanized NFL ballers, leading to a series of games where players, whole teams, and owners engaged in various forms of protest—whether kneeling like Kaepernick or linking arms, before or during the anthem. The NFL saw a brief ratings boost thanks to the spectacle, but I didn't watch any of it and have no plans to.
The initial media coverage of the NFL's extensive protests suggested the displays of resistance were enough to leave many commentators fulfilled. "Unity defined Sunday—not oversimplified tripe about unity, not an attempt to make everyone obey and seem unified—but true unity," wrote Jerry Brewer for The Washington Post while describing how the NFL "beat" Trump. ESPN's Ian O'Connor similarly wrote, "This show of solidarity was a blowout victory for Kaepernick, absent in body but so present in spirit." But I'm still sticking to my boycott because, in many ways, the protests had little to do with Kaepernick and his original message.
While some of the NFL's gestures of "resistance" were undoubtedly sincere (and some players, such as the Seahawks' Michael Bennett, have made clear that they support the same cause as Kaepernick), other protesters in the league were less open about their motives. Some displays were disjointed: The Steelers deciding to not take the field for the anthem, with the exception of the army veteran Alejandro Villanueva, who later apologized to his teammates for not joining them, was more awkward than effective. Other efforts were virtually meaningless, like the Cowboys taking knees before the anthem only to lock arms and stand during it.
For too many NFL players, owners, and fans, the protests had simply become about Trump—about the free-expression implications of his words and resentment toward his insults. Headlines like this one from CNN, "NFL players, owners come together to denounce Trump's anti-protest rant," illustrate how the focus had shifted away from the killings of unarmed blacks and Latinos by police officers. By waiting to react until the president personally offended them, many athletes and owners undercut their displays of solidarity. And most importantly for me, those same owners still haven't signed Kaepernick.
Of course, many observers still took umbrage. Baltimore Ravens fans signed a petition to remove Ray Lewis's statue from the front of their stadium after he was seen kneeling with his former teammates during the anthem. DirecTV is reportedly offering NFL Sunday Ticket refunds for fans offended by protests, and Trump has continued his heated commentary about the league over the last week. As a result, friends and Twitter followers familiar with my stance have asked if my boycott has been complicated by the fact that others are now boycotting for the exact opposite reasons. Will my message get lost if my tactics are essentially the same as those of people cheering Kaepernick's unemployment? I don't think so, especially not if I continue to be vocal about my beliefs and advocate the values behind my choice within my own circles.
Throughout the long history of civil-rights struggles in this country, there have always been counter-protesters threatening to boycott institutions that acquiesce to an unpopular demand or group. But the response to counter-protesters has generally been the same regardless of the decade: Let them be mad and lead their own movements—the loss of business is simply collateral damage for institutions having discriminatory practices in the first place, regardless of where the pushback is coming from. The rapper J. Cole was among those who maintained that an NFL boycott was still both necessary and effective, even after Trump's own call for one: "In this capitalistic world we live in, that's when your voice is heard. When you hurt the pockets." On that point, he and Trump agree.
If I were having any second thoughts about continuing to not watch football, then the most recent Sports Illustrated cover would have silenced those doubts. The cover shows athletes from different sports locked arm-in-arm with people like the NFL commissioner Roger Goodell, who still hasn't defended Kaepernick's worthiness of a job, and the Jaguars owner Shahid Khan, who is one of the NFL executives who donated to Trump's inauguration. The image shows how easily a movement gets co-opted, and it's a reminder of why I simply can't pretend anything meaningful has changed in an institution I once loved.