Can a Thrash Metal Band Help Save the Maori Language?
Indigenous tongues around the world are under threat—and modern musicians are trying to keep them alive.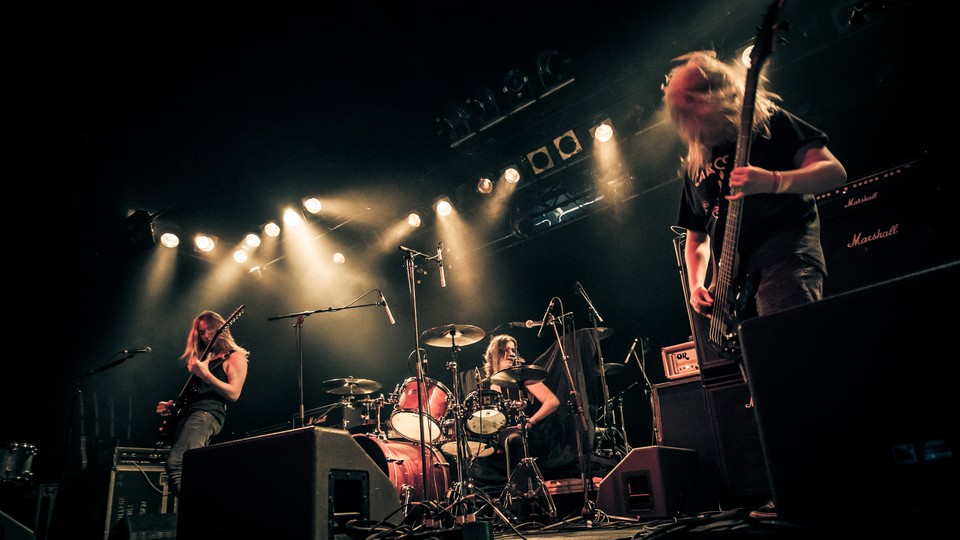 Niel de Jong raised his sons on the music of bands like Metallica, Pink Floyd, and Rage Against the Machine. In the evenings, in their home in Auckland, New Zealand, they played a game called "Guess the Record," where they'd look up obscure songs on YouTube and challenge each other to name the artist. De Jong's enthusiasm for music was matched by his love of Māori culture and history, which he was determined to pass onto his boys. From an early age they were enrolled in immersion schools known as Kura Kaupapa Māori, where lessons were taught entirely in the indigenous language. Soon, they were fluent.
The family eventually moved to a small town in the far north of the country, where Henry and Lewis—now 17 and 15, respectively—formed a metal band called Alien Weaponry along with their friend and bass player Ethan Trembath, 15. Their father stepped in as band manager. A mixture of fast, aggressive drum beats and defiant lyrics sung in Māori, the band's songs trace their people's history, telling stories of colonization, oppression, liberation, and death. One single, "Rū Ana Te Whenua" (The Trembling Earth), describes a violent battle between British soldiers and Māori in 1864 that claimed the life of one of their ancestors.
"Metal has the power and anger that allows you to express deep emotions," Lewis told me over Skype. "It helps us bring light to some unjust actions in the past." Henry, sitting next to him, nodded in agreement, his long brown hair pulled back in a bun. The teenagers, who are of the tribes Ngāti Pikiao and Ngāti Tuara, have faced repeated questions about their heritage (they are both light-skinned), and were initially worried about how the Māori community might take their music. But the reaction so far has been "overwhelmingly positive," Henry said. Last month, Alien Weaponry won the coveted APRA Maioha Award for Māori artists and signed a three-year management deal with the German music agency Das Maschine. The band has been invited to play a host of festivals across Europe next year.
Alien Weaponry's celebration of Māori language, which is also known as te reo, comes at a critical time in New Zealand, as the rate of proficiency continues to decline. The latest census data shows only 21 percent of Māori could speak the language in 2013 compared with 25 percent in 2001. Across the total population, less than 4 percent can hold a conversation in Māori. The problem is not isolated to New Zealand. It's estimated that of the roughly 6,000 languages in the world, at least 43 percent are endangered. The UN estimates one language is lost every two weeks. As governments struggle to develop strategies to preserve languages, contemporary bilingual musicians like Alien Weaponry are gaining throngs of young fans and offering a fresh avenue outside traditional models. "Music gets to places that other things don't, even education and other sorts of campaigns," said the Wellington-based author, broadcaster, and music historian Nick Bollinger. "If it's happening unconsciously rather than through some sort of deliberate didactic method, then I think that's probably the best sign."
Māori pop music first began to emerge in New Zealand in the 1960s, taking on a reggae-inspired sound in the early 1980s. (Traditional Māori music and dance, meanwhile, goes back several centuries.) Since then, there has been an "almost conscious attempt to keep it niche," Bollinger said, adding that "mainstream commercial radio would never go near it." Lydia Jenkin, a representative of APRA, the organization behind New Zealand's prestigious songwriting award, the Silver Scroll, told me that the group has received approximately 2,000 entries in the past 10 years; only five of the 14 entries sung partially or completely in Māori have ever made the longlist. Bollinger remembered being on the judging panel one year and witnessing a fellow judge reject a Māori entry because it didn't include subtitles. (APRA this year committed to having a Māori expert on every judging panel, Victoria Kelly, a representative, wrote me in a later email.)
While there's no simple solution to the problem of dying languages, the approach of encouraging young people to pick up the mantle—critical as older speakers die out—is rapidly evolving. Around the world, emerging bands experimenting with language are finding young audiences through social media and the internet. In Toksook Bay, a remote Alaskan village, a teenager named Byron Nicholai has gained an international following for his songs sung in the Yup'ik language through his Facebook page, "I Sing. You Dance." In Canada, an indigenous DJ collective, A Tribe Called Red, sold out shows around the world with music that blends imagery, stories, and sounds from their culture, and draws attention to issues including systemic disadvantage, poverty, and cultural appropriation. (At one point the band, whose single "Stadium Pow Wow" has been viewed more than three million times on YouTube, pleaded with non-indigenous fans to stop wearing headdresses to their shows.)
In Auckland, a young bilingual band called SoccerPractise is also on the rise. Known for mixing Māori lyrics with synth sounds and kaleidoscopic visual displays, the group released the single "Amene"—the word is Māori for Amen—which went No. 1 on four alternative New Zealand radio charts in June and July. In September, the hit Disney film Moana was released in Māori in New Zealand. And in 2016, a group of more than a dozen Māori artists made headlines with "Maimoatia" ("Cherish It"), a collaborative song that beat Justin Timberlake to the top spot on the iTunes singles charts in New Zealand. It opened with a rallying cry: For the language's survival, speak it. For the language's survival, sing it.
Those fighting to preserve a language will inevitably face an existential question: Does saving it even matter? While Māori is recognized as an official language in New Zealand, most of the population speak English. And whatever happens, vestiges of Māori will endure in the form of songs and greetings. The country's public broadcaster, Radio New Zealand, encourages its announcers and reporters to introduce themselves in Māori, and many words have become part of the local vernacular, including kia ora (hi), kai (food), and whānau (family). The haka, a traditional dance, is arguably one of the world's most famous indigenous performances because it's featured at the start of many international sporting events televised to millions.
The Columbia University linguistics professor John McWhorter noted in a piece for The New York Times that languages each have their own fascinating quirks, often credited with offering insights into different worlds. "In Russian there's no word just for blue; you have to specify whether you mean dark or light blue," he wrote. "In Chinese, you don't say next week and last week but the week below and the week above." But, McWhorter told me, the need to save languages comes down to something far more fundamental. Having a language "is part of constituting a culture to have a code you can speak in that no other culture has; it's part of the definition of a culture," he said.
For New Zealand's first people, their entirely oral language went beyond communication and "into the realm of identity and metaphysics," the historian Paul Moon wrote in his 2016 book Ka Ngaro Te Reo: Māori Language Under Siege in the Nineteenth Century, serving as a "conduit linking the physical and spiritual worlds." But the language did not fare well under colonization. After the Native Schools Act was passed in 1867, te reo was banned from classrooms and children were beaten for speaking it. By the 1980s, with less than 20 percent of the Māori population able to speak the language fluently, a national movement was launched to try and save it, including grassroots initiatives such as the establishment of Māori-language pre-schools. The movement is still held up as a pioneering example of language preservation today, but it remains unclear whether the damage of significant and prolonged marginalization can be undone.
Geneva Alexander-Marsters, the 27-year-old lead singer of SoccerPractise, first started experimenting with contemporary bilingual music by covering Māori songs she learned at school as a kid. Born to a white mother and Māori father, she has adopted what she calls a "gray area" ("too brown for the white kids, too white for the brown kids"), which made her a bridge between both worlds. "SoccerPractise speaks to that," the singer told me from her home in Auckland. "We're a bilingual band. We look like this and we do this."
Alexander-Marsters said she believes her music opens the door to the language for people who may feel too outside the culture to walk in. "There are people who are interested in Māori, but they think they don't know enough," she told me. "Music is really powerful as an educational tool because you just have to listen to it over and over again to start understanding the words and meanings."
McWhorter sees this comfort level as crucial. "Not all people understand that reviving a language—if one really wants it to live again in anything like the form that it once had—means getting people using it spontaneously in real life, including speaking it to their children," he told me. "Art, and I would say especially music, is a great way to inculcate this ingrained sense of using the language, with real expressiveness, with the infectiousness of music and its sense of cultural authenticity."
Anna Luisa Daigneault, a development officer at the Oregon-based nonprofit Living Tongues Institute for Endangered Languages, has researched bilingual music and bands extensively in Canada and Latin America. She believes the key to their artistic success is cultivating a strong local following. "[These bands] do lots of performances. They care about the elders. They care about the youth. They're genuinely doing all the grassroots stuff it takes to reach a wider audience, and it takes years," she told me. But there are limitations to being a bilingual band. The immediate audience is small, there's a glut of competing musicians promoting themselves through social media every day, and the likelihood of people being put off by lyrics they can't understand or a song name they can't spell in Google is real. On top of that, it's difficult to measure how someone might be affected by exposure to bilingual music in daily life, as little research has been done. Daigneault said she was only aware of studies that focused on music within a school curriculum.
Music has the power to immortalize and preserve languages. Classical music, for example, has a history of using Latin in liturgical motets like Mozart's Exsultate, Jubilate. And many contemporary composers are now incorporating threatened and extinct languages into their work—detailed by the writer Corinna da Fonseca-Wollheim in her 2016 Times article "Vanishing Languages, Reincarnated as Music." But is music simply a document of history and a means of preserving language, or can it attract new speakers? "For the Māori language to be cool through music is more valuable than [young people] having books to read about it," Niel de Jong told me. "Māori will stay alive with young people if it's cool." Indeed, the power of popularity and exposure can't be understated. In 1913, 90 percent of Māori school children grew up speaking their language. Today, there is a national debate about whether te reo should be made compulsory in all New Zealand schools, to address the low rates of proficiency. "A lot of Māori students all across the country are disengaged with their language, their culture, their people," Paora Trim, a teacher with Kapiti College, told the Education Review earlier this year.
Next year, Alien Weaponry will take Māori thrash metal across the world and aim to release their first album in February 2018. They plan to spend three months touring Europe, de Jong told me (he will travel with the band). And if the teenagers stand out alongside other acts, it won't be a new feeling. They have searched online but haven't found any other bilingual Māori metal bands, let alone ones drawing attention to New Zealand's contentious history. Ultimately, the musicians believe that singing about colonization and the widespread confiscation of Māori land—issues still being redressed today—is more powerful in their ancestors' tongue. "To get people to learn you have to make them interested," Henry told me. "You can't just shove it down their throats. You can't force someone to learn a language, or a history."