Better Things's 'Eulogy' Is One of the Best TV Episodes of the Year
On Thursday night, the FX show aired a weird, wonderful ode to working motherhood.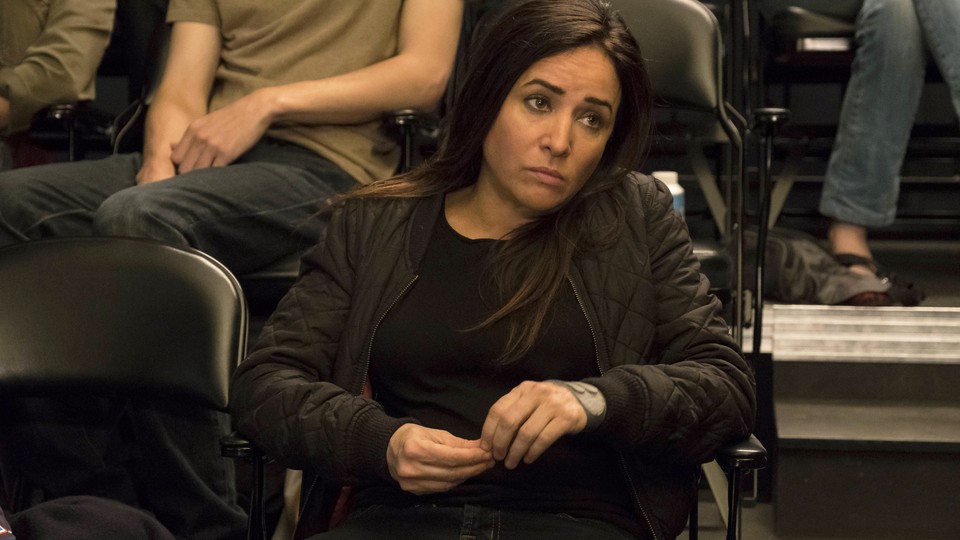 It's a testament to the particular counterintuitive genius of Better Things that when the FX show dedicated an episode to Sam's pride in her career as an actress, it included a sequence in which she participated in one of the most ridiculous car-commercial shoots of all time. (Can I drive now?)
"Eulogy," the sixth episode of Better Things's second season, is one of the weirdest, loveliest, and most inspired half-hours of television to air this year. Pamela Adlon's show has always observed the intersection of motherhood and work—Sam (like Adlon, who plays her) is a working actress, with the emphasis on "working." She relies on unglamorous but reliable jobs like voiceover work, commercials, and the odd sitcom pilot for the money to raise her three daughters and take care of her mother, Phil (Celia Imrie). But "Eulogy," which showed Sam teaching an acting class, was the first time Better Things has really considered her pride in her job, and the fulfillment it brings her. In the face of her daughters' characteristically snotty reaction when one of her old shows came on the air, Sam demanded some recognition. The result was a parenting moment that encapsulated Better Things's ability to be strange and sardonic, and to punch viewers in the gut when they're least expecting it.
The episode opened with Sam at work, watching groups of actors play a scene between two characters. Doling out advice with characteristic brashness ("Wong, you're boring. That's all. Work on it"), she offered some advice on the industry. Most of the work actors are given, she said, is awful. "Anyone can do a scene that's well-written. The skill that you're gonna need if you wanna really work, and get steady work—as steady as you can, anyway—is to make shitty writing mean something. To elevate the work. If you can take a bad script and make it work, they'll keep hiring you."
This insight was subsequently affirmed when Sam went to shoot a car commercial. In what began to feel like "Groundhog Day—like a 20-second version, only it's longer," Sam and another actor endured take after take after take, for what seemed like no reason at all. "Is this the worst job of your life?" the other actor asked her. "No, dude, no no no," said Sam, launching into an anecdote about a horror movie before being immediately interrupted by the director.
Later, watching TV at home with her daughters and two friends, Sam was infuriated when Max (Mikey Madison) switched the channel to RuPaul's Drag Race after briefly seeing her mom on TV. "They'll love you when you're dead," Sam's friend Rich (Diedrich Bader) told her. "I want it now," Sam replied. "I don't want to have to wait till I'm dead for my kids to appreciate me." Laying prostrate on a cushion in the middle of the room, Sam told her kids that she was dead. "Thanks. Go. Eulogize me. ... Let's hear any feelings about me at all."
It wasn't necessarily a tactic a family therapist would have recommended. Nor was the fact that, to comfort Duke (Olivia Edward), who was upset at her mother's pretend death, Sam told Duke that she was dead, too. But—after an interlude in which Sam's obnoxious eldest daughters drove her out of the house—the unappreciated mother finally got what she wanted, with some assistance from her friends Rich and Tressa (Rebecca Metz). Sam's daughters eulogized her, while Ben Sollee's "Panning for Gold" played, and it brought everyone to tears. "I was always proud of her," Frankie (Hannah Alligood) said of her mother. "But I never told her, because I think that once I gave her that I wouldn't have it to give anymore, and now I wish I hadn't waited." Sometimes, Frankie acknowledged, when she felt like she couldn't get through the day, she gave her mother some of her pain, "because I knew she could carry it when I couldn't."
Coming in the wake of an episode in which Sam dealt with an emergency involving her increasingly frail and caustic mother, "Eulogy" didn't refer to Phil's health at all. But its underlying message of not waiting to acknowledge how remarkable people are until they're gone seemed to emotionally refer to recent episodes. In the always fraught, always layered relationships between mothers and daughters, "Eulogy" implied, it's fine to ask for more than you're getting, even if it's just an affirmation that you're doing okay. Or, better than okay. As Tressa said about Sam, "She is the best mother that I ever saw. Better than my mother. Better than me. I could never be like her, which is always a comfort. She's my pace car."
The mock eulogy also acknowledged that Sam's job was important, even if it was just important to her. "Look, I do a special thing," she said to her daughters, earlier in the episode. "I think I'm allowed to say this at this point. Your mom is an actor and I make things, and I've put myself out there, and I've accomplished some things, and I've been doing it like my whole life." Usually, when TV shows focus on working mothers, they emphasize how difficult and tedious and tiring it is to try to do both things well. But rarely do they acknowledge what work can mean to women—the sense of achievement that comes with succeeding professionally and having a meaningful career.
"Eulogy" got an extra jab of poignancy from its dedication to Robert Michael Morris, the actor who sat next to Sam in the bar in the middle of the episode, and who died in May. "Nobody could be gay until I was too old to have any fun," he told Sam. "I feel like the exact same thing is happening to me," she responded. This episode, which ended with a hysterical, Rosemary's Baby–themed mock-sacrifice, forced its characters to see, in that moment, how lucky they really were.