Basketball's Positionless Savior Is Ready for Primetime
Shoot threes like Bird, dunk like Jordan, or pass like Magic? A new generation of NBA stars, led by Milwaukee's Giannis Antetokounmpo, no longer have to choose.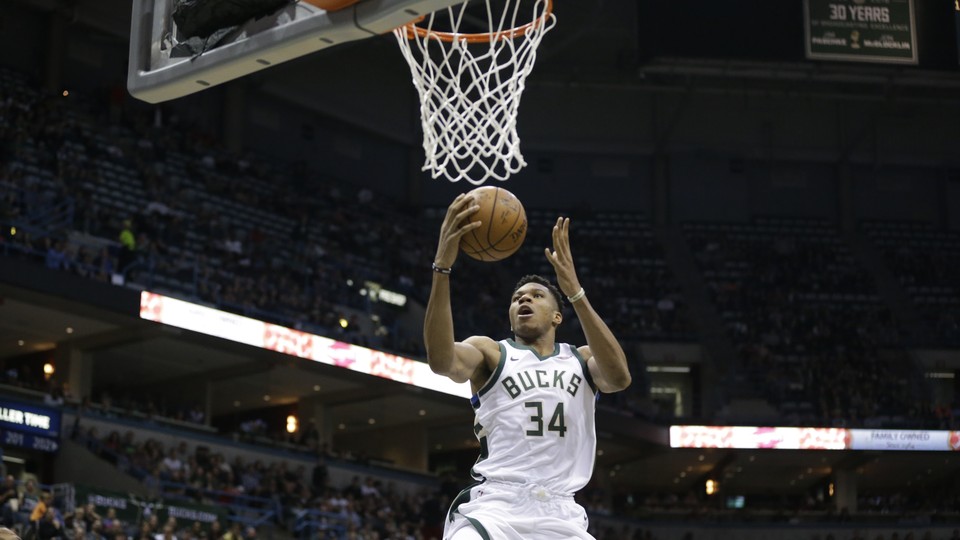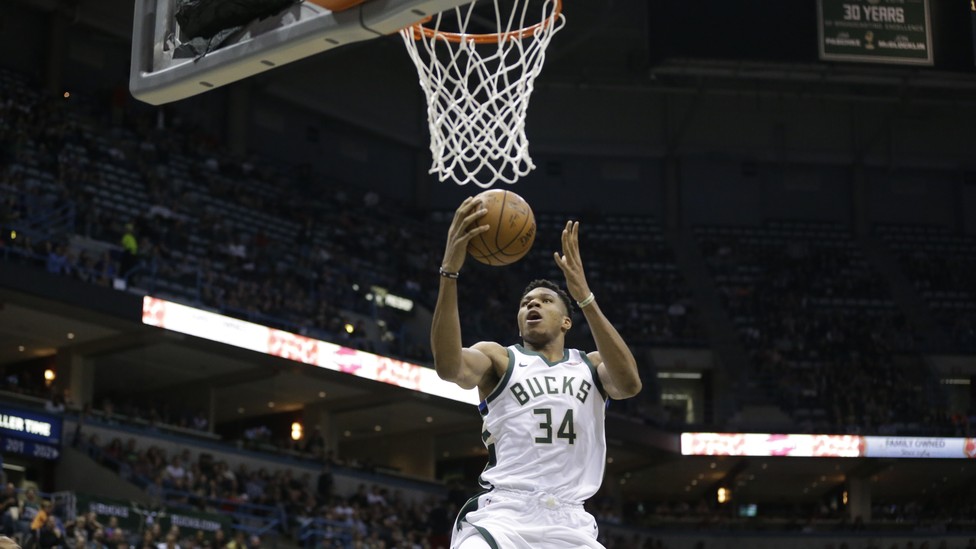 The future of the National Basketball Association has arrived in the form of a 22-year-old from Athens, Greece, who didn't start playing basketball until he was 12, who discovered the joys of a smoothie just a few years ago, who watched Eddie Murphy's Coming to America over and over to improve his English, and who feels like he's still figuring it all out on the basketball court. Giannis Antetokounmpo is truly unlike anything we've ever seen. Entering his fifth season in the league, he is already looking like the next best basketball player in the world.
Four years ago, the Milwaukee Bucks used their 15th pick in the 2013 draft—one in which better-known college players like Anthony Bennett and Victor Oladipo were selected first and second overall—to nab Antetokounmpo, then a relatively unknown player from Greece. Three weeks earlier, he had left his home country to participate in a tournament. His play there caught the attention of scouts. Now he stands at 6-foot-11 and 222 pounds, but on draft night, before he became "the Greek Freak," Antetokounmpo was just another foreign, vaguely mysterious prospect with a tantalizing 7-foot-3 wingspan.
Antetokounmpo broke out last year in this fourth NBA season, averaging 22.9 points, 8.8 rebounds, 5.4 assists, 1.6 steals, and 1.9 blocks, becoming the first player in NBA history to finish in the top 20 in each of those categories and just the fifth player ever to lead his team in all five categories. Even amid all the hype, he hasn't slowed a bit this season. Through his first five games, Antetokounmpo tallied 175 points, 53 rebounds, and 28 assists—a benchmark trifecta that is unprecedented in league history. Based on a metric called Total Points Added, which accounts for the offensive points added and defensive points saved by an individual player, Antetokounmpo is the most complete player in the league this season.
The eyes, as much as the stats, tell a similar story. In a recent win over the Portland Trail Blazers, Antetokounmpo scored a career-high 44 points, got a crucial steal on a possession late in the game, and converted the game-winning basket on the other end. It was an emphatic sequence that felt like his unofficial initiation into superstardom. The truly tantalizing thing about Antetokounmpo is that this may only be his opening act.
Nathaniel Friedman, a co-founder of the influential blog FreeDarko, once coined the term positional revolution to describe a vision of basketball wherein a player's unique skill is the most important consideration in determining the role of that player on the floor. Since James Naismith himself was stringing up peach baskets in Massachusetts, the five positions on the basketball court have been strictly defined. The point guard facilitated the offense, the shooting guard was a long-range threat, the small forward was your best perimeter player, the power forward played on the low block, and the center protected the paint and played with his back to the basket.
In recent years, there has been a steady revolution. Today's NBA has eschewed the traditional definitions of those positions in exchange for players who possess the tools of all five positions, with teams searching for lineup combinations that allow for a type of flexibility on the floor that we've not seen in past eras. The Golden State Warriors provide one such example of this trend. Stephen Curry, Klay Thompson, and Kevin Durant are three of the best individual offensive players in the league, but many have attributed the team's success—two championships in three seasons, sandwiched around a league-record 73 regular season wins—to Draymond Green, an agile defender who can switch onto any opposing player and guard any of the five positions as needed.
Throughout the league, teams are building around athletes who provide that kind of flexibility, who are no longer defined by their positions and can thus flourish in numerous ways on the court. Philadelphia's Ben Simmons and Joel Embiid, as well as the New York Knicks' Kristaps Porzingis, are not constrained by traditional positioning. And with all of these unique qualities, the next question becomes: What if a player can do absolutely everything on the floor?
Antetokounmpo is the answer. He is 6-foot-11 yet also the primary ball handler on the Bucks; his length and athleticism allow him to bend the geometry of the court and do seemingly impossible things, like needing but a single dribble past midcourt to complete a dunk. On defense, he can break up opposing teams' scoring opportunities in transition with his enormous wingspan and wall himself around shooters on the perimeter. Other times, Antetokounmpo's existence itself is an imposing force, as he can snuff out attempts at the basket just by using his arms and height to disrupt opposing big men. The positional revolution is here, and Antetokounmpo may be its truest representation yet.
The pure fun in watching Antetokounmpo comes when, after a few minutes, the realization dawns that nobody can stop what he's doing. Winning a Most Valuable Player award is a virtual certainty at this point; the only question is when it will happen. He's scoring 35 points a night without any semblance of a consistent jump shot and filling up box scores simply by playing within the natural flow of the game. Would it surprise anyone if Antetokounmpo put up a quadruple-double this season, either by recording double-digit steals or blocks in a game? Nothing seems out of the realm of possibility.
Players in the modern era who have laid claim to the label of Best Player in the World—Michael Jordan, Shaquille O'Neal, Kobe Bryant, Tim Duncan, and LeBron James—were all preordained basketball prodigies in one form or another by the time they got to the NBA. Jordan won a national championship with the University of North Carolina before the Bulls drafted him. O'Neal was a two-time All-American at Louisiana State University. James, as a high-schooler, appeared on the cover of Sports Illustrated before he was old enough to vote.
Antetokounmpo hasn't followed such a path. He grew up in Greece with parents who were undocumented immigrants. As a teen, he, along with his older brother, Thanasis, helped his parents sell watches, bags, and sunglasses on the street to earn enough money for their next meal. Basketball was a nebulous concept, a faraway dream. It's not surprising that Antetokounmpo had to Google his head coach, Jason Kidd, to learn that he was one of the most distinguished point guards in league history.
Antetokounmpo, like all the great players that've preceded him, must yet endure certain rites of passage before he can truly claim the league as his own. He's been to the playoffs twice with the Bucks, but has not yet won a series. His game at both ends of the floor still has room to improve—especially his inconsistent perimeter shooting—and he knows that. In a recent loss to the Cleveland Cavaliers, Antetokounmpo was asked to compare himself to James. "I'm not on that level," he said. "LeBron James is one of the best players in the league, and one of the best players to ever play the game. It's great going against him, but I don't think about that."
Such self-awareness should terrify opposing teams. At 22, Antetokounmpo is still learning more about the game each time he takes the floor, even as the hype around  him swells. Consider where he was four years ago on draft night against where he is today. Now ponder where he will be in another four years, when he is entering his basketball prime. A future in which Antetokounmpo stands atop the NBA feels like merely a matter of time.