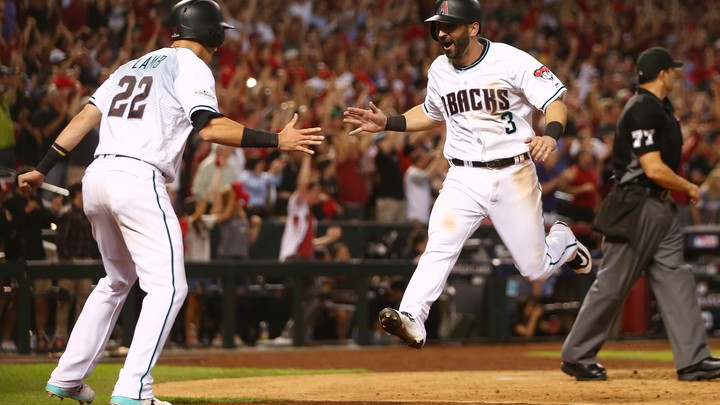 Six years into its existence, Major League Baseball's current Wild Card system still prompts plenty of chatter. The setup, in which the two non-division winners in each league's bracket start things off with a one-game play-in, has no casual admirers; it usually provokes absolute disdain or total admiration. Tyler Kepner, writing for The New York Times between Tuesday's game and Wednesday's, ranked it as "one of the league's most inspired decisions." The New Yorker's Roger Angell called it "deplorable." Traditionalists bemoan the reducing of a season's worth of gains and falters to a single fluky set of nine innings, while adrenaline junkies love it for the same reason. "Not every postseason series will include a winner-take-all game," Kepner wrote. "But every postseason begins with two. It's like eating the cake before the meal."
What both sides agree on is the Wild Card's essential difference from the normal rhythms of baseball. It is a departure, for good or ill, a dose of hurry-up excitement shot into a sport that usually prefers to take its time. Viewed from a standpoint of competitive integrity, it has undeniable flaws; a lone game is a sample size that even the most forgiving statistician would call insignificant, hardly a fair basis by which to judge World Series hopefuls.
In narrative terms, though, the Wild Card has become the perfect prologue. Playoff baseball is increasingly a sport unto itself, distinct from the 162-game season that precedes it. The months of April through September afford plenty of time for recovery from bad bounces and cold stretches—this drowsy daily pace is, in many ways, baseball's signature characteristic—but in October, every pitch has enormous significance. Managers have lately adopted a philosophy tailored to the postseason environment: yanking starting pitchers at the first sign of trouble, burning through bullpens and pinch-hitters, pulling every available lever. A season of patience gives way to four weeks of fervor. The play-in games, however contrived, make for a fitting start.
* * *
In Tuesday night's American League Wild Card contest, the New York Yankees fell behind in a hurry. Luis Severino, the 23-year-old flamethrower, gave up two home runs to the first four Minnesota Twins he faced, and the manager Joe Girardi removed him just one out into the game—a decision he'd never have made in August. The Yankees pulled even with a homer of their own in the bottom of the first and, after two more blasts and some tidy work from their relief pitchers, won 8 to 4. Girardi's quick move had paid off. Afterward, the Twins manager Paul Molitor expressed admiration for Girardi's gutsy deployment of his roster. "He extended some guys probably past their comfort zone," Molitor said. "They still performed."
If the AL Wild Card game spoke to a manager's sway, the next evening's National League installment showed that, sometimes, postseason baseball resists all design. The Arizona Diamondbacks jumped out to an early 6-0 lead over the Colorado Rockies and then set about giving it back; scores of 6-4 and 8-7 came on the way to an eventual, anxious 11-8 Arizona win. The Diamondbacks's Archie Bradley encapsulated the up-and-down madness, becoming the first relief pitcher in playoff history to hit a triple and, an inning later, allowing back-to-back home runs. "After today, I think pretty much I've seen everything," the Arizona manager Torey Lovullo said late in the night. "This was an incredible game." The slugger Paul Goldschmidt, who had hit a three-run homer, concurred: "That's one of the best games I've ever been a part of, if not the best."
The better teams won this year's games; New York and Arizona both had more regular-season wins, the truest indicators of quality, than their counterparts. But just outcomes, nice as they are, are hardly the point. The Wild Card round is an opening ceremony, and an effective one. Someone who had never watched an inning of playoff baseball could have tuned in Tuesday and Wednesday night and experienced the full range of the postseason's possibility: primary plans giving way to contingencies, can't-make-it-up juxtapositions, constant stress. More than anything, they'd have noticed the plain absurdity of compressing a sport designed to dawdle, the way that changing the scale changes its essence.
That absurdity will continue in the coming weeks. Already, the rest of MLB's playoff teams are scrambling for whatever perceived edges they can find. Terry Francona, the manager of the AL-best Cleveland Indians, has picked third starter Trevor Bauer to open the division series against the Yankees instead of the Cy Young candidate Corey Kluber, an unconventional move designed to grant his roster greater flexibility later in the series. Across the sport, meanwhile, last October's trend of experimental bullpen usage will likely grow more pronounced. That 2016's World Series was contested by two managers who aren't afraid to tinker, Francona and Chicago's Joe Maddon, has not gone unnoticed. These days, the greatest sin is to leave tactics untried—even if the game's true constant, as the bleary-eyed Diamondbacks surely realize Thursday morning, is its ability to write its own unpredictable plots.
As for the Wild Card winners themselves, history doesn't look kindly on their chances. Since the current format was introduced in 2012, only two play-in teams have reached the World Series: the San Francisco Giants and Kansas City Royals, who met for the 2014 championship. That isn't likely to discourage this year's survivors, though. Beyond the general self-belief of professional athletes, each team is now stocked with players who have seen firsthand how quickly fortunes can change in the postseason, how easily probabilities are set aside.
In this way, the effect of the Wild Card on viewers and ballplayers is the same. After the slowness of the summer, it reintroduces everyone to the craziness of the fall. Time quickens; desperation festers. Some fans might grumble at the novelty of the playoff openers, but even they can't deny that they get the message across. Buckle up, they seem to say. It's a new game.
We want to hear what you think about this article. Submit a letter to the editor or write to letters@theatlantic.com.
Robert O'Connell
is a writer based in Minneapolis. His work has appeared in
The Guardian
,
Esquire
, and
Vice Sports.