They Took a Knee
This weekend, a series of taunting messages from the president led to a widescale protest among players—in the NFL, and beyond.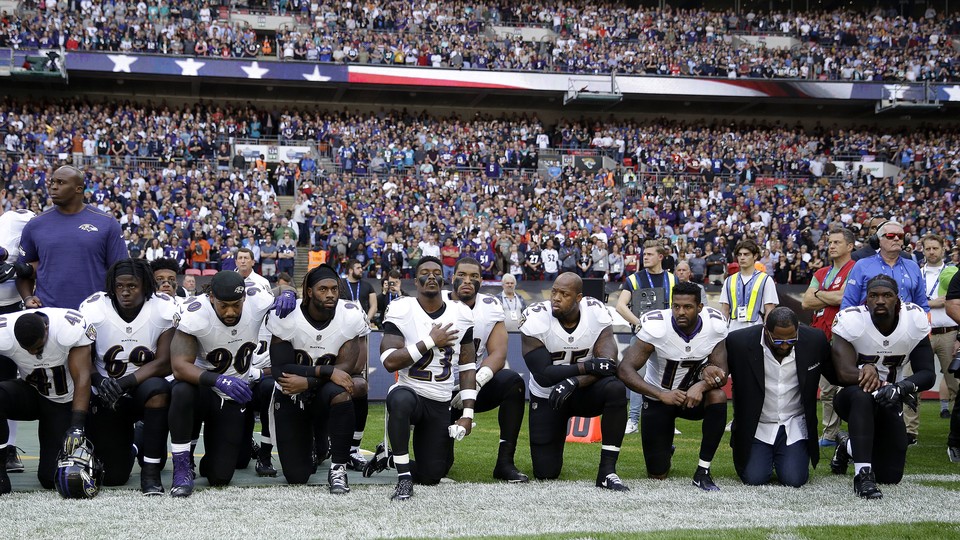 Terrell Suggs took a knee.
Leonard Fournette took a knee.
At a game played in London on Sunday afternoon, many of their fellow Ravens and Jaguars took a knee.
Before the Lions met the Falcons in Detroit on Sunday, Rico LaVelle sang "The Star-Spangled Banner." And then he took a knee.
They were replicating the gesture of Colin Kaepernick, the former 49ers quarterback who, starting in 2016, had been kneeling during the pre-game singing of the national anthem. "I am not going to stand up to show pride in a flag for a country that oppresses black people and people of color," Kaepernick explained. "To me, this is bigger than football and it would be selfish on my part to look the other way. There are bodies in the street and people getting paid leave and getting away with murder." Kaepernick's 49ers teammates, Eric Reid and Eli Harold, took a knee. The Beaumont Bulls, a high school team, took a knee. Their collective protests, however, had been limited—deviations from the norm.
This weekend, however, the kneeling became a movement: Kaepernick, after President Trump mocked the notion of athletes engaging in politics during a rally on Friday, was joined in his quiet protest by an unprecedented number of his fellow football players. And also, in spirit, by many of his fellow athletes. And by several NFL franchise owners. And by the NFL itself. On Sunday evening, during its primetime games, CNN reported, the league will re-air a one-minute ad, produced for the Super Bowl earlier this year, created to "demonstrate the power of football to bring people together."
It all happened slowly, until it all happened quickly. "Last week across the entire NFL," the Associated Press reported, "only four players knelt or sat, and two stood with their fists raised. In the nine early games Sunday, AP reporters counted 102 players kneeling or sitting, and at least three raising their fists." (Later in the day, the AP modified its estimate to "more than 130.")
Football is a sport, in the most literal of ways, about progress: Its players move yard by yard, methodically and strategically, down the field, for first downs and then second and then third—a game of steady movement and minute measurement. But the drama of the sport often comes in those instants when, indeed, the slowness of progress becomes quick: the moment the arcing pass finds its recipient. The moment the tackle is evaded and the field is clear and the runner, weaving and winding, makes it to the 15-yard line, and then the 10, and then the 5, and then the end. Those are the moments that make the difference between wins and losses. They are the moments that make the game what it is.
History moves in a similar way. Its events proceed methodically until, inspired by a split-second happening—a perfect pass, a surprise tackle, a moment of quiet human ingenuity—they race forward. This weekend, #TakeAKnee—the small protest turned into a widespread one—became one of those moments.
It started, as things so often will, with the president. On Friday night, at a rally in Alabama, as one U.S. territory reeled from a humanitarian crisis and another lay under threat of a nuclear attack, Trump spoke of NFL franchise owners, encouraging them to fire players who kneeled in protest during the singing of the national anthem. "Wouldn't you love to see one of these NFL owners, when somebody disrespects our flag, to say, 'Get that son of a bitch off the field right now, out? He's fired,'" the president said, efficiently combining a slur with a reality-TV catchphrase. He continued. "You know, some owner is going to do that. He's gonna say, 'That guy disrespects our flag, he's fired.' And that owner, they don't know it. They don't know it. They're friends of mine, many of them. They don't know it. They'll be the most popular person, for a week. They'll be the most popular person in the country."
On Saturday, the president repeated the sentiments, this time on Twitter. Among tweets mocking John McCain, Iran, and the leader of North Korea—"Little Rocket Man," the president taunted—Trump doubled down on his Friday-night slights. "If a player wants the privilege of making millions of dollars in the NFL, or other leagues," he wrote, "he or she should not be allowed to disrespect … our Great American Flag (or Country) and should stand for the National Anthem. If not, YOU'RE FIRED. Find something else to do!"
The president had, once again, misrepresented the situation. The players are not, as a whole, protesting the national anthem. (There are bodies in the street, Kaepernick had said.) They are not protesting the flag. They are protesting police brutality against African Americans. They are protesting the lack of legal accountability for the officers who enact that violence. They are protesting, more broadly, the ways racism gets codified in America, the ways it is expanded from a personal evil into a societal one.
Trump's words willfully elided all that. They spoke, to his rallied fans, of "people like yourselves," and "those people"; they warned ominously of the "son of a bitch" who "disrespects our flag." The president's harsh condemnations of protesting athletes, my colleague Adam Serwer noted—as well as Trump's recent demand for an apology from ESPN's Jemele Hill—"stand in stark contrast to his earlier, sluggish reaction to the white supremacist protest in Charlottesville, in which a counter-protester, Heather Heyer, was killed, allegedly by a white supremacist." They represent, as The New Yorker's David Remnick put it, "the same sort of racial signaling that followed the Fascist and white-supremacist rally in Charlottesville, Virginia. It is no longer a matter of 'dog whistling.' This is a form of racial demagoguery broadcast at the volume of a klaxon."
Here, in Trump's words, tweeted and yelled, were the economic realities of football—ownership, physical labor—tauntingly racialized. Here was the president of the United States, flirting once again not just with casual authoritarianism, but with overt racism. Here he was, as well, purposely misunderstanding the First Amendment. Here was a man who had full-throatedly supported free speech as it applies to college campuses, refusing to acknowledge those rights as applied to black sports figures.
It was too much.
And so, literally and otherwise, they—NFL players; athletes from other sports; team owners; coaches; spectators—took a knee.
Steph Curry, whom Trump had criticized for saying he wouldn't accompany the Golden State Warriors on a visit to the White House, joined in: "I don't know why he feels the need to target certain individuals, rather than others. I have an idea of why, but it's kind of beneath a leader of a country to go that route. That's not what leaders do."
LeBron James joined in: "U bum @StephenCurry30 already said he ain't going! So therefore ain't no invite. Going to White House was a great honor until you showed up!"
The Golden State Warriors themselves, in response to the same thing, joined in: "In lieu of a visit to the White House, we have decided that we'll constructively use our trip to the nation's capital in February to celebrate equality, diversity and inclusion—the values that we embrace as an organization."
Colin Kaepernick's mom joined in. "Guess that makes me a proud bitch!" she said, responding to the president's insinuation about her son, on Twitter.
Bruce Maxwell, a rookie catcher for the Oakland Athletics—and the son of an Army veteran—joined in: On Saturday, before the A's played the Texas Rangers, he knelt during the anthem, explaining, "I was on the fence for a long time because I know no one in baseball has ever done it. I finally got to the point where I thought the inequality of man is being discussed, and it's being practiced from our president."
Shahid Khan, the NFL's only Muslim owner, joined in: Before his Jacksonville Jaguars faced the Baltimore Ravens in London, he locked arms with his team during Wembley Stadium's rendition of the American anthem.
John Harbaugh, the Ravens' coach, did the same.
The Eagles, players and coaches alike, locked arms in Philadelphia as military jets performed a flyover before their game against the Giants.
The Giants did the same.
In Buffalo, dozens of members of the Broncos took a knee.
In Charlotte, 10 of the Saints sat during the anthem.
Rex Ryan, the former coach of the Jets and Bills—who had introduced then-candidate Trump at a 2016 rally in Buffalo—told Sunday N.F.L. Countdown, "I'll be honest with you. Because I supported Donald Trump. When he asked me to introduce him at a rally in Buffalo, I did that. But I'm reading these comments and it's appalling to me and I'm sure it's appalling to almost any citizen in our country. It should be."
Roger Goodell, the commissioner of the NFL, joined in: "The NFL and our players are at our best when we help create a sense of unity in our country and our culture. … Divisive comments like these demonstrate an unfortunate lack of respect for the NFL, our great game and all of our players, and a failure to understand the overwhelming force for good our clubs and players represent in our communities."
Bob Kraft, owner of the New England Patriots and a friend of Trump's, joined in: "I am deeply disappointed by the tone of the comments made by the President on Friday. … There is no greater unifier in this country than sports, and unfortunately, nothing more divisive than politics. I think our political leaders could learn a lot from the lessons of teamwork and the importance of working together toward a common goal. Our players are intelligent, thoughtful, and care deeply about our community and I support their right to peacefully affect social change and raise awareness in a manner that they feel is most impactful."
Terry Bradshaw, the Hall of Famer and current Fox commentator, joined in: "Every American has the right to speak out and also to protest. Believe me, these athletes do love this great country of ours. Personally I think our president should concentrate on serious issues like North Korea and health care rather than ripping into athletes and the NFL."
Aaron Rodgers, the Packers quarterback, posted an Instagram photo of him kneeling with his teammates, captioning the message "#unity #brotherhood #family #dedication #love."
Tom Brady commented on the image, responding with a simple 💪🏻.
The Patriots quarterback posted a similar image of teamwork in action—in this case, of Brady on the field with James White—with the caption "Strength. Passion. Love. Brotherhood. Team. Unity. Commitment. Dedication. Determination. Respect. Loyalty. Work. #nflplayer."
On Sunday afternoon, before their game against the Chicago Bears, the Pittsburgh Steelers—as a team—remained in their locker room during the singing of the national anthem.
The Steelers stayed in, it's very much worth noting, in part because they couldn't decide, together, on how they might stage a more public protest. Unity is easy, as both a sentiment and a hashtag on Instagram; in practice, on the field, it can be much harder to realize. Colin Kaepernick, Serwer pointed out—the player whose protest is being replicated this weekend—is not on the field today in part because of the league-wide backlash against his political views. Many of the team owners now speaking out against Trump had previously donated to his presidential campaign. Tom Brady once described Trump as a "good friend." And many of the players' protests on Sunday, in stadiums around the country, were met with boos from the stands. As Teresa Kaepernick put it, "We are all just sitting back seeing what's gonna happen in this country. There's not much we can really do."
Still, though, these moments matter. The images being made from these moments matter. The knees on the turf, the fists in the air: These are the gestures that history tends to remember—and that tend to change history's path even as it moves forward. Football is a game of progress: yard by yard, play by play. It is a game in which, often, the best result that can be hoped for is the chance to try again. But it is also a game in which, every once in a while, change comes in an instant. The pass is intercepted. The tackle is evaded. The ball is carried, by a single person backed by a team of them, over that line. Colin Kaepernick is not playing on Sunday. In another way, though, he will be. With him and around him, slowly and then all at once, many others took a knee.