Transparent Tackles Israel-Palestine, and Other Boundary Issues
The dramedy's unusually joyful fourth season says that division is agony—and reconciliation is a process.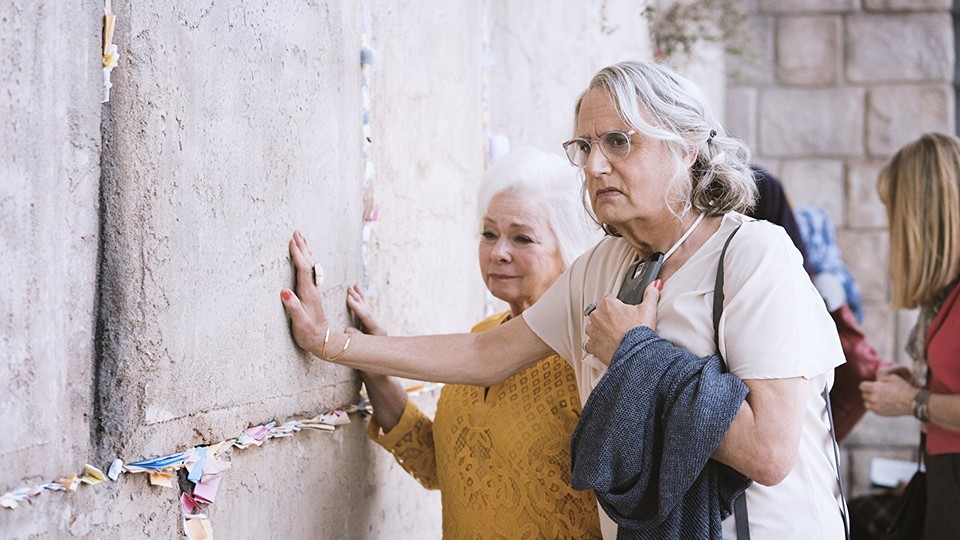 Transparent is the rare TV show held up as a symbol of the Obama era to return in 2017 without piling on references to Donald Trump. But the fourth season of the soulful Amazon dramedy about a Los Angeles family whose onetime patriarch transitions genders at age 68 could, if you wanted, be read as one long subtweet of wall builders. It's a 10-episode riff on the concept of borders, with a riskier and more explicit political theme than most other shows would dare.
That hot-button theme? Drumroll ... the Israel-Palestine conflict. Yes, really. Maura Pfefferman, having returned to academia, is invited to lecture at an Israeli conference on gender and Judaism. One of her adult children tags along—followed, after a shocking Holy Land revelation, by the rest of the Pfeffermans. Ali, the youngest and wokest of Maura's three kids, connects with an activist named Lyfe who shows her around Ramallah. Her growing distress about the plight of Palestinians complicates what would otherwise be an intergenerational Birthright trip.
The borders motif plays out in smaller ways, too. The family's gorgeous home in the Pacific Palisades is being Airbnb'd to an odd German family who's hostile to any Pfeffermans living in the basement unit. The lonely but overbearing Shelly moves in with Josh, collapsing the mother-son buffer zone. Sarah and Len consider letting another lover into their de facto marriage. Alia Shawkat's groovy preschool teacher, a new addition, observes that deception often takes the place of boundaries in relationships: "You compartmentalize. ... It's human." Jason Mantzoukas, playing a reformed pothead, says, "Boundaries are how people tell other people what they need." In every case, you see the value of borders maintained conscientiously—but often, peace comes from opening up.
Three years after its initial wave of acclaim, Transparent is as beautiful television as ever, making great use of the hard-won familiarity between its audience and its characters. Previous seasons reveled in the self-involved Pfeffermans torturing themselves, but the show now eases off the pain and lets its characters just live, somewhat contentedly, for a bit. Deep thinking about sex as a source of both trauma and healing obviously informed the scripts, too. An early scene, for example, has Ali being interviewed by college administrators looking into harassment allegations against her former lover and boss. "Nothing was done to me here, do you understand?" she says. A Pfefferman is, for once, not triggered.
Well—scratch that. The investigation, as well as a riotously mean poem by its target published in The New Yorker, does kick Ali into a bit of spiral. But her angst isn't overdone, communicated in grace notes during the small-scale and emotionally generous first few episodes. Amid the grating yet comforting din of a family dinner in the premiere, Ali, Sarah, and Josh escape to the rooftop to get high but instead just banter in the cruel-but-loving way that only brothers and sisters can. A BuzzFeed quiz they take sends the trio to a sex-addiction group therapy session—and like so much of Transparent, the expedition is outwardly comedic but inwardly serious, spiritual.
The conceit of the Israel trip keeps the Pfeffermans mostly together for the season, which means that rather than wrecking strangers' lives they're instead negotiating with one another. It also means this exquisite cast gets to work as a full ensemble. The creator Jill Soloway's team has perfected the art of crosstalk, somehow wringing huge laughs from how these characters, like all of us, are mostly only capable of mediocre jokes. Touring Jerusalem, the family stops at the handprint of Jesus on the Via Dolorosa, and the fact that they've only ever lived in a Jewish American bubble has never been funnier. "I don't get it, if Jesus was the Son of God, why did he just grow up to be a carpenter?" Len asks. Sarah shoots back, with endearing lameness, "Harrison Ford was a carpenter."
The characters' shaggy-dog awkwardness, it must be said, is sometimes shared by the show itself to its detriment. Maura's friend Davina, a trans AIDS patient in a less-than-happy relationship, gets her biography told in flashback—but it, unfortunately, comes off as shoehorned-in and rather rote. The long-suffering Shelly unveils a deep secret in what should have been one of the season's emotional climaxes, but a lack of set-up makes it land like a non-sequitur. And Ali's journey through the West Bank—while mostly fascinating and stereotype-busting—has a tinge of explainer journalism. But even such missteps are admirable signs of the show insisting on the full humanity of marginalized people, regardless of which side of any given border they're on.
The show wisely doesn't make too much of the metaphors inherent in its Israel-Palestine plotline, but they're obvious. Viewers are explicitly reminded that Israel represented a fresh start for persecuted Jews, but also that such relief meant others' torment. Previous seasons have stressed how liberation—for Maura from masculinity, but also for others from various situations they felt oppressed by—can be a selfish act, inflicting pain on bystanders. There's also the notion that Israel is a land divided much as a person's identity can be bifurcated, which the somewhat hallucinatory season emphasizes by giving each of the Pfeffermans their own imaginary friend. Reconciliation can be an agonizing process, and Transparent never suggests easy answers. But its compassion for all who struggle feels, now more than ever, like progress.