How This Year's Oscar Contenders Are Tackling Trump
Some of the biggest hits—and one notable flop—at the Toronto International Film Festival played as blunt allegories for the current political moment.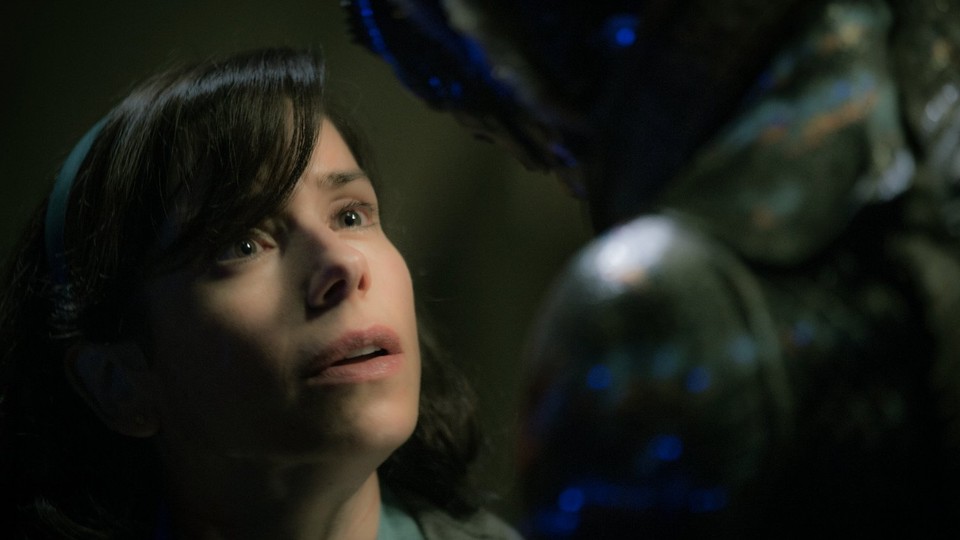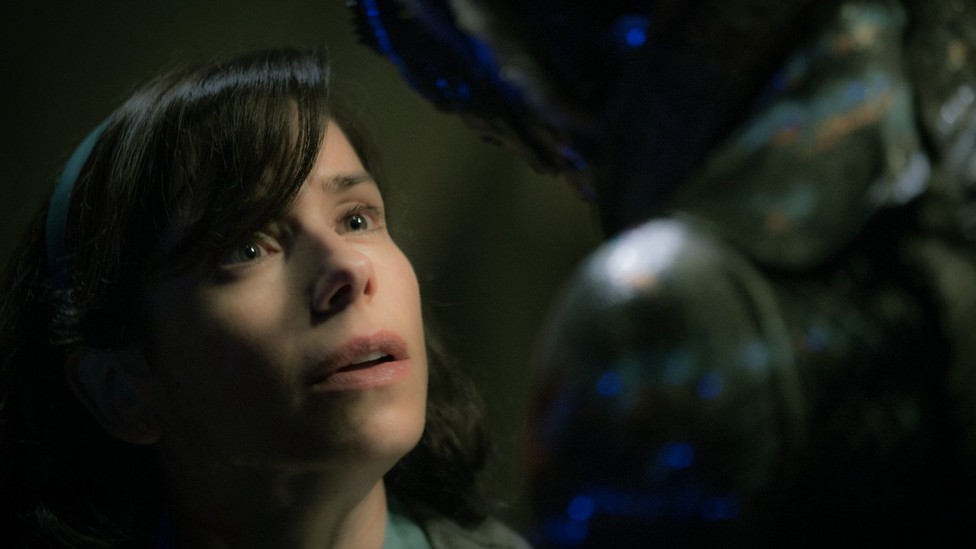 When introducing his new movie The Shape of Water at the Toronto International Film Festival last week, the director Guillermo del Toro was clear about the message he wanted to convey. The Shape of Water is a romantic, grown-up fairytale, where a mute woman (Sally Hawkins) working at a secret government facility in 1962 falls in love with a sea creature (Doug Jones) that's being held there against its will. It's a story of empathy triumphing over prejudice, one where the facility's villainous supervisor (Michael Shannon) is largely driven by hatred of what he doesn't understand.
"It's super easy to sound smart when you're a cynic," del Toro said of the movie. "And I just thought, can we listen to The Beatles and Jesus, and sound smart when we talk about love?" Such a statement might sound trite, but it's the bedrock of the film's storytelling. When discussing The Shape of Water, del Toro (who is Mexican) has been equally upfront about how its sea creature is a stand-in for "the other," or the outsider, in any kind of political situation. As this year's Oscar race kicks off, del Toro's movie is resonating—it won the Golden Lion at the Venice Film Festival. It's also part of a larger trend in political and allegorical mainstream filmmaking, where directors are plainly and loudly tackling the Trump administration, some with more grace than others.
The Toronto International Film Festival, which ended Sunday, has long been a proving ground for Oscar buzz, a preview of the next few months in cinema where movies either begin to build critical momentum for a major awards campaign or wither on the vine. This year, a sizable chunk of the festival's biggest hits have a few key things in common—they're coming out in the first full year of the Trump administration, they're deeply topical despite many of them being period pieces covering unfortunate historical events, and they have all the subtlety of a sledgehammer.
The Shape of Water is an excellent film because it functions as both a parable and a delightful genre work that's by turns rollicking fun and soaringly emotional. Del Toro has taken this storytelling approach in the past, particularly with his Spanish-language movies set in the shadow of the Spanish Civil War (The Devil's Backbone and Pan's Labyrinth). But The Shape of Water is more directly applicable to the current debate raging over the White House's hardline immigration policies and the emergence of the alt-right.
Del Toro hasn't shied away from that interpretation, saying of Shannon's villain, "He doesn't see anyone because his arrogance is so big. ... It speaks about the issue we have today that choosing fear over love is a disaster." When asked about the current political climate, he said, "It's like a cancer. We have a tumor now. That doesn't mean the cancer started with that tumor. It was gestating for so long." In dramatizing America's idealized past in The Shape of Water, del Toro tries to get at the root of problems in the present. The film takes place in the '60s, when the country is a forward-looking superpower, but the story is set largely within a darker underbelly. "If you were white, Anglo-Saxon, and Protestant, it was a great time to be alive," del Toro said of that decade. "If you were not, if you were anything else, it was not."
The allegory of American rot in The Shape of Water is mythic, but other Toronto hits were more obvious in their political parallels. Jonathan Dayton and Valerie Faris's Battle of the Sexes, a recounting of the famous 1973 exhibition tennis game between Billie Jean King (Emma Stone) and Bobby Riggs (Steve Carell), all but invites viewers to map it onto the 2016 election. Riggs is a loudmouthed, if brazenly charismatic, performer who gets TV publicity by barking misogynistic opinions about women. King is unfairly burdened by the mantle of her sex, as her showdown with Riggs is billed as a winner-take-all war between Riggs's outmoded values and the feminist movement. Dayton and Faris's film is a gentle crowd-pleaser, but it would have seemed broader and more dated if it were released just a couple years earlier, before the Trump-Clinton race.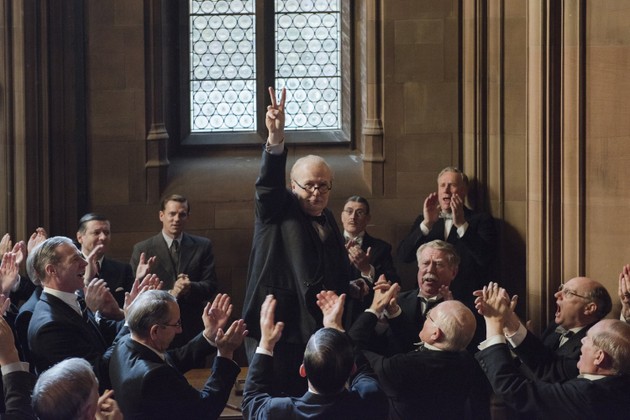 Joe Wright's Darkest Hour, a biopic of Winston Churchill's (Gary Oldman, assured of an Oscar win next year) first month in office as prime minister amid the Dunkirk evacuation in 1940, would have felt similarly passé not long ago. The film centers on Churchill's boisterous resistance to the invading German armies, and the disquiet that provokes within his party, which still has a substantial contingent hoping to sue for peace. Wright and the screenwriter Anthony McCarten turn that ideological fight into a swooning parable of courage in one's convictions and the necessity of standing up to extremism rather than trying to meet it halfway—a seemingly simple message that's delivered with old-fashioned, stiff-upper-lip panache.
Other TIFF films focused on times in American politics that were similarly fraught, even if their contemporary resonance is less clear. Peter Landesman's Mark Felt: The Man Who Brought Down the White House is a biopic about the FBI lifer who became "Deep Throat," the journalist Bob Woodward's source on the Watergate scandal. As written and directed by Landesman (a former journalist who has written for The Atlantic), the movie has the same blunt competence of his last film, Concussion, and sees Liam Neeson playing Felt as a warrior for political sanity in an age of back-stabbing chaos. Unfortunately, the movie misses some of the deeper complexity of the internecine wars between various government agencies at the time.
There's also Chappaquiddick, a retelling of the 1969 car accident that almost ended the political career of Senator Ted Kennedy (Jason Clarke) and resulted in the death of his brother's former campaign worker Mary Jo Kopechne (Kate Mara). That film, directed by John Curran, is much more narrowly invested in the double-edged mythos of the Kennedy family and is impressive mostly for how bitterly it portrays its subject, considering his eventual bounce-back. But given the many current scandals and distrust in government, any story touching on relevant tales from the past should find purchase with studios seeking Oscar gold.
There are films looking to take on the harder task of examining American race relations in more specific ways than The Shape of Water's depiction of "the other." Dee Rees's terrific Mudbound, which has been acquired by Netflix, follows a white family and a black family in post–Civil War Mississippi, digging into the ways their dynamics have and haven't changed since the conflict. But that movie (based on a novel by Hillary Jordan) succeeds because it's character-driven, spending time on the backstories of each member of its ensemble and building slowly, and carefully, to its tragic outcome.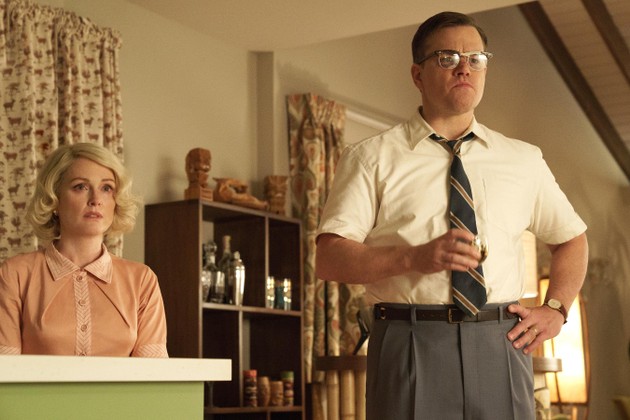 George Clooney's Suburbicon, which had a rocky debut at TIFF, tries a more forthright approach, marrying a script about suburban crime shenanigans written by the Coen brothers in the 1980s with a real-life story. Clooney and his co-writer Grant Heslov took the Coens' script and added a subplot based on the case of the African American Myers family, who moved into the Pennsylvania suburb of Levittown and were subjected to months of racially motivated torment by their white neighbors who wanted to drive them out. In joining the two ideas, Clooney seems to be trying to make a point about the ignorance and sublimated evil of the white couple (played by Matt Damon and Julianne Moore) at the center of the darkly comedic main plot. But since the two storylines never interact, and the actors playing the Myers family aren't given much screen time, the juxtaposition feels bizarre, as does the uplifting note Clooney decides to end things on.
In talking about the movie, Clooney admitted he made story changes after Trump was elected (in the middle of Suburbicon's production). "It changed the temperature on the film a little bit. ...  The goofy seemed too goofy," he told me. "It was really written as a piece to talk about the idea that there's a group of white Americans who are terrified that they're losing their place in society and are blaming minorities for it." Clooney's intentions might have been noble, but Suburbicon was poorly received—it'll be best remembered as an early reaction to a political moment that's far from over. But when I spoke with him, Clooney did hit upon something that's true about every wildly topical era in Hollywood: Movies succeed not when they're didactic, but when they manage to reflect or capture a larger national mood.
"I don't think films can tell people what to think, and I don't think films can lead anything [politically] because it just takes too long to make them," Clooney said. "What films can do is they can point to a moment in time in your history and tell you what you were thinking." In the '60s, Hollywood made films about nuclear paranoia and the end of the world; in the '70s, it churned out cynical dramas about the nation's growing distrust in government and rejection of societal norms. Now, viewers are seeing a wave of mainstream cinema that's trying to find the right language for empathy and political resistance. As Clooney noted, movies can tell the country what it's thinking, and this year's Oscar crop is just the start of that effort.