The Sadness of the Kardashians
E!'s 10-year-anniversary special celebrating its flagship family was surprisingly honest and strangely tragic.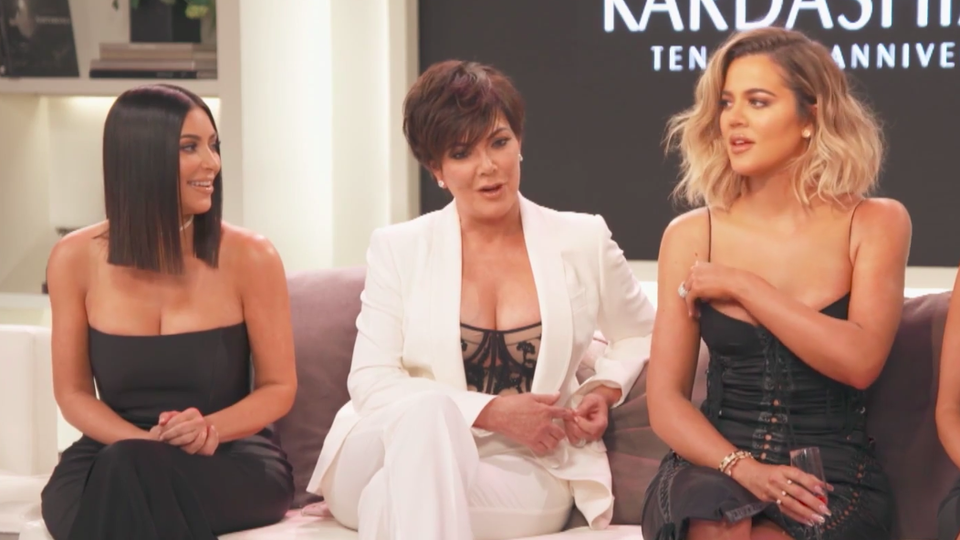 On Friday, as Puerto Rico contended with the aftermath of a hurricane that had left much of the island without power, and North Korea threatened to detonate a hydrogen bomb in the Pacific Ocean, the internet-gossip complex grappled instead with the momentous news that an unmarried 20-year-old reality star was pregnant. Kylie Jenner, TMZ reported, the youngest scion of the Kardashian family, had been telling friends that she and her boyfriend, the rapper Travis Scott, were going to have a baby. Unidentified family friends promptly confirmed the news to People. And some fans began to wonder—had Kylie's mother, Kris Jenner, leaked the news herself to boost the ratings for E!'s Sunday night 10-year-anniversary special of Keeping Up With the Kardashians?
Such an act might seem unconscionably cynical, even for the unrivaled Mama Rose of reality television. But this was the stuff the Kardashian empire was built on: family drama transfigured into family opportunity. When Kris Jenner first began shopping the sizzle reel for her family's prospective reality show in 2007, it was only a few months after her daughter, Kim Kardashian, had gained notoriety after the release of a sex tape featuring Kardashian and the singer Ray J. "There was so much media coverage swirling around Kim then, both positive and negative, that we knew we had to act fast and take advantage of the moment," Jenner writes in her memoir. Lemons, meet Minute Maid.
Kim's sex tape wasn't mentioned in the 10-year-anniversary special that aired on Sunday night, hosted by the inscrutably bland and improbably ageless Ryan Seacrest. But E!, for the first time, aired the original Keeping Up With the Kardashians sales tape, a minute of footage that turned a wealthy Calabasas family into a global media brand. "Hey, I'm Kim Kardashian, and I get to live every girl's dream," Kim, a celebrity stylist at the time, intoned over footage of her posing for photographers, signing autographs, and rifling through stacks of clothing. Seconds later, she was introducing her family. "I'm going to throw raw chicken up your cooch," her sister Kourtney yelled in grainy definition, apropos of nothing. The reel went on to explain how Kim's dad was Robert Kardashian, O.J. Simpson's best friend, and how 16 years ago, Kris had divorced Robert and married the retired Olympian Bruce—now Caitlyn—Jenner. Then Kim wrapped up. Whatever the future held, she explained, "we'll fight, scratch, and bitch our way through all the drama, together as one big happy family."
Both the sizzle reel and the anniversary special were presumably meant to be triumphant: the before-and-after celebrations of a family so influential that a simple cocaine rumor involving Kim garnered more social-media engagement than Donald Trump Jr.'s screenshotted Russia emails. And yet, as the 90-minute show went on, it felt increasingly sad, no matter how gamely Kris and her daughters joked about most of them not going to college, or a younger Kim thinking grapefruit was called "greatfruit." The most mournful presence was Scott Disick, Kourtney's ex-boyfriend and the father of her three children, seen frowning backstage as Kourtney blithely told a million or so viewers that their relationship was "definitely psychotic." Over the course of the evening, Disick gnawed anxiously on his hand, sank back into his chair with his feet on the set's coffee table, and grimaced repeatedly. "I'm dying over here," he said at one point, a statement that everyone politely ignored.
Then there was Rob Kardashian, notable primarily by his absence, and by the fact that the only footage screened of him all night was from seven or eight years ago, before his weight gain and his self-imposed reclusion. "Our buddy Rob isn't here," Seacrest noted briefly, and somewhat patronizingly. "How's Rob doing, Kris?" Kris assured the world that Rob was doing well, that he's working on a new clothing line, and she sees him every day. "We're literally on a family group chat," Kendall Jenner added, confessing that she frequently mutes it because the messages are too much. At which point Rob was so swiftly forgotten that it became newly apparent why he had to have a baby with his half-sister's boyfriend's ex-fiancée to get some of his mother's attention (the drama all captured, naturally, in a one-season E! docusoap produced by Seacrest and Kris Jenner).
But the saddest figure of all was Kylie, even without the context of her pregnancy. Flashback footage from the show revealed Kylie at age 9, exuberantly mimicking her sister Kim in an improvised monologue and grinning cheekily through her freckles. It also showed her, at the same age, jumping onto her mother's stripper pole, mocking up a routine that was alarmingly accomplished. "I feel like I can't even remember a time before Keeping Up," the present-day Kylie explained, a dead-eyed, Juvederm-plumped shadow of her former self. "Where does this go?" Seacrest asked her. "What do you wanna do when you're able to drink?" The audience laughed. Kylie chuckled, mirthlessly. "My makeup is my passion, so this show and this opportunity has been really awesome," she said. Then archival footage from the show chronicled her evolution from spirited tween to reluctant superstar. "I missed out on being normal," a spotty, make-up free Kylie told Kourtney in one scene. "Being able to feel like I can like get out of the car and nobody's staring at me."
All this unfiltered "honesty" is as much a part of the Kardashian brand as is spandex. The cameras, over the last 10 years, have chronicled Kim's marriage, Kim's divorce, Kim's next marriage, the birth of Kourtney's three children (in graphic detail), Khloe's marriage to then-NBA player Lamar Odom, the latter's problems with addiction and almost-fatal overdose in a brothel in Nevada, Kris's marital woes with her husband, and Caitlyn's decision to transition. Keeping Up With the Kardashians has captured a family being so profoundly battered and buffeted by fame and notoriety that you have to wonder: Was it worth it? If Kris were offered the same Faustian bargain again, would she accept, knowing everything the next 10 years would bring?
As the special wrapped up, producers wheeled out an elaborately decorated cake and trays of champagne. "You guys, this is our favorite cake from Hansen's," an indeterminate voice exclaimed, because no product can be left unplaced. Then, as Lorde's "Supercut" played, a montage of old footage from the past 10 years played out: fights, bikini waxes, fillers gone wrong, Kim's butt being X-rayed, a tween Kylie doing an impression of "Girls Gone Wild," her dad's horrified reaction. But the final few scenes were of tears: Kim's, Rob's, Scott's, Khloe's, Kim's again, and finally Kris's, as she told her daughters her husband had left her. In closing, the camera showed the Kardashian-Jenners on vacation years ago, as a wave drenched and destabilized them all on their luxury yacht—as apt a metaphor as the producers could find for the impact on a family of a decade of television.