The Remarkable Rise of Tiffany Haddish
The standup and Girls Trip star had a breakout summer, and her success points to how comedy has—and hasn't—changed for women and entertainers of color.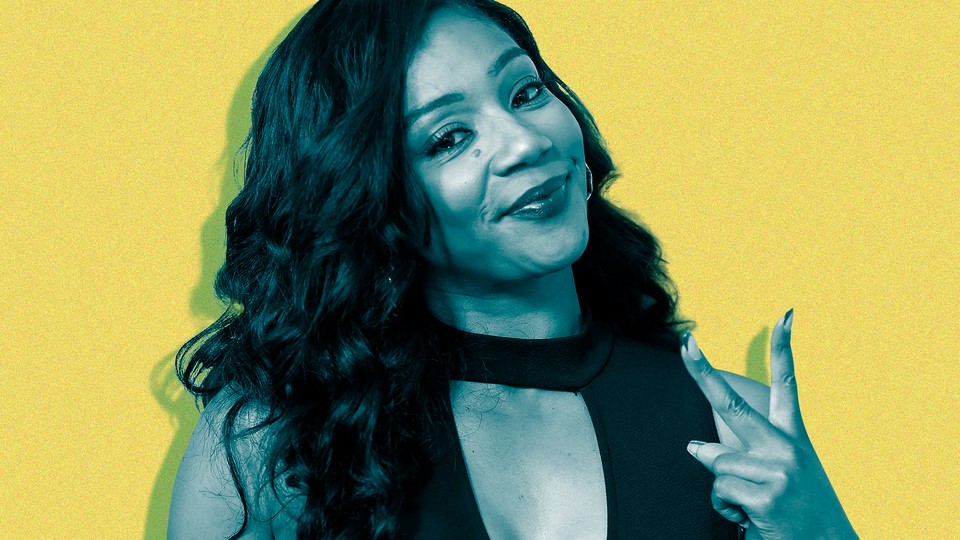 When the comedian Tiffany Haddish was 9, her stepfather tampered with the brakes on her mother's car, hoping to kill his partner and her four children. Rather than going out with her mom that day, Haddish asked to stay home and look after her younger siblings—sparing her from the horrific accident that left her mother mentally impaired. As the oldest child, Haddish did what she could to help for three years, from tying her mother's shoes to paying bills, but eventually Haddish and her siblings were placed in foster care.
Haddish used the trauma and tragedy of her upbringing to ignite what is now a blazing comedy career. As a child, the Girls Trip star was teased for being a foster kid, but Haddish has also talked about maintaining a strong sense of self worth in her recent Showtime standup special, She Ready!: From the Hood to Hollywood. "The state of California paid so much money to make sure I don't die 'cause they knew I was gonna be special," Haddish tells her audience. "They knew it. They was like, 'This one right here, she gonna be a unicorn.' And they was right. I'm the last black unicorn, bitch!"
Haddish's ascent in recent years—debuting on NBC's The Carmichael Show in 2015 and appearing in the 2016 action comedy Keanu and the summer hit Girls Trip—is a testament to her talent and resilience. But her story also offers insight into what it takes for a black woman in comedy to become successful today. Haddish's rise points to where systemic roadblocks still lie for performers of color, particularly women, when they first enter the business—and how some barriers to entry may be falling as comedy enters a new golden age, with fewer gatekeepers and more platforms for artists to reach their fans.
Haddish defies the odds not only in her climb from poverty to nascent stardom, but also in her standing as a newly minted "black unicorn" in a genre dominated by white men. A few years ago, in an attempt to explain Saturday Night Live's failure to cast more black women over the last four decades, the cast member Kenan Thompson lamented, "In auditions, they just never find ones that are ready." As writers at The Atlantic and other outlets noted at the time, the absence of black women at SNL wasn't so much about performers' readiness, but about the show's readiness. Though SNL has worked to fix this longstanding disparity in recent years, notably by hiring Leslie Jones and Sasheer Zamata (who left after last season), its cast makeup is symptomatic of problems deeply rooted in comedy and the entertainment industry at large.
A recent University of Southern California study of 21,000 characters and production staff on more than 400 films and TV shows found that all women, including women of color, are dramatically underrepresented in writers' rooms and director's chairs. Only one-third of speaking characters in the report were women or girls, and just 28.3 percent were people of color. The industry hires shockingly few black directors, which has clear consequences on-screen: In movies made by black directors, roughly 53 percent of speaking characters are also black. For all other films, that number drops to 10 percent.
Movie studios commonly defend patterns of racial inequality by insisting that famous headliners are the key to success and that movies with white leads fare much better overseas than movies featuring actors of color. Defenders of this line of thinking can point to statistics: In the top 100 movies of 2014, 73 percent of speaking or named characters were white. But these outcomes are more the result of a self-fulfilling prophecy. Audiences have repeatedly shown they will support films with lesser-known leads and performers of color. One of the year's biggest hits so far, the low-budget horror film Get Out, was made by a black director, Jordan Peele, and starred a relatively unknown black actor, Daniel Kaluuya.
Even though Girls Trip has a black director and writers, Haddish faced questions about her low profile. Her agent initially told her that studio executives were looking for someone with a bigger name to play her character, Dina. Haddish told her agent to tell them, "I've had a name since 1979. Okay? I was born with a name." In the end, her rare comedic gifts won out, and reviews of Girls Trip regularly singled Haddish out for praise. "Haddish just about runs away with the movie. Her portrayal of the fast-talking, histrionic loose cannon steals nearly every scene," wrote The Washington Post's Stephanie Merry. Vulture's Emily Yoshida called Haddish "the clear and undeniable breakout star of the film," adding, "You cannot take your eyes off Haddish when she's onscreen."
As Girls Trip showcased (but as her earlier fans already knew), Haddish is a brash, uninhibited, and highly skilled physical performer. She uses facial tics and expressions to create pauses in her stories and set up punch lines. She describes and demonstrates sexual maneuvers and poses in exaggerated and shameless fashion; her demonstration of "grapefruiting" a penis in Girls Trip is slapstick gold. And Haddish plays an impressive range of characters, including her grandmother and a version of herself in the midst of what she calls a "psychotic break" in She Ready!, and Hi-C, her gangster role in Keanu.
Haddish's speech patterns during performances place her within the rich tradition of black vernacular comedy, but she appeals to a wide cross section of fans. As I discovered while researching my new book Behind the Laughs: Community and Inequality in Comedy, being funny isn't enough to make it in comedy, especially for people of color. The Insecure cast member Amanda Seales told The Los Angeles Times that black women in particular often feel pressure to "figure out how to get into the mainstream, be the 'it girl,' and get the whites to like you." As Seales suggests, comedians of color often have to train themselves to "cross over" in order to appeal to white audiences, in a way that white comics don't have to. While Haddish's relatively light skin and slim body type help distance her from racist stereotypes of sexually aggressive black womanhood, she also refuses to tone down her act. She complements her physical abilities with a sharp focus on black women's pleasure, both on stage and in Girls Trip.
Haddish, of course, follows other unapologetically black women in comedy, like Mo'Nique, Sommore, and Sheryl Underwood, whose styles and sensibilities clearly influenced Haddish's act. No matter how many myths and glass ceilings Haddish and her contemporaries shatter, the lineage of black women in comedy will continue to be shaped by the top-down and bottom-up forces of inequality in the industry. With every dollar Girls Trip earns, Hollywood has even fewer excuses for overlooking black women as screenwriters, directors, and on-screen talent. It's a problem with a seemingly clear solution for those atop the entertainment industry: Stop ignoring black women and invest in their work. Unfortunately, the many problems that originate at comedy clubs and theaters at the lower levels of the business don't have as obvious a fix.
One issue that shapes Hollywood's talent pipeline is the shortage of black-owned and -operated comedy clubs. For example, Chicago, one of comedy's capital cities and home to one of the largest African American populations in the United States, had just one such venue in 2016: Jokes and Notes. Now, it has none, as the long-time comedy entrepreneur Mary Ella Lindsey closed the establishment. She explained to The Chicago Sun-Times,
With a comedy club, you need foot traffic. If you look at the North Side, there are three or four comedy clubs, but you have restaurants, and bars, and foot traffic ... I've been at such a disadvantage over the last five years because there are no restaurants, and the biggest thing I've always heard about why people aren't coming is 'crime.' … I've never had an incident.
Lindsey opened Jokes and Notes roughly 10 years ago in Bronzeville, a South Side neighborhood that appeared to be gentrifying. But the area has not significantly improved in the eyes of entrepreneurs who might have opened restaurants and shops near Lindsey's club, and Lindsey couldn't stay in business.
So why don't aspiring black performers go elsewhere? Why don't they just head to the North Side of Chicago, which boasts several standup clubs along with two of the most influential comedy theaters and training centers in the country, The Second City and iO Theater? Well, they do. In fact, black performers, like Peele and Keegan-Michael Key, have been performing at these venues for some time. The Second City boasts new fellowship and outreach programming, like the NBC Universal-sponsored Bob Curry Fellowship, designed to attract performers from underrepresented groups.
Haddish herself got her start at a Laugh Factory comedy-camp program tailored to young performers from underprivileged backgrounds. She was mentored by stars like Richard Pryor and Dane Cook, and she has said the camp boosted her confidence and set her on the path to stardom. As Haddish explained in an interview with People, "Going to that comedy camp and having all those men tell me, 'You're beautiful. You're smart. You're talented.' Like, for somebody to tell me that, even if they didn't believe it or mean it, it was enough. It was enough to light a fire."
But even when one barrier to entry is removed, performers of color and economically disadvantaged comics still face serious obstacles to professional development. Whether in standup or sketch, comedians who have money to fall back on have a much better chance of lasting in the business than those who come from backgrounds like Haddish's. The comedy camp didn't rescue Haddish from poverty; she lived in her car during the early years of her career.
Even beyond the cost factor, the experiences of people of color, women, and women of color at these theaters differ dramatically from those of their white, male counterparts. They learn in predominantly white classes with predominantly white instructors and perform for predominantly white audiences. Scenes in sketch and improv comedy can also sometimes veer toward racial stereotyping that puts comedians of color in a difficult bind.
The Second City veteran, improv instructor, and cultural critic Ali Barthwell recounted an example of this treatment for my book. She was at an improv audition where she played an adventurer exploring a deep hole in the ground. One of the other improv players saw the hole and said to Barthwell, "I don't want to go down there. It's scary and black. No offense." Passive-aggressive racism like this is doubly poisonous for comedians from underrepresented groups because they're expected to shrug off their discomfort, sometimes in order to prove their true commitment to comedy. If black women react with justified frustration, they become more vulnerable to the "angry black woman" stereotype. In general, comedians of color aren't expected to push back when they feel certain jokes cross the line. The former director of digital content at The Onion and best-selling author Baratunde Thurston told me:
People just think you're superhuman and they can just say anything to you and you have to take it as a joke. And if you're doing comedy and race, people want to like test you, and be like, "Wussup my niggaaaah!" I'm a human being still. I have feelings, I have standards, and I have a sense of self respect.
Conventional thinking holds that comedians from marginalized groups will have more opportunities if gatekeepers and audiences simply take a colorblind approach to producing and consuming comedy. Comedians themselves often buy into this notion and strive for universalism and "funny is funny" meritocracy; Jerry Seinfeld has made such arguments repeatedly over the past few years. But as Barthwell and Thurston describe, comedy isn't colorblind, and insisting on neutrality often means demanding that black comics adapt to white norms—and preserve the status quo. Neutrality keeps inequality in place, often yielding stale and unimaginative comedy that alienates and excludes performers of color. But the fact that the critically acclaimed Girls Trip is the most successful live-action comedy of the year, with $126 million and counting at the box office, demonstrates that good art, good business, and diversity are indeed compatible.

Haddish's career took a rather traditional route, from doing standup at major clubs, to landing a sitcom role on a major network, to starring in a movie from a major studio. Ultimately, however, Haddish's future and the future of black women in comedy may lie elsewhere. Digital production and distribution, as well as social media, have wrested some power from television and film studios and placed it in the hands of artists. Issa Rae started Awkward Black Girl as a YouTube web series before getting a deal with HBO to make her show Insecure. Phoebe Robinson and Jessica Williams are following in Rae's footsteps, and the co-hosts of the WNYC 2 Dope Queens podcast will take their act to HBO as well. As Robinson explained, becoming a content producer, rather than just a performer, means, "You can be more in charge of your destiny, rather than, 'I hope someone will cast me as something.'" This approach allows artists to cultivate a following and demonstrate their worth without first needing a major investment from a film company.
Though these new channels exist, movie and television studios still wield tremendous power. So when financial investment from studios does come—as it has for Haddish, who just inked a deal to star alongside Kevin Hart in the 2018 film Night School—stars can maximize their influence by forming their own production companies. Hart, whose comedy is a far cry from the social commentary of Pryor, has already taken steps to ensure black creators have more access to the writers' room and director's chair (the Girls Trip director Malcolm D. Lee will helm Night School). Historically, the success of men like Hart, Pryor, Bill Cosby, Eddie Murphy, Dave Chappelle, and Chris Rock has not opened as many doors for black women in comedy. But for all the challenges that remain, Haddish and her peers now have new outlets and platforms for ensuring their work reaches fans—and that there will be many more black unicorns to come.