The Ferryman: Jez Butterworth on the Legacy of Hate
The playwright and screenwriter's new London hit is set during the Troubles in 1981 Ireland, but the issues it considers are timeless.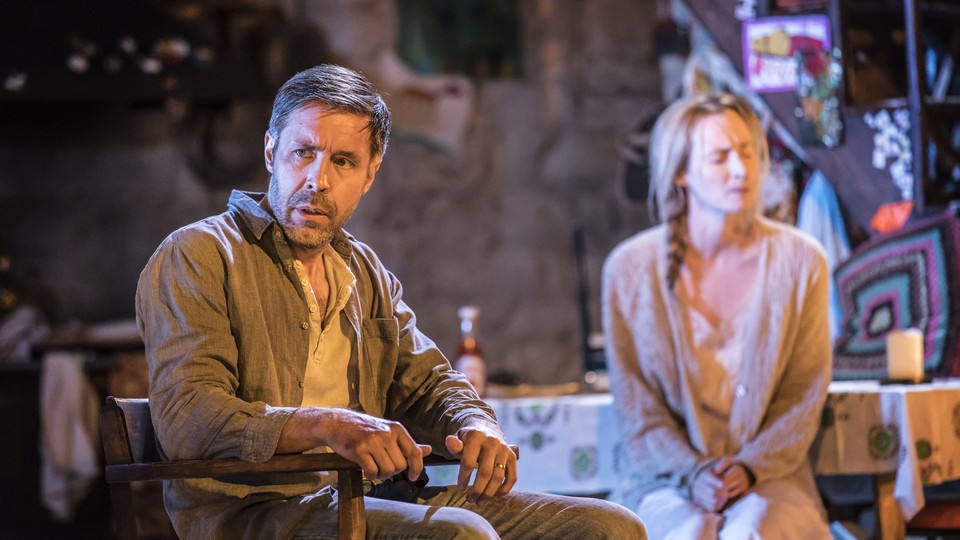 The Ferryman, the first new play from Jez Butterworth in five years, opens with the revelation that a body has been found. It's late August 1981 in Northern Ireland during the height of the Troubles, when hunger strikers were rallying attention and support for the Irish Republican cause. In the play's first scene, a priest is summoned by an IRA leader—not to facilitate a burial for the dead man, but to keep his family quiet. "You see, Father," Magennis, an IRA member says, "there's no oxygen down there. The peat is acidic. It pickles you. The years roll by and nothing changes."
Seamus Carney, whose body has been found remarkably intact, with his Timex wristwatch, his wallet, and his Gola sneakers, is one of the Disappeared, the 16 men and women who were killed by the IRA and whose bodies were buried in unknown locations, with their families left to wonder for decades whether they were dead or alive. This is the premise of The Ferryman, a critical and commercial smash directed by Sam Mendes (Skyfall), which transferred to London's West End in June after debuting at the Royal Court Theatre in April. The play is set at harvest time, as Seamus's older brother, Quinn (Paddy Considine), brings in the bulk of his crops for the year. The timing is no coincidence: Everyone in the play, in one way or another, is reaping what's been sown.
Butterworth, an Englishman, didn't set out to write a play set during the Troubles; if anything, he told me, it felt like "a terrible idea, a really really bad one." Fragments of the play had been percolating in his mind for decades: a work based in part on the experiences of his partner at the time, the actress Laura Donnelly, who plays Caitlin Carney in The Ferryman and whose uncle was disappeared seven months before she was born. "I didn't want to begin," Butterworth said, "but once the voices start coming to you, and the plot starts coming to you, you haven't really got a choice."
But what sets The Ferryman apart, even from Butterworth's other successes (his 2009 play Jerusalem was nominated for the Tony Award for Best Play), is how deeply it probes the heritage of hate, using the framework of the Troubles to explore traditions and impulses that are buried even in the earth itself. In the same bog where Seamus was found, Magennis notes, prehistoric men have resurfaced, sometimes with their hands and feet bound, victims of crimes that predate the history books. The Ferryman, an intimate family drama with the breadth of Greek tragedy, explores the impact of deeply entrenched discord on a community that has conflict in its DNA, whose children are raised on folk tales about fierce, warmongering fairies, and who bear the cost of choices made decades ago, the toll passed down from generation to generation.
* * *
Butterworth is a prolific writer for film and television. He contributed to the script for the last Bond movie, Spectre, and cowrote both the Valerie Plame biopic Fair Game, starring Naomi Watts and Sean Penn, and the 2015 Whitey Bulger biopic Black Mass. He's a writer on the upcoming drama Britannia, a fantastical, Game of Thrones-style series starring David Morrissey and Kelly Reilly. But plays, for him, come slowly. His last show before The Ferryman was The River, which ran in 2012 in productions in London and New York starring, variously, Dominic West and Hugh Jackman. Jerusalem, which debuted in 2009 in a production starring Mark Rylance, was previously his biggest hit to date. "I think for some reason I've made film much more of a technique-based thing," he said. "It's way more of a craft than I've allowed plays to be. I do see them very differently. I don't have many original ideas for anything. I tend to work for film in a kind of hired-gun capacity, and as such it feels like a blessed relief."
The idea for The Ferryman coagulated in 2015, when Butterworth was in New York for The River, heading to a cabin owned by Neil Pepe, the artistic director of the Atlantic Theater Company. Butterworth had previously written a significant portion of his play Parlour Song there, after being snowed in while alone. In the car with Donnelly, he suddenly had the idea to write something about Northern Ireland, and when he ran it by her, she replied that it sounded like a story. When he got to the cabin, Butterworth wrote out a skeleton plan for the play, in a shift from his typical process. "Usually, when I'm writing a play, I just follow my nose," he said. Then he left the concept alone for two years, until, in early 2017, he sat down and started writing. The pace of writing—an idea mulled for several years, followed by a feverish burst of activity—was normal, he said. "They kind of find their way into being. … I do think there's something about not being in a hurry with things. You want them to feel indelible and worthwhile and not of their time, because they take so much out of you."
Seamus Carney, whose body has been found at the beginning of the play, disappeared on New Year's Day 1972, the beginning of the bloodiest year of the Troubles, when 479 people died in the conflict between the Catholic Irish Republicans and the Protestant Unionists. After he disappeared, his wife, Caitlin (Donnelly), and his son, Oisin (Rob Malone), went to stay with Seamus's older brother, Quinn, who runs the family farm with his wife, Mary (Genevieve O'Reilly), and their seven children. Caitlin's presence over the past decade has upended the family dynamic; Mary now mostly stays upstairs, suffering the symptoms of a number of vague viruses, while Caitlin helps raise the children, and shares a close relationship with Quinn.
Also living on the farm are Uncle Patrick (Des McAleer), a genial drunkard who recites Virgil, Aunt Patricia (Dearbhla Molloy), the fiercest family devotee to the Republican cause, and Aunt Maggie Faraway (Bríd Brennan), so-called because she drifts in and out of lucidity. Maggie's poetic interludes, with their fragments of history and glimpses into family lore, give the play a sense of magical realism. In one instance, Maggie recalls how Aunt Pat's beloved brother Michael was killed in the Easter Rising of 1916, after which Aunt Pat returned home clutching his pistol in a blood-stained handkerchief, while thousands of banshees howled around the grief-stricken and furious sister.
Over and over, the play alludes to the idea of purgatory, where lost souls wait to get to heaven. Uncle Pat quotes from The Aeneid, where the Ferryman who gives the play its name ushers the buried dead to the afterlife. Seamus, unable until now to have a Christian burial, lingers in a purgatory of his own, but so does his wife. "Sure, a kneecapping hurts," Quinn says. "Even with a death. There's a body. She can grieve. In time the pain finds a home. But take a man out to a bog in the middle of nowhere. Put a bullet in his head. Then send friends to the widow to tell her they've seen him. … Give that woman hope. Keep the wound open. It's genius, sure it is."
The play's themes are both timely and timeless, illuminating the thorny topics of Confederate history in the United States and ISIS attacks in Europe, and the appeal of extremist causes to disaffected young men. In Act Two, the Carneys' cousins, the three Corcoran boys, come to the farm from the city to help with the harvest, and in a drunken late-night melee in Act Three, the oldest, Shane Corcoran (Tom Glynn-Carney), brags about his involvement with the IRA, trying to wow the country boys with his amped-up antics. Built into the structure of the scene, Butterworth said, is a sense of "delving deep into the past for reasons to still be angry, and to feel that there's still a fight. You can look at the Corcoran boys and look at those pictures of the four people who were radicalized in Barcelona. The process of radicalization is going on in that late-night scene—the reasons why it happens, and the fact that it's not necessarily only political."
But the allure of the family fight has deeper roots still. Diarmaid Corcoran (Conor MacNeill) tells his cousins how, at the funeral for Bobby Sands, an 80-year-old woman on the bus spray-painted "JUSTICE" on the back of his and his brother's leather jackets as a mantra for the young protestors to remember what they're working for. The most ferocious IRA supporter on the farm is Aunt Pat, a woman pickled not by peat but by her own desire for revenge. Hearing Margaret Thatcher on the radio, Aunt Pat declares her wish to "disembowel that smirking sanctimonious, stone-hearted sow right here on this table," and when Quinn protests, she responds, "Have you forgotten your own history there, Quinn Carney? Good luck with that, is all I'll say."
More than countless other re-litigations of the Troubles, The Ferryman captures how the mission for Northern Irish independence has become a religion itself, captivating and bloodthirsty, and requiring seemingly endless sacrifices to keep it alive. There are totems and symbols that recur throughout the play: watches and a particular pistol, which becomes a physical manifestation of enmity being passed from one person to another. "I love this one!" the 11-year-old Nunu exclaims when Aunt Maggie begins an ancient fairy tale. "It's so violent!" And when an IRA leader confronts Quinn, who left the organization a decade ago, he reminds Quinn of his pledge: "You looked me in the eye and said you'd watch that baby burn in a fire, if it meant a free Ireland. And I thought, 'That is what it takes. That is the cost of freedom. The price is unimaginable. And here is a man who knows that. And is willing to pay it.'"
For audiences in London, a city that lived through IRA bombings in the '70s and '80s, the show has the luxury of historical distance from the Troubles. It can excavate the dimensions of a conflict that was often interpreted at the time through the bluntest political rhetoric. Given that the play has already recouped its investment in London, and that Butterworth's previous works have gone to Broadway, it seems likely, he said, that this one will also move across the Atlantic at some point. And as The Ferryman has resonated with English audiences, it will have its own imprint on Americans, whose history with hatred is as different as it's the same. The show's universality, Butterworth said, "comes back to the fact that the ideas that really haunt you have a universal quality to them. That it wouldn't matter where you're from or how old you are or how you got to the theater that day. They'll gain traction, and quickly."