When Stevie Wonder Took a Knee
High-profile members of the music world are showing solidarity with Colin Kaepernick—as well as the various ways protest translates across cultural spheres.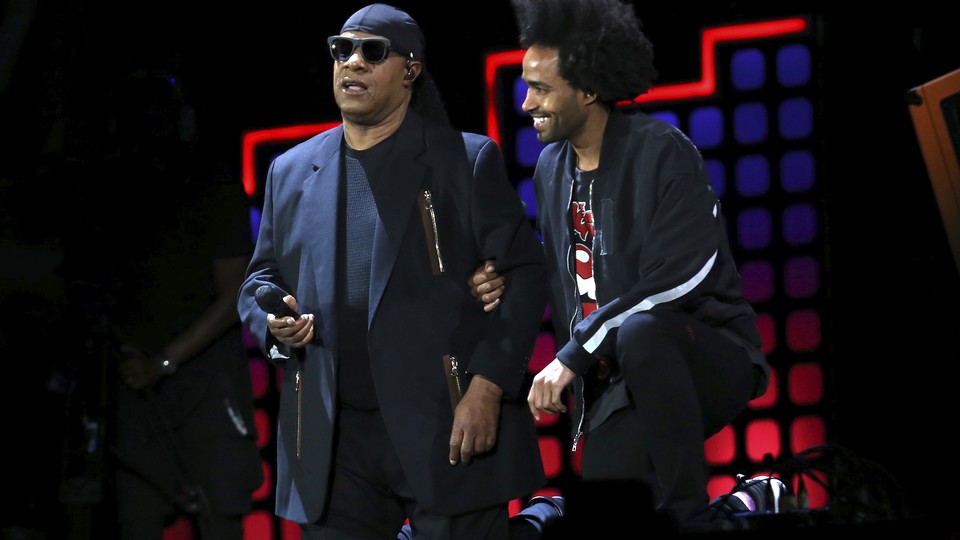 Midway through Stevie Wonder's 1973 hit "Living for the City," the music stops for a skit in which a black man arrives in New York City and is promptly arrested while crossing the street and sentenced to 10 years in prison. That passage, recorded more than four decades ago, speaks to some of the deeply entrenched problems that Colin Kaepernick—and, as of this past weekend, hundreds of other athletes—protests by kneeling during the national anthem.
So it's not surprising that Wonder was among the first to bring Kaepernick's gesture into the music world. At the Global Citizen Festival in Central Park on Saturday, the 67-year-old Wonder, helped by his son Kwame Morris, bent both knees—one for America and one, he said, for the world.  A day later, he repeated the gesture with Dave Matthews Band at a concert in Charlottesville, Virginia, benefitting those affected by recent violence there. On the second occasion, he gave a speech mourning bigotry: "If I can see it, dammit, I know you can see it."
Donald Trump's "son of a bitch" comment alluding to Kaepernick and the resulting "take a knee" movement may seem like further confirmation that, under this reality-TV president, the cultural is newly political and vice versa. But entertainers have always been more than entertaining, as Wonder's example shows. Kaepernick's defiance, meanwhile, follows in a line that includes Jackie Robinson, Muhammad Ali, and the Olympic sprinters Tommie Smith and John Carlos. The biggest novelty in this latest chapter is just that the president is entering the fray.
The events of this past weekend also highlight the different roles that different kinds of entertainment play in the national discourse. "This is a job," Treasury Secretary Steven Mnuchin said to ABC News when defending Donald Trump's call for protesting athletes to be fired. "And the employers have the right, when the players are working, to have rules." He was calling for the NFL's teams as private businesses to curtail First Amendment expressions for players—as they already do, in various ways. Trump's desire for a shut-up-and-play paradigm to apply to national-anthem etiquette really isn't far-fetched: "Sports has become a trillion-dollar global entity by projecting athletes, really, who are as bland and apolitical as possible so they don't offend anybody in the audience," Dave Zirin, the author of Game Over: How Politics Has Turned the Sports World Upside Down, told NPR in 2013.
The same cannot entirely be said for talents who work in the cultural spheres more readily described as "the arts"—music, film, literature, etc. Commerce certainly shapes the creative expressions of the art world, but even the big-tent pop stars of our time are given to political statements. Kaepernick's concerns about police brutality are echoed not only in Wonder's catalogue but also in countless other musicians' work, from Kendrick Lamar to Lady Gaga. Moreover, the Trump era has seen artworks way more explicitly "disrespectful" to national symbols than anything any athlete has tried. Rappers have toyed with the specter of presidential assassination. Visual artists have replaced the Statue of Liberty's face with a vagina and painted the American flag in blood. Typically, an artist has to be pretty famous and their work extremely shocking—see Kathy Griffin's mock decapitation of Trump—to get anything near Kaepernick's level of attention.
It is largely the presumption of commerce over expression in sports that allows for protests like Kaepernick's to be so transgressive—and to draw Trump's special ire. "He's fired!" Trump bellowed during his Alabama rally, objecting not to athletes protesting as citizens or even as public figures, but rather as employees of a large commercial entity. As many times before, the president's culture-war escalations are couched in capitalist terms—talk of fan boycotts and dented ratings. "If you see it, even if it's one player, leave the stadium," Trump told his audience about kneeling players. "I guarantee things will stop."
Few people in Stevie Wonder's audience are likely to walk out if the man who wrote "Living for the City" takes a knee (or if he, as he did at a recent telethon for hurricane relief, calls global-warming skeptics "blind or unintelligent"). Same goes for fans of other artists who've followed Wonder's example and knelt—a list that so far includes Pharrell, John Legend, Eddie Vedder, De La Soul's Posdnuos, and eight castmembers of 1984 on Broadway. Such creators are expected to give voice to the struggles that led Kaepernick to protest in the first place; it is, in large part, the job of an artist. In doing so, they build their own largely like-minded constituency—it's often when fans are caught off guard by an artist's political stance that truly damaging blowback results.
But Wonder's career is also an example of the power that a hitmaking artist can have as a crystallizer of political attitudes and a chronicler of the moment. Two days before Richard Nixon resigned from office, Wonder released "You Haven't Done Nothin'"—an eventual No. 1 hit that would be widely seen as a not-so-fond farewell to the president: "We are amazed but not amused / by all the things you say that you'll do," he sang. During the 2016 presidential campaign, other musicians remixed the song to refer to Donald Trump. Wonder himself hasn't officially updated "You Haven't Don't Nothin'," but it's not hard to imagine, as the president continues to bite back at his critics across the pop-culture landscape, that he might yet.