Sean Spicer and the Self-Contradicting Politics of the Emmys
The cameo by the former press secretary put a confusing spin on the many anti-Trump jokes of the night.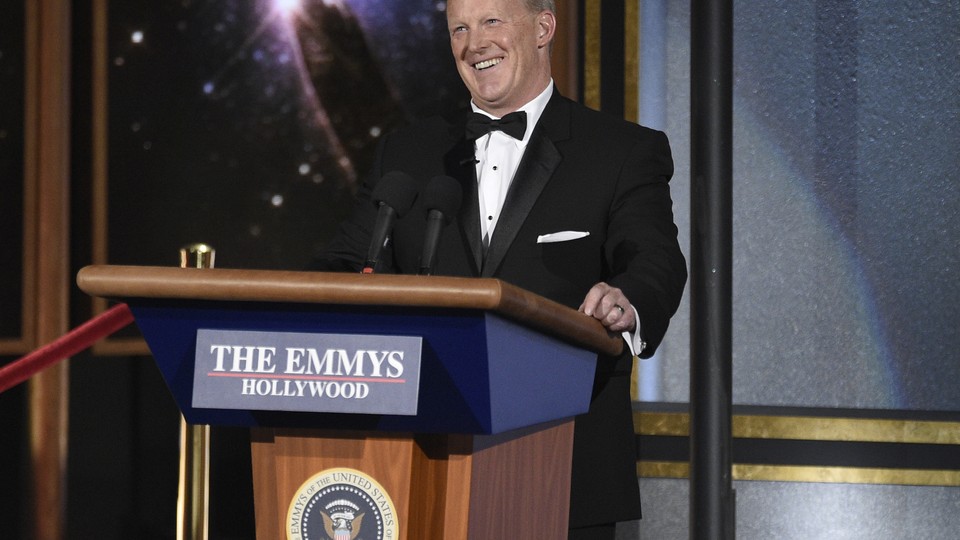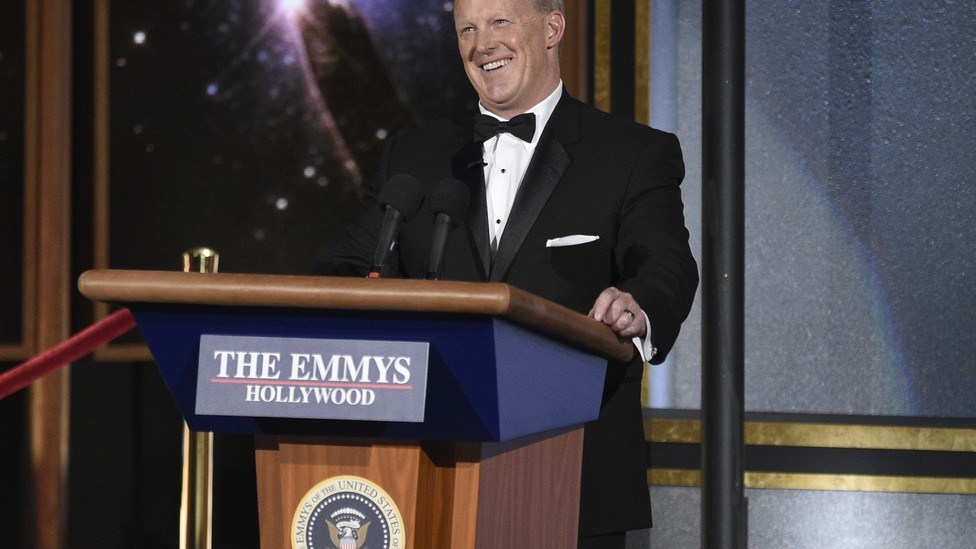 When opponents of the president talk about "normalizing" an abnormal administration, they are talking about the sort of thing that took place onstage Sunday night at the Emmys: Sean Spicer, Donald Trump's first White House press secretary, showed up and made a joke about one of his false claims.
The night otherwise had been a showcase of Hollywood's liberal leanings as applied to 2017. Stephen Colbert's intro song and monologue sounded the alarm about global warming, Russian meddling in American politics, and police violence in cute but cutting fashion. "I'd like to vote for Selina Meyer, she's pretty foxy," he sang, referencing Julia Louis-Dreyfus's Veep character. "Imagine if your president was not beloved by Nazis."
But soon after, Colbert posed the question of how many people were watching the Emmys. The answer came in the form of Spicer's cameo. The Republican operative wheeled out a podium like the one Melissa McCarthy used in her SNL impression of him. In a mock-stern voice, he announced: "This will be the largest audience to witness an Emmys, period, both in person and around the world!"
There were two ways to read the joke. Charitably: This was a mea culpa, with Spicer tacitly admitting to the whopper he told about Inauguration Day crowds by telling what seemed like a whopper about the Emmys. It was Spicer amplifying the critique that McCarthy's impression already made of him as a bullheaded, unrepentant fibber.
Less charitably: This was a neutral pop-culture reference, evincing as much of a point of view as someone coming out and quoting Daenerys Targaryen would have had. The Hollywood establishment, in overwhelming part, likes to present itself as in opposition to the Trump administration. But turning the PR guy for that administration into just another character in the entertainment landscape, a lovable provider of quips and shticks, flattens the moral dimensions of the national debate. It says that, deep down, politics is just sport, just drama. Which then undercuts the anti-Trump stands made on the Emmys stage.
Many viewers were quick to air discomfort with the Spicer bit. "There's nothing funny about the damage [Spicer] assisted in planning, defended, & celebrated when he worked in The White House," tweeted the activist DeRay McKesson. The actor and former Obama adviser Kal Penn wrote, that Spicer "can normalize himself in good fun, but he still passionately advocated against human rights, health care, & American values." Yet the stigma was apparently not so serious that Spicer couldn't hold court at the post-Emmys parties. "He could barely eat at the Governor's Ball, he was so popular," a CNN source said.
CNN's reporting also noted that the Spicer cameo was Colbert's idea: "He and his producers knew there would be blowback. … But Colbert thought it would be funny and surprising, and that's what mattered most." The tension between the desire for the shocking laugh and the desire to maintain a real critique will only mount in the coming months and years. Last week, Spicer appeared on Jimmy Kimmel Live!, leading my colleague David Frum to write, "As former Trump staff seek to integrate themselves into American civic and business life, it will be important to evaluate which of them can be rehabilitated—and which have compromised themselves in ways that cannot be redeemed." Already, the short-lived White House communications director Anthony Scaramucci has landed gigs co-hosting The View and TMZ on TV, where he, no doubt, can be let in on the jokes about him.
Backstage after the Emmys, Alec Baldwin was asked about the propriety of Spicer's appearance. "Spicer obviously was compelled to do certain things that we might not have respected, that we might not have admired, that we might have been super-critical of, in order to do his job," Baldwin replied. "But I've done some jobs that are things that you shouldn't admire or respect me for either. So he and I have that in common, I suppose." The obvious truth about that comparison is that Baldwin is an entertainer and Spicer was a public servant, held to a different standard and capable of more significant lapses. Or maybe not, as it turns out.