Saving One of Western Art's Most Iconic Paintings
Inside the massive, two-year museum effort to conserve The Blue Boy, Thomas Gainsborough's famed 18th-century portrait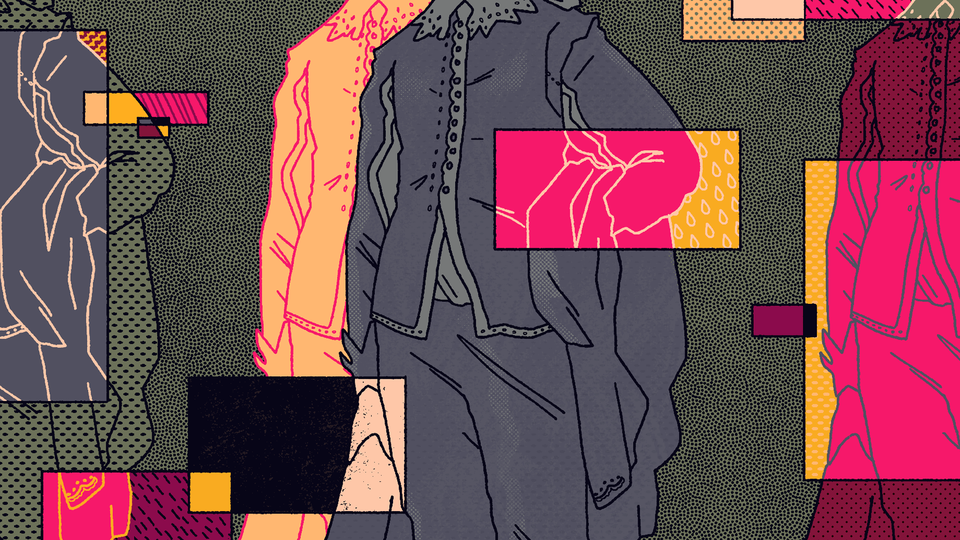 For nearly 100 years, he's been the star attraction in the palatial portrait gallery of The Huntington Library, Art Collections, and Botanical Gardens, a turn-of-the-century estate in tony San Marino, California. Today, he lies on a table in a small, chilled room above some administrative offices, surrounded by surgical tools, looking more than ever like a vulnerable boy on the cusp of adolescence, playing dress-up in a cavalier's clothes.
He is Thomas Gainsborough's The Blue Boy, the famed 1770 portrait of a young child in a blue satin doublet, cape, and breeches, holding a beplumed wide-brimmed hat—a kind of English Civil War cosplay popular for masquerade balls in the 18th century. Watching over him is Christina O'Connell, the museum's unflappable senior paintings conservator. Charged with cleaning, preserving, and repairing the world-renowned art collection, O'Connell has just embarked on a groundbreaking two-year conservation effort, dubbed Project Blue Boy.
This isn't O'Connell's first peek at the raw, worn edges of The Blue Boy's canvas. When she arrived at The Huntington four years ago, her big inaugural project was transferring The Blue Boy from his ornate, early 20th–century frame to a more historically appropriate 18th-century frame. Now, she has removed that frame to get a much closer look at the painting itself. O'Connell is fortunate in that she has plenty of material for comparison: The Huntington owns no fewer than 13 Gainsborough paintings, including one with flaking paint awaiting O'Connell's attention on a nearby table.
It's going to have to wait a while. O'Connell is currently in the midst of an intense three-month scientific analysis period. The Blue Boy will be reframed and returned to the portrait gallery on November 1. It will remain there for 10 months while O'Connell processes reams of data and formulates her treatment plan. Then the painting will come down for another several months of treatment. Part of this work will be done in the lab, but as much as possible will be completed in a cordoned-off area of the portrait gallery, in full view of the visiting public.
Although The Huntington has long had a state-of-the-art conservation lab and a team of paper conservators to care for the institution's collection of 420,000 rare books and seven million manuscripts, this is the first time The Blue Boy has had a permanent caretaker, rather than relying on freelancers for quick fixes. "Past treatments have been short-term solutions, so a more comprehensive treatment is overdue," O'Connell says. Another impetus for his makeover is the 100th anniversary of the institution's charter, approaching in 2019. O'Connell aims to wrap up Project Blue Boy in time for the celebrations.
O'Connell isn't daunted by the prospect of meddling with a work of art so famous that it's been likened to an American Mona Lisa. "I've worked on paintings in worse condition that this," she says. "I've worked on paintings that arrived in pieces." And it won't be her first time working in public, either. She was part of a team that painstakingly conserved a Sebastiano Mainardi altarpiece in front of visitors to the Indianapolis Museum of Art. She plans to hold "Ask the Conservator" Q&A sessions in the gallery, but she downplays the spectator appeal of her job. "I imagine it will be very boring for them as I'm taking my tiny, tiny brush and adding material to microscopic areas of peeling and cracking," she says with a laugh.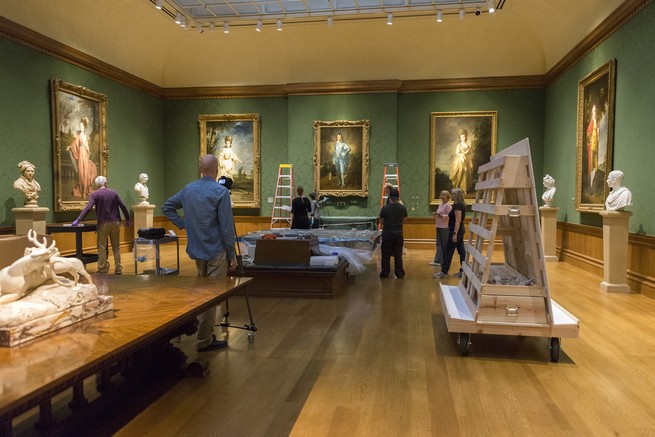 With a master of science degree in art conservation from the University of Delaware, O'Connell is trained in chemistry as well as studio art and art history. In addition to a rigorous educational background, paintings conservators need what she calls "hand skills": manual dexterity, steadiness, and artistic ability "to intricately reintegrate any damages so that the original brushwork of the artist can be seen and understood." The Blue Boy's issues that need fixing are "both structural and visual," O'Connell says. The original canvas was lined a century or so ago, and the lining is beginning to separate. Paint is lifting and flaking in some areas, though it's being held down by multiple layers of old varnish; as O'Connell removes yellowing topcoats and trapped dirt, she'll deal with the deterioration beneath. The painting's wooden stretcher is visible where the canvas has worn away at the edges; O'Connell hopes to confirm that it is the original, 18th-century support.
O'Connell's overarching goal is to keep the beloved painting on display as much as possible. "He has not been off view for more than a couple of days since The Huntington opened to the public in 1928," says Melinda McCurdy, the museum's associate curator of British art. The institution has made a major effort to publicize Project Blue Boy; the 207-acre campus is dotted with signs alerting visitors to the painting's unprecedented—if temporary—absence. The project will also be chronicled on The Huntington's blog and social-media feeds. As well as keeping The Blue Boy visible, the publicity will "educate the public about conservation," McCurdy says. "They imagine what it is, but they have no idea what conservation actually entails."
For one thing, it involves a shocking amount of paperwork. "Documentation is a really big part of what conservators do," says O'Connell, patting a thick stack of file folders holding a century's worth of Blue Boy scholarship. "Right now, I'm studying, observing, and documenting. In a nutshell, I'm understanding the materials and techniques of Gainsborough and how they have aged over time, and also the previous conservation efforts and how those have aged over time." Both in the files and on the canvas, she's looking for anything that's been added to—or taken away from—the painting since it left Gainsborough's studio.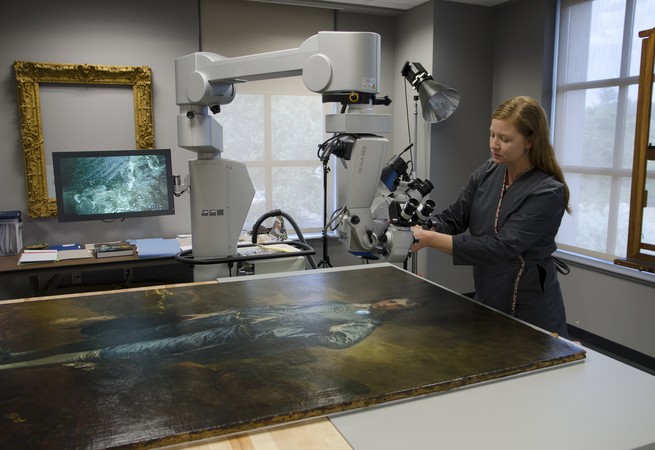 Forensic science is also a big part of O'Connell's job. UV light will indicate how evenly and heavily layers of varnish have been applied over time, and infrared light will reveal Gainsborough's preparatory layers. X-ray fluorescence will help O'Connell understand which pigments the artist used. Paint samples taken in 2009—"smaller than a period on a printed page"—will be reanalyzed using updated techniques. "All of these different analyses provide different pieces of the puzzle," O'Connell says.
None of this equipment comes cheap; fortunately, corporate and private donors have jumped at the chance to be part of the historic project. "Everyone's doing us a favor," O'Connell tells me. GE allowed her to rent a digital x-ray machine for a single day; the painting had to be moved down to a basement storage room, where cinderblock walls offered protection from the radiation. "It was amazing to see the paint layers revealed in real time," McCurdy says. "It was just a little glimpse into what we're going to learn."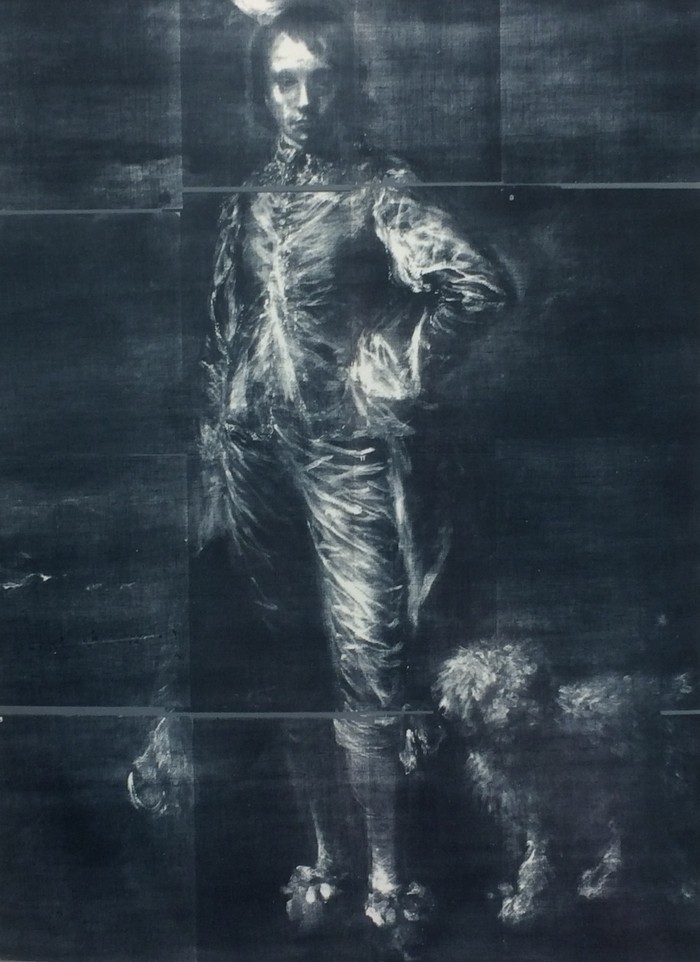 Pride of place in O'Connell's lab is given to a six-foot-tall surgical microscope on loan from the medical-instruments company Haag-Streit. While The Huntington's paper conservators already had a high-tech benchtop microscope, this one has the long neck necessary to reach over the 6-by-4-foot canvas. ("Luckily, I'm tall and I have long arms," O'Connell jokes.) The microscope features dual eyepieces, a monitor showing visitors the conservator's view, and a footpad that allows O'Connell to adjust the microscope without taking her hands off her work. (She's had to give up the sturdy clogs she normally wears in the lab in favor of thin-soled ballet flats while she learns to manipulate the sensitive controls.) Best of all, the microscope's base is so heavy that it won't tip over in an earthquake.
Earthquakes are never far from O'Connell's mind when a masterpiece like The Blue Boy is on her table. She "put[s] him to bed every night," building him a fortress of ethafoam blocks, boards, and plastic tarps, carefully weighted down in case of disaster. While the painting is insured for millions of dollars, it is, of course, irreplaceable. For example, if it were arriving on the market today in its native England, it would "definitely be stopped" from coming to the U.S. by modern U.K. cultural heritage laws, McCurdy says.
Back in 1921, the American railroad magnate Henry Huntington acquired The Blue Boy from the Duke of Westminster for just $728,000. Though a bargain by today's standards, at the time it was the highest price ever paid for a painting, albeit one described by The New York Times as "the world's most beautiful picture." The media breathlessly chronicled the portrait's journey "from gilded galleries in Park Lane to the Wild West across the winter sea," to quote Cole Porter's ditty The Blue Boy Blues. By the time it arrived at Huntington's California estate, it was not just a painting but also an icon.
Since then, The Blue Boy has become a part of The Huntington's DNA. At one point, the museum even installed a trap door beneath the painting, allegedly so it could be whisked into a basement bomb shelter in the event of a nuclear attack. That same basement now holds a collection of Blue Boy kitsch, from ashtrays to needlepoint pillows, assembled by an enthusiastic donor.
The Blue Boy has become part of the Western cultural DNA, too. One of the painting's first owners was John Hoppner, a painter whose work is represented in The Huntington's collection. The Pop Art pioneer Robert Rauschenberg credited The Blue Boy with inspiring him to become a painter after he visited The Huntington on shore leave from the Navy during World War II. More recently, the L.A. artist Alex Israel evoked it in his 2014 self-portrait in a blue satin Dodgers jacket. The contemporary portraitist Kehinde Wiley, who took art classes at The Huntington as a child, cites The Blue Boy as a transforming influence. Quentin Tarantino paid tribute to a now-lost silent movie about the painting—F. W. Murnau's 1919 Der Knabe in Blau—by putting Jamie Foxx in a frilly blue suit in Django Unchained.
"It's famous not just because it's famous. It's famous because it's good," McCurdy points out. Nevertheless, the painting's fame has tended to obscure how little scholars really know about it. Even the sitter's very identity is in question. Though The Blue Boy was long thought to be a portrait of Gainsborough's young neighbor, Jonathan Buttall, recent scholarship points to a model even closer to home: Gainsborough Dupont, the artist's nephew and assistant.
While Project Blue Boy is still in its early stages, O'Connell is already confident that it will uncover some surprises. X-rays performed in 1939 revealed an unfinished portrait of an older man behind his head. Further studies in 1994 uncovered a fluffy white dog at the boy's feet—possibly the artist's own English water spaniel, Tristram. McCurdy hopes the current investigation will answer questions not just about The Blue Boy, but also about that ghostly unfinished portrait. "There's a backstory behind why that portrait was abandoned," she says. "If we can learn more about that painting, we may uncover some fascinating anecdote about Gainsborough's life or studio practice." Thanks to recent advances in technology, "there's a chance we're going to get a pretty clear image of that face," she predicts.
McCurdy, who came to the The Huntington as a graduate student 17 years ago, has been waiting a long time to see The Blue Boy's true colors. "One thing I'm looking forward to is getting as close as possible to Gainsborough's original palette," she says. "It's under layers of layers of varnish, which discolors over time. Even if only a few layers come off, it will look like a whole new painting." But not too new. "We don't want it to look brand new—it's not!" McCurdy explains. "Paintings tend to look jarring when they're first cleaned. It's always a balance between the artist's intent and public expectations."
Touring The Huntington's portrait gallery, hung with full-length paintings by Gainsborough and his contemporaries, it's immediately evident which canvases have undergone similar conservation treatments: They positively glow with depth, clarity, and saturated colors, while the untreated canvases look hazy, chalky, and dull in comparison. But it's impossible to tell where the painter's brushstrokes end and the conservator's begin. "If I do my job right, you don't see my work," O'Connell says. "It's invisible."