The False Prophets of Protest Music
Members of Rage Against the Machine, Public Enemy, and Cypress Hill team up for political rock that seems immediately obsolete.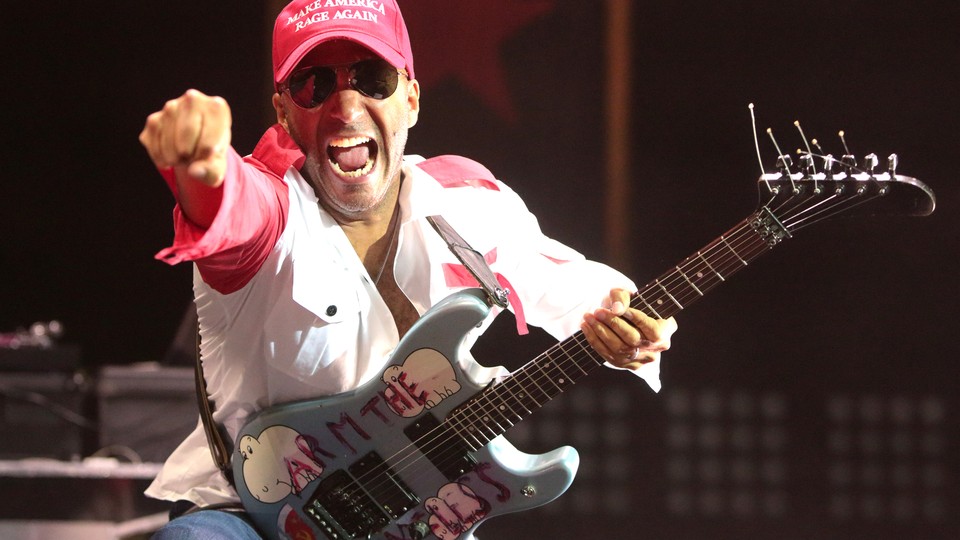 Protest music is thriving, if you want to hear it. A top-of-my-head assortment: Kendrick Lamar's post-election self-interrogations, Sheer Mag's resistance-minded retrofitting of Thin Lizzy, Vince Staples's dizzying F.U. to the White House, and Lana Del Rey's knowingly naïve pleas for world peace. Even the slick, chart-courting likes of Fifth Harmony have anthems about building bridges and not walls. Yet if your genre tastes or tribal affiliations or overpowering nostalgia for the WTO protests disqualify the above from being taken seriously—well, today you have the thudding debut by Prophets of Rage.
A super-group formed during the 2016 election because "dangerous times demand dangerous songs," Prophets of Rage includes members of Rage Against the Machine (among them the effects-pedals activist Tom Morello), Public Enemy (including Chuck D, the stern embodiment of rap's political potential), and Cypress Hill (B-Real, the squeaky stoner of "Insane in the Brain"). Their protest-artists pedigree is mostly impeccable, and their initial outings saw them reworking old hits for today's rallies. Outside the Republican National Convention, for example, Chuck D and B-Real aimed Zack de la Rocha's lyrics in "Killing in the Name" at newly explicit targets. Now, it was "some of those up in Congress" who were "the same that burn crosses."
Eight months into the Trump administration, any temptation to call such an effort overly ham-handed has been squelched. The chorus of Prophets of Rage's "Unfuck the World" says "no hatred / fuck racists," and the president's response to the Charlottesville violence has made clear that the band is not simply stating the obvious. Yet over the 12 tracks of their self-titled debut, the Prophets seem stuck in an aesthetic bunker of nostalgia and self-satisfaction—an unfortunate place from which to launch a revolution.
On the opener, "Radical Eyes," Chuck D booms that he's feeling "rage-ified," and that's a handy term for the mode the album is in. It's a lot like Rage Against the Machine, but it's not the real thing. Rage's Morello, drummer Brad Wilk, and bassist Tim Commerford dutifully rebuild the sound that shook '90s radio: sludgy low end, drums marrying James Brown and "When the Levee Breaks," and fluorescent guitars that might make you think of a video-poker machine announcing a jackpot. But in place of de la Rocha's agitation there's Chuck D's steady preaching and—a big part of the problem—B-Real's simplistic sneer. Their forgettable verses make way for choruses that loop-the-loop over mounting squall from Morello and Public Enemy's DJ Lord. It's as if mere repetition and noise might alchemize words into deeds.
Such rap-rock is not, exactly, the music of these times. Are the messages current, at least? "You fell asleep and when you woke up / 45 for the win," Chuck D says on the opener, and it's worth noting that the line would have technically worked regardless of who prevailed last November. "By George, he's the new Wallace," he raps on "Hail to the Chief," a song that doesn't aspire to much other than further bumming out those already bummed by Trump's election. On "Smashit," B-Real seems annoyed at Democrats: "They forgot about Michigan / like all is magnificent." Otherwise, the album mostly passes in a blur of vague condemnations of liars and PSA-mild calls for action: "Give a damn, evil can't stand / When the people take a stand."
Even the more specific songs are fangless. It might take a few listens to "Strength in Numbers" to notice the Standing Rock references amid its bumper-sticker word salad, and the flirtations with nonviolent resistance in "Fired a Shot" just come off as controversy-adverse metaphors. "Legalize Me" takes some of the faux-militant vibe of Edwin Starr's "War" to rumble about decriminalizing pot, with B-Real mostly just listing the places where dispensaries already do business. You're left thinking weed should be legalized so guys in Che Guevara T-shirts might more easily get high, rather than to help break the schools-to-prison pipeline. "Living on the 110," which draws attention to the homelessness under a major Los Angeles freeway, is a highlight simply because it commits to one concrete cause.
Rage Against the Machine and Public Enemy didn't always talk in terms of specific policies or people either. But they did have a knack for rendering society's longstanding injustices in vivid, even shocking terms. Zack de la Rocha, a true radical, could shake the listener's soul with images like the one in "Down Rodeo": "I'm rollin' down Rodeo with a shotgun / These people ain't seen a brown-skinned man since their grandparents bought one." Chuck D once described black alienation with brilliant candor, calling Elvis and John Wayne "straight-up racist." He recycled that famous verse last year for Prophets of Rage's "No Sleep Til Cleveland," itself a rewrite of a Beastie Boys song. The fact that the results made for the best track in the Prophets of Rage catalogue suggests that these past giants of political music are just that: the past. If revolution comes by song, it will come from elsewhere.