The Curious Life of an Extra
Playing bystanders and party guests was supposed to be a temporary gig. It turned into a viable, and surprisingly fulfilling, way to make a living.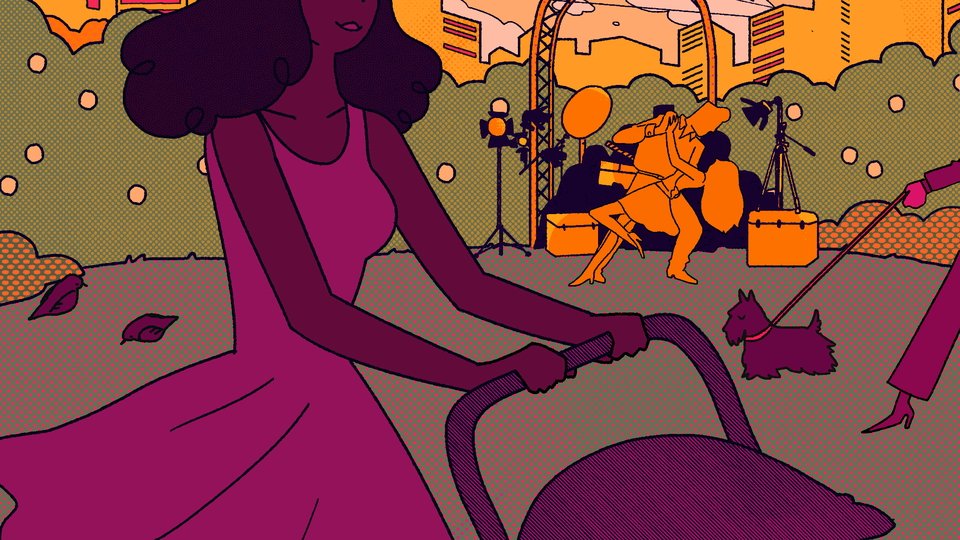 "You look fierce!"
I hesitantly walked out of the bathroom at Buddakan to be met with a small army of directors, producers, assistants, and costume designers giving me nods of approval for the outfit a wardrobe assistant had just stuffed me into. The dress was the color of bile, baggy, covered in ruffles, and zipped all the way up to my chin. I felt like I was witnessing firsthand the kind of false-positive reinforcement that lands someone on a Worst Dressed List in Hollywood. But it was my first time on a set, to film a video for Fashion Week, and I thought it best not to refute the opinions of the people who were apparently in the know about a hideous trend that had yet to hit my local T.J. Maxx.
Eight years ago, I'd never have imagined I'd be playing the VIP bestie of the supermodel Coco Rocha. Or, for that matter, casually strolling by Matt Damon, pretending not to be aware of his scripted meet-cute on a New York City sidewalk. In 2009, I'd lost my job as an ad sales and marketing executive at a publishing company and was having trouble finding a new one. The recession was affecting most businesses, and unemployment had reached its highest level in 25 years; months of interviews and rejections had me searching desperately for new avenues. Unexpectedly, I'd find my first days back at work on a film set, as an extra. What initially seemed like a temporary gig turned into a viable, even unexpectedly stable, way to make a living while also learning the nuts and bolts of a fascinating industry.
It took a while to get there. After that first onscreen fashion-video gig (a job that compensated more in pizza than in actual cash), I worked three days as an extra on a movie filming in New Jersey starring Queen Latifah and Common. I was confused and skeptical (but excited) about how simple it seemed to get work on a movie: I'd emailed a couple of candid photos to an ambiguous-sounding email address and received a terse response with a check-in number and information on when and where to show up. I arrived to find that I'd be playing a Nets fan alongside almost a thousand other people, providing stadium-worthy cheers and boos in the background of the action sequences being filmed on the basketball court below.
I didn't expect to do more than that (the hours on that movie set were long and involved a lot of sitting and waiting around), but when another "real" job offer fell through at the last minute, I signed up—in a fit of frustration—for an account on an industry casting site. It was temporary, I told myself. It would be the equivalent of an aspiring actress holding down a waitressing job, except in reverse. Rather then waiting tables in between scrambling off to auditions, I'd be wandering around in the background of 30 Rock episodes. Or playing a haughty party guest mingling at a Gossip Girl socialite shindig. Or dressed up as a Prohibition-era lady of the night and sitting on a gangster's lap on Boardwalk Empire. (These are all things I ended up doing.)
It seemed a wild way to get off unemployment and regain some financial stability, but it worked. While I wasn't making tons of money—on the basketball movie, I got $85 per day—I could sometimes get rate bumps based on whether I was bringing along props (a stroller, to play a young mom) or driving my own car in a scene.
There were many posts I couldn't apply for, though, unless I was a union member: specifically, stand-in jobs, which paid better (at the time, almost double the non-union extra rate). Stand-ins are hired based on body type, skin tone, hair color, and height; they're meant to match an actor for lighting and camera set-ups. As the actor rehearses a scene, the stand-in watches, then goes through the motions for the camera and lighting departments while the actor gets hair, makeup, and wardrobe touchups. Did the actor drop a file? Start to dance? Open a door with their left or right hand? A stand-in mimics each detail. It's a practice valued for its efficiency, as it saves the production time and money: By rehearsing cues, all departments are prepped to shoot as soon as an actor is deemed camera-ready.
To get there, I had to find a way to join one of the two actors' unions. I was able to buy a membership into the American Federation of Television and Radio Artists, and then made it my mission to find a way into the more elusive Screen Actors Guild. (In 2012, the two unions merged to create SAG-AFTRA.) The standard way was to be cast in a part with dialogue, but without an agent I was basically left with the three waiver rule—if you were lucky enough to get put on a production that was short of fulfilling their daily obligation of union hires, you could get bumped up as a union member for the day. If it happened three times, you became eligible to pay the union initiation fee and join SAG.
Everyone remembers and compares their three waiver stories as if we're all going to be asked to tell the tale on Jimmy Kimmel Live! Mine were on the sets of Law & Order, Wall Street: Money Never Sleeps, and a big-budget Chanel commercial directed by Martin Scorsese, respectively. (When I told my parents the news, my dad, ever the pragmatist, understood that I was saying I had the opportunity to be more financially stable. My mother wanted to know if I was going to be attending the SAG Awards that year and if so, would I get a plus one?)
The union increases and overtime rates made a difference, affording me a small but significant amount of wiggle room for making rent, even if I hit a lull in getting booked. I hardly ever worked less than three days a week. My first steady stand-in gig was on the show Royal Pains for the actress Jill Flint; then I landed a full-time job on The Good Wife, standing in for Julianna Margulies. I felt a huge sense of relief: I already respected the series as a viewer, and the idea of not bouncing from show to show anymore and having a routine with a set group of people felt like the equivalent of a promotion. I worked on The Good Wife for five seasons, and even during its yearly hiatuses I found opportunities on other TV series and films, having cultivated a reputation for showing up to work on time and working well with the crew. (Word spreads in the industry, whether it's positive or negative.)
Along the way, something that I had kept looking at as a temporary fix started feeling like a reasonable, reliable, longer-term solution while I plotted out my next professional move. I didn't want to be an actor, but corporate life had lost its luster for me too, and I liked learning about this industry from the bottom up. And as it turns out, film and television were where I wanted to be, only in a different capacity: as a writer. So I used my work days as learning experiences. I asked questions of the camera department, the cinematographers, the directors. I took notes, voraciously read each new script, and paid attention to how scenes were structured on the page and then brought to life. In my sporadic downtime, I would find a quiet corner to write and pitch articles to various publications.
The work of an extra or a stand-in may not be front-and-center in the way that a director or starring actor's is, but it's an integral part of any production, and helps provide a livelihood for many people. I met aspiring actors and folks who fell into it as I did, including a couple of teachers who'd been laid off and needed some extra money. And the feasibility of doing this sort of work regularly is only growing: As streaming services like Netflix, Hulu, and Amazon double down on original programming, filming for television shows is no longer relegated to a standard nine-month network television schedule—meaning jobs like mine can be available year-round.
As for me, this summer, I started pitching concepts for a television show, and I'm almost done co-writing a feature film. And if I'm lucky enough to sell any of it? Maybe it will serve to give someone else a job they really need—like this industry has done for me. But hopefully without that hideous dress.