Megyn Kelly's Perniciously 'Politics-Free' Morning-Show Debut
"The truth is, I am kind of done with politics for now!" the former Fox News host told a cheering studio audience, before launching into an hour that was entirely about them.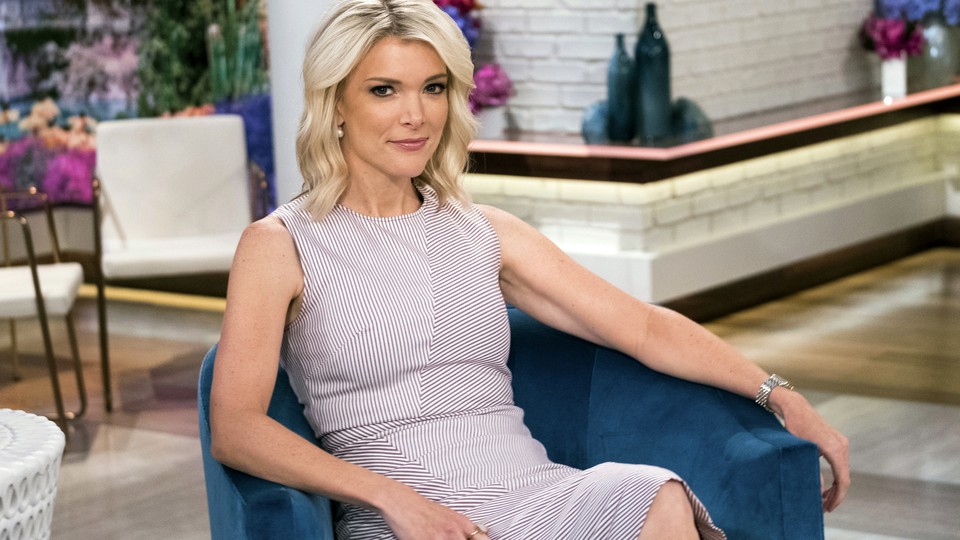 "The truth is, I am kind of done with politics for now."
That was Megyn Kelly, on Monday morning, talking to her studio audience during the live debut of her new NBC morning show, Megyn Kelly Today. In response to the declaration, the people gathered within the airy, brightly lit set roared with approval. "Right? I know!" the host continued, her tone breezy and conspiratorial. "You know why! We all feel it. It's eeeverywhere. It's everywhere."
Pleasingly apolitical, relatably indignant, preternaturally glossy: It's a brand Kelly has been working to cultivate throughout her television career, but particularly within the whirl of publicity that has led to today's morning-TV debut. In Kelly's 2016 autobiography, and in glowing profiles with headlines like "Blowhards, Beware: Megyn Kelly Will Slay You Now" and "After Fox, Megyn Kelly Aims To Be a Force for Good," the former Fox News Channel host—having moved, earlier this year, to NBC—has made a point of emphasizing her conviction that politics is a choice one can make, a topic that can be cordoned off from all the others, and, as such, willfully avoided. "Megyn Kelly Doesn't Want to Be Political" was the headline of an interview Kelly gave to Elle magazine's Mattie Kahn, its publication timed to coincide with Monday's premiere of Megyn Kelly Today. The conversation went in part, like this:
Kahn: But tuning out seems incredibly difficult right now. I'm thinking of people like Jemele Hill on ESPN. There's a way that politics seeps into so much—

Kelly: She got political.

Kahn: She did.

Kelly: She didn't have to.
Politics as unseemly—politics as inconvenient—politics as something viewers all feel, and all would prefer to ignore—was thus, unsurprisingly, the ethic Kelly brought to the debut of Megyn Kelly Today, an hour of television that was by turns performatively wacky, stridently emotional, fun, awkward, informative, and weird. There Kelly was, the former lawyer, merrily riding a tandem bike with Al Roker through Times Square. There she was, frying eggs with Matt Lauer (as she flipped them, the eggs splattered over the edges of her pan; Lauer congratulated her nonetheless). There she was, talking in confessional tones about her decision to move to daytime TV ("I wasn't happy, but I was scared to change"). There she was, tearing up as she told the story of her father's death, when she was 15, of a heart attack. There she was, receiving a bouquet of red roses from her husband, Doug, who spent the show seated next to Kelly's mom on a set whose blonde woods and soft lights evoked a Malibu mansion. "Oh! This is a surprise," Kelly said in response to her husband's gesture, unconvincingly.
What Megyn Kelly Today also featured, however, was very, very much of the thing Kelly had cheerfully insisted it wouldn't. Politics, as they are wont to do, infused the morning's proceedings—there because, yes, politics are eeeeverywhere. "The personal is political" is not merely a rallying cry of a women's movement from which Kelly has, in public, disassociated herself; it is also the osmotic reality of an America whose president was elevated to the position with the help of reality TV, and in which late-night hosts are shaping healthcare policy for millions of Americans, and in which politics, for many, have daily consequences of life and death. And in which, indeed, Megyn Kelly, journalist—propelled to widespread fame through infotainment's powerful trajectories—recently found herself in the position to sign an $18 million-a-year contract with NBC.
To mock "politics," whether as a monolith or as an existential inconvenience, is an easy play and a winning ploy; Kelly is correct, of course, that many Americans, particularly at this hyper-partisan moment, find "politics" both tiresome and anxiety-provoking. But the apolitical stance, particularly from a media figure like Kelly, is as disingenuous in the context of morning television as it is anywhere else—a philosophical extension of the aw-shucks wonder Kelly effected on Monday morning, while Savannah Guthrie gave her a tour of the winding innards of 30 Rock. (Kelly has been an employee of NBC for much of 2017.) As Megyn Kelly knows—as she knows perhaps better than most—politics infuse even, and especially, the things that claim to be apolitical. Even in the morning. Even in a faux-windowed studio in the middle of New York City. The weather is political. The water is political. Football is political. Alex Jones is political. The New Black Panther Party is political. Tamron Hall is political. Swimming pools are political. Santa Claus is political. The phrase "we all feel it" is political.
And yet: "If my producers and I do our jobs," Kelly said on Monday, cheerily, "you will find out what you need to know today, to get yourself through the day—to have a laugh with us, a smile, sometimes a tear. And maybe a little hope to start your day."
She paused. "Some fun! That's what you want to be doing, some fun."
In the name of apolitical fun (and in the name, of course, of Comcastian vertical integration), Kelly's first full segment found the host interviewing the cast of Will & Grace—a show that has remained relevant and beloved in large part because of, yes, its politics. Crowded onto a small leather couch meant to mimic the one in Will's apartment, Megan Mullally (Karen), Sean Hayes (Jack), Debra Messing (Grace), and Eric McCormack (Will) talked about the show's revival as they jockeyed for space among the couch's throw pillows. And in the course of the discussion, they mentioned President Trump multiple times—by name and by implication. "Any teaser on current events?" Kelly asked Mullally. "What do you mean? Everything's going great," Mullally replied, rolling her eyes dramatically. "The character of Karen, she's best friends with Donnie and Melania," Mullally continued, tugging at the neck of her blouse to indicate her discomfort.
Later, Max Mutchnick, Will & Grace's creator, explained that the show's revival came about when "I was in London with my husband, and we were talking about the election … "
Later, reintroducing the show's cast and creators after a break, Kelly summarized the previous segment's discussion: "We talked a bit about this show's impact, and culturally"—Kelly repeated the word for emphasis—"culturally, it had a huge impact." And then she mentioned the famous interview in which Joe Biden credited Will & Grace with doing more than anything else to bring about the (extremely political) legality of same-sex marriage.
From there, wackiness ensued—bike rides, egg whites, congratulatory mimosas with the cast of the Today show ("Oh-em-gee!" Kelly exclaimed, as Lauer and company swarmed her onstage, bar cart in tow)—all of it building up to the final segment, the one Kelly had been teasing most excitedly throughout the hour: a serious-toned, news-magazine-style profile of Sister Donna Liette. The 77-year-old woman, Kelly said, lowering her voice dramatically, "faced with violence tearing apart her Chicago neighborhood … decided to do something about it."
"She may look like a sweet little grandmother," Kelly continued, donning the easy indignation of an anchor about to explain an outrage, "but most days she can be found driving alone through one of America's toughest neighborhoods: Back of the Yards, Chicago's South Side, where gun violence is a way of life."
As Kelly spoke, a chyron displayed: "Chicago Nun Takes Back Her Streets."
Chicago, and particularly the crime rates of that city, have been a particular touchpoint for the Trump presidency. "If Chicago doesn't fix the horrible 'carnage' going on," he tweeted in January, "... I will send in the Feds!" It was a sentiment, sent in the early days of his administration, that expanded on Trump's inaugural address—a speech in which "American carnage" functioned as a leitmotif, and in which the president, in dire tones, spoke of "mothers and children trapped in poverty in our inner cities … and the crime and gangs and drugs that have stolen too many lives and robbed our country of so much unrealized potential."
Which is to say that Kelly's choice of interview subject—the "nun taking back her streets"—was deeply political. It celebrated the work of a single white woman, working to "take back her streets" (her streets). It whiffed of "the girl was no saint, either" and "he just is white." The segment featured pans of the neighborhood set to mournful piano music. At one point, Kelly's cameras captured a sign placed in a garden that Liette and a community of Chicago mothers had created together. It read, "Putting Neighbor Back in the Hood."
Kelly's interview with Liette began like this:
"How many murders do you hear about a week?" she asked.
"Probably five or six or seven a week, at least," Liette replied.
"It's like living in a war zone," Kelly said. It was not a question.
"Almost all of our boys have been shot," Liette replied.
The segment, in its contours a human-interest story of the kind that might be aired on 60 Minutes or, indeed, the Fox News Channel, was part of the "Settle for More" series that will ostensibly remain a staple of Megyn Kelly Today—the name being "a mantra," Kelly told her audience on Monday, "that says, if you want change, you must seek it." (Settle for More is also the title of Kelly's 2016 autobiography. She mentioned the book multiple times during the show.) This particular iteration of "Settle for More" ended with a pleasantly morning-show twist: Liette and some of the mothers she works with in Chicago joined Kelly onstage, in the studio, surrounding the host in a semicircle. Kelly presented Liette with checks from Coldwell Banker Residential Brokerage and from Ace Hardware, to further her work in the community. Everyone applauded. It was a nice thing: money, for people who need it. Money that might help life in "a war zone" seem a little less warlike.
It was also, of course, a deeply political thing—and, in that, a fitting conclusion to the premiere. In the past, when Megyn Kelly has been at her best as a journalist, she has been—a word so often associated with her—prosecutorial: She has, whether addressing Trump's pattern of misogyny or Karl Rove's electoral math or Bill O'Reilly or Roger Ailes or even Alex Jones, interrogated the powerful. She has refused to be cowed or charmed, or to fall prey to the smoke and mirrors of televised politics. At her worst, though, Kelly has engaged in a particularly insidious brand of political argument: the kind that refuses to admit itself as politics at all. The kind that sees things from a narrow perspective, but claims to be omnivisual. The kind that lobs grenades into the culture war and then innocently throws up its empty hands. The kind that says, before it talks of Joe Biden and Donald Trump and taking back her streets, "I am kind of done with politics for now."
For her morning-show debut, the fashion-conscious Kelly chose as her inaugural outfit a pair of slim-cut black pants—pants were something she rarely wore during her glass-desked tenure at Fox News, and did as a matter of soft rebellion—topped off with a blouse of pink silk. The shirt's distinguishing element was the neckline feature known as the pussy bow, and the garment overall was a nearly direct replica of the one worn by Melania Trump just after her husband's "grab 'em by the pussy" scandal—and before, it would turn out, political protests would aim to reclaim both the word "pussy" and the color pink. You might be tempted to read something into Kelly's remarkable wardrobe choice—if  her show, of course, weren't apolitical.