LCD Soundsystem's Oddly Inspiring Flip-Flop
Six years after the band broke up, the slow-burning American Dream testifies to the power of choosing to start again.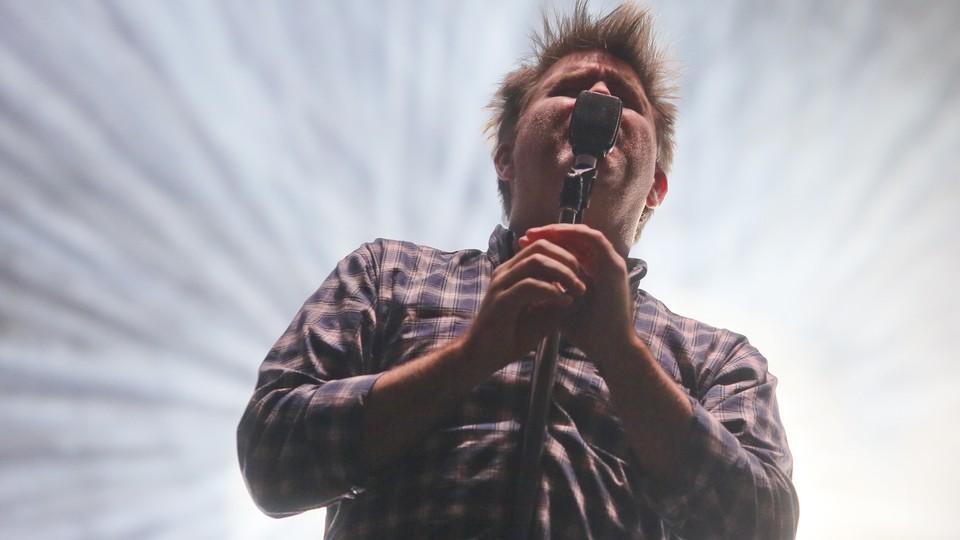 LCD Soundsystem became one of the most celebrated bands of the 2000s with a seemingly unsexy concept: dance music about getting older. Shuffle along to paranoid ranting about the youths who are hipper than you! Sweat while sobbing about the friends you'll never see again! Energetically clean your house to the thought that your prime has passed! Bandleader James Murphy's encyclopedic mastery of underground-rock history and his DJ-honed knack for the joys of rhythm ensured his band's appeal. Yet the heart of the LCD experience was in his mangy croon: Whether he was reciting an essay or repeating one syllable ad nauseam, it reminded the listener that the song, and everything else, would eventually have to end.
He proved that concept with shocking literalness in 2011 when, at the height of LCD Soundsystem's popularity, the band played a sold-out "funeral" at Madison Square Garden and quit, supposedly for good. Murphy explained the decision as a response to feeling like LCD Soundsystem was on the cusp of becoming bigger than he wanted it to be, and to his desire to explore other creative outlets. A mere five years later, though, LCD has returned, playing huge festival gigs and now releasing a fourth studio album. The cynical read: They wanted the paycheck. The band's read: They just wanted to play again.
Yet a deeper read of the band's story emerges while listening to American Dream, LCD Soundsystem's surprising, slow-burning, and satisfying comeback album. The breakup and resurrection now stands as an object lesson in Murphy's favorite subject: maintaining vitality over the slog of decades. In some of his riskiest music to date, Murphy insists that life can encompass more than one climax if you want it to—and that the greatest parties come only after you accept your own mortality. "We're all going to die someday, so you change your mind," he wrote in a 2016 Facebook comment that foreshadowed the album's themes. "You get remarried to your ex if you fall back in love. You speak to your parents after vowing to never do so again. Or, you play with your band again."
One listen to American Dream dispels the suspicion that Murphy wants to resume the march to mainstream stardom. The dance-punk elements he previously used for cleanly produced and easily appreciated rave-ups now thump in grimier, more monotonous songs where catharsis is only ever hard-earned. Percussion does, as before, drive the show, but the impression you get from listening is not of precise, software-assisted composition but rather a fleet of players in one echo-y studio, jamming out on bongos and high hats and Roland TR-808s. Choruses are notional, half-remembered things here. Melodies emerge from syllables that first seem atonally barked. The guitar and keyboard tones are as likely to scratch at the listener's fear reflex as they are at their pleasure center. Daft Punk would not play this material at most houses.
But stick with American Dream and eventually most of these songs reveal themselves as meaty mind-and-body workouts. It's taken months for the lead single, "Call the Police," to click into place for me, but it deserves to be ranked as one of the best political-personal-pop anthems of the year. Over dual guitar lines—one like a rumbling engine, the other like skywriting—Murphy tries out a circa-2017 counterculture pose: "There's a full-blown rebellion but you're easy to confuse / by triggered kids and fakers and some questionable views." As the song froths over, the nasty state of the national discourse comes to feel like a rock bottom—somewhere from which to launch. "When we all start arguing the history of the Jews / you got nothing left to lose," he sings, pronouncing "jews" in a campy yodel of disbelief and abandon.
Another initially perplexing single, "Tonite," is similarly soulful. Over squelchy electro funk and assisted by a vocoder, Murphy rambles on about how the eternal concerns of pop music—"Everybody's singing the same song / It goes 'tonight, tonight, tonight, tonight, tonight, tonight'"—are a tell for the fear of dying. His lyrics are, as always before, made up of impressionistic snippets that feel like inside jokes. But the gist is always in reach. Toward the end of the tune, he turns to address "you who've been badgered and taunted and told that you're missing a party," before a chorus of condolence surges upward: "That's … all … lies." He's saying there's more than tonight, tonight, tonight, as it turns out.
As fits the occasion, many of these songs are rooted in the feeling of waking up after a big rager. The slow-dancing title track tells of being filled with revolutionary fervor while on an acid trip and then facing crushing malaise during the comedown. "Other Voices" narrates a solitary morning ritual over a riotous dance floor bustling while a wheezing guitar line traces Murphy's ragged vocals. Eventually bandmate Nancy Whang breaks in with a crisply enunciated verse: "Who can you trust? And who are your friends?" The feeling of betrayal and suspicion she refers to gets blown up to devastating proportions on the nine-minute disco dirge "How Do You Sleep?," in which Murphy's narrator condemns a cocaine-hoofing narcissist from his past.
If these songs don't always sound energized with new life, they are powerful for the way they reconcile exhaustion with a commitment to moving forward. The track that's the key to it all—as an explanation for LCD Soundsystem's return, and really for the universal existential quandaries Murphy likes to chew on—is the skittering Talking Heads homage "Change Yr Mind." Guitars nervously scratch, an alarm-like cowbell rings and leaves, and Murphy sings of an awful stasis: "I ain't seen anyone for days
/ I still have yet to leave the bed." Post-election blues? Post-breakup blues? Post-youth blues? Any of it fits. But as the whirling rock arrangement settles into something closer to techno's comforting pulse, Murphy has an epiphany: "If we don't like where it's been, it could be over … You can change your mind." It's a small, humble stab at inspiration—but one that, given the messenger, you can believe.