Jesmyn Ward's Eerie, Powerful Unearthing of History
Sing, Unburied, Sing follows a family—and two ghosts—on a road trip that doubles as a journey through the painful past.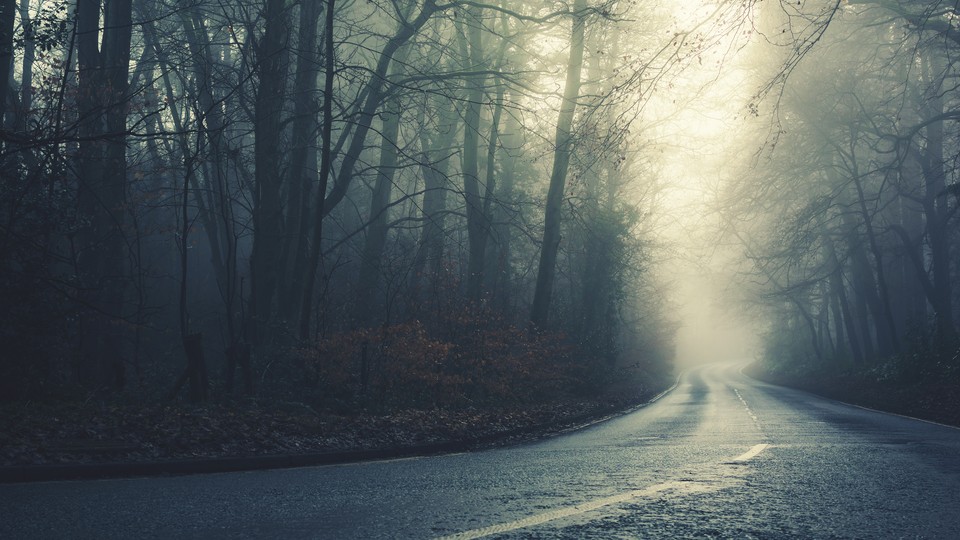 Jesmyn Ward's novel, Sing, Unburied, Sing, begins with a young boy, Jojo, making a bold claim: "I like to think I know what death is." It's his 13th birthday and he's helping his grandfather, Pop, slaughter the goat that they'll barbecue for dinner. Jojo tries to coach himself not to flinch when Pop slits the goat's throat or to slip on the bloodied ground as they peel the skin back from muscle. He's desperate to emulate his grandfather, and this is his attempt to prove that he's "old enough to look at death like a man should."
It's an emblematic scene. Jojo's understanding of manhood is complicated by both the people and places in his family's history. Sing is set in Bois Sauvage, a fictional and struggling Mississippi coastal town, where Jojo lives with his maternal grandparents. His mother, Leonie, is a black woman who struggles with drug use, especially ever since Jojo's father Michael, who is white, was sent to the notoriously brutal Parchman penitentiary. Michael's absence and Leonie's general inattention to her children has left Jojo largely responsible for his 3-year-old sister, Kayla, of whom he is fiercely protective.
Sing, Unburied Sing is Ward's third novel and her most ambitious yet. Her lyrical prose takes on, alternately, the tones of a road novel and a ghost story. Ward anchors the book in Leonie's onerous trip with her two children and drug-addled best friend to pick up Michael, who is serving the final days of his sentence—and loops in two restless ghosts searching for deliverance from those still mourning their deaths. Told mostly from the point of view of Jojo and Leonie, who narrate by turn, the novel explores both the deep effects of racism and injustice on this fractured family, and the ways its members punish themselves for how they've chosen to cope.
Trapped together, hot, and irritated, the tension between Jojo's judgment of his mother's ineptitudes and Leonie's potent mix of selfishness and grief is palpable. But much of the novel's complexities lie in the supernatural space between the two. When she's high, Leonie is haunted by the ghost of her brother, Given, who was murdered when he was 18. After visiting the prison, Jojo begins communicating with the tortured spirit of a boy, Richie, who died while imprisoned with Pop decades ago. (Pop, for his part, remains tormented over his involvement in Richie's death.) The two ghosts are a reminder of just how much Jojo's quest for maturity and manhood is informed by young men who never got the chance to grow up.
Sing, which is longlisted for a 2017 National Book Award, establishes Ward as one of the most poetic writers in the conversation about America's unfinished business in the black South. Set post–Hurricane Katrina, the novel resonates at a time when the devastation of Hurricane Harvey and the protests and violence in Charlottesville see many Americans returning to missed lessons about racial identity and the Old South. While the novel's clearest antecedent might be Toni Morrison's Beloved—with its embittered child returning from the dead to seek answers—Ward has noted that she thought a lot about William Faulkner's As I Lay Dying. It's eerily fitting that instead of traveling to bury a dead family member, as is the case in Faulkner's novel, Ward has her characters pick up Richie's ghost, adding his voice to their tumultuous dynamic.
The frustrating irony in Sing's web of stories is that Ward allows readers to see incredibly well-rounded portraits of her characters, but keeps mother and child somewhat blinded to each other. "Sometimes," Jojo admits, "I think I understand everything else more than I'll ever understand Leonie." They can both see the deceased—the "unburied" men whose deaths reverberate in their lives—but can't seem to gain clarity about their own resentment for each another. Bitterness and melancholy rattle their relationship and keep it fractured.
Over and over in this novel, individual burdens tangle with long-held familial ones. By oscillating between past and present, Ward paints a picture of intergenerational trauma that feels almost inescapable. She returns often to the theme that everything "happens at once," and it's difficult to distinguish where sorrow ends and desperation begins. Instead of allowing those memories to suffocate her characters, the novel interrogates what being tethered to a collective black experience means.
On the surface it might seem that Ward takes on a lot, plotwise, with some of the novel's storylines—Leonie's mother Mam's losing battle with cancer, Pop's guilt, Michael's racist parents—apparently left unresolved. But the overlapping dramas deal with anguish as it happens, messily and in fits and starts. And for all its toughness, Sing isn't a novel without tenderness. The passages that describe the affection between Jojo and baby Kayla are especially moving, as are the sporadic hints of Jojo's adoration of Pop.
Throughout, there's no escaping Ward's political rendering of American history. She uses a haunting, magical-realist style to masterfully warp two of life's most inflexible realities: time and death. Her book seems to ask whether a family or a nation can atone for inequities that remain well and alive. Parchman Farm, also known as Mississippi State Penitentiary, serves as the novel's linchpin on this front, linking the oppressive conditions of the past (when prison sentences more closely resembled legalized slavery) and modern-day incarceration. Richie, for one, poignantly remembers how, after he died, Parchman became past, present, and future to him all at once:
I thought I was in a bad dream. I thought that if I burrowed and slept and woke again, I would be back in the new Parchman, but instead, when I slept and woke, I was in the Delta before the prison, and Native men were ranging over that rich earth, hunting and taking breaks to play stickball and smoke. Bewildered, I burrowed and slept and woke to the new Parchman again, to men who wore their hair long and braided to their scalps, who sat for hours in small, windowless rooms staring at big black boxes that streamed dreams. ... I burrowed and slept and woke many times before I realized this was the nature of time.
By having Richie fill in the gaps in Pop's fitful recollections of the cruelty they experienced at the prison, Ward powerfully binds the spirits of both men to a system that's changed only superficially since their time there.
Ward has consistently told stories of black families in the rural South. Her last novel, Salvage the Bones, which won the National Book Award in 2011, followed a family (in the same fictional town of Bois Sauvage) trying to fortify their home as Hurricane Katrina approached. Her 2013 memoir, Men We Reaped, followed five boys who died young, including her younger brother. In those stories, Ward brought to life the threats, both environmental and societal, that endanger black communities, especially young black men. While Sing dabbles in the supernatural, the dangers that Jojo and his family face are omnipresent in the world outside the novel—the worsening opioid crisis, incarceration, bigotry, and the bruise of racial tension in Mississippi.
Sing, Unburied, Sing is, ultimately, about a journey home, one where the characters find "something like relief, something like remembrance, something like ease." Bois Sauvage and Parchman and Mississippi are all dwellings in their own right, but they're overcast by an unshakable sorrow. Ward's meditation on death isn't meant to expose brutality for its own sake, but to illustrate how her characters, how people, grapple with history. It's an unending process, she suggests, from which even the deceased aren't shielded.