How My First Novel Became a Movie
It took 14 years of false starts, navigating Hollywood, and a modest payout for my book Carrie Pilby to be adapted into a Netflix film.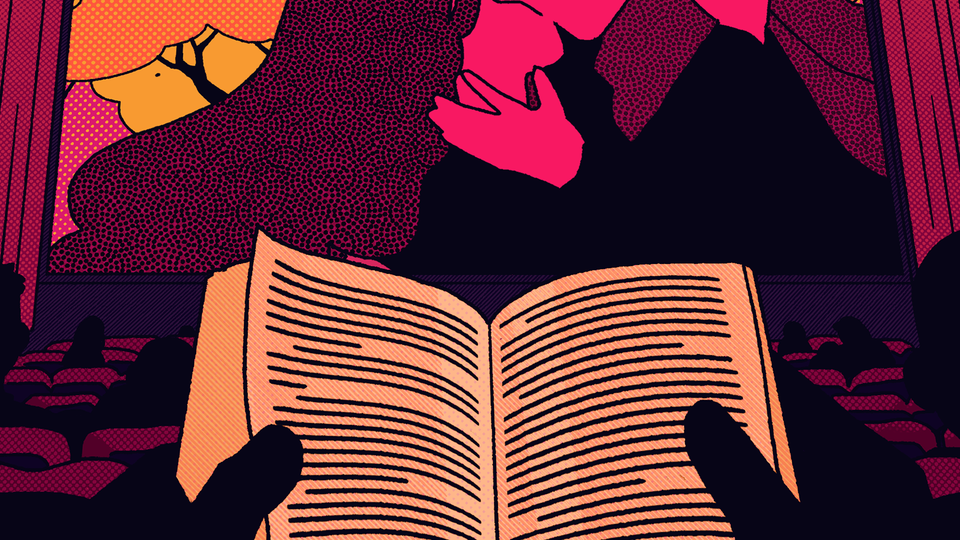 Five years ago, I got an email from two Hollywood producers who wanted to turn my first novel, Carrie Pilby, into a movie. I was thrilled, but reminded myself not to expect much. After all, in the years since the book's publication in 2003, two other production companies had paid me a few thousand dollars each to option the rights for a year, and nothing had come of it. Should I really fantasize about my characters living and breathing on the big screen?
The novel tells the story of the nerdy 19-year-old Carrie, who graduated from Harvard three years early and has no idea how to date or make friends in New York. It was published in the middle of the "chick lit" craze, when offbeat single-gal books like Bridget Jones's Diary and The Girls' Guide to Hunting and Fishing were taking over the publishing industry. Luckily, reviewers said mine was one of the more original novels in the genre, and it went on to sell 74,000 copies worldwide. But nearly a decade later, I was struggling with revisions to a new book, still living in a tiny apartment in the town I'd moved to after college, and about to turn 40. I really wanted my writing to reach a new audience. Actually, I really wanted to be able to afford furniture.
Every other author I knew who'd dealt with Tinseltown had emerged disappointed. One novelist friend whose single-girl book came out around the same time as mine saw the rights quickly gobbled up by producers, who then nabbed Lindsay Lohan to star. My friend waited for the movie to happen for more than a decade—then wound up writing a novel about an author who waits for her book to become a movie. Another colleague, a best-selling novelist, saw her project green-lit and script completed, but the project fell apart when, supposedly, two of the main producers became romantically involved and ran off together. Neither story was a complete tragedy; the authors got a little extra publicity for their books and some option money, usually $500 to $5,000 for each year the producers held the rights. But these stories had taught me to manage my expectations.
Fortunately for me, things worked out the third time: The film adaptation of Carrie Pilby finally came out this month on Netflix after a limited theatrical run in April. The movie stars the British actress Bel Powley (who had won raves for her lead performance in the 2015 indie favorite The Diary of a Teenage Girl), alongside Nathan Lane, Gabriel Byrne, Vanessa Bayer, Jason Ritter, William Moseley, and Colin O'Donoghue. As I (still) work to finish my new teen novel, I've been answering a lot of questions: Why did it take so long to make the movie? Am I happy with how it all turned out? And most of all, why aren't I rich? The truth is, so much has to align when adapting a book for the screen that it's practically a miracle when it works out. And even though this strange process hasn't left me wealthy, it's been fascinating and rewarding to watch it unfold from start to finish.
I wrote Carrie Pilby when I was a frustrated, single 20-something living in Hoboken, New Jersey. I had finished several young-adult novels that agents rejected as "too slow," so one Friday night I penned a funny rant that eventually turned into a book. I sent a few chapters to literary agencies in New York, ultimately drawing the interest of Cheryl Pientka, a relatively new agent. When she submitted the novel to publishers, she also passed it along to a film agent in L.A. who had worked with a lot of adaptations, and that agent mailed the manuscript out to various producers.
Then came my first two (failed) encounters with Hollywood. Early on, a film company optioned the book to adapt it into a TV series, paying me $5,000 to hold onto the rights for a year. The project never came to fruition (though I still think Carrie Pilby would make a great show). A few years later, I struck a similar deal with Disney, but again, nothing emerged. Still, my experience seemed like the norm, considering the vast majority of properties that get optioned for TV or film never actually get made.
My third chance came in 2012, when I got an email from Suzanne Farwell, who had produced It's Complicated and The Holiday. She told me she had partnered with the independent film producer Susan Johnson (Mean Creek), who was ready to direct her first feature. So I signed a contract to give them the rights for a year, and then went back to work at my full-time community newspaper job in Hoboken, editing a story about pooper-scooper laws.
Only this time, things started happening after I signed the contract—albeit slowly. Even making an independent film for less than $5 million takes a lot of meetings with investors. There are six major studios in Hollywood, meaning only a few companies have the budget to produce, distribute, and publicize films themselves: These studios raked in 84 percent of the box-office gross in 2016. With more than 700 films released domestically in theaters last year, and more heading to other platforms and festivals, that's a lot of competition for a limited pool of resources. But Johnson and Farwell had new technology in their favor. In 2013, they jumpstarted the project by doing what Johnson had done with prior indie films: launching a Kickstarter campaign to raise seed money.
The month-long effort exceeded its original $50,000 goal, raising more than enough to land a screenwriter—in this case, Kara Holden (Meant to Be). It was unusual and exciting to have both a female director and female screenwriter: In its first report on the subject in 2015, the Directors Guild of America found women make up just 6.4 percent of feature-film directors, while 13 percent of writers on the 250 top grossing domestic films last year were women. My contract didn't award me any creative control over the script; most book authors don't get much leverage unless you're as successful as E.L. James or Stephen King. But in this case, the director and producers were enthusiastic about the book and had done great work, so I had to have a little faith.
Johnson was kind enough to send me drafts of the script for feedback anyway. Holden kept most of the main storylines intact, while enriching and fleshing out others. I found it satisfying, in one case, to see a manipulative male character get his just deserts, since the book had left the outcome unresolved.
Once the filmmakers had a finished script in hand, they could attract talent. From 2013 to 2015, a slew of respected actors came on board, including the leads Powley and Lane. But there still were months when it seemed like nothing would happen. As with any creative project, one change could scuttle the whole thing at the last second—an actor's scheduling conflict, funds drying up, a similar project coming out at the same time. Then came news that gave the movie the push it needed: Powley had a long line of projects set up for 2016, so production needed to start by the end of 2015. Finally, we had our deadline.
On an afternoon before Thanksgiving, I left work, took a bus across the Hudson River, and stepped into an alternate universe: a production office that the filmmakers set up on the 23rd floor of a Manhattan skyscraper. A costume designer, set designers, producers, and accountants ran through a hallway wielding outfits, props, schedules, and scripts. It was humbling to meet them and surreal to spy receipts on a desk billed to Carrie Pilby. The office was bare-bones, with storyboards taped to the walls. Someone had strung Christmas lights across a Macintosh computer. They were handcrafting a movie.
After five years of raising money (including a climactic last-minute phone call to secure the last few thousand dollars), holding auditions, revising scripts, and cobbling together wardrobe and sets, the actual filming took only 20 days. Once a week for a month, I left my office to visit the set for a few hours. On the first day, cameras were crammed into a small building that was to be Carrie's apartment; most of the crew had to watch the action on a monitor in a different room. To my surprise, everyone seemed relaxed, confident, and upbeat. "We're happy," Johnson explained.
Like the crew, the actors were very kind when I met them. When I was introduced to Lane, the Broadway legend showed me his copy of the book, marked up, and said dramatically, "It's a beautiful book, and I think it's going to be a beautiful movie." I thanked him and said I was sure it would be. Filming was followed by six months of editing, including adding sound effects and the score, which was composed, to my delight, by Michael Penn of Boogie Nights.
While millions of dollars are spent on a film's production and post-production, there's another, crucial step—getting the finished product to viewers. The industry has changed drastically in the last few years, with some films going straight to Netflix and other digital platforms. The fate of indie movies in particular is often determined at festivals. There, distributors see a trailer or the finished product and decide how much money to invest and where to release it; they can speak with filmmakers and gauge audience and critic interest.
Almost exactly a year ago, Carrie Pilby debuted at the Toronto International Film Festival, a launchpad for several Oscar-winning projects including Silver Linings Playbook and American Beauty. I made the trip to see the film screened before 1,500 people. It had been apparent to me during the process that the filmmakers really "got" the book, turning my 400 pages into a heartfelt 90-minute movie. Sitting in the audience, listening to the crowd laugh and applaud, it was clear to me that the audience "got" the film. And the next day, I was pleased to read a four-star review in The Guardian calling Carrie Pilby an "ambitious, upbeat, and surprising comedy."
The film had a weeklong theatrical run in April, thanks to the Sony distributor The Orchard, and it went to digital platforms soon after. I was surprised: I'd hoped Carrie Pilby would be in theaters longer, but large-scale openings are relatively rare for indie films. While many people still love the cinema experience, and 18 to 24 year olds went to the movies an average of 6.5 times last year, up slightly from 2015—29 percent of adults and children spent 2016 without making a theater trip. In the last few years, Netflix has inked deals with film-industry bigwigs like Adam Sandler, Martin Scorsese, and the Coen brothers to release their projects on the streaming service. I've been hearing from a whole new audience now that the film is on Netflix.
Following the premiere of Carrie Pilby, it seems most people I talk to are still curious about the whole money aspect. The fact is, book authors rarely become wealthy from movie deals. When the screen rights are sold (or when the option is "exercised"), the writer often gets a sum equal to about 2.5 percent of the budget. Keep in mind indie films are only made for a few million dollars. There are sometimes monetary bonuses if a big studio signs on, but after 10 to 15 percent agent fees and then taxes, the resulting sum is often less than six figures. However, I am now quite rich in inspiration, which helps as I put the last touches on that teen novel and a funny memoir.
In the years before I sold Carrie Pilby, when I was struggling through my 20s, I used to read about people my age making it big quickly and seethe with jealousy. But most artistic and entrepreneurial folks I know have been forging on for two or three decades, project by project, small victory after small victory. Even two of the actors in the film told me they still feel like they have to fight to get roles. It's the slow, steady steps that lead to realizing a creative dream. As it turns out, occasionally there are happy endings in Hollywood. With dedication, passion, an ability to withstand rejection, and a little luck, it's possible to be an overnight success in just under 20 years.