Hollywood Moguls Are the New Auteurs
The Star Wars: Episode IX director Colin Trevorrow lost his job after clashing with the real power behind the franchise: the producer Kathleen Kennedy.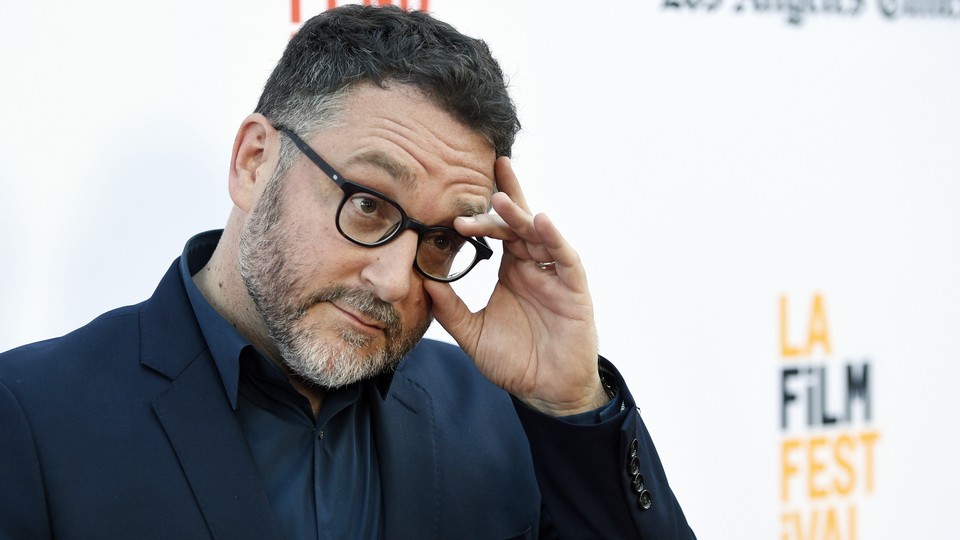 Updated on September 12 at 11:24 a.m. ET
Since the "relaunch" of the Star Wars franchise—a yearly onslaught of sequels and spinoffs under the umbrella of Disney and the mega-producer Kathleen Kennedy—the hefty price paid to George Lucas for the films has looked eminently worthwhile. Star Wars: The Force Awakens made $2 billion worldwide in 2015. Rogue One took another $1 billion in 2016. Episode VIII, The Last Jedi, should earn somewhere between those two totals this year, and there are many more projects along the way guaranteed to print money. Star Wars remains the strongest brand in Hollywood. The only victims of its sale to Disney, thus far, have been young, up-and-coming directors.
More than two years ago, Kennedy hired Colin Trevorrow, the director of Jurassic World (the fourth-highest grossing film in cinema history), to complete her Star Wars sequel trilogy as the writer and director of the still untitled Episode IX. Given his success wrangling one complicated franchise, his ascendancy to Star Wars seemed logical, and Kennedy praised him as an "incredible talent" and "skilled filmmaker" in announcing the hire. Last week, Trevorrow was fired, a decision characterized by Kennedy as "mutual" but reported as being entirely unilateral. It was announced Tuesday that J. J. Abrams, who helmed The Force Awakens, would be replacing him. Trevorrow is the fourth director Kennedy has reportedly outright dismissed since she took charge of Star Wars, and the most high-profile to date. The move is the clearest confirmation yet of who the real auteurs are in 21st-century Hollywood: the franchise producers.
That's not to say Kennedy is dictating exact instructions to each of her directors. But like Kevin Feige (the producer overseeing the Marvel films), John Lasseter (in charge of Disney and Pixar animation), Jason Blum (the mogul behind almost every horror film hit of recent years), and Toby Emmerich (the chief content officer at Warner Bros.), the buck stops with Kennedy on every major decision, and she sets the overall tone of the franchise, a multi-billion dollar enterprise of major importance to Disney's shareholders. Producers have always been crucial in Hollywood. But not since the industry's "Golden Age" of the '30s, '40s, and '50s have individual executives wielded so much influence.
That's been apparent on Star Wars from the minute Kennedy took control. Her first hire, Abrams, was an experienced Hollywood producer and director who had already worked on big franchises like Mission: Impossible and Star Trek, who helped deliver a crowd-pleasing movie on a tight schedule after the film's original script, by Michael Arndt, was hastily revamped. (In a statement announcing Abrams's return, Kennedy said, "With The Force Awakens, J.J. delivered everything we could have possibly hoped for.") But aside from Abrams, Kennedy's initial hires for Star Wars were the same brand of young, up-and-coming directors who had made their name quickly and shown some promise with larger-scale genre work.
Rian Johnson, picked for Episode VIII, burst onto the scene with the indie noir Brick in 2005 and had gotten raves and solid box-office totals for his time-travel drama Looper (2012). Trevorrow, similarly, emerged with a small-budget indie (also about time travel) called Safety Not Guaranteed in 2012, which he parlayed into the moneymaking sensation Jurassic World. Gareth Edwards, hired to helm the gritty spinoff Rogue One, had made the well-liked indie Monsters in 2010 and then jumped to the awe-inspiring Godzilla in 2014. Josh Trank, hired for an untitled spinoff, had the found-footage superhero film Chronicle under his belt and was busy with a Fantastic Four reboot. Phil Lord and Chris Miller, picked for a Han Solo spinoff film, started out in animation and then turned the 21 Jump Street reboot into a surprise hit.
Of all the directors I just named, only Johnson has emerged unscathed (The Last Jedi is due out in December after a drama-free production). Edwards did get to make Rogue One, but the film was extensively reshot by the director Tony Gilroy (Michael Clayton) with a number of scenes, including the ending, reportedly being changed wholesale. Lord and Miller were fired in the middle of production on their Han Solo movie, due out next summer, over Kennedy's apparent dissatisfaction with their reliance on improvisation and goofy tone (Ron Howard was hired as their replacement). Trank never even got to make his movie, losing the gig after the calamitous release of his Fantastic Four (he said he stepped down because he wanted a lower profile). And now Trevorrow, who had been writing story treatments for Episode IX with his usual collaborator Derek Connolly, is gone.
The actual reasons for Trevorrow's departure are still being dug into by industry reporters, but the fact that his latest film The Book of Henry was critically derided this summer certainly didn't help matters. According to Vulture's Chris Lee, that catastrophe might have started the ball rolling on Trevorrow's dismissal, but he wrote that Trevorrow's ego played an even bigger role. "When the reviews for Book of Henry came out, there was immediately conjecture that Kathy was going to dump him because they weren't thrilled with working with him anyway," an anonymous executive claims in the story. "He's a difficult guy. He's really, really, really confident. Let's call it that."
It is hardly shocking news that a film director might perhaps be egotistical, especially after the blazing success of Jurassic World. Hollywood is a business where directors are always given incredible amounts of power, overseeing every creative decision in a project that can cost hundreds of millions of dollars. Perhaps Trevorrow was especially guilty of hubris, but if Hollywood were to fire every director that was overly confident in his (or, sadly much more rarely, her) own abilities, it would quickly find itself out of working directors.
The problem was not just Trevorrow's intellectual vanity or inability to collaborate. His firing is also a symptom of the new way of doing business, where franchise directors have to defer creatively to their producers on a scale that's unusual even by Hollywood standards. If Episode IX were just one movie, Kennedy's role would be different—she'd be working more directly to help along Trevorrow's vision, and to help him finance and mount whatever big artistic ideas he had for the project. But Episode IX is just another in an endless series of money-makers, and Trevorrow was one easily replaceable cog in a machine.