How the Emmy Awards Put Hulu on the Map
The Handmaid's Tale became the first streaming-TV show to win Best Drama Series—an honor that surprisingly did not go to Netflix.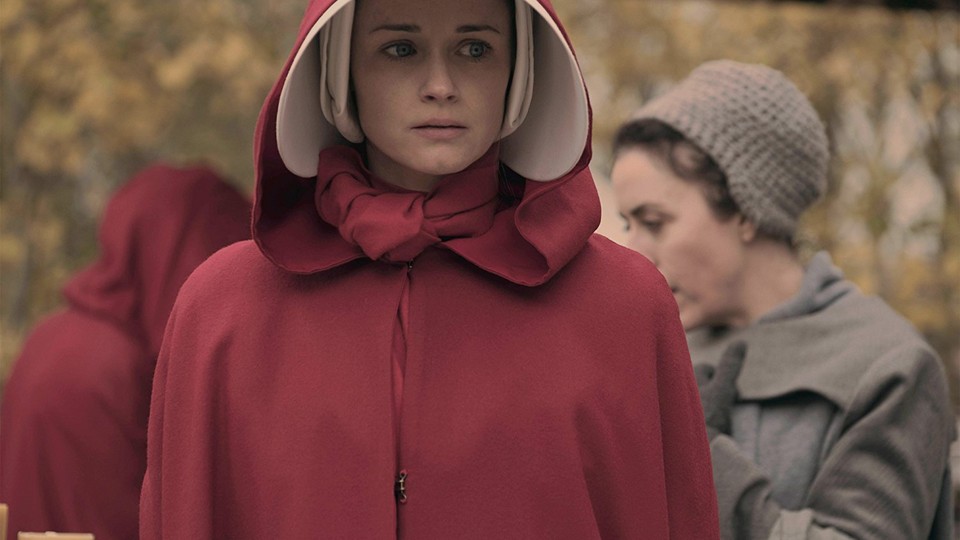 The Emmy Awards have always been a solid arbiter of when trends in the TV industry are here to stay. When HBO got a Best Comedy Series nomination for its fledgling spoof of a talk show, The Larry Sanders Show, in 1993, it was a sign that the network's move into scripted programming was destined for success. When Michael Chiklis was named Best Actor in a Drama for FX's The Shield in 2002, it signaled a breakthrough for original shows on basic cable, which had been largely derided as also-rans. With streaming television, the latest and largest revolution, the Emmys have been quick to respond, showering shows like House of Cards and Transparent with attention. But none had ever won a Best Series trophy until Sunday night, when Hulu's The Handmaid's Tale made history.
For Netflix, its rival's victory has to sting a little. When the company, just a few years removed from solely operating as a DVD mail-rental service, announced its first original series House of Cards in 2011, it was seen as little more than a gimmick. Before the show launched, Netflix's Chief Content Officer Ted Sarandos wasn't even sure if streaming series would be eligible for the Emmys, since they never aired on broadcast television. But House of Cards was an instant success with the TV awards body, garnering a slew of nominations (it's been shortlisted for Best Drama for each of its five seasons), and more importantly, providing instant prestige to a tricky new format.
It was the triumph of House of Cards at the 2013 Emmys (and, the year after, Orange Is the New Black) that drew impressive creators to streaming networks, and convinced big actors to sign on for shows that would only be available to paying subscribers online and would never even generate ratings data. Since breaking through in 2013, Netflix has netted 14 nominations in the Drama and Comedy Series categories in total—for House of Cards, Orange Is the New Black, Stranger Things, Unbreakable Kimmy Schmidt, Master of None, and The Crown. The last of those was hotly tipped to do well at the Emmys this year because of its broad appeal to voters—a period piece in the style of Masterpiece Theatre about the British monarchy.
But in the end, the more searing and topical Handmaid's Tale ran the board Sunday, collecting trophies for Directing, Writing, Lead Actress (Elisabeth Moss), Supporting Actress (Ann Dowd), and Guest Actress (Alexis Bledel). Though Netflix got some solid wins, like a Best Supporting Actor award for John Lithgow in The Crown and Best Writing for Master of None, it ended up losing the top prize to a show that it turned down a few years ago (though Sarandos said The Handmaid's Tale "wasn't in the creative form that it is today," likely referring to an earlier draft of the pilot script).
The Best Drama win is a huge victory for Hulu, which has struggled to define itself with the same brand of quality Netflix established right out of the gate. Its original series, like The Path, Difficult People, and Casual, remain mostly niche hits. The network's early approach was to greenlight low-budget comedies like Deadbeat or The Wrong Mans, often as co-productions with Europeans networks, but almost all of those shows have been canceled. With The Handmaid's Tale, based on Margaret Atwood's novel and featuring a talented cast including Moss, Dowd, and Samira Wiley, Hulu finally has a critical and award-winning hit that can draw in subscribers.
It's a necessary approach in the streaming era, one Netflix leapt on quickly after recognizing that its back catalog of licensed programming couldn't last forever (indeed, shows like 30 Rock and How I Met Your Mother are expiring and will leave the platform next month). To retain subscribers, the companies have to offer viewers something they can't get anywhere else—and The Handmaid's Tale is exactly that. Hulu had been lagging behind Netflix and Amazon in the original-series department, but just one hit (like Amazon had with Transparent) is enough to change that.
Until this year, streaming TV had remained an interloper at the Emmys, usually netting just one or two nominations in the Original Series categories. This year, a majority of nominated dramas (three from Netflix, one from Hulu) were streaming shows. Within a few years, that'll likely become the norm, especially since HBO has already become a quasi-streaming network of its own, offering its shows to subscribers in online-only form for $15 a month. The Handmaid's Tale breakthrough might have been expected, but it's still significant—and it's only the beginning of a major television revolution.