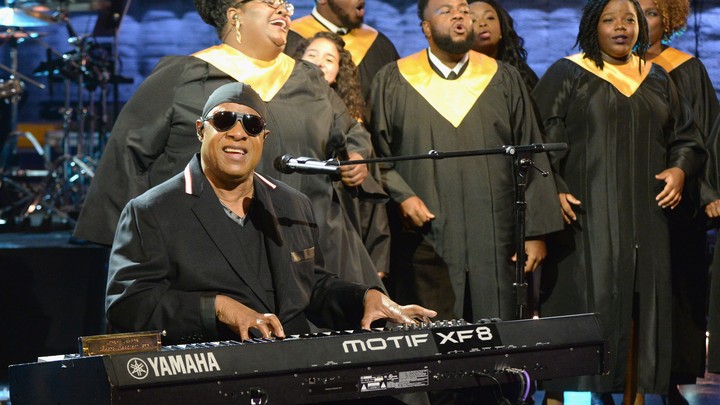 The most famous moment of pop-culture political protest in recent memory happened at a post-hurricane telethon, with Kanye West using his spot in a 2005 Katrina-victim fundraising effort to tell the nation, "George Bush doesn't care about black people."
There was no such memorably inflammatory moment at Tuesday night's "Hand in Hand" telethon for those affected by hurricanes Harvey and Irma. As is the case with these sorts of affairs, the hour was largely a showcase for supergroup performances (check out George Strait, Chris Stapleton, Miranda Lambert, Lyle Lovett, and Robert Earl Keen closing the show with "Texas"). There was also the surreal sight of dozens of superstars smilingly answering phones: George Clooney and Julia Roberts switching handsets, Nicki Minaj making fans squeal, Justin Bieber mugging in the guise of an '80s Miami drug-cartel accountant. So far, the event has raised $44 million to be distributed by Comic Relief USA to charities including the Rebuild Texas Fund, Habitat for Humanity, and Save the Children.
But sprinkled in were a few statements that were remarkable in what they show about our divided times. Many viewers may have heard them as anodyne; others likely reacted a bit like Mike Myers did standing next to Kanye West 12 years ago.
The broadcast began with Stevie Wonder offering an invocation that gradually moved from unifying to confrontational. "We've come together today to love on the people who have been devastated by the hurricanes," Wonder said, warming up for a rendition of "Lean on Me." "When love goes into action, it preferences no color of skin, no ethnicity, no religious beliefs, no sexual preferences, and no political persuasions. It just loves."
So far, fairly inarguable. But then: "And anyone who believes that there's no such thing as global warming must be blind or unintelligent. Lord, save us all."
In the wide swaths of America where climate change is taken for granted and the latest back-to-back catastrophes that have killed dozens and displaced millions seem more than a spooky coincidence, Wonder's is not a particularly provocative statement. Other swaths—those who'd just been called blind or unintelligent—obviously felt differently. Write-ups on conservative news sites were almost immediate, with The Daily Caller reporting that the telethon was "getting political" from the start.
(In the clip of the full telethon MTV posted on YouTube, Wonder's opening comments aren't included; a representative said the omission is from a glitch that may be repaired soon.)
A pre-taped segment from the Houston native Beyoncé was also notably pointed. Many of her celebrity colleagues used their spotlight moments to call out specific instances of bravery (Selena Gomez was movingly choked up discussing the swept-away Saldivar family) or particular needs (the plight of pets, in Eric McCormack's case). Beyoncé gave a more big-picture view, connecting Harvey and Irma with other recent distressing developments in the headlines.
"During a time where it's impossible to watch the news without seeing violence or racism in this country, just when you think it couldn't possibly get worse, natural disasters take precious life, do massive damage and forever change lives, leaving behind contaminated water, flooded hospitals, schools, and nursing homes," she said. "Natural disasters don't discriminate. They don't see if you're an immigrant, black or white, Hispanic or Asian, Jewish or Muslim, wealthy or poor. It doesn't matter if you're from Third Ward or River Oaks, we're all in this together. Seeing everyone of different racial, social, and religious backgrounds put their own lives at risk to help each other survive restored my faith in humanity."
Watch: Beyoncé's heartfelt message on natural disasters & climate change. #HandInHand pic.twitter.com/B0McFh21Dt

— BEYONCÉ LEGION (@Bey_Legion) September 13, 2017
She was dressed in radiant white—which, naturally, was the focus of certain coverage more than her words were—but her rhetoric was that of someone feeling drained by current events. Then she picked up on Wonder's theme of speaking out for the scientific consensus, saying, "The effects of climate change are playing out around the world every day. Just this past week, we've seen devastation from the monsoon in India, an 8.1 earthquake in Mexico, and multiple catastrophic hurricanes." (If the list seems to contain a non sequitur, note that there is evidence seismic activities and climate change may be linked, though it's hard to claim a connection in the case of this latest quake.)
Messages like Beyoncé's, whatever their political implications, seemed first intended to strike against complacency by talking about the specific circumstances of this era. Another pop giant with Houston connections, Drake, sent a message more explicitly seeking to interrupt apathy. "These days it seems as one issue is ending, another is beginning" he said. "I know it can be extremely overwhelming. But your attention and your assistance is of extreme importance."
We want to hear what you think about this article. Submit a letter to the editor or write to letters@theatlantic.com.
Spencer Kornhaber
is a staff writer at
The Atlantic,
where he covers pop culture and music.