First They Killed My Father Is a Surprising, Devastating Triumph
Angelina Jolie's new film follows the Cambodian Civil War and the brutal Khmer Rouge regime through the eyes of a young girl.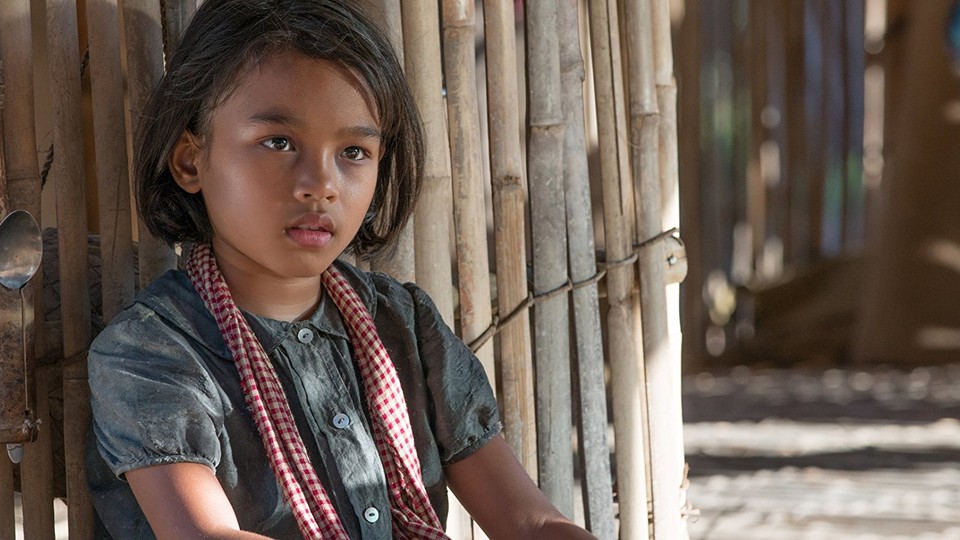 There's only one scene in First They Killed My Father that isn't told through the eyes of Loung Ung (Sareum Srey Moch), the young daughter of a high-ranking Cambodian government official who was swept up in the terror of the Khmer Rouge's campaign of genocide in 1975. It's the opening montage, one cutting between footage of Richard Nixon insisting on American neutrality in the country and newsreels of the violence and bombing that spilled over into Cambodia's borders during the Vietnam War. "This is not an invasion of Cambodia," Nixon intones over images of burning jungles and burnt bodies on the streets of Phnom Penh, as the Rolling Stones song "Sympathy for the Devil" roars on the soundtrack.
Perhaps it's a little on the nose, but it's also the one freewheeling, stylish flourish director Angelina Jolie allows in her sober new film, an adaptation of Ung's 2000 memoir of her childhood during the Khmer Rouge rule of Cambodia in the late 1970s that resulted in the deaths of close to 2 million people (a conservative estimate). First They Killed My Father, subtitled A Daughter of Cambodia Remembers, is a Khmer-language film focused on the atrocities Ung personally witnessed as she was torn from her childhood in Phnom Penh during the Cambodian Civil War, and its villains are mostly the unnamed soldiers and revolutionaries that torment her family. But before she delves into this individual story, Jolie takes great strain to make clear how this chaos was sewn, and that responsibility for Cambodia's descent into violence lies far beyond its borders.
To this day, very few films have been made about the brutal Khmer Rouge regime, a legacy the country is still only beginning to come to grips with. The most memorable is certainly Roland Joffé's Oscar-winning 1984 epic The Killing Fields, but that was a film centered on the American journalist Sydney Schanberg (played by Sam Waterston) and his reporting. Jolie could be accused of bringing a similar Western perspective, though she is the adoptive mother of a Cambodian son and has done extensive charity work in the country. But the triumph of First They Killed My Father is that she avoids any white-savior pitfalls, presenting Ung's story clearly and candidly, and wisely keeping her camera trained on Srey Moch, an astonishing young first-time actor who proves a perfect conduit for the story Jolie wants to tell.
Ung is one of seven children living in relative comfort in Phnom Penh; her father (played with extraordinary grace by Phoeung Kompheak) is a government official, and when the Khmer Rouge rebels sweep into the capital, he knows he'll be marked as a target and spirits his family into the countryside. Jolie, who co-wrote the film with Ung, does not try to over-explain every political detail of the civil war or Pol Pot's resulting regime (a purportedly Communist government that immediately descended into dictatorial terror). First They Killed My Father is told from a child's-eye view, with the camera frequently focusing on Ung's open, sweet face and then cutting to whatever nightmare she's seeing.
At two hours and 16 minutes long, the film might sound like a slog, but Jolie has no interest in drawn-out depictions of torture or execution, holding off on the sort of relentless, graphic violence she could deploy to easily drive the horror home. That's not to say First They Killed My Father lacks gruesome imagery, but it's usually brief and chaotic, glimpsed by Ung as she tries to flee or ignore the terror going on around her. At first, she's living in secret with her family, who try to pose as ordinary, working-class folk to avoid the wrath of the Khmer Rouge (whose targets, aside from ethnic minorities, included anyone connected with the prior government). Later, she's separated from them and trained as a child soldier for the ongoing civil war; Ung's story follows her long, slow quest to reunite with her siblings.
Jolie's masterstroke is that she never departs from the gaze of her young protagonist. There's little sense of time passing—it could be months or years, given Ung's inability to find any grounding in the destroyed farmland, labor camps, and military bases she's swept through. It's easy to understand every decision she makes to survive, even her terrifying recruitment as a soldier who lays mines in Cambodia's dense jungle. The loss of her father (hardly a spoiler, considering the film's title) is the film's most profoundly restrained moment, all the more devastating for how cryptically it happens, as he does his best to hide the details of his impending fate from his children.
First They Killed My Father, which debuts on Netflix and in limited theatrical release Friday, is Jolie's fourth film as a director and her first unambiguous triumph. Though she showed extensive visual flair in her last two movies, the war epic Unbroken and the dark, romantic drama By the Sea (a seemingly autobiographical tale that co-starred her then-husband Brad Pitt), this film matches that with a simpler, more powerful story, largely free of cliché and delivered with incredible restraint. Jolie's clearly trying to use her brand as a Hollywood megastar to make projects with limited commercial potential and get them to the widest possible audience. But as altruistic as that effort may be, the films still have to be good to really make an impact—and First They Killed My Father is very, very good.