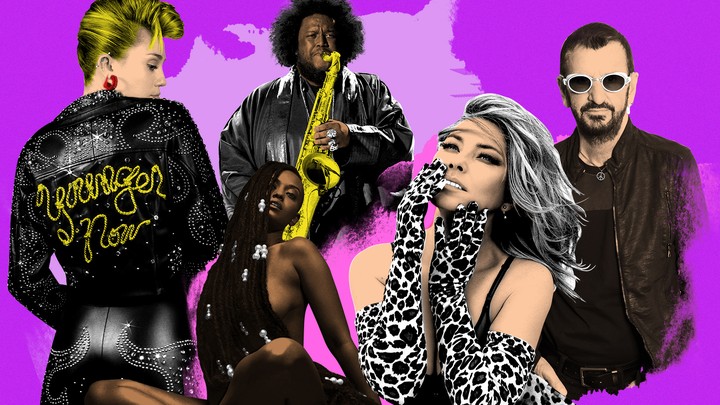 The release schedule for the next few months of music is chockablock with new voices, classic names, and bands in the process of transitioning from the first category to the second. I've collected some of the more interesting-looking albums below. Note that this list only includes music for which a release date has been announced—a significant limitation in the era of the surprise album drop.
---
September 8
The National, Sleep Well Beast
This generation's glum-funny heir to Leonard Cohen, Matt Berninger, delivers unusually lucid lyrics as his now-venerable Brooklyn band experiments with drum machines and snarling guitar solos.
Listen to: "The System Only Dreams in Total Darkness"
Syd, Always Never Home
What it is: The dreamy R&B singer already released one acclaimed album this year and now delivers a so-called "feature soundtrack" that promises more immersive, shape-shifting storytelling.
Listen to: "Bad Dream / No Looking Back"
Ted Leo, The Hanged Man
The cult-beloved power-pop bandleader's first album in seven years is a catchy, urgent, and inventive cry against complacency in all its forms.
Listen to: "You're Like Me"
Tori Amos, Native Invader
Donald Trump's election caused the storied singer-songwriter to scrap much of her planned 15th album so as to address the political moment, but she retains her evocative style and interest in the natural world.
Listen to: "Cloud Riders"
Neil Young, Hitchhiker
One of the "lost albums" Neil Young recorded in the late '70s, the acoustic Hitchhiker includes early takes on some of the icon's classic songs as well as two previously unheard cuts.
Listen to: "Hitchhiker"
---
September 15
Prophets of Rage, Prophets Of Rage
Members of Rage Against the Machine, Public Enemy, and Cypress Hill teamed up for a protest-music tour during the 2016 election and now are releasing a batch of slogan-slinging originals.
Listen to: "Radical Eyes"
Gucci Mane, Mr. Davis
The Atlanta rap charmer has been on a tear since leaving prison in 2016, and his third album in a year boasts an all-star roster of collaborators including Nicki Minaj and The Weeknd.
Listen to: "I Get the Bag," featuring Migos
Ringo Starr, Give More Love
The two living Beatles reunite for the rambunctious opener to Ringo's 19th solo album, and there's a little more help from Ringo's friends—Joe Walsh, Peter Frampton, Edgar Winter—later in the track list.
Listen to: "We're On the Road Again," featuring Paul McCartney
---
September 22
Godspeed You! Black Emperor, Luciferian Towers
The masters of the gorgeously ominous instrumental epic have an especially anarchist raison d'etre on their sixth album, which arrives with a list of political demands and a three-part closer called "Anthem for No State."
Listen to: "Storm" (from 2000's Lift Your Skinny Fists Like Antennas to Heaven)
Cut Copy, Haiku From Zero
The smartest and slickest of this century's new-wave revival acts say that they channeled modern information overload while recording their latest set of glitterball anthems.
Listen to: "Standing in the Middle of the Field"
The Killers, Wonderful Wonderful
Early hints about the "Mr. Brightside" authors' first album in five years indicates even greater levels of nostalgia, irony, and Oingo Boingo influence with which to rock arenas than before.
Listen to: "Run for Cover"
Leon Russell, On a Distant Shore
The blues rocker who saw a late-in-life resurgence in popularity thanks to a collaboration with Elton John recorded this set of originals and standards before his death last fall.
Listen to: "Love This Way"
Midland, On the Rocks
This new country trio is drawing buzz for following Chris Stapleton's example by harkening back to "classic" country and rock sounds—but with the pop sheen associated with their hitmaking Nashville label Big Machine Records.
Listen to: "Drinkin' Problem"
---
September 29
Kamasi Washington, Harmony of Difference EP
A jazz saxophonist enjoying rare crossover stardom in the worlds of pop and hip-hop in part due to collaborations with Kendrick Lamar, Washington is releasing six songs he first debuted at the Whitney Biennial earlier this year.
Listen to: "Truth"
Miley Cyrus, Younger Now
No longer a pop provocateur, Cyrus is rebooting herself as a soft-edged rocker and country singer—though the quirk in her voice definitely remains.
Listen to: "Malibu"
Protomartyr, Relatives In Descent   
This Detroit punk-poetry act has emerged as one of the most interesting new bands in years, and a blazing new single hints this fourth album could bring them a wider audience.
Listen to: "A Private Understanding"
Shania Twain, Now
The country-crossover megastar of the '90s returns to build on the generational goodwill that has accumulated in the 15 years since she last released an album.
Listen to: "Life's About to Get Good"
Wolf Alice, Visions of a Life
The British alternative rock band has been bubbling as a next-big-thing contender for a few years now, and the singles from their sophomore album offer a tasty blend of dreaminess and aggression.
Listen to: "Don't Delete the Kisses"
---
October 6
Kelela, Take Me Apart
After years of tinkering, the acclaimed and futuristic singer says her proper debut will reflect her identity as "a black woman [and] a second-generation Ethiopian American, who grew up in the 'burbs listening to R&B, jazz, and Björk."
Listen to: "LMK"
---
October 13
Robert Plant, Carry Fire
What it is: The Led Zeppelin legend's latest single shares its name with a "Stairway to Heaven" lyric, but Plant has said he's journeying to new musical territory, and his solo career to date suggests it'll be worth following him there.
Listen to: "The May Queen"
Beck, Colors
What it is: The follow-up to Beck's beautifully downbeat surprise Grammy Album of the Year winner, Morning Phase, should see the chameleonic songwriter returning to the realm of bold, upbeat pop.
Listen to: "Wow"
Wu-Tang Clan, Wu-Tang: The Saga Continues
What it is: The strange saga of their previous album—whose one copy ended up in the hands of Martin Shkreli—seemingly concluded, the rap collective has made what RZA calls a "masterpiece" that will be, refreshingly, available to all.
Listen to: "People Say"
Kurt Vile and Courtney Barnett, Lotta Sea Lice
What it is: Two of the most distinctive singer/songwriters to recently rise in indie rock now blend their dry wits and lackadaisical charm.
Listen to: "Over Everything"
---
October 20
Lindstrøm, It's Alright Between Us As It Is
This Norwegian electronic musician can be relied on for breezily melodic dance music to energize not only nightclubs but also workdays.
Listen to: "Shinin," featuring Grace Hall
Destroyer, Ken
The poet-weirdo of The New Pornographers, Dan Bejar, offers his 12th album of oddly beautiful lounge rock with hissed, heady lyrics.
Listen to: "Sky's Grey"
---
October 27
Weezer, Pacific Daydream
Last year's "white album" was the best and most heartfelt release in years from these California pop-rock stalwarts; now comes the seasonally inappropriate, beach-themed follow-up.
Listen to: "Feels Like Summer"
Julien Baker, Turn Out the Lights
A rising Memphis folk-rock singer capable of disarming delicacy and forthrightness, Baker is releasing the follow-up to an acclaimed 2015 debut.
Listen to: "Appointments"
---
November 10
Taylor Swift, Reputation
Her two confrontational, hip-hop-inflected singles suggest that the pop titan most of America could once agree on is looking to start arguments this time out.
Listen to: "Ready for It"
---
November 17
Morrissey, Low in High School
The ever-arch, ever-quarrelsome, and never-humble singer from The Smiths "[captures] the zeitgeist of an ever-changing world" on his 11th solo album, says his label.
Listen to: "Suedehead" (from 1988's Viva Hate)
We want to hear what you think about this article. Submit a letter to the editor or write to letters@theatlantic.com.
Spencer Kornhaber
is a staff writer at
The Atlantic,
where he covers pop culture and music.