Will Netflix or HBO Dominate the 2017 Emmy Awards?
What to expect from the 69th ceremony honoring the best of television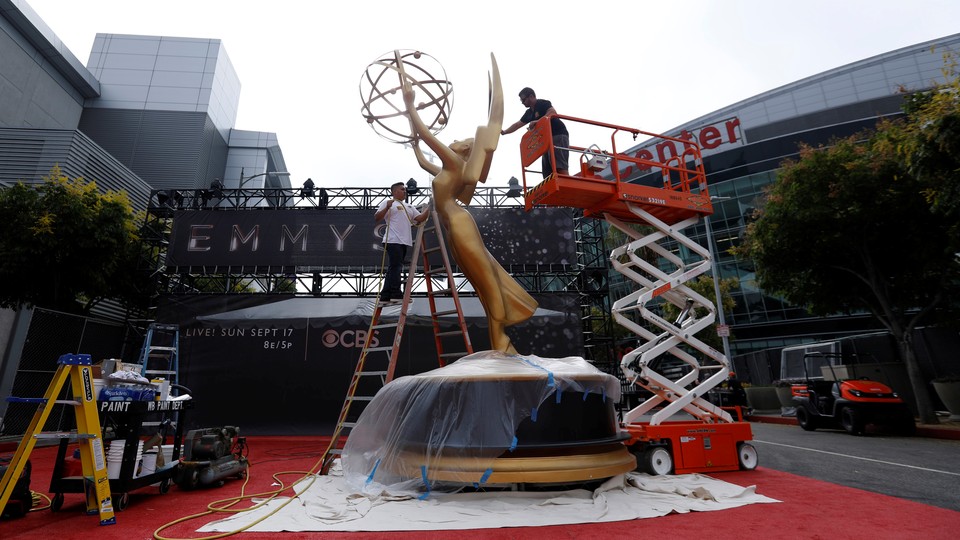 In 2013, Netflix became the first streaming service to win a Primetime Emmy Award. That was just four years ago, but feels considerably longer in TV years—at the time, individual chapters of the show House of Cards were still commonly referred to as "webisodes," and Netflix had a relatively paltry 30 million subscribers instead of the roughly 104 million it has today.
Today, the television landscape is completely different. Almost half of the shows nominated for best comedy or drama at the Emmys this year come from streaming services: Netflix's Stranger Things, The Crown, House of Cards, Master of None, and Unbreakable Kimmy Schmidt, and Hulu's The Handmaid's Tale. Netflix isn't quite the biggest player at this Sunday's ceremony; HBO received 111 nominations, even without Game of Thrones, its flagship production, being eligible. But the streaming service almost doubled the number of nominations it received compared to last year (91 to 54). And with Netflix intent on releasing an even bigger slate of new shows in 2018, its influence will only increase.
For viewers, Netflix's vast infusion of cash has contributed to a spate of exceptional television—both from the streaming service itself and from the traditional networks struggling to keep up. The trend to watch for this year is whether voters reward less conventional recent releases (FX's Atlanta, Hulu's The Handmaid's Tale, Netflix's Stranger Things, HBO's Big Little Lies) or more traditional Emmys-friendly fare (Netflix's The Crown, ABC's Modern Family, Ryan Murphy's Feud: Bette and Joan). That's to say nothing of the shows and actors that didn't get their due: HBO's The Leftovers and Insecure, Amazon's Fleabag, Starz's The Girlfriend Experience, Oprah Winfrey's performance in The Immortal Life of Henrietta Lacks.
FX's Atlanta is one of the shows it would be gratifying to see honored on Sunday, given the ingenuity of its storytelling and the surreal but compassionate humor of its creator and star, Donald Glover. The same goes for ABC's Black-ish, which responded to the election with a thoughtful and nuanced dissection of racism in America. But it's entirely likely that the award for best comedy series will go to HBO's Veep, which has been nominated for all of its six seasons, and won the last two years in a row.
The best drama category has been upended by the ineligibility of Game of Thrones (due to its later schedule in 2017), which also won the award for the last two years. It's possible that NBC's hit family drama This Is Us could pull off a surprise win, or that HBO's Westworld or Netflix's The Crown could score. But it seems most likely that either Netflix's Stranger Things or Hulu's The Handmaid's Tale will ultimately triumph. This would be a significant victory for streaming TV, which hasn't yet claimed one of the two big prizes at the Emmys.
Then there are the acting awards. Jeffrey Tambor's performance as Maura Pfefferman on Amazon's Transparent won him Outstanding Lead Actor in a Comedy Series in 2015 and 2016. In the Lead Actress category for comedy, it's most likely Julia Louis-Dreyfus will win for the sixth successive year for HBO's Veep, but if voters decide to go rogue, Jane Fonda or Lily Tomlin could triumph for Netflix's Grace and Frankie. For Lead Actress in a Drama Series, the biggest contenders look to be Elisabeth Moss for The Handmaid's Tale and Claire Foy for her role as Queen Elizabeth II in The Crown. Lead Actor in a Drama is anyone's guess, with Anthony Hopkins (Westworld) and Milo Ventimiglia and Sterling K. Brown (This Is Us) seeming like strong candidates.
The limited-series acting categories seem to be where HBO still dominates. Nicole Kidman should claim the lead-actress award for her extraordinary performance as an abused wife in Big Little Lies, but Reese Witherspoon is also nominated for the same show. Jessica Lange and Susan Sarandon are also both nominated for Feud, as are Carrie Coon for Fargo and Felicity Huffman for American Crime. All six actresses have done remarkable work this year. In the lead-actor category, Riz Ahmed and John Turturro face off for HBO's The Night Of, with Robert De Niro another contender for his role as Bernie Madoff in The Wizard of Lies. HBO could also clean up in the supporting categories, with Bill Camp and Michael K. Williams nominated for The Night Of, Alexander Skarsgard, Laura Dern, and Shailene Woodley for Big Little Lies, and Michelle Pfeiffer for The Wizard of Lies. But Stanley Tucci and Alfred Molina deserve praise, too, for their supporting roles in Feud.
The supporting categories for comedy and drama look promising for streaming services: Ann Dowd deserves to win Supporting Actress in a Drama for her role as Aunt Lydia in The Handmaid's Tale, with Samira Wiley nominated for the same show, Uzo Aduba for Orange Is the New Black, and Millie Bobby Brown for Stranger Things (Thandie Newton has a good chance for Westworld, and This Is Us's Chrissy Metz is a fan favorite). For comedy, Judith Light and Kathryn Hahn are both nominated for Transparent, but the award seems destined for Kate McKinnon for her work on Saturday Night Live. Alec Baldwin will also presumably win for playing Donald Trump on the same show, but in the Supporting Actor in a Drama category, John Lithgow seems to be the favorite for his role as Winston Churchill on The Crown.
Beyond that, the biggest questions are who will win for Outstanding Limited Series (likely Big Little Lies), Outstanding Television Movie (potentially The Wizard of Lies, although Netflix's Black Mirror could win its first Emmy for "San Junipero"), and Outstanding Variety Talk Series (the Emmys' host this year, Stephen Colbert, should rightfully win for his reenergized post-election work on The Late Show). HBO may ultimately end up the biggest winner of the night—it took 19 awards at last weekend's Creative Arts Emmys, to Netflix's 16 and NBC's 9. But the real race, for Netflix, seems to be just beginning.