Chance the Rapper's Radical Humility on Colbert
His delicate new song makes the problems of fame shockingly relatable.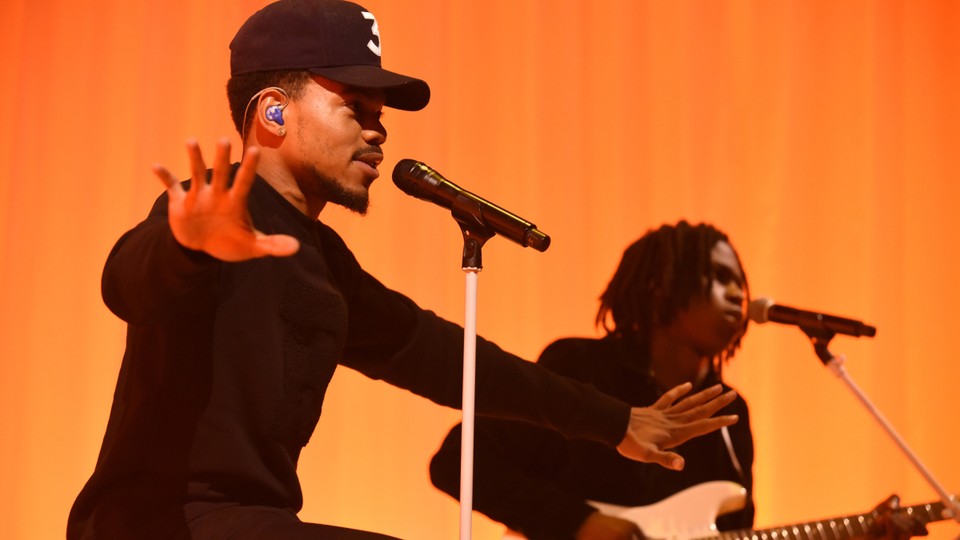 If ever there were a time when the world could use more songs about the stresses of being rich and famous, the era of Drake and Taylor Swift 2.0 would not seem to be it. And yet even the most played-out topic can be made interesting again through talent and craftsmanship, as Chance the Rapper reminded America Monday night on The Late Show With Stephen Colbert.
The 24-year-old Chicagoan told Colbert, with whom he recently collaborated on the politically-charged opening medley for the Emmys, that the song he was about to premiere was written entirely in the last few days. On one hand, a quick turnaround might explain the spare sound and straightforward structure of the untitled track. But on the other, it's mindbendingly impressive if the tune's bracing poetry and melody were indeed just tossed-off.
The opening lines are on a pretty well-worn lyrical motif—stargazing—but he's lucid, careful, and attentive to assonance as he establishes the big metaphor of the song: Material success doesn't get you closer to God. Adam and Eve's struggle with temptation is rendered as Chicago cold ("I walked past apple trees and didn't take it / Thought about stone mattresses, thin blankets, really long winter spent in a windbreaker"). Money, he observes, can't replace the work needed to be a good father: "You just can't tour a toddler / She turnin' 2, she don't need diapers, she just need her papa."
The first time he breaks from rapping to singing, for the hymn-like chorus, is a pure chills moment. Daniel Caesar's quiet guitar-playing and the backing chorus keeps the mood serious, reverent, as the song progresses. But there are times when Chance works himself up. In the second verse, he contrasts his old, mischievous self with a new complacent version, relatable to plenty of adults in the internet age: "I just sip my tea, sit my ass on my ass, send my tweet, fold my arms, twist my weed." In the third verse, he turns the accusation of apathy outward, making it political: "And y'all just keep clappin' and keep happen / Like Flint got clean water and y'all don't got teen daughters and black friends and gay cousins, y'all just gon' say nothin'."
There are a few moments when his struggles sound too rarefied to even be called "first-world problems," like when he complains that his Grammys haven't arrived in the mail yet. But so long as you watch (and not just listen to) his Colbert performance, the song's spell of radical humility—and the insistence that he's superior to none of God's other creatures—remains unbroken throughout. His gestures, his expressions, and his cadence all give the portrait of someone trying to explain something, someone trying to connect, someone who might be called a star but doesn't ever forget where his feet stay planted.