Better Things Is Almost Perfect Television
The FX comedy-drama by Pamela Adlon is one of the sharpest and most poignant shows in recent memory.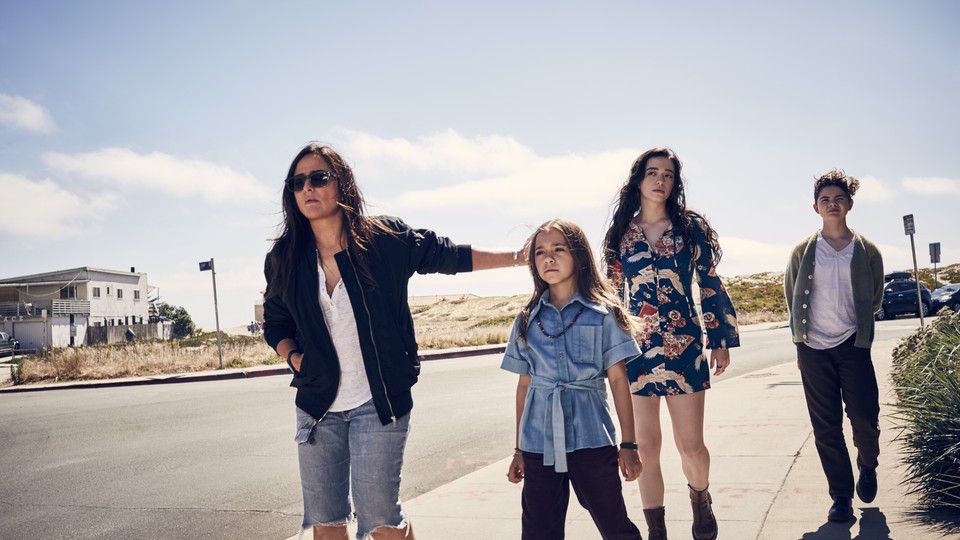 The finale of the first season of Pamela Adlon's FX dramedy Better Things ended with Sam (Adlon) and her daughters driving around in the family minivan, the girls gazing out the window while Duke (Olivia Edward), the youngest, squeezed her mother's hand. The track playing in the car was Alice Cooper's "Only Women Bleed," and all three of Sam's kids sang along. It was a fitting ending for a debut series that had concerned itself singly with what women and girls go through, filtered through Adlon's own experiences as a single mother and an actress. Sometimes it was funny (Sam memorably threw a teenage co-star out of her car after he tried to show her his penis, adding as a mom-like afterthought, "You can keep the jacket!"). Sometimes it was sad. But the show, dedicated to Adlon's three daughters in real life, ended with acceptance. As Sam put it while addressing a female empowerment seminar at her daughter's school, women have one thing in common: "We all bleed and we all suffer."
If Better Things were just a comedy loosely based on Adlon's life in Hollywood after 40, like a welcome heir to the highly underrated '90s sitcom Cybill, it would still be spectacular, simply because Adlon is so sharp and so funny. But its ability to take a more wrenching look at womanhood made it one of the best and most distinctive shows of 2016. The second season, which debuts on FX Thursday, is somehow even better, directed in its entirety by Adlon, and written with Louis C.K., who co-created it. Dreamier and more wistful in style but with the same caustic sense of humor, the show takes more risks with structure and technique. Despite the fact that the writing in Better Things is a real gift—"Will you girls stop stealing candles for crying in the tub?" Sam pleads during an electrical outage—some of the most potent scenes are wordless altogether, as if to emphasize how many different things the show can master.
Season 1 introduced Sam Fox, her eccentric British mother, Phil (Celia Imrie), and her daughters: Max (Mikey Madison), Frankie (Hannah Alligood), and Duke (Olivia Edward). (That all five characters have male names seems intentional.) Sam, like Adlon, is a former child actress who's found reliable work later in her career as a voiceover artist (Adlon voiced the character of Bobby on King of the Hill for 13 seasons). Her ex-husband pops up sporadically but is mostly out the picture; Sam has an off/on thing with a married ex (Mather Zickel) that involves self-loathing and sexts that she dashes off between plunging the toilet and giving the dog eye drops. Max, the eldest, is more open with her mother about sex and drugs than Sam would like ("These things are normal but you should be ashamed of them," Sam explains). Duke, the baby, is doted on by everyone. Frankie, the funniest one, got sent home from school in the season finale for using the boy's bathroom; she assured her mother it wasn't because she was identifying as one, but Sam seemed to accept at the end that her daughter was probably transgender.
In the seven episodes of Season 2 that have been released to critics, this storyline has been largely left alone, with Adlon telling a panel that she and her daughter went through similar phases, implying Frankie will figure things out at her own pace. The first two episodes feature Sam trying to manage not just her own sex life but her daughter's, after 16-year-old Max starts dating Arturo, a louche, swaggering 36-year-old Spaniard. Adlon plays Sam's response to this development as a kind of paralysis—she's intuitive enough to know that freaking out will only drive Max away, but she's also viscerally pained by seeing her eldest child already vulnerable to the worst schools of male bullshit artistry.
A recurring theme in the second season is this constant tension between weakness and strength, and assessing which one is more important at any given time. Teaching an acting class, Sam critiques two comedians performing a scene for exuding too much confidence. "You're playing a person in this scene," she explains. "People are weak. They're not cool and fast." The defining characteristic of her approach to relationships, though, is a desire for power—she dates a terrible Jeremy Corbyn-lookalike in the second episode so she doesn't have to feel anything, and then is deeply unnerved when she meets someone who seems perfect for her. "I don't know how to do this," she says. "I don't know where this goes. I've got no place to put it."
Unlike the first season, which employed a roster of guest stars including Lenny Kravitz, David Duchovny, Julie Bowen, and Bradley Whitford, the second focuses on its primary cast members. A more prominent role is given to music, which never fails to convey both mood and a sense of humor (the closing track to the Arturo episode includes the lyrics, "Daughter, leave those boys alone"). Adlon's direction is deft, especially considering she's in virtually every scene. After a climactic conversation with Max, Sam briefly lets her hand linger on Max's closed bedroom door—a gesture that conveys all the maternal love that Sam knows better than to try and vocalize. In one episode, after she meets a man in a bar, she falls into a kind of reverie remembering the moment, where his words are muted to a quiet hum. In another, she experiences a blissful beach day with her daughters but whether the scene is real or imagined is left ambiguous.
The series gets into more poignant emotional territory with a storyline involving the increasing physical and mental fragility of Phil, Sam's mother. Imrie, a brilliant English comic actress, gets to convey Phil's poisonous rage at sensing her own decline, as well as rare moments of connection with her daughter, whom she's passive-aggressively sniped at for years. It's to the credit of Louis C.K., who wrote the fifth episode, "Phil," that the subject is so honestly handled. "You get used to things being hard where you can work to make them better," Sam's friend Tressa (Rebecca Metz) tells her about her own father's deterioriation. "But this isn't that. There's no good end to this. It doesn't get better. Your mother is gonna get worse and worse and then she'll be gone."
After this storyline, though, comes "Eulogy," one of the most spectacular TV episodes in recent memory. The first half of it deals with Sam's career—how tedious and stupid acting can be, and what it means to love it and try and be good at it anyway. The second tracks her attempts to get her daughters to recognize that her job is important. For once, Sam gets what she wants, in a funny, dark, and fiercely moving conclusion that captures the weird genius of her parenting style and the infrequent joy of single motherhood. The episode distills all the things that make Better Things so good: the acknowledgment that life, for women, is hard and baffling and humiliating and painful, and that it can also—fleetingly—be perfect.