What We're Reading This Summer
A collection of books recommended by The Atlantic's editors and writers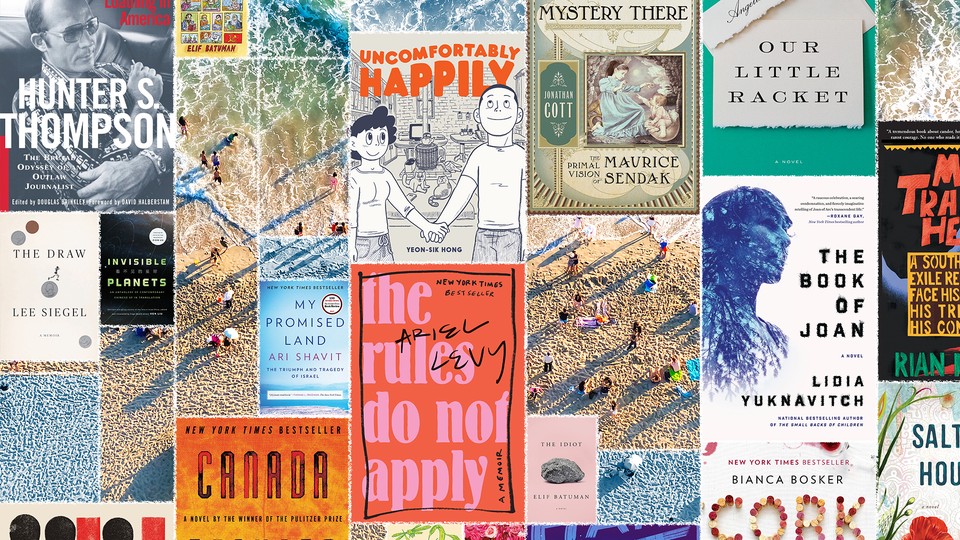 Our Little Racket by Angelica Baker
I read all 512 pages of Angelica Baker's debut novel greedily, in one dizzying weekend, unable to put it down. Which is fitting, in a way: Our Little Racket follows the sudden downfall of a Lehman Brothers–esque CEO through the eyes of his wife, their teenage daughter, and the other women surrounding them, and as such it's very much a story of greed and its out-of-control consequences. But the book gets beyond moneymaking hubris to a more basic kind of desire—the fretful, shapeless longing of those who are sidelined to be seen somehow as indispensable.
Binge-watchers of Big Little Lies will enjoy the elegantly cutthroat politics of suburban life in wealthy Greenwich, Connecticut, while fans of Elena Ferrante will like the sharp portrayal of the delicate power balances in women's friendships. But any reader will appreciate the tightly woven drama of this book, which brings its five protagonists out of the margins of the crisis and into an explosive confrontation of their own.
Book I'm hoping to read: Love in the Time of Cholera by Gabriel García Márquez
---
The Idiot by Elif Batuman
For Selin, the Turkish-American protagonist and narrator of Elif Batuman's The Idiot, arriving at Harvard in the fall of 1995 is an occasion of great flourishing. Intellectual and experiential horizons are broadened. New technology, in the form of, yes, email—"a glowing list of messages from all the people you knew, and from people you didn't know … like the universal handwriting of thought or of the world"—makes apparent the complexities of our ever-evolving epistolary media. But it's also a time of emotional confusion: Selin falls for a bland, apparently brilliant, Hungarian mathematician named Ivan. Several years her senior, he treats her as an odd curiosity, someone to be intrigued by but never quite taken with.
While Selin's on-again, off-again pursuit of Ivan gives The Idiot its narrative spine, for me, the novel's true pleasures are in the rapid maturation of her powers of observation. "Why was 'plain' a euphemism for 'ugly,' when the very hallmark of human beauty was its plainness, the symmetry and simplicity that always seemed so young and so innocent," Selin muses. It's a work of peculiar discovery, a portrait of the artist as a young Turkish-American woman obsessed with language and its powers. And Selin's infatuation with Ivan, too, offers her a way to work out her nascent theories of love, life, and meaningful expression.
My anxious, sweaty, early college days were full of unrequited longings, both romantic and cerebral—I wanted my opinions about Bergman, Chekhov, and colonialism to be valued and important. The Idiot took me back to that awkward time, full of pain and strangeness, but also of promise and delight.
Book I'm hoping to read: Neuromancer by William Gibson
---
Fear and Loathing in America by Hunter S. Thompson
Fear and Loathing in America is a collection of Hunter S. Thompson's private and business letters between 1968 and 1976. There are other earlier and later collections, but in these years he's in his prime. "The Battle of Aspen" (Rolling Stone, 1970) is one of my favorite pieces of his, and here you see how it came together, and how it shaped his understanding of journalism's role in political power.
Thompson carbon-copied all of his letters and reportedly imagined they'd be published one day, which slightly ruins the idea that you're looking inside his head when reading them. His letters have the same energy and humor of his columns. But to whatever degree his persona involved conscious performance, it's one he kept up for thousands of pages of private correspondence. I come out believing the reason his work resonated with so many people was because it was authentic. It's possible the crisis of faith in journalism today would be helped if there were more writers as relatable, unpretentious, and candid as he was.
There are, of course, parallels between his feelings about Richard Nixon then and many people's feelings about Donald Trump today. It can be cathartic to wade through HST's despair for democracy and the American idea, and to realize that it was not less intense than many people's today, and to see how he coped and didn't, and to remember that he and the country made it through.
Book I'm hoping to read: Things That Happened Before the Earthquake by Chiara Barzini
---
Uncomfortably Happily by Yeon-Sik Hong
This hefty graphic novel by the Korean cartoonist Yeon-Sik Hong is one of the simplest stories I've read this year. It has no real suspense or plot, no grand reveal. Based on Hong's own experience moving with his wife Sohmi from Seoul to the countryside, Uncomfortably Happily is a candid, engrossing tale of two comic artists looking for comfort in solitude and minimalist living, even as the twin shadows of poverty and stress loom.
While they are thrilled to leave the smog and noisy crowds behind, the couple relocate largely out of financial necessity; on page after page, the irritable Hong agonizes over his meager paychecks and unfulfilled creative dreams. Uncomfortably Happily, which is plainly but engagingly drawn, spends as much time, though, on the daily indignities and triumphs of living in the mountains. Divided into seasons, the book reflects the duo's newfound connection to the patterns and whims of nature: In the winter, the couple experiment with burning coal to save money. In the spring, they begin the tricky work of loosening the soil and planting sesame, lettuce, and mugwort. They fret over trespassers, chores, and commuting to the city. They adopt a dog, buy some chickens, and clean up the mess when the dog kills the chickens. Sometimes, they treat themselves to grilled meat for dinner or go for a swim.
I appreciated the book's contemplative, and realist, mode, and its unromantic look at oft-romanticized lifestyles: that of the country-dweller and that of the artist. Beyond that, I just found it therapeutic to follow the quietly charming Hong and Sohmi week to week, not doing much more than making do.
Book I'm hoping to read: Nochita by Dia Felix
---
Nobody's Fool by Richard Russo
At 549 pages, Nobody's Fool is not a short novel, but it could be easy to dismiss as slight. The setting is unremarkable, and the action, such as it is, unfolds slowly. But Richard Russo, who would go on to win a Pulitzer Prize for his 2001 book Empire Falls, creates compelling characters and writes with such humanity and humor that the book is pure delight. The story is built around Sully, a down-on-his-luck everyman who lives in a blue-collar town in upstate New York; his son Peter, a college professor whose career and marriage are failing; his aging landlady Miss Beryl; his dim-witted best friend Rub Squeers; his anxious ex-wife Vera; and a menagerie of other townspeople who bring a boisterous joy to the happenings. Russo's mastery of dialogue, gift for observation, and penchant for amusing cul-de-sacs more than compensate for any lack of pyrotechnics in the plot.
Book I'm hoping to read: Hue 1968: A Turning Point of the American War in Vietnam by Mark Bowden
---
My Promised Land by Ari Shavit
Now is a time to be reading about Israel. Every day, it seems, some new controversy brings the little Middle Eastern country back into the American discourse; while U.S. politics are going through a period of chaotic scramble, the politics of U.S.-Israel-Palestine appear to be on the same steady path toward crisis. Ari Shavit's book is not a political argument, exactly: It is about the history, and fraughtness, and hope of the land of Israel, and all the ugliness, ambition, joy, and sadness with which the country came to be. He tells the story of Israel's founding and evolution through original interviews and personal narrative, inviting readers along on a journey of historical reckoning that is profoundly ambivalent in its conclusions. That the author himself has become a troubled figure in recent months only adds to the long list of questions I'm wrestling with as I approach the end of the book.
Book I'm hoping to read: Far From the Tree by Andrew Solomon
---
Annihilation by Jeff VanderMeer
I spent a night in a seaside tent shortly after finishing Annihilation, and it transformed the familiar-to-campers morning symphony of bird songs, buzzing insects, and crashing waves into something new and not altogether comforting. In this hypnotic and deadpan hybrid of sci-fi, science non-fiction, psychological thriller, and horror, Jeff VanderMeer imagines a group of scientists venturing into a stretch of the American coastline that's been taken over by a mysterious something rebuffing the influence of humankind. Our narrator, referred to only as "the biologist," describes a vibrant wilderness that defies her understanding not only of science but also of her own perception. To say much more about her expedition's mind-bending findings would spoil the book, the first of a trilogy. But trust me: Once you begin Annihilation, you'll see the flora and fauna around you with more clarity—which is to say, with proper awe at its unknowability.
Book I'm hoping to read: A Separation by Katie Kitamura
---
Heat and Light by Jennifer Haigh
There's a thin line between trashy summer reads and meaty, good summer reads. How many times can you flop on the beach with a thriller like The Girl on the Train and not feel like you are bingeing on candy and your brain is turning into a big cavity? I'm always on the lookout for a page-turner that isn't too indulgent, and Jennifer Haigh's Heat and Light fits the bill. It has a weighty topic—fracking in Pennsylvania—but deftly tackles the human dimensions of the subject and creates tension that keeps the reader occupied. Through the eyes of a farmer, a prison guard, an activist, a housewife, and a man employed by the drilling industry, the book looks at how a small town reacts to fracking among its farms. This would be easy to do in black and white—fracking bad, environmentalists good—but Haigh brings texture to her characters, making the reader really consider the pros and cons of outside business coming into small, dying towns. In short, you can take Haigh's book to the beach and leave the guilt behind; it's well written, and will definitely make you think.
Book I'm hoping to read: The Sympathizer by Viet Thanh Nguyen
---
The Shadow Lines by Amitav Ghosh
There are certain books that occupy such a place in my consciousness that a simple glimpse of its spine fills me with joy and transports me to where I was when I first read it. The Shadow Lines is such a book. I picked it up recently after nearly two decades to see whether it held up; as before, I was quickly engrossed. The novel is funny, sad, wistful, and ultimately tragic: An unnamed narrator describes his hero worship of one cousin, his unrequited love for another, and the friendship between two families, one English and the other Indian, forged during the war. Amitav Ghosh's writing luxuriates in what seem like the certainties of the past, but contain memories that are misremembered, half-remembered, and deliberately concealed—the shadow lines of the title. The book can be difficult to follow: It moves back and forth in time, between places, among multiple story arcs, often on the same page. But it's precisely those qualities, and Ghosh's incisive observations along the way, that make reading it an arresting experience, as I once again discovered.
Book I'm hoping to read: July 1914: Countdown to War by Sean McMeekin
---
Cork Dork by Bianca Bosker
Bianca Bosker was the executive technology editor at The Huffington Post when she abruptly quit her job and took a $10-an-hour gig as a "cellar rat," hauling cases of wine for a Manhattan restaurant. Her endgame: to immerse herself in the world of "cork dorks," master sommeliers and obsessives who devote their lives to studying, sampling, and selling wine. Cork Dork is an account of Bosker's journey from a casual wine drinker to the sommelier at Terroir Tribeca. But it's also an enlightening and wacky introduction to the wine industry itself, with its manifold highs (1989 Chateau d'Yquem) and lows (highly processed wines like Yellow Tail and Sledgehammer that contain additives like powdered egg whites or bentonite clay).
Bosker's mission seems journalistic, at first—she wants to ascertain what actually makes a super-nosed oenophile, and whether such rarefied powers of perception are within the grasp of the average Cabernet drinker. This involves an alarming number of days where she's hungover by 2 p.m. after attending tastings to bolster her limited education. But she ends up thoroughly absorbed in the weird world she documents, even as she maintains an outsider's ability to skewer its more ridiculous elements. Cork Dork is, somehow, both an entry-level guide to the ever-growing business of wine and a masterclass in the strange, immensely skilled fanatics who make it their life's work.
Book I'm hoping to read: The Ministry of Utmost Happiness by Arundhati Roy
---
My Traitor's Heart by Rian Malan
Years ago, an editor instructed me to read My Traitor's Heart, Rian Malan's 1990 reported memoir about Late Apartheid South Africa. I can't recall what the context for that recommendation was, but I didn't get around to picking up the book until this summer, when the timing felt fortuitous: What better moment to read about a society tearing itself apart, wracked with police violence against people of color, with a progressive bloc standing by, wringing its hands solemnly but unable or unwilling to formulate an effective response?
But it's unfair to distill My Traitor's Heart to, or read it as, merely a parable for the present era in American politics. For someone of my generation, who grew up with the Apartheid regime as a sort of cardboard bogeyman, Malan's vivid reportage makes the horror of South Africa under P.W. Botha come alive in sickening ways. And Malan, the renegade son of a deeply connected Afrikaner family and a disenchanted former Marxist, is at his best when he is skewering the illusions and pieties of white South Africans who opposed the racist regime. He is especially unsparing in enumerating the faults of one young liberal: himself.
Book I'm hoping to read: Fly Me by Daniel Riley
---
The Virgin Suicides by Jeffrey Eugenides
As much as I love discovering new books, I find myself coming back to Jeffrey Eugenides's first novel, The Virgin Suicides, at least once a year. And more often than not, it happens to be during the summer: The June months that bookend the story feel even more poignant when I'm sitting in the same muggy, buzzing weather as the Lisbon sisters and the boys so enthralled by them.
The Virgin Suicides turns what could easily be a dark and depressing tale into an engrossing, lyrical story about youth, innocence, and that ever elusive idea of teenage girlhood. Told from the perspective of a group of middle-aged men looking back on their past, Eugenides's novel attempts to explore what it is that brought the five Lisbon sisters to kill themselves. The narrators fail to reach a solid conclusion, but learn more about the sisters as people, concluding that "the girls were really women in disguise, that they understood love and even death, and that our job was merely to create the noise that seemed to fascinate them."
It's easy to forget the particulars of what it means to be a teenager—"Obviously, Doctor, you've never been a 13-year-old girl," says the youngest Lisbon sister, Cecilia, when chastised for not knowing how tough life can really be—but Eugenides's writing has a way of making those isolating high-school years feel familiar, relatable, and not all that long ago.
Book I'm hoping to read: The Underground Railroad by Colson Whitehead
---
Salt Houses by Hala Alyan
In her debut novel, Salt Houses, Hala Alyan pulls readers into the daily ups and downs of displaced people, using themes of memory, inheritance, ongoing loss, and rebuilding. The Palestinian American author was inspired by her own family's experiences being forced to relocate: As she notes of that past in an interview on NPR's Morning Edition, "A lot of the times it's something that's really not brought up, which then leaves it to the later generations to reimagine, reconceptualize, kind of recreate what it was that was lost."
Alyan—who has published three books of poetry—moves the reader lyrically through multiple storylines, continents, and political contexts to depict how families carry their history, through major turning points as well as the everyday. Starting in Nablus, Palestine, in 1963, Salt Houses paints a detailed and emotional portrait of the struggles and triumphs of creating home and reconciling that which no longer exists. It poses difficult and personal questions about what displaced people can give to their children, what they want to be remembered and what—consciously or unconsciously—slips through the cracks.
Book I'm hoping to read: The Sobbing School by Joshua Bennett
---
Near a Thousand Tables: A History of Food by Felipe Fernández-Armesto
If there's one thing watching a lot of HGTV has taught me—and there is, now that I think about it, pretty much only one thing that watching a lot of HGTV has taught me—it's that the kitchen is the most important room in the home. Bedrooms are great, Joanna and Chip will enthuse; bathrooms are necessary, Property Brother One and Property Brother Two will concede; living rooms (pardon, Family Spaces that have been laid out, ideally, according to a whimsical Open Concept) are definitely, Tarek and Christina will tell you, a crucial component of the whole deal. But the kitchen: That's the non-negotiable. It's the place where everyone, finally, comes together—the warm and beating heart of the home, whatever kind of home it may be.
HGTV's kitchen-centricism is a (sort of) new idea—remember when fancy dining rooms were the thing to aspire to?—that is also an extremely old one. Food, after all, has been for millennia a driver of community. Consuming it and preparing it, in particular, have long encouraged cooperation and, with it, culture. Our DIY relationship with our meals is in fact, Felipe Fernández-Armesto argues in his 2001 book Near a Thousand Tables: A History of Food, part of what makes us human. "Cooking deserves its place as one of the great revolutionary innovations in history," the Notre Dame history professor writes, "not because of the way it transforms food—there are plenty of other ways of doing that—but because of the way it transformed society."
Fernández-Armesto makes his case with eloquence and, especially, with wit ("Lego cookery," he calls the cuisine that calls itself "fusion"; "food-Fordism," he dubs fast food, as a phenomenon). But Near a Thousand Tables isn't (merely) another takedown of our current, highly industrialized food system. Fernández-Armesto instead considers food as a constant companion to human history; he examines it in relation to imperialism and to class. He sweeps across cultures and cuisines and eras with polymathic ease. The result, I should note, is definitely not traditional beach reading. But in another way, Near a Thousand Tables is a fitting book for summer, with the season's park picnics and family barbecues and time spent outdoors, among food both actual and potential. Its lessons have made me appreciate, even more fully, the things I cook and consume. Even if those things aren't served, sadly, on a fashionable breakfast bar.
Book I'm hoping to read: The Mothers by Brit Bennett
---
Grace and the Fever by Zan Romanoff
Grace and the Fever is the story of a girl who meets a member of her favorite boy band, Fever Dream, and gets drawn into their world. But there's a twist—she's super-active in the online community of fans who believe two of the band's members are in a hidden gay relationship. (The storyline is seemingly inspired by the real-life conspiracy theory that One Direction's Harry Styles and Louis Tomlinson are secretly in love.)
A fun, escapist read, Zan Romanoff's book also evokes that particular feeling of teenage summers—of a compressed period of change, of a self that's blooming in the heat. It's a story of how people find themselves through the things they love, but also of the dangers of giving too much weight to the mythologies they create around them. "You can see something very clearly without knowing what it is," Romanoff writes. "You can know what something is without understanding what it means. Something can be real, and not at all true."
When Grace discovers the truth about the band she adores, she has to reconcile it with the story she's been telling herself. She also has to reconcile the many different stories she's been telling about who she is—to her friends, to the band, to her online compatriots. Romanoff's sensitive and thoughtful portrayal of fandom gives it a literary weight equal to the importance it has in fans' lives.
Book I'm hoping to read: Marlena by Julie Buntin
---
There's a Mystery There by Jonathan Cott
Maurice Sendak's illustrations are so fantastic that it's easy to overlook the brilliance of his design choices. Such decisions are quite meaningful, in fact. A story is subtly shaped by a book's physical contours; there are layered meanings in the interplay between text and art; there's utility built into the very act of turning the page—a gap in time and space that must be closed by the reader.
"My heartbeat actually changed with the excitement of discovering the picture-book medium with all its complexities," the art historian Jane Doonan tells Jonathan Cott in his new book, There's a Mystery There. Cott's ode to Sendak is an engrossing extension of the 1976 Rolling Stone cover story he wrote about the illustrator, who died in 2012. To make sense of Sendak's legacy, Cott revisits their conversations from that time and also turns to a panel of scholars, including Doonan.
What emerges is a clearer picture of Sendak the man, and also a riveting excavation of his approach to art. Sendak often described his work as an exploration of how children understand their own feelings of fear, anger, frustration, and boredom. But Cott sees more nuance than that, comparing the emotional resonance of Sendak's work to a sense of "being outside and inside … at the same time." This is why it makes sense in Sendak's universe for a whale to spout chicken soup with rice, and for a glass milk bottle to be a skyscraper, and for a child's bedroom to be suddenly canopied by trees. In childhood, the smallest and most ordinary spaces are infinite. And when the potential for adventure is everywhere, the distance between a precarious journey and a reassuring homecoming collapses.
Reading Cott's book, I was struck by the wish to have known Sendak as a boy. Through his beloved canon, I realized, we already do.
Book I'm hoping to read: Gender and Jim Crow: Women and the Politics of White Supremacy in North Carolina, 1896-1920 by Glenda Gilmore
---
The Book of Joan by Lidia Yuknavitch
Lidia Yuknavitch's latest novel, a futuristic reimagination of the story of Joan of Arc, opens on a gruesomely detailed scene of burning flesh. In The Book of Joan, skin serves as canvas, screen, and page: Grafting artists are the Dickenses of their era, etching epic sagas and love tales onto their hairless clients' scalps, necks, and thighs. The narrator, Christine, is one such artist, and she is methodically burning onto her own body a text, the titular "book": the biography of a young environmental activist named Joan who has become a symbol of resistance as the world's wealthy elites have their way with an ecologically devastated Earth. The "book" is a way for Christine to document the truth about Joan amid widespread propaganda that would cast her as a terrorist. It is also, as it were, a weapon of protest in a world taken over by sly, false narratives—ones that can move mass opinion, to toxic, even apocalyptic effect.
If this plotline sounds a bit self-serious, Yuknavitch smartly cuts it with mordant humor. She gives Christine, her wry narrator, the nickname "Christ." She makes Joan crotchety, powerful but not particularly charismatic, and the horrid, dictatorial Jean de Men—a dangerously effective raconteur determined to squelch Joan—essentially, a popular romance novelist. Throughout, Yuknavitch is interested in examining what happens when language is torqued away from average people, and what results when they try to torque it back in their direction. With The Book of Joan, she proffers a thought-provoking meditation on the influence of story—on how it can manipulate and inspire, and how it can be used to resist.
Book I'm hoping to read: Notes of a Crocodile by Qiu Miaojin
---
Canada by Richard Ford
What if your parents were bank robbers? That's essentially the premise of this 2012 novel by Richard Ford, the writer best known for his four Frank Bascombe books, including the Pulitzer-winning Independence Day. While those works more broadly explored the anxieties and pieties of late-20th-century America, in Canada, Ford examines a different set of questions—about criminality, marriage, and the lessons a child learns from his parents—with impressive range.
Where the Bascombe books star a middle-aged, middle-class Southern transplant to the Northeast, Canada is the story of a working-class family in mid-century Montana told from the perspective of an orphaned teenager, Dell Parsons, who is sent north of the border after his parents are arrested. How do you cope with a rupture that sudden? How do you start over? What lessons do you learn from your parents, and what do you discard? In the narrator Parsons, Ford has created a new voice, one that's entirely distinct from the now-familiar Bascombe. He's more wistful than wry, but no less engaging. And though Canada is tighter in scope than Ford's earlier works, it moves quickly and grabs you from the start.
Book I'm hoping to read: Anything Is Possible by Elizabeth Strout
---
The Draw by Lee Siegel
Published earlier this year, The Draw, a memoir by the cultural critic Lee Siegel, is deeply unsettling. The first 20 pages reveals the heart of the trauma: Siegel's father, unable to repay advances on his salary, has gone bankrupt, while his mother devolves into a screaming, slapping hurricane of disappointment. From then on, Siegel spends his adolescence shrinking from his mother's increasingly erratic power trips and struggling to accept his father's shrinking sense of self. With uncomfortable composure and clarity, Siegel dissects his parents—labeling faults, diagnosing neuroses—and himself.
This book upset me, but I couldn't put it down. Siegel's clinical judgements and fluid transitions, combined with his almost humdrum childhood experiences, make The Draw an engrossing read.
Book I'm hoping to read: Presence in the Modern World by Jacques Ellul
—Katie Martin, designer
---
Invisible Planets edited by Ken Liu
I'm a lifelong sci-fi fan, and as any lifelong sci-fi fan can tell you, the repetition of themes and tropes sometimes cripples the genre. So when I was introduced to Liu Cixin's The Three-Body Problem, the space-opera trilogy to which it belonged, and Chinese science fiction in general, it was like a window opened onto a new universe. Just the act of seeing fictional futures through an international lens added depth to my understanding of the genre. And it didn't hurt that the work was thrilling and fresh.
In between his own award-winning sci-fi and fantasy work, Ken Liu has been the chief promoter of the Chinese-American science fiction cultural exchange, so it's no wonder that he translated and edited Invisible Planets, a speculative fiction collection from new and classic Chinese authors. Included are a short story from Liu Cixin and a trippy time-bending Hugo-award-winning novella "Folding Beijing" from Hao Jingfang. Also of interest are the collection's essays on Chinese sci-fi identity and the prominent role the genre has played in developing cultural identity.
Book I'm hoping to read: The Stone Sky by N.K. Jemisin
---
Moonglow by Michael Chabon
Moonglow is not a memoir and, despite what its cover would have you believe, it's also not quite a novel. It falls somewhere in the nameless space between the two, recounting the story of a writer named Michael Chabon and his maternal grandparents in a way that feels true but that doesn't always adhere to the facts.
The book centers on stories Chabon's grandfather tells while lying on his deathbed, high on painkillers: stories about his childhood, his military service during World War II, his NASA career, his time in jail, his marriage. To the narration of these remembered episodes, Chabon brings the same vivid descriptive voice and engaging character development I loved in his earlier novels, crafting moving portraits of his grandparents as they grapple with the damage left by the war and navigate the fluctuations of their lives together. But Chabon abandons the more straightforward plot progressions he laid out in those books, instead jumping around in space and time and veering off on tangents in the distracted, non-linear style of real memory.
The resulting work is something new from Chabon, something beautiful, compelling, and sincere in the way of the very best family stories—and the best books.
Book I'm hoping to read: The Association of Small Bombs by Karan Mahajan
---
Thank You for Being Late by Thomas Friedman
Thomas Friedman's latest book has a simple thesis: that the characterizing feature of the 21st century is the convergence of the planet's three largest forces (technology, globalization, and climate change), and that these accelerations are transforming the workplace, politics, geopolitics, ethics, and community. Friedman convincingly builds one big case for "being late"—for, essentially, pausing to reflect on and take stock of our current period of history. His methodical, explanatory approach, similar to the one he uses in his New York Times columns, will appeal to those who have a tendency to get caught up in the daily news cycle and don't take a moment to see broader patterns emerge.
Book I'm hoping to read: Option B: Facing Adversity, Building Resilience, and Finding Joy by Sheryl Sandberg
---
The Rules Do Not Apply: A Memoir by Ariel Levy
At one point in her powerful memoir, the New Yorker writer Ariel Levy observes that she had "managed to solve the Jane Austen problems that women have been confronting for centuries … in an entirely unconventional way." And for a blip, that's true. But then comes a crueler set of rules: those of nature, including fertility. Levy explores her friends' battles with conception—before losing her own child. The book tracks her overwhelming grief and her efforts to accept it. (In one poignant passage, she writes of finding companionship from her cats, who are "no more baffled by agony than they were by dishwashing.")
If you're looking for sugared-up platitudes about life and its meaning, maybe pass on this one. It left me with a sadness hangover. But Levy's memoir offers comfort for the realist: "Death comes for us," she reminds the reader. "You may get 10 minutes on this earth or you may get 80 years but nobody gets out alive." That rule very much still applies.
Book I'm hoping to read: Exit West by Mohsin Hamid
---
The Possessed by Elif Batuman
When I read it earlier this year, I fell hard for Elif Batuman's debut novel, The Idiot. So I was excited, this summer, to delve into her earlier book, The Possessed: Adventures With Russian Books and the People Who Read Them. The nonfiction collection's unusual subtitle gives some indication of its genre-defying contents: Published in 2010, it's a first-person account of Batuman's years as a graduate student in Russian literature that manages to be laugh-out-loud funny.
In The Possessed, as in The Idiot, Batuman punctuates the mundane with singular, sometimes self-deprecating, wit. "Air travel," she writes, "is like death: Everything is taken from you." Her ear for the absurd is matched by her ability to distill it into unflinchingly honest, delightfully readable prose replete with memorable characters. In Batuman's capable hands, obsessive grad students appear as worthy of study as their dissertation subjects. Describing a private tour of the Hermitage Museum's 18th-century wing, she contrasts her experience with that of a friend who, unlike Batuman, specializes in the period: "I soon felt the full weight of historical boredom on my soul. When I left the museum, she was gazing with a kind of rapt criticalness at the upholstery of an armchair embroidered in 1790 by pupils from the Smolny School for Aristocratic Young Ladies." Happily, this book, as much about the accident-strewn path to adulthood as about history, is never boring.
Book I'm hoping to read: Fear City by Kim Phillips-Fein
---
Exit West by Mohsin Hamid
Mohsin Hamid's novel Exit West is many things: It's a window into the daily lives, mundane and beautiful and horrifying, of Nadia and Saeed, two students living through their unnamed country's civil war. The bombs, death, tragedy, and fear intersperse with work and a budding romance. It's also a story of magical escape, which starts when Nadia and Saeed utilize mystical doors that instantly transport them away from one danger and often into another—first Greece, then the United Kingdom, and eventually the United States. Finally, it reflects on what it takes to make a new place home, and whether that is even possible.
While Hamid's plot takes the reader along a geographic journey, it's his protagonists' emotional and psychological arcs that provide the story's real narrative. Hamid weaves in acknowledgements of the physical and external hardships and dangers associated with refugee life, but his complicated portrayal of how two people, bound by extreme circumstance, must try to reinvent themselves in new places prove to be the most illuminating part of Exit West.
Through their meeting and subsequent flight, Hamid uses Nadia and Saeed to explore questions of religion, love, family, gender, and migration. It's a tall task that the book delivers on gracefully and thoughtfully.
Book I'm hoping to read: The Color of L​aw: A Forgotten History of How Our Government Segregated America by Richard Rothstein