What Netflix Can Offer Shonda Rhimes
Television's biggest producer is leaving ABC to join the streaming service, the most seismic shift in the Peak TV era yet.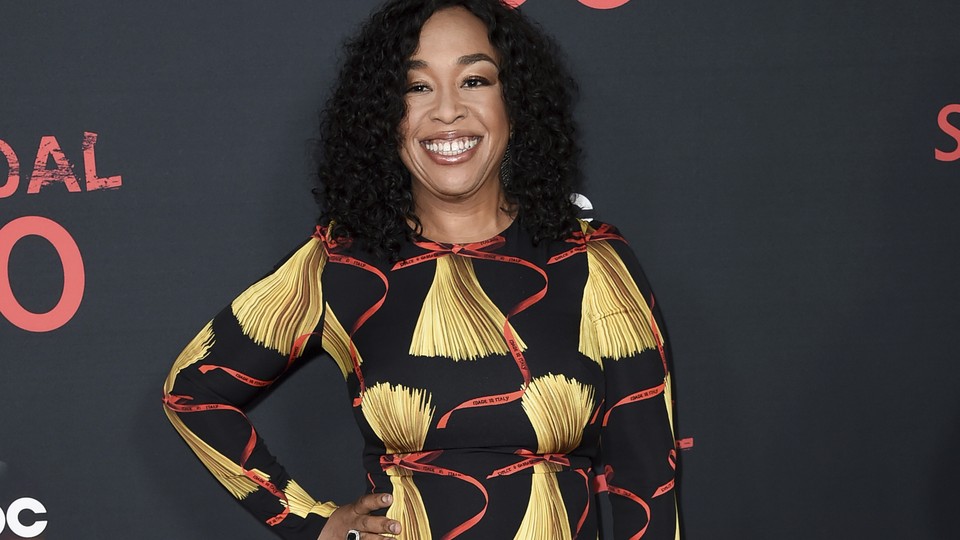 Why would Shonda Rhimes, the star writer of ABC's primetime lineup for the last decade and the creator behind shows like Grey's Anatomy and Scandal, want to leave network TV? Her position atop the highly competitive pile of broadcast-television producers was unassailable, and her batting average for launching hit series to the widest possible audience remained strong. So why would she move to Netflix, a change that was announced last week? For all of the prestige the streaming service has rapidly accrued, its audience is still subscriber-based and thus much smaller than ABC's nationwide reach.
The simple answer, according to Rhimes's former producing partner Mark Gordon (who worked with her on Grey's Anatomy), is burnout. Rhimes is the showrunner of both Grey's and Scandal, an impossible-seeming workload for any writer, and also helps with producing and shepherding other shows to series (such as How to Get Away With Murder, The Catch, and less-successful programs like Off the Map and Still Star-Crossed). "I think the Netflix opportunity will give her a chance to broaden her horizons," Gordon said at the Edinburgh International Television Festival. "She won't have to do 22 to 24 episodes anymore. It's brutal and was killing her." That may be the case, but for Rhimes and many other producers the allure of Netflix lies in more than just a lighter workload.
Rhimes, and her company Shondaland, is the biggest fish Netflix's original-TV silo has reeled in so far. But plenty of other prominent names have recently committed to producing original shows for the company, including the Coen brothers (creating an anthology series called The Ballad of Buster Scruggs) and Steven Soderbergh (producing a limited series called Godless). In every case, Netflix is writing huge checks to name-brand creators who can guarantee an audience and hopefully broaden an already wide subscriber base.
But for Rhimes, the draw has to be more than financial—after all, there's plenty of money to be made in network TV. Her move to Netflix is the clearest sign of a seismic shift in the television world, where traditional metrics of success like massive ratings, syndication deals, and prime-time slots matter less, and greater artistic independence is the ultimate goal. Right now, Netflix can offer an unprecedented blank check for each of its creators. The question is whether it can sustain it into the future.
"Shondaland's move to Netflix is the result of a shared plan [that Netflix's chief content officer] Ted Sarandos and I built based on my vision for myself as a storyteller and for the evolution of my company," Rhimes said in a statement announcing the news. "Ted provides a clear, fearless space for creators at Netflix. He understood what I was looking for—the opportunity to build a vibrant new storytelling home for writers with the unique creative freedom and instantaneous global reach provided by Netflix's singular sense of innovation. The future of Shondaland at Netflix has limitless possibilities."
She's right: For Netflix, the prize is Rhimes's brand, allowing her to pursue whatever kind of programming she wants. Despite Rhimes's stature on network TV, her shows had to go through the drawn-out production process of any new ABC series—and could still end up dead on arrival. Still Star-Crossed, which Rhimes produced for ABC, was written in October 2015, ordered to pilot in January 2016, ordered to series in May 2016, and finally premiered on May 29, 2017. Because of poor ratings and mixed reviews, it was canceled less than a month later.
That kind of production cycle is the sort of thing Netflix has thoroughly disrupted. Rhimes won't be competing for limited time slots with all the network's other new offerings, nor will her shows need strong ratings out of the gate to guarantee future success. That will allow her to be more deliberate in identifying the kinds of stories she wants to tell and less worried about finding the perfect launch date for a series. Netflix pushes out so much content partly because it wants viewers to have endless new things to discover; it thrives on slower word-of-mouth appeal.
At the same time, Rhimes is a network-TV storyteller through and through. Her shows are gripping, overstuffed with plot twists and shocking reveals, and usually procedural in some form (Grey's and Scandal both have "case of the week" stories along with their serialized narratives). She's been pumping out 22-episode seasons for many years now, keeping up with the exhausting demands of the nine-month, network-TV season.
With Netflix, Rhimes won't be asked to produce more than 13 episodes a season—perhaps even as few as eight—so her shows might not have the air of fatigue that plagued the later seasons of Scandal (which will conclude after this upcoming seventh season). Many Netflix series could be accused of stretching their stories out to fill the demands of a 13-episode run, but Rhimes should excel in that format, trimming some of the excess from her explosive season arcs to make them hit even harder.
The freedom of streaming TV may not last forever. Netflix is in billions of dollars of debt and shows no sign of making a profit soon, planning instead to deficit spend for years as Amazon did in order to create a base of original content. But there's still enough stability to guarantee Rhimes and other top creators the creative freedom they lack at a broadcasting conglomerate like ABC.
The most significant shift in the future, in fact, may come at ABC's end. Its parent company Disney has already announced its own streaming service, to debut in 2019, which will feature a vast library of films and TV, along with new original content. That move will end Disney's vaunted deal with Netflix—which has given Netflix streaming rights to the Star Wars and Marvel movies, among other titles—and open a new front in a never-ending format war. Only a broadcast network like ABC could still claim to reach virtually all of America's viewing public. But that power is clearly starting to diminish.