The Joke Has Died With Wet Hot American Summer: Ten Years Later
The latest Netflix spin-off of the 2001 cult-comedy classic brings back the old gang but has nothing new to do with them.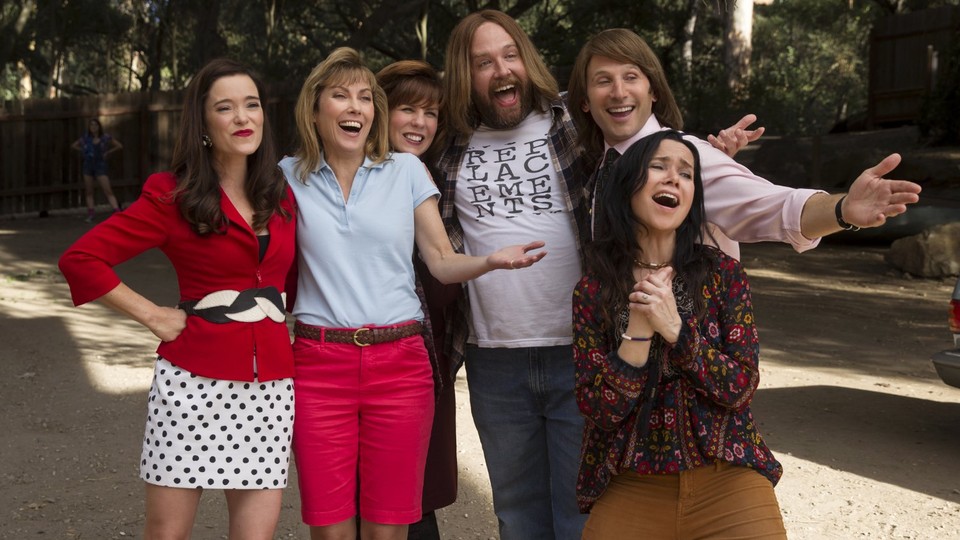 Part of the pleasure of watching Wet Hot American Summer: First Day of Camp, the 2015 prequel series to David Wain's cult comedy film, was the sheer absurdity of its existence. A parody of the endless march of revivals and off-brand sequels thrown at audiences, the show took the cast of comic actors who played a bunch of teenagers in 2001 (when they were already too old for the part), brought them all back 14 years later, and had them play even younger versions of themselves. The audacity of First Day of Camp was more than enough to make the whole endeavor, which aired over eight episodes on Netflix, worthwhile.
Now, the entire cast (with one notable exception) has reunited again for another eight-episode Netflix series, Wet Hot American Summer: Ten Years Later, a sequel to the original film that now has its ensemble playing their 2001 characters as 10 years older, placing them somewhere in their mid-20s. It's still ridiculous—stars like Elizabeth Banks, Paul Rudd, Michael Showalter, and Amy Poehler are all in their 40s now—but the absurdity is less pronounced. Where First Day of Camp was concerned with a delightfully convoluted narrative designed to set up the events of the original film, Ten Years Later is more free to pursue whatever it wants. But that freedom ends up feeling like a burden.
There's no real reason for these spinoff TV shows to exist, after all. The original Wet Hot American Summer is the perfect kind of slow-burning comedy favorite, a flop upon release that built up a following because of its stars (many of whom went on to greater fame), its moments of surrealism, and its endlessly quotable script. Sequels to such movies are often ill-advised, too concerned with fan service or topping the best moments of the previous entry to give audiences anything unique (Anchorman 2 comes to mind). But First Day of Camp worked by satirizing those sequel tropes and making each one all the more hilarious because of the advanced age of its cast of "teenagers."
The first problem with Ten Years Later, which debuted on Netflix last Friday, is that it's actually inspired by a throwaway joke in the original film, where the counselor friends pledge to all hang out at their beloved Camp Firewood 10 years on and see how they've grown up. Because there's a more mundane reason for this show to exist, the ridiculousness—and humor—is immediately dialed back. More problematic, though, is the simple fact that teenagers are inherently foolish, amusing characters; as archetypes, 20-somethings are far less exciting.
Where Wet Hot American Summer and its prequel series mocked the bawdy sex comedies of the early '80s, Ten Years Later is set in 1991, and so the creators Wain and Showalter are now aiming to parody the more sedate interpersonal dramedies of that era, such as The Big Chill, Singles, and St. Elmo's Fire. Gone are dumb adolescent antics; replacing them are jokes about careerism, the fear of settling down, and the perils of being young parents.
It's as staid as it sounds, and the show isn't helped by the fact that many jokes referencing the movie have only grown more stale. So instead, Wain and Showalter (who both play multiple roles in the show) lump in a nutty subplot involving former president Ronald Reagan, current president George H.W. Bush, and a nuclear bomb, just to give the show a narrative spine. Showalter's performance as Reagan, delivered behind heavy makeup, remains a blast, but even that is a rehash from First Day of Camp, where he first did it.
There's also the return of the preppy rivals at Camp Tiger Claw (including Josh Charles, Kristen Wiig, and Rich Sommer), the washed-up rock god Eric (Chris Pine), and the dueling personalities of chefs Gene and Jonas (both played by Christopher Meloni), but the appearances are all surprises from the first series that, again, feel diminished. New additions to the cast like Mark Feuerstein (who plays another counselor, his presence explained through intentionally awkward inserts of him in archive footage) and Alyssa Milano (portraying a homicidal babysitter à la The Hand That Rocks the Cradle) are largely superfluous.
It's still fun to see the stacked original cast of the show return for another go-round: Everyone, from Rudd to Poehler to Janeane Garofalo and Michael Ian Black, gets at least a couple of memorable scenes to play. The only missing cast member is mega-star Bradley Cooper, who showed up for First Day of Camp. He's been replaced by Adam Scott, who is perfectly game but also ends up feeling unnecessary—it doesn't help that Scott is part of the season's worst storyline, the one involving Milano's character.
Ten Years Later will appeal to fans who just want to see everyone get back together, only this time dressed in goofy '90s outfits. But those viewers shouldn't expect much else. For their part, Showalter and Wain remain among the funniest comic talents working today—Showalter directed The Big Sick this year, and Wain was one of the minds behind the incredible TV show Childrens Hospital. But it's clear that, for all the goodwill generated by the original movie, the Wet Hot well has now officially run dry.