What to Expect From the 2017 MTV VMAs
Pop-gossip fireworks from Katy Perry and Taylor Swift, Kendrick Lamar's victory lap, and some not-so-subtle politics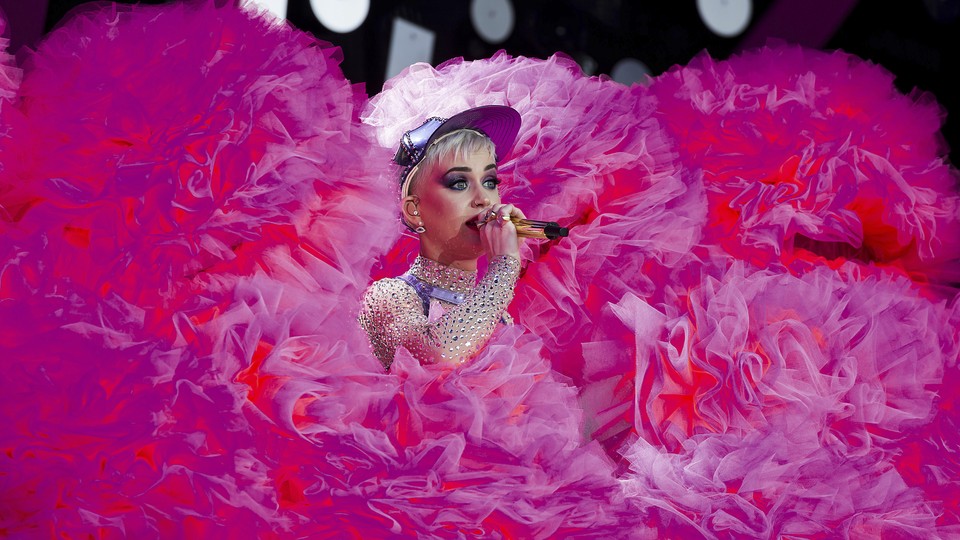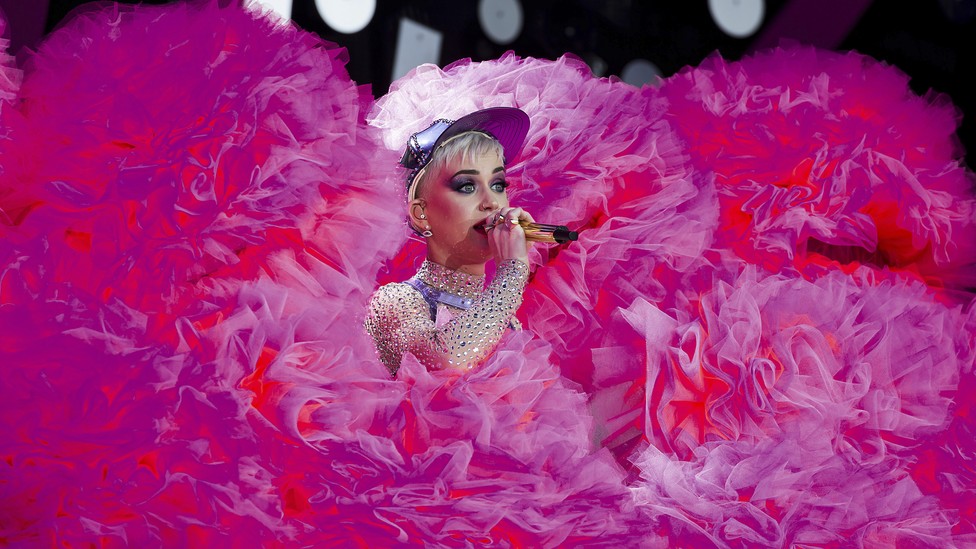 On Sunday night, millions of people will tune in to see a long, bloody storyline come to a thrilling climax when two rival queens meet in the same location, with one toting CGI reptiles. The Game of Thrones finale will be on as well.
The MTV Video Music Awards, airing this year at 8 p.m. Eastern, is the televised ceremony that's historically been the savviest and most shameless about causing conversation-baiting moments: unexpected make-outs involving Madonna or Michael Jackson, Kanye West's "I'mma let you finish but … ," Miley Cyrus twerking, "Miley, what's good?," etc. For this year's ceremony, the prime source of drama looks to be in the pesky psychosocial narrative that is Taylor Swift vs. Katy Perry, from which observers can draw observations about gender and fame but also simply about two superstars trying to prolong their imperial phases.
The origins of their beef are hazy, but its benefit to both artists has been clear, as has the fact that it fed some urge in the fan/media ecosystem to see strong females feuding. This year, Perry dined out on the appearance of bad blood by releasing a trash-talking single about triumphing over a sheep in wolf's clothing. Then, during her brain-melting publicity stunt of livestreaming herself for four days, she tearfully forgave Swift for whatever she did. Swift famously seemed to take aim at Perry in a 2015 No. 1 hit, and her newly announced album, Reputation, promises to devilishly embrace the backlash against her for being a "snake."
Perry is hosting the VMAs and is set to perform a "zero-gravity" medley of her songs, while Swift will be there to premiere the music video for her acidic new single "Look What You Made Me Do." Producers have publicly shot down rumors of a collaborative set, but how could any of the involved parties who thrive on attention resist an encounter? Perhaps the two will formally announce peace—and then hiss at everyone who egged their fight on over the years: Look at what you made us do. The appeal of a headline-grabbing moment for the singers is clear enough. Judging by sales of her loopy Witness, Perry's appeal is flagging, and whether Swift can continue as a No. 1 commercial conquerer through another album cycle is the pop question of the moment.
The other vital superstar of the night will be Kendrick Lamar, someone who has largely kept the celebrity-media ecosystem at arm's length. After putting out his most accessible album this year and being rewarded with unprecedented commercial success, he has eight VMA nominations, including Video of the Year (for "Humble") and Artist of the Year. He's also booked to perform, and judging from his pyrotechnic 2016 Grammys set, it could make for a splashy political statement. If someone were going to offer a powerful on-stage artistic commentary about, say, Charlottesville, it'd be him. Then again, he's earned his right to just party.
Lamar will be among what's apparently the largest crop of scheduled performers in VMAs history. The elevated headcount might be an attempt to make up for a dearth of icon-status folks such as Beyoncé, Rihanna, and Kanye West, who defined last year's ceremony. To be sure, there will be huge names present—Ed Sheeran, Lorde, The Weeknd—but more intriguing are folks like the earnest young R&B crooner Khalid, making his VMAs debut. The cult-beloved rapper Logic reportedly will incorporate tributes to recently deceased rockers Chester Bennington and Chris Cornell into his set. More head-scratchingly: Rod Stewart will be joined by DNCE—the band of Joe Jonas of the Jonas Brothers, famous for the hit "Cake by the Ocean"—for a new version of "Da Ya Think I'm Sexy."
If this all sounds like pop-gossip escapism during a time of national tumult, well, it is. But politics will be an issue, one way or another. A new awards category, "Best Fight Against the System," will highlight videos with a social message, like Alessia Cara's body-positivity statement "Scars to Your Beautiful" and The Hamilton Mixtape's "Immigrants (We Get the Job Done)." Moreover, if the entire Perry/Swift situation seems a bit regressive in its identity politics, the VMAs have at least paid lip service to the idea of progress on that front. For the first time, its categories and awards will be gender neutral—which is to say, instead of "Best Male Video" and "Best Female Video" there's simply "Artist of the Year." And in the greatest sign of the times, the Moonman trophy is now just a Moonperson.