The MTV VMAs Tackle Charlottesville and Suicide
The surprising highlights of the ceremony broke out of pop music's echo chamber.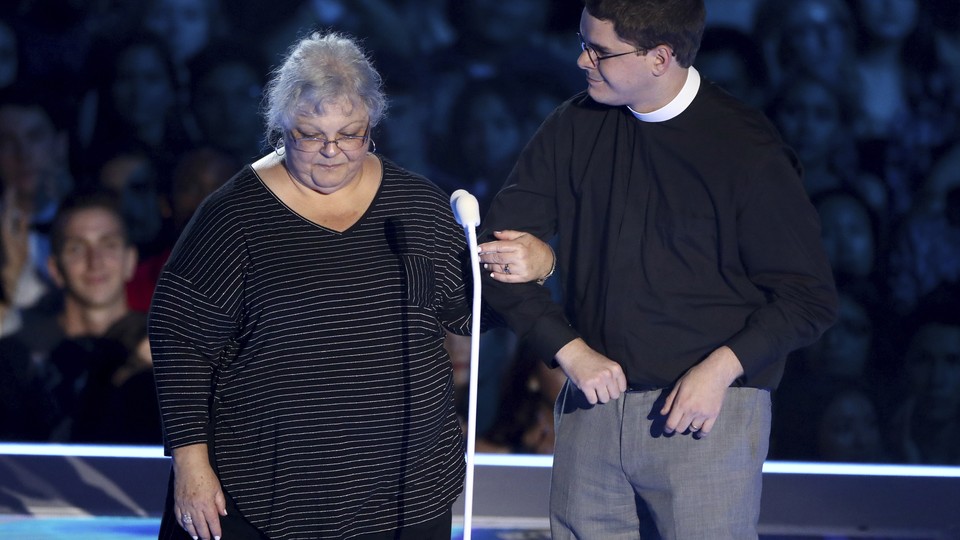 In pop, as in other arenas, conflict is the quickest way to cause conversation, as MTV's Video Music Awards well know. At Sunday night's ceremony, Taylor Swift didn't show up for a confrontation with Katy Perry like she'd been suspected to, but she did premiere a sour, super-meta music video about the small scandals of her career. Remy Ma, the rapper who's let the latest phase of her public career be dominated by a war of words with Nicki Minaj, took the couple seconds of screen time she got to, once again, mention Minaj. The girl group Fifth Harmony opened their performance by having a body double fall off stage: a symbolic middle finger to Camila Cabello, who left the band last year.
These moments were lowlights (though, okay, it was hard not to laugh at the Fifth Harmony thing). Not only did they show a generation of stars simply recycling their own fame rather than coming up with fresh sources of inspiration, they displayed pettiness that feels extra cynical given the difficult national moment. The more memorable developments of the VMAs connected to issues outside of the room and offered surprising uplift. While it's true that pop music has traded in easy empowerment and obvious sloganeering for a while now, a few figures last night found ways to speak on the issues of the day with new urgency.
Pink, the perennially under-hyped hitmaker of the 2000s, accepted MTV's Video Vanguard Award with an impressive medley that featured a levitating car and some shockingly poignant dance. But it was her acceptance speech that'll endure. She told a story about her 6-year-old daughter feeling "ugly" for looking "like a boy," and Pink—butch icon that she is—replying by pointing to David Bowie, Prince, Janis Joplin, Annie Lennox, and others as examples of fabulous famous androgyny. The speech landed because of the way that it lifted from her own life to lightly comment on larger current issues about nonconformity, sexism, and acceptance. Less subtle: the ribbon she wore that read, "Fump Truck!"
Even more blunt-force messaging came from the rising rapper Logic, who made an undeniably powerful statement against suicide. His track "1-800-273-8255" shouts out the national crisis hotline, and last night he delivered it with featured vocalists Khalid and Alessia Cara while surrounded by survivors of suicide attempts and people who'd lost loved ones to suicide. Statistics show self-harm to be on the rise among young people, and cultural obsessions such as 13 Reasons Why and the recent deaths of the rockers Chester Bennington and Chris Cornell have kept the issue front of mind (Jared Leto memorialized both musicians in a speech last night). Some of the participants were in tears throughout the performance; plenty of viewers surely were too.
A remarkable portion late in the show turned almost fully from pop to politics to address the fallout from the violence in Charlottesville. Reverend Robert Lee IV, a descendent of the Confederate general Robert E. Lee, took to the stage saying, "We have made my ancestor an idol of white supremacy, racism, and hate. As a pastor, it is my moral duty to speak out against racism, America's original sin." He then introduced Susan Bro, the mother of Heather Heyer, the woman killed by the car attack in Charlottesville. Speaking at surprising length and with significant composure, she announced the formation of a scholarship foundation in her daughter's name and praised the winner of the VMA for Best Fight Against the System—a category for videos with a social message.
Elsewhere, performers broke through the slog of the night with memorable creative concepts: Lorde refrained from singing her song "Homemade Dynamite" to instead give a charming-weird interpretive dance; Kendrick Lamar opened the show flanked by ninja warriors climbing a flaming trellis; Alessia Cara changed from a glamorous gown to plain black comfywear while performing her body-positivity anthem "Scars to Your Beautiful"; Miley Cyrus played Elvis impersonator with a group of geriatric dancers.
Uncomfortably overseeing all of this was the host Katy Perry, feigning a doofus, semi-woke persona throughout the night. Her shtick was that she'd supposedly been in outer space for a while and had missed all the news headlines of the past year: a set-up for some very mild jokes about Donald Trump's Twitter feed and the already-forgotten PR catastrophe that was the Fyre Festival. The truth was the audience didn't need such winking, cutesy, tentative stabs at connecting with the wider world. The highlights of the night plenty demonstrated the power of speaking frankly about what's happening back on Earth.