The Long, Strange Trip of Tulip Fever to Theaters
The film, based on a Tom Stoppard script and an acclaimed novel, is finally being released after three bizarre years of languishing in post-production.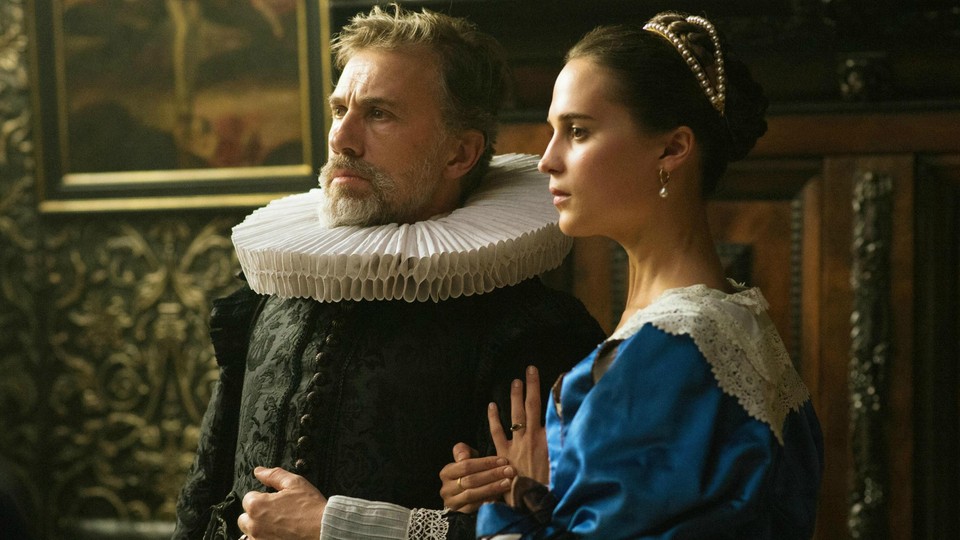 Since 2004, Hollywood has been working to adapt the Deborah Moggach novel Tulip Fever, which has long been seen as a major prestige project with Oscar potential. Tom Stoppard, the legendary British playwright, wrote the screenplay for the final iteration of the film. The movie stars three Academy Award winners (Alicia Vikander, Judi Dench, and Christoph Waltz), along with up-and-coming stars like Dane DeHaan and Cara Delevingne. Footage from the film was screened at the Cannes Film Festival ... in May 2015. Now, after untold delays, it's coming out, packaged as "the year's sexiest thriller."
Two years after Tulip Fever was first scheduled for release, audiences will finally be able to see it in theaters. But the film, out Friday, isn't being screened for critics, and the release strategy is reminiscent of someone being snuck out the back door in hopes of attracting as little attention as possible. It's a fittingly strange ending to one of the most mysteriously drawn-out productions in recent film memory—but so many questions remain. What happened to Tulip Fever along the way, to transmogrify it from high-end awards contender to a studio's secret shame? And will the fuss around its delayed release actually help in drawing eyeballs to a movie that might otherwise have been dismissed as a staid costume drama?
Moggach's book is set in the Netherlands in the 17th century, at the height of "tulip mania," a phenomenon where the recently introduced flower became the hottest ticket in Europe before the speculative market around it collapsed in 1637 (not unlike so many a dot-com bubble hundreds of years later). DeHaan plays an artist, Jan Van Loos, who falls for married society woman Sophia (Vikander) when he's contracted to paint her. Together, they invest in the tulip market in an effort to make enough money to escape from the clutches of her domineering husband Cornelis (Waltz).
You'd be forgiven for thinking that doesn't exactly sound like a box office barn-burner. But the novel was once a hot Hollywood property, optioned by Steven Spielberg and initially planned as a $48 million DreamWorks production in 2004, directed by John Madden (Shakespeare in Love) and starring Jude Law, Keira Knightley (or perhaps Natalie Portman), and Jim Broadbent. The film was in active pre-production, with sets built and some 12,000 tulips planted, when the U.K. government closed a tax loophole and the financing collapsed. Those 12,000 bulbs, Moggach said, were given to her friends and neighbors in London, sprouting everywhere as a reminder of a film that never was.
Moggach isn't some Hollywood neophyte: She wrote the screenplay for the 2005 Pride and Prejudice and saw her novel These Foolish Things adapted into the film The Best Exotic Marigold Hotel. So there remained interest in Tulip Fever, which was finally resurrected as a film by the mega-producer Harvey Weinstein. Though its budget was lower, at $25 million, Weinstein still assembled a big cast and hired Stoppard to work on the script; many more tulips were planted, and the film was finally committed to celluloid in 2014. That, usually, would have been the end of that.
Tulip Fever was first slotted for a November 2015 release, capitalizing on Vikander's emergence as a star (she won an Oscar for The Danish Girl, which came out that fall). Then it was moved to July 2016. Then February 2017, seemingly acknowledging that the film had limited awards potential, coupled with rumors that The Weinstein Company, which produced the film, was lacking in funds to mount several major releases every year. Just before its February release, the film was punted again, down to August, and in some strange final indignity, it was shoved to September 1, where it will (reportedly) finally debut in semi-limited release.
Some journalists have attended screenings throughout the years; many more audiences have been subjected to untold test screenings, with Weinstein and the director Justin Chadwick trying out various cuts. But this new edition has been largely kept under wraps. A Writers Guild of America screening was canceled, at the last minute; the horror film Annabelle: Creation was reportedly shown instead. The film's advertising strategy, such as it is, is suddenly emphasizing that Tulip Fever is a steamy sex thriller, a far cry from the tony Stoppard-penned costume drama it was originally pitched as. Soon, audiences will be able to decide for themselves.
The journey of Tulip Fever is a sort of Hollywood eclipse, an occasional phenomenon that has no wider bearing on the industry but is the kind of unusual, fascinating spectacle that draws in some committed film fans. Something similar happened with David O. Russell's Nailed, a 2008 comedy starring Jake Gyllenhaal and Jessica Biel that was disowned by its director and eventually released as Accidental Love in 2015, making only a few thousand dollars at the box office. There was also Serena, an epic drama starring Jennifer Lawrence and Bradley Cooper, which took almost two years to make it to theaters and was barely noticed upon release.
But Tulip Fever seems special even by that yardstick. It's a film that, more likely than not, was never anything more than ordinary—an Oscar player that missed the mark, hardly an unusual phenomenon in any given year. But all this fuss over its mysterious release has turned it into a genuine curio, the kind of potential camp-fest that will be remembered for years simply because of the circumstances of its production. We'll finally know how good, or bad, Tulip Fever is on Friday. But the real thrill for this one has been in the wait.