The Great British Bake Off Keeps the Dream Alive
After a much-lamented shake-up, the beloved contest returned on Tuesday night with new stars but the same ethos.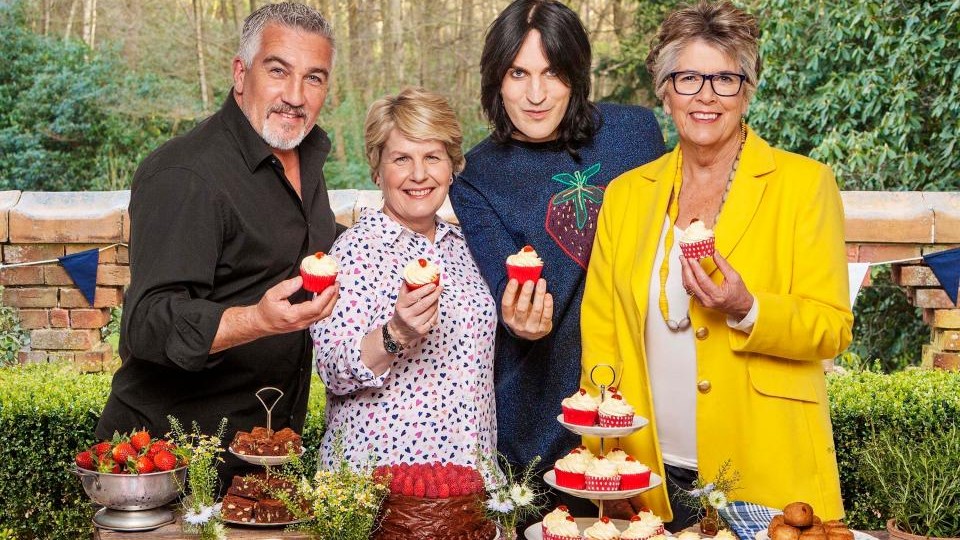 It's hard to accurately convey how well-loved The Great British Bake Off is in the U.K., just as it's difficult to explain the appeal of the somewhat eccentric televised baking contest—in which a contestant once fashioned a cake re-creation of his near-death experience—to someone who's never seen it. When news broke last year that the series had been purchased by a rival network, after airing on the BBC for all of its seven seasons, a fit of something akin to national hysteria broke out. The show's two hosts, Sue Perkins and Mel Giedroyc, quit in high dudgeon, as did one of the judges, Mary Berry. (The sole remaining star, Paul Hollywood, chose to stay with the show and has been lambasted with snake emojis on social media ever since.)
Suffice to say, when the eighth season debuted on Channel 4 on Tuesday night, and one of the new judges, Sandi Toksvig, jokily referred to Perkins in a fake phone call while "floating" above the set in a hot-air balloon, you half expected the country to furiously spit, "How dare you stand where she stood," like Harry Potter confronting Snape in the Battle of Hogwarts. But the moment passed, the show got back to business, and soon it was clear that this was no Great Stylistic Shake-up, just the same old beloved format with a few fresh faces, and an extra 15 minutes of advertisements sandwiched in between rounds. Stays could be loosened. Teeth could be unground. A crisis was averted.
#gbbo I liked it. Ads didn't bother us that much. Out with the old in with the new 👍🏼

— Elisa (@Disastrophee) August 29, 2017
After almost a year of catfighting, snubs, and calls to boycott a cultural product so insanely popular that half of the nation's televisions watched the Season 7 premiere, it was a relatively smooth transition. It's hard not to imagine Channel 4 executives breathing a colossal sigh of relief, given that the Bake Off poaching was such a PR disaster for the network that its chief creative officer was drafted to repair the damage to its brand. There were concerns that the broadcaster, known for its quirky indie aesthetic, might hipsterize a show that was defiantly un-hip at best, filmed in a tent so big that grannies, Millennials, bankers, and hijab-wearing Muslims could bake cosily side by side. When the first trailer for the new season, a stop-motion animation featuring anthropomorphized baked goods vomiting jam into tarts and puffing up suggestively, was released, some feared the worst.
And yet the producers, predictably, have kept Bake Off almost exactly the same. To replace Mary Berry, a pastel-clad octogenarian with a nanny-knows-best demeanor and a veritable garden of floral prints, Love Productions drafted Prue Leith, a similarly plummy 77-year-old catering entrepreneur. Beyond a stunning gaffe in the first few minutes when Leith mentioned the dreaded c-word on camera (calories), she fit so smoothly into Berry's shoes that it was almost uncanny.
The new presenters, Sandi Toksvig and Noel Fielding, were more of a gamble. Toksvig, an Anglo-Danish actor and comedian, felt obviously drafted into the Perkins role, doling out smutty innuendo and wry asides as the contestants fashioned fruity sponges and mini fingers and showstopping cake illusions. Fielding, a comedian and actor best known for the surreal comedy show The Mighty Boosh, was the big wild card in the lineup—a self-professed goth artist who once dated Courtney Love and who'd previously been fired by the BBC after he admitted to taking a pharmacopeia of illegal drugs.
And yet, in the debut episode, Fielding was so restrained he came across almost like Willy Wonka playing it straight to meet his girlfriend's parents. Beyond the show's opening setpiece, where he sported a steampunk top hat and flying goggles, Fielding's typically outrageous wardrobe was limited to a collared shirt printed with birds. There was a lone madcap moment where he pretended to eat a marigold, and a slightly uncomfortable flirtation with a baker who was carving a champagne bottle out of a phallic piece of modeling chocolate, but otherwise, the entertainer who once "shocked" the Daily Mail with a song about erections mostly seemed nervous.
Now, it's more apparent than ever that the show's appeal is less in its stars than in its contestants. The casting team reportedly auditioned 150 bakers on camera out of several thousand applicants to get the right mix of amateurs, and Season 8's instant fan-favorites—the Liverpudlian granny Flo, who crafted a cake to look like a giant watermelon, and the Hackney teenager Liam, who cheekily invited Prue to his house for breakfast—proved how winning the formula is. The Bake Off tent, Charlotte Higgins wrote in The Guardian in 2015, "stands in for a utopian little Britain in which all—the firefighter, the student, the grandmother, the doctor, the nurse, the prison governor, the full-time mother, the musician—exist in harmony." Britain may be divided by Brexit, and by national politics, and even by the cultural merit of Celebrity Love Island, but #GBBO, as it's referred to on Twitter, is a great uniter. Popular among men and women, young and old, it keeps what's left of Britain's tattered dream of pluralism and equality alive.
So, in this particularly turbulent moment, it's more needed than ever. The show, Lucy Mangan wrote last night, is "where I want to be when the bombs start falling." It's a green and pleasant island in stormy waters. It brings together NHS biochemists and amateur blacksmiths, apples and cinnamon, priapic goths and the founder of the Women's Equality Party. The news that PruPaul's Bake Race, as one fan christened the reboot, still retains the power to comfort is welcome indeed, even if it's less popular than it once was. (Roughly 6.5 million viewers watched the first episode on Channel 4, making it a huge hit for the network but far below the BBC's average of 10 million.) In the U.S., where the series is known as The Great British Baking Show for copyright reasons, the new season will air on PBS in 2018.