The Bachelorette and the Empty Redemptions of Reality TV
The show's The Men Tell All special confronted Lee Garrett for his racist tweets. Producers treated it as a productive conversation; it was anything but.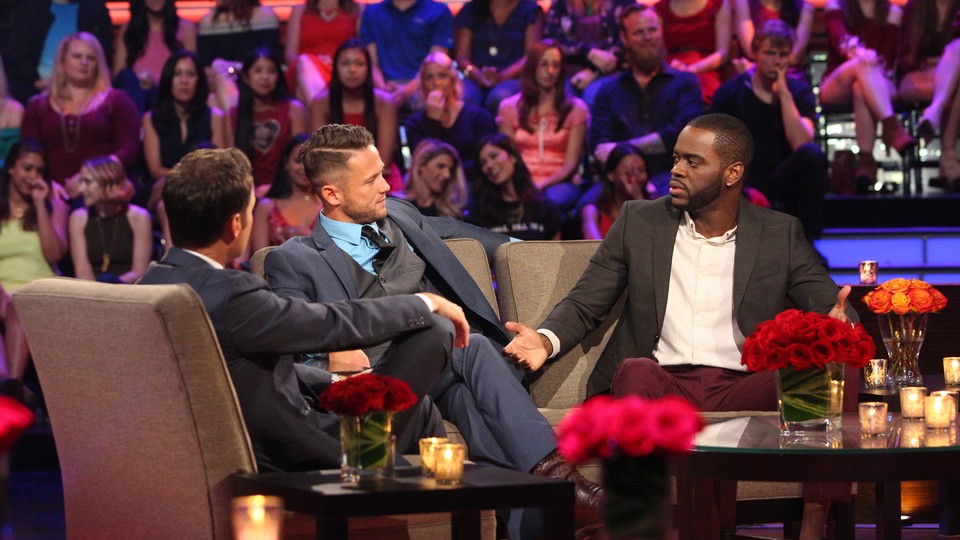 This post reveals minor plot points for The Bachelorette Season 13.
Here is one of the tweets that Lee Garrett, a recent contestant on The Bachelorette, posted to the internet before he was cast as a potential husband for Rachel Lindsay, the first black Bachelorette in the show's long history:
"What's the difference between the NAACP and the KKK? One has a sense of shame to cover their racist-ass faces."
Here's another: "I do hate Islam."
And also: "I wholeheartedly support inhumane torture of terrorists." And also: "Hillary is the millennial's version of O.J." And also: "#Liberalism is a disease." And also: "When is the last time YOU actually saw a pretty feminist?"
The Bachelorette's producers, who have traditionally given their contestants thorough vettings before selecting them to appear on a reality TV show viewed each week by millions of Americans, have suggested that they were ignorant of those postings prior to Lee's coming onto the show. The Bachelorette continued that general posture toward Lee's now-exposed views—shock, outrage, indignation—when, on Monday evening, the singer-songwriter from Nashville joined his fellow eliminated men in a longstanding tradition of the Bachelor franchise: The Bachelorette: The Men Tell All special.
The special, set in a studio full of roses and candles, attended by an audience consisting mostly of women in cocktail dresses, traditionally mixes the wacky and the serious—a little bit blooper-reel, a little bit Talking About Feelings. But this season's The Men Tell All was notable for a different reason—a reason that went back to Lee's tweets, and to the racism-tinged drama that characterized the season the show's marketers sold to the public as "historic." In one way, to its credit, the show offered a forum for The Bachelorette—and for its cast and, by implication, for its viewers—to talk about race. And it gave the men who had been Lee's castmates—Kenny Layne, in particular, whom Lee had lied about and bullied during their time together on the show—to have their moment to call him to account for his behavior. But the special, in another way, also squandered that important opportunity. It used its forum, in the end, to continue the attitude it has adopted toward Lee from the beginning: The show once again treated Lee's views as spectacle. It once again confused racism for entertainment.
* * *
The Bachelor is a franchise that celebrates The Journey—not just as a narrative frame, but as a quest that is moral in its dimensions. Each season moves forward with a predictability that comes not just from its episodic structure (that first, tentative meet-cute; those early, getting-to-know-you conversations; the shared adventures; the meeting of the families; the having of the sex; the heady promises of Forever), but also from a conviction that life itself is work in progress. Lee's appearance on The Men Tell All was an extension of that idea: Its stakes were framed according to Lee's personal journey. The story here was Lee's path from a place of ignorance to one of (relative—extremely relative) enlightenment. The show was called The Men Tell All; in practice, though, it was essentially One Man Learns Something.
Reality television, in general, has a long history of this kind of thing: its platform, with its tantalizing mingling of truth and performance, offered up for rituals of redemption. The sinner, washed with the cleansing waters of attention. Dancing With the Stars has a storied tradition of inviting disgraced figures (Tom DeLay, Paula Deen, Gary Busey, and Ryan Lochte) to cha-cha their way to public forgiveness. (It's rumored, and no surprise at all, that Sean Spicer is being considered for the show's new season.) And this, too, is a Journey: As DWTS's casting director, Deena Katz, told Slate of the show's standard pattern, "Week 1, you acknowledge that this thing is what you're known for. You say it, you come clean, and then it's over. The elephant in the room is gone. Then you can control the narrative."
Lee, too, controlled the narrative during his reappearance on The Bachelorette on Monday. He may have been roundly condemned for his tweets and general behavior on the show, but he also stole the show's spotlight, again and again. This was The Lee Show. It was Lee occupying The Men Tell All's (figurative, and literal) "hot seat." The drama here largely revolved around Lee's fellow contestants, many of them men of color, asking him for that simplest gesture of respect: They wanted Lee to admit that what he had tweeted was racist. And again, and again, Lee refused. Again and again, he took refuge in the two-word identity that he had listed in his Twitter bio—a phrase that might have been a tip-off to the show's producers about his approach to the world: "pleasantly offensive."
Again and again, Lee gave the producers the story that works so well for reality TV: He gave them a Journey.
He was just joking, he said, at first, of the tweets in question. ("I'm facetious. I make jokes when I'm uncomfortable in inappropriate times.")
And then: He admitted that "I wasn't as considerate as I could've been in a lot of ways."
And then: "I understand where you're coming from."
And then: "I feel like I have a lot to learn in that area. And I feel like I said things that I should not have said. And they were inconsiderate."
And then: "I don't—I, I don't like racism at all. It bothers me morally. It bothers me inside. And I don't like it."
And then: "But also, I have to think about how I'm making you guys feel. You know, there are things that I can learn. There are things that a lot of people can learn."
And then: "You know, if I hurt anybody, in any kind of way, with a bad joke, or anything like that, then I apologize."
It went on like this: Lee, having chance after chance to admit that what he had put out into the world was more than "a bad joke"; Lee, after each opportunity, effectively declining. Lee, sticking to the talking points—there are things I can learn—while refusing to have a true conversation. Lee, Lee, Lee. ("It hurts a lot," he said, at one point, apparently referring to the pain of being called out for being racist.)
The special, indeed, dedicated so much time to Lee's Journey that, when he finally made a concession about the tweet that compared the NAACP to the KKK—"that tweet was racist, and I denounce it"—the show treated it as a kind of moral victory. The audience applauded. As Lee's fellow contestant, Anthony Battle, who had earlier in the special called Lee out for "racist thoughts that are implicitly embedded in your mentality," put it: "This is a growing experience for everybody."
But it wasn't, fully. It was a growing experience for Lee. And it was very barely that. "Where you go from here is up to you," Chris Harrison, the show's host and the moderator of this supposedly cleansing conversation, told Lee by way of conclusion. "And hopefully you lean on these guys and have that direction."
"These guys," though, owe nothing to Lee. Josiah Graham, the contestant who, as People summed it up, gave Lee "a history lesson" about the NAACP, owes him nothing. Kenny, who accepted a conciliatory hug from Lee at the end of one of their exchanges, owes him nothing. Viewers owe him nothing. And, certainly, Rachel Lindsay, whose "historic" season of The Bachelorette was hijacked by a man and his hatred, owes him nothing. "You turned it into something so ugly," Rachel told Lee, when Harrison brought her out for her moment among the men. She added: "I didn't want to give any life into you, your opinions, or your brief time on the show."
She didn't want to. "The show," however, definitely did.