Getting Hate Speech Off Music-Streaming Services
Spotify has pulled a number of bands from its platform in yet another example of tech companies grappling with white supremacy.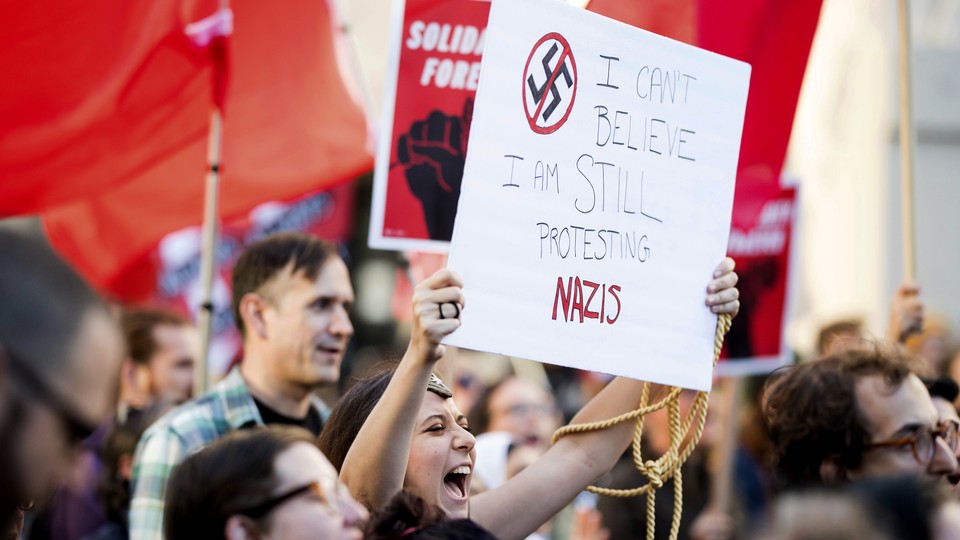 In a week of renewed national attention to organized white supremacy, the music-streaming platform Spotify has removed a number of bands alleged to be associated with neo-Nazism. On Monday, Paul Resnikoff at Digital Music News pointed out that 29 bands identified as racist by the Southern Poverty Law Center were available for listening on Spotify (as well as another eight apparently hateful artists that Resnikoff found). By Thursday, Spotify had removed many of the acts, saying that "illegal content or material that favors hatred or incites violence against race, religion, sexuality or the like is not tolerated by us."
The fact that the bands were available to stream in the first place speaks to the challenges of stemming hate speech on new, supposedly democratizing technology platforms. The SPLC's list of white-power bands that Resnikoff cited was drawn up in 2014 to bring attention to their presence on iTunes, Apple's service that sells downloads of songs and albums. Keegan Hankes wrote that "the racist music industry, a once lucrative source of funding for the white-power movement," had faced challenges in distribution and funding in recent years—but was finding new life thanks to digital downloads. Streaming, which is supplanting downloading in popularity, could create a similar dynamic.
Some of the most famous white-power acts, like the band Skrewdriver, appear to have already been absent from platforms like Spotify and Apple Music (YouTube, still navigating how to handle extremist content, is another story). But the bands at issue this week are smaller, obscure ones that might slip under the radar for platforms accessible to hundreds of thousands of bands uploading music through independent distributors. "We are glad to have been alerted to this content—and have already removed many of the bands identified today, whilst urgently reviewing the remainder," Spotify's representative said to Billboard. Competitors are following suit. A source close to the situation told me Thursday morning that Tidal is currently in the process of deleting many of these same bands.
The push to stop tech platforms from being used to spread white supremacy isn't limited to the music world. Buzzfeed reports that Apple Pay and Paypal have recently cut off business with a number of sites selling white-nationalist and Nazi merchandise. The hate publication Daily Stormer has now found itself without a web host after Google and GoDaddy cut ties. It briefly relocated to a Russian server but went down again after Cloudflare, a service that protects from denial-of-service attacks, dropped it as a client.
Music can be a particularly tricky, and important, font of hate for the tech world to  grapple with. The white-power rock scene has a long history, as well as real associations with violence. The man who massacred six people at a Sikh temple in Wisconsin in 2012, for example, played in racist hardcore bands. For now,  at least, the bans would seem to have a pretty clear logic—making it harder for bands listed as hate groups by a hate-group watchdog organization to court enormous potential audiences worldwide.
Yet as is always the case with artistic expression, it's easy to imagine bans like this week's triggering future battles over speech rights. What happens in the case of an established band like Pantera, whose singer Phil Anselmo made a white-power salute onstage last year and then apologized for it? And how long before white nationalists take the "both sides" rhetorical approach used by the president to, say, advocate for the banning of aggressive or racially fraught rap lyrics? Of course, the argument being made by critics of Donald Trump's handling of Charlottesville holds here as well: The history of anti-black (and anti-brown, and anti-Semitic) oppression is so pernicious, and the power dynamics in this country so unequal, that the danger posed by organized white-power movements has no parallel.