Settling vs. Settling Down: 2 Ways of Looking at the Bachelorette Finale
Some fans saw Rachel Lindsay's final choice as a compromise of her desires. In another way, though, her selection is getting her exactly what she wanted.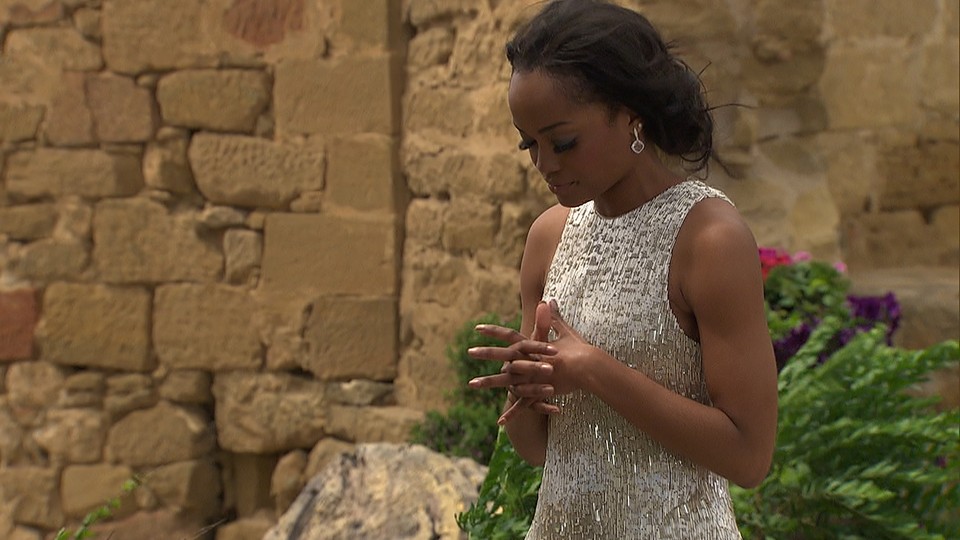 This post reveals plot points for the finale of The Bachelorette Season 13.
Women are often told to settle. For just a little less money. A little less respect. A little less space in the world. The tellings aren't generally meant unkindly—they're meant more as realistic reflections of the world and what it is—but they tend to accumulate over time, injecting themselves into women's understandings of themselves and the places they occupy in their careers, in their finances, and perhaps especially in their romantic relationships. American pop culture sells soaring ideas about romance and soulmates and Happilys Ever After. It whispers, all the while: "Settle, though. Just a little."
Did Rachel Lindsay settle? When she chose her fiancé during the finale of her season of The Bachelorette on Monday, did she, as so many viewers suggested, compromise her desires? Or did she, instead, take a stand for the validity of those desires?
It went, basically, like this: After Rachel eliminated Eric Bigger from the final three men vying for her heart, her choice came down to Peter Kraus, who was a fan favorite, and Bryan Abasolo, who was not. Peter leveled with her: He takes marriage seriously. He wanted to propose to someone once, and only once. He didn't feel ready to make that proposal to Rachel—not because he didn't love her, but because he simply needed more time to be sure he was ready for such a commitment.
Bryan, on the other hand, was very much ready: To plan a life with Rachel, geography (she lives in Dallas; he lives in Miami) be damned. To sit down with Neil Lane (yes! the man himself!) and pick out an approximately 5,000-carat ring. And then to use that ring as a sparkling prop when he, in Bachelorette parlance, "got down on one knee."
So while Monday's finale hewed to the contours that any such finale will—a high-stakes choice, edited for maximum drama—this one had a distinct spin to it, one that was largely about the collision between expectations and reality: Rachel wasn't choosing, in the end, between two men who were planning to propose to her. She was instead (at least according to the editing that will make any season of The Bachelorette what it is) making a choice between getting engaged and not getting engaged. Rachel, from the beginning, had said that she wanted to be engaged by the show's conclusion. Bryan could give her that. Peter could not.
She chose Bryan.
In one way, yes, it was a disappointment. Rachel, after all, is an especially great Bachelorette. She is especially smart. She is especially successful in her career. She is especially funny. She is especially charismatic. She is especially kind. And Bryan is … fine. He had received Rachel's First Impression rose, certainly, and had chemistry with Rachel from the beginning that has only grown. But, again, the stakes here weren't presented as matters of chemistry. They were presented, by the show itself, as matters of practicality. Many viewers, because of that, saw her choice as an especially sad kind of victory: the workings of the head over the hopings of the heart. The objection wasn't just that Bryan had previously been on another reality show—a red flag, Right Reasons-wise. It was also that he, per The Bachelorette's setup, was not so much the soul mate as the rebound guy. And it was also that Rachel, who has always seemed too good for this show, once again seemed to deserve better.
As one viewer put it: "Rachel was clearly in love with Peter. Bryan was runner-up. She chose him because he was willing to give her a ring … she should have chosen true love over a ring."
You could also read Rachel's choice, though, in the opposite way: as an outcome worth celebrating. And not just because it was Rachel's choice, which should perhaps in itself be the end of the discussion. Rachel also, after all, stuck to her guns: She refused to compromise her desires. She refused to settle. She took a long history—women, being made to settle; women of color, in particular, being made to settle—and looked it in the eyes and said, "Not today." She had wanted to be proposed to (The Bachelorette is a show that will give a woman her pick of men to date, but that cannot envision her being the one to pop the question)—and she got, in the end, exactly what she wanted.
Which is also to say that, on national television, before an audience of millions, Rachel Lindsay did something mildly, and yet notably, subversive: She articulated a desire and then made choices to ensure that the desire was met. She was ready to settle down, she said from the beginning; at this point, it seems, that is precisely what she will do. You may not love the guy she is settling down with, but she is not at all, in that sense, settling.
The Bachelorette, for everything else it is about, is also a show about belief—in love, in marriage, in the idea that one wayward soul can find its way to another with the help of hot tubs and helicopters and sun-drenched Spanish vineyards. There has always been, in its machinations, a note of Kierkegaard: This is a show that believes, perhaps more than anything else, in leaps of faith. Many of the dates The Bachelorette sets up for its couples involve, yes, literal jumps: skydiving, cliff-jumping, plunges from yachts into sparkling Caribbean seas. But the show's workings themselves—meet on national television, date on national television, get engaged on national television, go on to have a fulfilling and stable marriage—also require a certain amount of faith-leaping. They require a couple to trust wholly in the process, and in The Bachelor franchise's highly produced approach to love itself; otherwise, the whole thing falls apart.
Rachel's choice in the finale was an especially bold distillation of that approach—and another way in which Rachel chose not to settle. Peter, after all, had broken that faith; he had, in questioning the speed of the engagement, articulated doubt about the mechanics of the show itself. He had, in the show's conception, lost faith in the process. Rachel, however, had not. She didn't merely, in that sense, choose Bryan; she also chose faith—in reality television, in the Bachelorette producers, in the kind of love that can conquer everything else.
On Tuesday morning, she and Bryan appeared together on ABC's Live with Kelly and Ryan. Ryan Seacrest read her the viewer letter suggesting that "she chose [Bryan] because he was willing to give her a ring."
"It's so funny to me," Rachel replied. "I've never been one to settle or to be desperate for anything … that's why I was 32 and still single. So, like, when people say things like that, like Bryan was runner-up, I'm like, no, I think you can clearly see that I have a lot of love for Bryan. I never would have just chosen a ring."
She added: "I chose Bryan for a reason. Peter had his chance."