Saturday Night Live Needs to Ditch the Special Guests
The show's summer Weekend Update specials have laid bare a troubling dependence on actors outside of the core ensemble.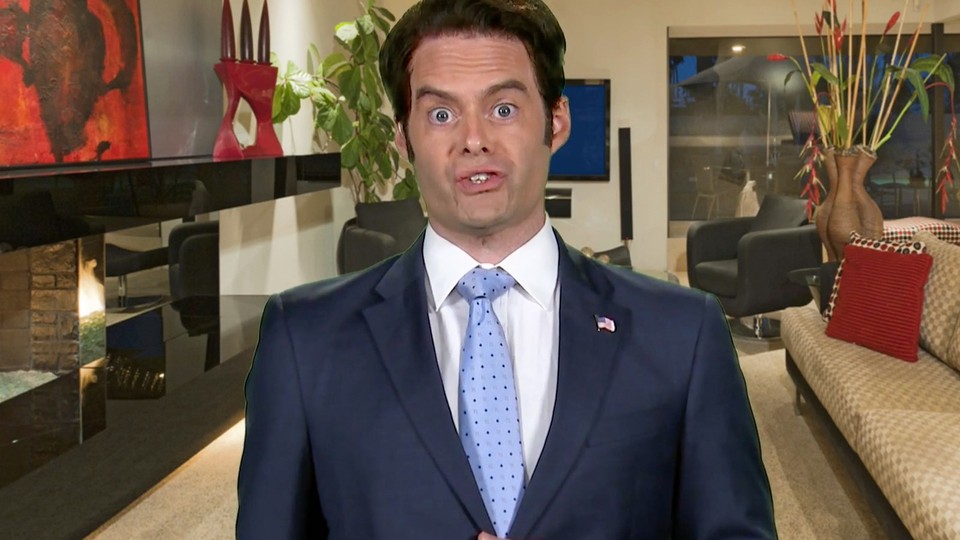 It's easy to understand the reasoning behind Saturday Night Live Weekend Update: Summer Edition, convoluted name aside. SNL's September-to-May network schedule keeps it off the air for the whole summer, and as the Trump administration (the program's biggest ratings booster) rumbles along making news every day, the show doesn't get any bites at the satirical apple, so to speak. So these half-hour episodes, centered entirely on the Michael Che and Colin Jost-hosted topical-news segment, are a way for the show to try and stay relevant ahead of a pivotal season. It's also no coincidence that the most viral clips to come out of these specials have starred SNL veterans like Bill Hader, Jimmy Fallon, Seth Meyers, and Tina Fey.
Anytime Saturday Night Live starts airing Weekend Update specials, you know it just had a big year. In 2008, after the show's ratings bump following Fey's Sarah Palin impression, NBC ordered three primetime episodes to air as a sort of election special, anchored by Seth Meyers and Amy Poehler. The duo returned for another three episodes in 2009, as the political stuff was still flying high, and two more such specials aired in the fall of 2012, this time centered on the Obama-Romney election.
Politics has always been a boon for Saturday Night Live. Its 42nd season, which aired over the 2016 election and Trump's early months in office, revitalized the show's ratings as usual. But unlike 2008, a moment that helped magnify SNL's already impressive ensemble (including Kristen Wiig, Andy Samberg, Poehler, and Meyers), 2016 instead highlighted the show's deficiencies. Saturday Night Live relied too heavily on celebrity guests and drop-ins from alumni, was confused on just how forcefully it should criticize Trump (though it eventually settled into a fairly harsh tone on that front), and clearly lacked the kinds of popular recurring characters that form the backbone of the show.
So far, Weekend Update: Summer Edition hasn't done much to change that perception. In the first episode, Hader dropped by to play Anthony Scaramucci in a sketch that was pre-taped in Los Angeles, a trick the show employed a few times last year to work around the busy schedule of Melissa McCarthy (who played Sean Spicer to great effect). Hader was his typical amusing self as "the Mooch," but there's often an airless quality to those pre-taped bits (it's called Saturday Night Live for a reason), and this time was no different.
On the next episode, the former Weekend Update hosts Fallon and Meyers performed a double act as George Washington and Thomas Jefferson, a cute hat-tip to their status as SNL's wizened ancestors. Then Fey stopped by for a much remarked-upon monologue on the Charlottesville protests, speaking as an alumna of the University of Virginia. Through it all, Jost and Che provide the usual one-liners and chummy repartee, but the whole endeavor feels like a desperate attempt to stay in the conversation and keep up with the nonstop political news.
This is not to say Saturday Night Live is fading away; it was still one of the highest-rated, and most-discussed, shows of the 2016 season and remains hugely popular in the all-important advertiser "demo" (people aged 18-49). But the program is at a crossroads as it looks ahead to a year in comedy that promises to be just as politically charged as the last. Does it double down on the short-term play it made last season—lots of guest stars taking on lots of topical figures—or start to hand roles back to its actual ensemble, in the hopes of building them up with audiences?
Remember that some of SNL's biggest recent stars have been Alec Baldwin (who plays Trump), Larry David (whose Bernie Sanders impression was highly touted), and McCarthy. Kate McKinnon, who played Hillary Clinton on the show, as well as Kellyanne Conway, Jeff Sessions, and many others, is entering her seventh SNL season, so it may not be long before she leaves to pursue a movie career full-time. Behind her, the bench is weak.
Aside from Kenan Thompson (a brilliant member of SNL's firmament), the cast consists of solid ensemble players like Aidy Bryant, Cecily Strong, and Beck Bennett, none of whom has ever quite broken out in the way McKinnon has. Leslie Jones is the closest thing SNL has to a successor to McKinnon, but she might be a better fit for the Update desk (which has long been the provenance of stand-up comedians like herself). The rest of the returning cast is Pete Davidson, Kyle Mooney, Mikey Day, Alex Moffat, and Melissa Villaseñor, with Bobby Moynihan, Vanessa Bayer, and Sasheer Zamata all having left in the off-season.
Looking at that cast list (and it's possible the show will announce more hires soon), it's not hard to glean what's in Saturday Night Live's immediate future. Baldwin-as-Trump will remain the star as long as he wants the role, and he has announced his return even though he's publicly noted his queasiness about the gig at times. McCarthy's Spicer will perhaps only get a send-off sketch, as the press secretary stepped down this summer. But there will certainly be more White House staffers for the show to train its sights on, as well as more famous ex-SNL cast members on deck to take swings at them.
Still, this political boom can't last forever, and without it, SNL's future is relatively bleak. Of the most recent hires, Day (an experienced writer) and Moffat have stood out the most, but they're similar comedic types (rangy white guys). Two of the show's biggest personalities (Jones and Davidson) are stand-ups, who are less strong as sketch performers, and there's a serious absence of good impressionists, another crucial part of SNL's DNA. For the show to escape its cycle of viral mediocrity, the cast will have to take more risks, and the writers will have to push out more sketches that don't require superstar guest appearances. Sad as it may be, don't count on SNL to make these necessary changes in time for Season 43.